Schwarzinger
| Philadelphia Brewing Company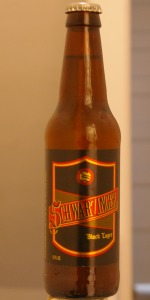 BEER INFO
Brewed by:
Philadelphia Brewing Company
Pennsylvania
,
United States
philadelphiabrewing.com
Style:
Schwarzbier
Alcohol by volume (ABV):
5.00%
Availability:
Year-round
Notes / Commercial Description:
No notes at this time.
Added by mvanaskie13 on 08-30-2013
Reviews: 6 | Ratings: 37
3.5
/5
rDev
-10.5%
look: 3.5 | smell: 3.5 | taste: 3.5 | feel: 3.5 | overall: 3.5
Poured into a tall pint glass, color is dark brown with brown on the bottom edges of the glass; head is thin and dissipates to a ring.
Smell is roasted malt, chocolate, clean hop maybe some grass, maybe a little sweet in its presence.
Taste is on the sweeter side, but clean lager taste - no fruitiness noted - roasted malts are upfront melding into a chocolate sweetness that lingers; hops are present and quite bitter, no apparent strong flavor.
Mouthfeel is pleasant, but definitely on the sweet side, lingering on the tongue and with a strong bitterness.
Overall, a sweet schwarzbier, but clean flavors and a touch bitter. Its an interesting take on the style, maybe tone down on the amount of roasted malts?
724 characters
3.61
/5
rDev
-7.7%
look: 4 | smell: 3.5 | taste: 3.5 | feel: 3.75 | overall: 3.75
Poured from a brown 12 oz. bottle. Has a black color with a 1 inch head. Smell is of roasted malts, a bit smokey. Taste is the same, lots of roasted malts and smokiness, a bit of hops are present as well. Feels full bodied in the mouth and overall is a solid beer.
264 characters
3.78
/5
rDev
-3.3%
look: 4.25 | smell: 3.75 | taste: 3.75 | feel: 3.75 | overall: 3.75
The pour was dark black with a tan or khaki colored head. The aroma off the out gave off a bit of hops, maybe a hint of roasted coffee. The taste was very good! It had roasted malt character, smokiness, a touch of roasted coffee and dark chocolate hints. It finished a little on the dry side. I would say this was a great beer for the FALL or WINTER seasons. The roasted and smoky flavors work really nicely in this beer. Another great beer from my hometown brewery!
473 characters
4.08
/5
rDev
+4.3%
look: 4 | smell: 4 | taste: 4 | feel: 4.25 | overall: 4.25
Sweet a new beer from Philadelphia Brewing Company! Found it in the mix six section at the House of 1,000 beers.
A - Deep dark beautiful blackness with just a 1/4 inch of head that fades to a sticky ring.
S - Light smoked malts, some cocoa, and roastiness.
T - One smooth Swartz. It has mild smoked malts, smooth chocolate like malts, and a bit of sunk in the finish that leaves a bit of dryness. On par with the style love it.
M - Medium bodied not watery, slick and smooth.
Overall I would consider getting this again hell I would buy a case. It's tasty!
557 characters
4.25
/5
rDev
+8.7%
look: 4.25 | smell: 4.25 | taste: 4.25 | feel: 4.25 | overall: 4.25
Philadelphia Brewing Company "Schwarzinger"
12 oz. brown glass bottle, inkjet coding information is smudged and illegible
Impressive! They've nailed the dark maltiness of a schwarzbier with a light bit of fudge-like chocolate and the suggestion of smoky roastiness without actually going there. Just a touch too much and a schwarzbier becomes something else but they've kept it reigned in, and remarkably well-balanced. Non-traditionally, they've used some citrusy hops which throw it off for me, but I'm sure others will love that. I could see this taking on the almost fanatical following that Philadelphia once had for Yuengling's Black & Tan, and if they can put it on tap at or near the cost of Kenzinger I have no doubt that'll happen.
742 characters

4.57
/5
rDev
+16.9%
look: 4 | smell: 4.5 | taste: 5 | feel: 4 | overall: 4.25
It seems as though this may be another tone77 special! He is my frequent, local, in-person trader and I am always fascinated by what he brings by for me to review. I am pretty much to the point that I will only review beers when I am at home, but I have plenty to keep me busy.
From the bottle: "A German style black lager brewed with premium pilsner and dark roasted malts."
I started out with a heavy-handed pour until the head began to rise at an incredible rate and I backed off. I was faced with two-plus fingers of dense, deep-brown head with fantastic retention. It looked like a chocolate milk shake sitting before me and I put on some music to keep me company as I awaited for it to abate. What was I listening to? "Zing! Went the Strings of My Heart", written by James F. Hanley and sung by Judy Garland. Color was a deep, dense dark-brown with ruby highlights (SRM = 44), allowing just a little light penetration at the edges. Nose had a smoky chocolatiness and I was reminded of my late Pops' affection for Hershey's Special Dark. This beer's smell was very evocative of that. Mouthfeel was full, creamy, and the chocolate taste was spot on. I was really digging the way that the smokiness of the "dark roasted malts" was coming through, but melding nicely with the chocolatiness. Finish was semi-dry, more smoky than chocolaty, but quite the beer.
1,362 characters
Schwarzinger from Philadelphia Brewing Company
3.91
out of
5
based on
37
ratings.