Euro Market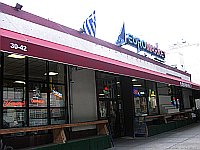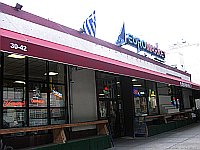 Store
30-42 31st St
Astoria
Queens
,
New York
, 11102-1856
United States
(718) 545-5569 |
map
euromarketny.com
Notes:
Recent ratings and reviews.
| Log in to view more ratings + sorting options.
Ratings by PEBKAC:
Reviewed by PEBKAC from North Carolina
3.7
/5
rDev
+5.1%
I was just about to list this place, but look, it's already here. :)

Riding down to Keyfood on my bike, I spot a neon Lagunitas bar sign in a nearby window, so I decide to put on the breaks & make a u-turn into the joint.

You walk in & right in the middle there's a nice little olive bar. That's nice, but the beer is in the back, so walk on by. All the beer is in coolers. I counted at least 9 coolers complete with craft, & another 2-3 semi stocked along with macros. Very nice. Everything we've come to expect from a Queens deli is here, the BK, the Hebrew, the Zywiec & Baltika, & the unpronounceable Russian stuff. A strong selection of Belgian & Belgian-esq beers with Rodenbach/Redbach, Duchesse, the Duvel/Ommegang family, mucho Unibroue in 22s & 4packs, Karmeliet, Corsendonk, Rochefortx3, Carolus, Allagash, Lindemans, Kwak, Delirium, & more that I'm just not into at the moment. A few smoked Germans, a couple Ayingers, along with the Schneider family. Scattered St. Peter's & Belhavens & a few other UK things I haven't fried before. For American styles: Dogfish shelter, brown, red & white, a couple Ithacas, a couple Harpoons, Abita, Lagunitas sixers & bombers, Stonex3, Sierra Nevada Harvest, Smuttyx3, just a lot of stuff jam packed into this place. No real organization & nothing really unique, but much, much more then you've come to expect from Queens, let alone a supermarket. I'll bring my camera next time.

Prices are normal for the area across the sixers, like $8.99 for most American packs, but a little pricey with the imports: Rodenbach Grand Cru is $11.99.

The place is really clean, the lighting in the coolers isn't TOO bright, & the owner seems really into selling good beer. I don't think anyone there will be discussing much beyond what you see, but they will try to help best they can. He was very enthusiastic in knowing more about Beer Advocate & improving the store's beer portfolio to even higher points.

Very nice. :)
Jan 31, 2008
More User Ratings:
Reviewed by Gajo74 from New York
3.65
/5
rDev
+3.7%
vibe: 3.5 | quality: 3.75 | service: 3.25 | selection: 4
I live in Manhattan but occasionally venture out to Astoria for some of the good beer and good eats options they have there. The other day, my pregnant Macedonian wife suddenly began craving for Balkan style food. We then took a trip over to the Euro Market, a place that we had visited once in the past. At the Euro Market, one can get all sorts of Balkan foods; sheep cheeses, ajvar( a delicious red pepper spread), stuffed cabbages, all kinds of meats and sausages etc. on my first visit there, I had never noticed they had a pretty big selection of beer in the back. This time, lo and behold, I made my way to the back and was pleasantly surprised to see about 10 coolers and a few room temperature shelves full of craft beer!! A lot of the heavy hitters from the American craft scene; DFH, Bell's, founders, etc. lots of german, belgian, and even an assortment of Eastern European beers I had never heard of. They also had a decent selection of bombers; american craft, belgian lambics etc. The service is merely ok, as there is no "beer expert" in the store to help you out, if you know what you are doing, the is no need for one. I will definetely be going back as the prices are slightly cheaper than in Manhattan.
Nov 15, 2015
Reviewed by dbrauneis from North Carolina
3.61
/5
rDev
+2.6%
vibe: 3.75 | quality: 3.75 | service: 3 | selection: 4
This place is easy to get to on public transit and is quite large for a "market" in the NYC area, probably more the size of a supermarket vs. a convenience store. The place is well light and has a fairly large portion of the store dedicated to beer. This is an Eastern European market for the most part.

Not sure how quickly the inventory turns over and I did not think to check the dates on any of the styles that are more time sensitive when I visited. The beer is in the back of the store and the majority of it is available in the coolers (so chilled).

This is more like a supermarket than a beer store so I did not check with any of the employees for help - I also was fairly comfortable shopping without any assistance and just looking things I was unfamiliar with up on my phone.

There is actually a fairly large selection available here including American craft beers, Western European imports, and Eastern European imports. They sell the majority of the imports in singles as well as by the 4/6/12 pack and case. I like that because it gives me the opportunity to try some beers from places in Eastern Europe without too much cash - and I don't get stuck with 5 bottles if I do not enjoy the beer (many of these beers have few reviews here on BA).

The prices are reasonable and seem to be in line with other stores in the area.
Jul 25, 2013
Reviewed by metter98 from New York
3.71
/5
rDev
+5.4%
vibe: 3.75 | quality: 3.75 | service: 3 | selection: 4.25 | food: 4
Vibe: This a fairly large sized clean, spacious and well-lit Eastern European market that would probably qualify as a "supermarket" by Manhattan standards. It's conveniently located less than a block from the 30th Avenue Station on the N and Q trains.

Quality: All of the beers are stored well away from sunlight and nearly all of the beers are stored cold in coolers. I'm not sure what the turnover is but I probably wouldn't purchase IPAs from here unless they had a bottling date listed on the label.

Service: As this was primarily a food store, I wasn't expecting any help in choosing beers, although I did see a couple of workers floating around the store. There was only one person working at the checkout when I was there so you might have to wait a few minutes on line depending upon when you check out.

Selection: There is a large wall of coolers that pretty much takes up the entire back of the store. They have lots American craft beers and imports from Western Europe but what sets this store apart from others is that it has tons of beers from Eastern European countries. There is a large selection of both singles and six packs. I didn't see much in the way of warm beers except for some cases of Baltika in a can.

Value: The prices of beers seemed to be pretty reasonable compared to other stores in the area.
Jul 06, 2013
Reviewed by tobelerone from New Jersey
3.66
/5
rDev
+4%
vibe: 3.5 | quality: 4 | service: 3 | selection: 4
As others have said, you should pop in here if you're in the neighborhood and if you're hanging in Astoria in general but it's not a place that demands seeking out. There isn't a ton of places for craft in Astoria so this place is as good, if not better, than any.

Pretty nice selection of locals, euro beer, domestic craft, mostly in the fridges but there are also a fair amount of large format bottles on the shelves as well. Definitely plenty of Eastern European items, tons of Baltika, etc. Obviously this store caters mostly to the Russian/Ukranian/Polish/Greek shoppers and there's a wide array of foodstuffs from those countries so you can definitely snag some tasty snacks to go along with your beer while you're here.

You may not find anything too odd here..unless you want Polish beer...but the selection is big enough that you probably won't leave empty handed. Service was pretty non-existent but if you're like me you probably don't need assistance choosing a beer. Prices are quite good as well.
Apr 04, 2012
Reviewed by shaebs99 from New York
3.63
/5
rDev
+3.1%
vibe: 3.5 | quality: 3.5 | service: 3.5 | selection: 4 | food: 3.5
This is a place you should visit if you are in the neighborhood. No real reason to seek the place out, but has a good selection none the less.
They have several coolers in the back of the store as well as a couple of end caps on the adjacent aisles.

This place has (most likely) the largest selection of larger bottles in Astoria. A lot of imports (German, Belgian, English, Russian) and a good assortment of domestic (captain lawrence, stone, dfh, ommegang, southampton) craft beer make up the larger bottle portion (located mostly in the left coolers).
6 pack selection is ok. With varieties from left hand, flying dog, smutty, magic hat, sam adams, southampton, victory, etc.
Most bottles and six packs had visible price tags, which is always a plus.
I have been here a few times and the only criticism I would give it is that they tend to be slower to bring in seasonal releases then other places. I came here for some pumpkin beers and they did not have any when a close super market had some. Same with winter beers, specifically celebration. I guess it is possible they sold it already, but two seasons in a row seems more like a pattern.
I just warn to check bottle dates, as some of the stuff tends to hang around. Its not necessarily bad, as most of the beer stays in the coolers, but be careful all the same

(I wouldn't consider atmosphere or food as part of the review)
Aug 08, 2011

Reviewed by JizackFH from New York
3.5
/5
rDev
-0.6%
vibe: 3.5 | quality: 3.5 | service: 3 | selection: 4 | food: 3.5
I read about this place in a beer blog a while back, so I decided to stop by one day on my way home from work. The beer is all the way in the back against the wall. There are 9 or 10 coolers and a few small shelves across from the coolers full of beer. There is a decent selection of US beers such as DFH, Ommegang, Smuttynose, Shmaltz, Southern Tier, Brooklyn, and more. There is also a lot of Belgian, German, and Russian Imports. the selection is decent, but check the dates on the bottles because some of these seem like they might have been sitting on the shelf a while. As far as service goes, I have only been in here early in the morning so there aren't very many people at work here yet. I also haven't gotten any food from here yet, but there is a deli and all the normal food a grocery store has, plus a lot of foreign ingredients a lot of grocery stores do not have. The prices for the beer were decent. Some were on par and some were a little higher than I was willing to pay. Overall, I think it is a nice spot (especially in Queens) to stop in and pick up a few beers. I come here once about every 2 weeks. Stop in and check it out if you're in the neighborhood.
Jun 26, 2011
Reviewed by wcintula from New York
4
/5
rDev
+13.6%
vibe: 4 | quality: 4 | service: 3.5 | selection: 4.5
I spotted this place after my wife started working in the area. You don't have to go inside the store to know this place has a good selection. Craft beer signs fill the windows while one whole window is filled with bottles representing things they carry or have carried. The place shops just like a supermarket, being it is one. The beer coolers are straight back and there're a lot of em with lots of large format bottles and sixers alike. All types of Belgians, Germans, Polish, and Russian imports. Imports are a bit pricey but the domestic is fair. Large selection of Smutty(though the 'Big A' was past freshness.), Troeg's, Oskar Blues, DFH, and all your other faves. I can't wait to come back and buy some sausage.
May 11, 2011

Reviewed by PGHeppJr from New York
3.3
/5
rDev
-6.3%
vibe: 4 | quality: 3 | service: 2.5 | selection: 3.5 | food: 5
I come to this spot because it has all the little treats I miss from being abroad in the service. There is more junk food you can't pronounce in here than one man needs. The locals, and by locals I mean 1st generation immigrants that make Astoria great, in my hood use this spot to stock up on everything they miss from back home. Cured meats, sausages, cheeses and olives galore! However this isn't oldcountrygoodiesadvocate.com, its all about the beer.

Do not get me wrong, they have a diverse and stocked selection that most would consider formidable, however other shops in other boroughs dwarf this one in selection. Some things have definitely been sitting for a minute, a hot minute at that. There is not a lot of order or explanation to the layout either, much less anyone to help guide you. My pidgin vernacular and hand gestures are quasi benefitial with at least one shop attendant.

All in all, worth poking around in. You will at least get a good understanding of how this section of Astoria operates.
Apr 13, 2011
Euro Market in Queens, NY
Place rating:
3.52
out of
5
with
13
ratings