St. Martin Dunkler Bock
| Aktienbrauerei Kaufbeuren AG
BA SCORE
83
good
11
Reviews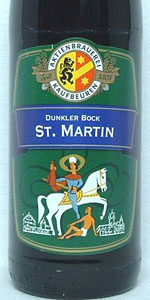 BEER INFO
Brewed by:
Aktienbrauerei Kaufbeuren AG
Germany
aktien-brauerei.de
Style:
Bock
Alcohol by volume (ABV):
6.60%
Availability:
Spring
Notes / Commercial Description:
No notes at this time.
Added by RoyalT on 02-21-2008
Reviews: 11 | Ratings: 18
4.07
/5
rDev
+11.8%
look: 3.5 | smell: 4 | taste: 4 | feel: 4 | overall: 4.5
500 ml bottle from tres bonne cuisine.. poured into my smaller weizen glass.. aggressive pour showed only a 1/2" head.. the brew is clear deeep amber... some brown.. but alot of red when held to a light.
Nose is obviously all about the malts.. rich maltiness.. toasty malts are the name in this game.. thick malt complexity.. very clean.. little else.. the aroma easily verges on dopplebock territory but without the malty sweetness.
Flavor is very very clean .. rich toasty maltiness... lite caramel.. just enough bitterness to roll with the malts... very nice... nothing wrong and very close to perfect.. the flavor is very fresh tasting.. ohhh so close to a dopplebock.. the palate is medium with low carbonation..
I typically don't appreciate regular "bock beers".. there are normally too many flaws to wrap my mind around.. but this one is very good.. very very good.. drinkablity is high.. alot of things going on with the St. Martin.. I applaud TBC for getting these brews in.. I picked up 8 bottles.. I think only the hefe and the weizenbock are left.... and I've been very impressed so far... Great beers... great brewery... and I am happy to support a little mom and pop shop.
3.5/4/4/4/4.5
1,204 characters

4.07
/5
rDev
+11.8%
look: 3.5 | smell: 4 | taste: 4 | feel: 4 | overall: 4.5
German 500ml/17oz brown bottle with no freshness date notched into the provided spot on the label.
A: Poured into an IKEA MJÖD 20 oz beer mug. Just picked it up in Burbank before hitting Vendome. Nice amber-brown color with a disappointingly short-lasting head.
S: Caramel, bready with some plum and fig. A slight hint of alcohol as it warms up.
T: I'm enjoying this dunkel bock, which starts off sweet on the tongue but quickly achieves the necessary balance as it swivels around the mouth. The dry, hoppy kick as it goes down is laudable.
M: Not quite a doppelbock yet it nearly feels like one. It's nice and chewy, and goes down silky smooth with a dry finish. Carbonation is a tad low though.
D: Is this a session brew? It sure puts up a valiant effort for being a 6.6% ABVer. The long drive today was worth it!
I suppose I would pick the Asam Bock, Salvator or Celebrator over this on most days, but St Martin is the best of the darker lower ABV bocks I've had.
977 characters
4
/5
rDev
+9.9%
look: 4 | smell: 4 | taste: 4 | feel: 4 | overall: 4
poured with no carbonation whatsoever but after a little vigorous plopping of the liquid into the duvel (i know, i needed a tall franziskaner glass...) it developed a thin topping of very creamy tan head. very dark mahogany brown when held to the light.
smells like dark fruit and smells like a heartier, higher abv brew than the 6.6%.
tatses like dark fruit, raisins, bitter sweetness and fig(?). kind of roasty malts, kind of a burnt caramel; like another said, it could be old...
thicker and heavier feel and overall it's okay. i can see myself sitting at the brewpub drinking several of these in succession, if there werent a variety of others to be had, but it wouldnt be a favorite. it's drinkable and has a defined taste, but i would prefer a bigger alcohol charge from my brew in a trade off of the thicker taste.
821 characters
3.94
/5
rDev
+8.2%
look: 3 | smell: 4 | taste: 4 | feel: 4 | overall: 4
Appearance - This is a pretty, kind of heavy brown in color with little head.
Smell - The thick, raunchy malts are heavily-toasted and reek of rich caramel goodness and some nice molasses.
Taste - The molasses comes on huge at the taste. This is a big bock. The sugars actually take a rewarded step back. This bock is powerfully balanced.
Mouthfeel - This is in between light and medium-bodied with some mild carbonation and a big salivating kick.
Drinkability - This is my idea of a bock but may be too big and raw for most.
537 characters
3.91
/5
rDev
+7.4%
look: 3 | smell: 3.75 | taste: 4.25 | feel: 3.75 | overall: 3.75
A - Chocolate brown with a wisp of a head and virtually no lace.
S - Sweet milk chocolate and gooey brownies "fresh out the oven."
T - Sweet chocolate milk made by a five year old (ie half milk and half Hershey's syrup), double chocolate brownies.
M - Sweet and sugary, but saved from sugar overload by a touch of hay-like hops and a medium body.
Good dessert beer.
369 characters

3.71
/5
rDev
+1.9%
look: 4.5 | smell: 3.5 | taste: 3.5 | feel: 4 | overall: 4
Pours a deep mahagony color with one finger almond colored head that lasted for a short time.Some roasted nut and brown sugar notes in the nose,a bit of iron as well.Flavors have light roastiness to them with some caramle and brown sugar,pretty basic but nice.Its a no frills bock beer, and thats not really a bad thing.
320 characters
3.53
/5
rDev
-3%
look: 4 | smell: 3.5 | taste: 3.5 | feel: 3.5 | overall: 3.5
I meant to grab a bottle of the Dunkler Dopplebock, but ended up with this instead. Oh well.
Pouring a clear, brilliant crimson with a dense, light-brown head with good retention, this beer is quite attractive. Significantly darker than your typical bock. The head slowly recedes to a disk, leaving no lace.
The nose is significantly better than I was expecting, given recent reviews. Like the stronger version of this beer (the Dunkler Dopplebock), the nose is wonderful and quite complex. Moderately fruity with plums, raisins, figs and some rummy, brown sugar sweetness, this is great stuff. A little cocoa is present as well, along with a mild cereal (corn flakes, anyone?) character.
The palate opens with a blend of mildly burnt sugar and flavors of caramel syrup (minus the cloying sweetness) and a moderate blend of the fruit character that I picked up on the nose. The fruit isn't as prominent, the palate really is dominated by the bread-like and caramel flavors present. The soggy corn flakes of the nose aren't really noticeable here. Not as well-rounded as it could be, this beer is drying on the finish with a touch of burnt sugar bitterness. Medium-light in body with a surprisingly low level of carbonation, this feels good on the palate. Ultimately, this is an enjoyable beer, but I've had better.
1,319 characters

3.37
/5
rDev
-7.4%
look: 3 | smell: 3.5 | taste: 3.5 | feel: 3.5 | overall: 3
Clear brown lager with a remarkable lack of head.
Smell is sweet and fruity with a nice toasted whole wheat bread aroma. Slight soy sauce aroma but I am really trying to detect this one bock flaw.
Starts out sweet and malty with a medium strong bitterness. Nutella on toast flavor, nuts, chocolate and toasted bread taste.
Mouthfeel is good.
Ho hum bock beer. Not a lot I can add, this is just a forgettable bock.
417 characters

3.19
/5
rDev
-12.4%
look: 3 | smell: 4 | taste: 3 | feel: 2.5 | overall: 3
A: The pour is a murky dark amber color with plenty of caramel color going on. The head is almost non-existent, a small group of tan bubbles form on top.
S: There's an incredibly rich sweetness to the nose. Lots of caramel, brown sugar, and maple syrup. Also some hints of chocolate and vanilla, adding to the sweetness. Notes of dark fruits such as cherries, raisins, and plums.
T: The flavor is not quite as sweet as you would expect from the aroma. It's also sort of watery. There's a bit more detectable roast and toast than offered up in the nose. Still, mostly caramel, brown sugar, and hints of chocolate.
M: The body is also mildly watery with a pretty low level of carbonation, which doesn't seem appropriate.
D: Too much water flavor and the mouthfeel was a real let down. Not sure what's going on with this beer.
827 characters

3.18
/5
rDev
-12.6%
look: 3.5 | smell: 3 | taste: 3 | feel: 3.5 | overall: 3.5
Not horrible but also not impressive. Bottle poured into a Golden Pheasant glass, beer is brown and clear with nearly no head, no lacing, low carbonation.
Aroma is mildly sweet and malty.
Beer is thin and watery with a mild sweetness up front and a mildly roasty bitterness at the back. Overall I drank the whole 500 ml of this beer but I was super bored the entire time. It was cheap and I won't buy it again if that says anything about it.
443 characters
2.92
/5
rDev
-19.8%
look: 2.5 | smell: 3 | taste: 3 | feel: 2.5 | overall: 3
500ml bottle.
It pours a dark brown and struggles to form a creamy off-white head.
The smell is rich and malty with some caramel, nuttiness, and cocoa.
The flavor is decent. It has light fruit, a light tartness, dark bread, caramel, and earthiness.
Not really an outstanding beer, it could be old.
301 characters
St. Martin Dunkler Bock from Aktienbrauerei Kaufbeuren AG
3.64
out of
5
based on
18
ratings.