BrickStone Restaurant & Brewery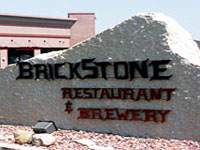 PLACE INFO
Type:
Brewery, Bar, Eatery
557 William R Latham Sr Dr
Bourbonnais
,
Illinois
, 60914-2319
United States
(815) 936-9277 |
map
brickstonebrewery.com
Notes:
No notes at this time.
Added by crayphish on 08-06-2007
Reviews: 10 | Ratings: 31
4.79
/5
rDev
+26.7%
vibe: 4.5 | quality: 4.75 | service: 5 | selection: 4.75 | food: 4.75
Stopped by after the Chicago Bears training camp and was more than surprised. I've driven by the place a lot as I live near by. I'm sorry This was my first visit but it won't be my last. Service is great, Lani was the bartender and had fantastic knowledge of the beers which surprised me since I first thought she was behind the bar because of looks. Samples are plentiful and numerous which is good if you can't decide. The APA they brew was my favorite and comes in 16oz and 22oz. The food was also very good. Had the BBQ bacon jam burger. One of the better burgers I've had. Who knew a place like this would be so far outside Chicago. Make a point of going regardless of the activity in the area. I can't wait to return.
723 characters
4.75
/5
rDev
+25.7%
vibe: 4.5 | quality: 4.5 | service: 5 | selection: 5 | food: 4.5
They offer generous samples of their fine selection of brews. The food/beer pairing was right on the money. Creole Tilapia was delicous and the English IPA pairing was a perfect match. The Thai Nacho appetizer was so unique and delciously crisp with a great homemade sweet and sour sauce and chicken cooked perfect and tender. The potato cheddar soup was awesome with the fresh bread loaf... The prices were appropriate for the quality and service.
The first brew we tried was their GABF gold medal winning american pale ale and it was a treat. We split a Cherry ale and it was a good fruit beer. We finished with a nice oatmeal stout. We finished dinner and asked for a tour. Our waitress found George the owner working in the brewhouse who offerd a quick tour. We talked his ear off and he sat with us and offered a glass of their wonderful double IPA....great stuff. Tommy appeared and graciously agreed to pictures with my brother. Dino the chef (George's brother) came out and greeted us too. They are great people as is the staff. This family run restaurant and brewery is much more freindly than some. Much like Half Acre brewery staff.
Thanks again to the hosts and good wishes for the future. Keep up the great work!
1,227 characters
4.25
/5
rDev
+12.4%
vibe: 4.5 | quality: 4 | service: 4 | selection: 3.5 | food: 3.5
I made my first visit to Brickstone last night (local homebrewer club meeting).
Parking on a busy Friday night was a challenge as there seemed to be fewer parking spaces than there are tables in the restaurant, but maybe that was just the perception.
Inside, the whole place feels very much like a chain type brewpub (ala Rock Bottom). That's not inherently bad...just an observation. Lots of newish looking woodwork and tile. Lighting was fairly dim. Though the place was packed it wasn't too loud for casual conversation.
The beers I tried were all well made and for the most part pretty interesting. I really liked the stout, the Belgian wit, and the rye pale ale (full glasses of each for me). I also tried an Irish ale and a brown ale that were well made but not really my cup of tea. For a brewpub, selection was pretty good.
Service was attentive and friendly, even on a terribly busy Friday night.
The food I tried ranged from ok to solidly good (all appetizers). The barbecue wings were very good in my opinion, but the buffalo chicken was not the best.
Considering the area this place is in, Brickstone is definitely worthy of "must visit" status. I will gladly return again.
1,195 characters
4.22
/5
rDev
+11.6%
vibe: 4.5 | quality: 4 | service: 4.5 | selection: 4 | food: 4.5
I've been to this brewery a lot. Their beers have got much better over the years. Brickstone feels more like a restaurant than it does a brewery though. The beer is good and they have great specials during the week. The best day to go is on a Tuesday. $3.50 23oz pints of their brews is an awesome price. The staff here does a good job the with serivce. I never have to wait to get my glass filled. The food here is awesome. Its not overpriced in my opinion. The only thing I don't like is that a lot of times they run out of their beer for a while. Hopefully an expansion is in for the near future.
599 characters
3.9
/5
rDev
+3.2%
vibe: 4 | quality: 4 | service: 4 | selection: 4 | food: 3
Stop #213 on my brewery tour of the world.
Headed in with low expectations given the rural location and my overall experience with suburban Chicago brewpubs (3F aside).
Around six pm on a Wednesday. Sat at the bar where most of the people where drinking domestic light or mixed drinks...another sign to lower expectations.
Went with an eight beer sampler and they were out of hefe, wit, and dipa.
Light Lager
Cherry Ale which I really enjoyed to my surprise.
Pale Ale with amarillo hop additions
IPA had a bit too much caramel and not much aroma
Irish Red
Specialty Dark was a chocolate stout which was very roasty with a touch of chocolate on the finish.
Notable bottles - SN pale ale, Fat Tire, Wild Blue, Woodchuck Cider, Lindemann, and lots of macros which is not so notable.
I had the Greek salad which was average.
Overall, nice atmosphere and a lively place with a variety of lots of locals enjoying themselves. I enjoyed the beers enough that if I was in the area, I would stop by again. The brewer seems to know what he is going and the beers were overall all well done.
1,093 characters
3.85
/5
rDev
+1.9%
vibe: 3.5 | quality: 4 | service: 4 | selection: 4 | food: 3
The Brickstone Brewery has been open for well over a year now. After giving it a try soon after it opened, and being disappointed, we recently gave it another try. The restaurant is decorated in a contemporary yet cozy decor, a separate moderately sized bar waiting area and an outside seating patio add to the atmosphere. Service was slightly above average, with the staff getting high marks for their effort in the face of the business being extremely busy. The beer selection is decent for the area, beers on tap are as follows: FFF Alpha King and Gumballhead, Founders Centennial IPA, Sam Adams Summer Ale, Flossmoor Station's Pulman Nut Brown Ale, Goose Islands 312 wheat amongst others that I will update. The bar was just too crowded to get a handle on the handles. Bottles included: FFF Robert the Bruce, Delerium Noel and Nocturnum, Unibroue La Fin Du Monde, DFH 60 Minute and Aprihop, Great Divide Titan IPA. They also feature a handful of brews made on the premises. I sampled their English IPA and found it to be a decent offering. The food could still use some work. We all had burgers or sandwiches. I had an 'Ole' burger which was supposed to feature jalepeno cheese and jalepenos. The cheese seemed to be nothing more than Velveeta with jalepenos slices melted in. My wifes had a Roma burger that featured greek cheese, which seemed to be a better offering. All in all the value was definitely good, had the prices been outrageous on the food i would have been more turned off. And the problems are nothing that can't be fixed. Food aside the Brickstone is definitely a beer destination in the greater Kankakee area.
1,632 characters

3.73
/5
rDev
-1.3%
vibe: 3.5 | quality: 3.75 | service: 3.75 | selection: 3.75 | food: 3.75
The vibe here is comparable to a buffalo wild wings or generic sports bar type place. There is some restaurant seating that is a bit nicer, but overall its just a generic brewpub.
The beer is mostly average at best, but there are a couple beers that are really outstanding. The APA and Hopskip are both excellent beers. They also have wine and cocktails.
Service was solid if unremarkable.
Section of beers is solid. They have a bit of everything.
Food was again, what you'd expect from an american brewpub. Plenty of appetizers, burgers, sandwiches, wraps, salads, etc. Pretty good food.
595 characters
3.43
/5
rDev
-9.3%
vibe: 3.5 | quality: 3.5 | service: 3 | selection: 3.5 | food: 4
I'm a local who's probably more ambivalent about Brickstone than most people in the area. It's great for this area since there's nothing else like it here, but it might not stand out as much in an area with more of a craft beer culture. I'll admit that I tend to have growlers filled for home much more than I eat or drink there. I'm certainly not a regular. That might color my perceptions of it a bit.
Service seems to be on a hit or miss cycle that tends toward the extremes on both ends. Service on one visit may be awful, followed by exceptional service the next, repeat ad nauseam. The bar area is often very loud, mostly likely due to the acoustics of the space.
The beer is solid to good. I don't think I've had anything that has absolutely knocked my socks off, but there are some good options like the APA. I think they're finally focusing less on cranking out hoppy pale ales and hop bomb IPAs, something I'm glad to see as my tastes have moved away from hops just for the sake of being hoppy. As others have already pointed out, availability of even their regular beers can be an issue.
The food is good. I don't have any specific recommendations, but I can't think of anything that hasn't been at least very solid.
If you're already in the area, it's worth a stop. I don't know if I'd make a special trip though, especially if you live somewhere where craft beer bars and brewpubs are more plentiful.
1,418 characters
3.1
/5
rDev
-18%
vibe: 1.5 | quality: 3.5 | service: 2 | selection: 4 | food: 4
Stopped here with the wife and kids on a lazy, slow, uneventful Tuesday afternoon.
This town has a college nearby... So I was expecting some college girls as the waitresses--- I was close. The hostesses and waitresses I saw seed to look like they worked in a stripclub as opposed to a brewpub. I mean that inthe best way possible, so please don't be offended! 'twas almost awkward to be there with my wife.... It may be an entirely different experience to be here with a group on a guys night out-- married or not!
The atmosphere is pretty unimpressive. The place seems like it was built in an abandoned 80's chain place (like a Fuddrucker's for example). The exposed rafter ceilings were replaced withthe faux-brass patina look-- you know the one; drop frame ceiling where the panels are made out of a shiny copper-colored plastic. The brewing equipment isn't displayed so much as it appears to be considered a nuisance.
Some drapes and curtains and fabric strips hanging from the ceiling complete the Persian-coke-den look perfectly. The paint and decor is all done in differing shades of tan with some mahogany wood work around the bar area.
The overall look is dim and poorly lit.
The food is pretty good-- the wife got some sort of goat cheese and portabello mushroom sandwich, I got a rueben, and we got the kids some loaded nachos on which to munch. The nachos were good but overpriced-- $10 was a bit much. The rueben was good and stacked high with corned beef. The wife liked her sandwich too.
The French fries were thin cut and crispy-- perfect.
The bee's were allright. The DIPA was unimpressive, but the pale ale was pretty tasty.
Overall-- certainly worth stopping if you're already in the area... But don't go out of your way for it.
1,759 characters

2.53
/5
rDev
-33.1%
vibe: 4 | quality: 3 | service: 2 | selection: 1.5 | food: 3.5
I visited Brickstone this evening, and while this wasn't my first trip there, it may have been my last. Okay, that may have been a bit too far, but the experience did leave a lot to be desired. The ambience of the place was cool and it was pretty crowded, but not overly crowded. As you walk in, there is a huge sign advertising their "Forbidden Wheat" and the awards it had won. I don't like wheats but my brother does and when he ordered it, the response was "oh we don't have that." He then tried to order their "Irish Red Ale" and the response was the same. This was a Saturday night, mind you, not a Tuesday afternoon! I inquired about the Double IPA that the website listed as being on tap, and wouldn't you know it, they were out of that too. When I told the waitress that it may be easier if she told us what they did have, she gave me a blank look and listed off a few brews. She didn't even mention the guest brews, so I don't even know what they were. The food was alright, bordering on good, but the beer situation really turned me off. Also, the beer that I did have, "Hop Injection," tasted a little like dish soap, but I'll get into that under my next review, which can also be found on this website in about 15 minutes. Cheers!
1,243 characters
BrickStone Restaurant & Brewery in Bourbonnais, IL
3.79
out of
5
based on
814
ratings.