Dismiss Notice
Extreme Beer Fest:Los Angeles
Join us December 9th in Los Angeles for the ultimate throwdown of craft beer creativity!
Learn more...
Dismiss Notice
Blue Diamond Stout
| Guangdong Blue Ribbon Group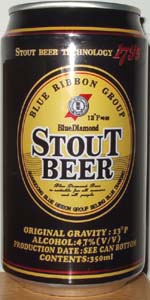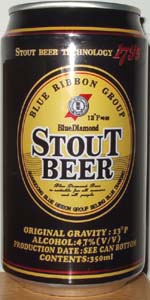 BEER INFO
Brewed by:
Guangdong Blue Ribbon Group
China
blueribbon-beer.com
Style:
American Porter
Alcohol by volume (ABV):
4.70%
Availability:
Year-round
Notes / Commercial Description:
No notes at this time.
Added by hunteraw on 08-15-2007
HISTOGRAM
Ratings: 8 | Reviews: 7
Reviews by Golden2wenty1:
2.82
/5
rDev
+36.2%
look: 2.5 | smell: 3 | taste: 3 | feel: 2.5 | overall: 2.5
Brought back from Beijing by my lovely girlfriend.
"Blue Diamond Stout Beer is suitable for all seasons and all people"...can't argue with that...
Pour: dark amber, transparent (too thin for a stout and even for porter) under a cm of wispy tan bubbles that fizzle instantly.
Nose: bready grain, sweet lactose, hint of char...fairly light overall.
Taste: a bit of plasticky off-taste mixes with stale grains, sweet malt, a hint of caramel and a dry char finish.
Feel: very light,,.too thin for a stout.
Drinkability/Overall: More of a dark beer than stout or even porter. A fairly straightforward malt bill leads to a drinkable enough experiece, er...suitable for all seasons and all people...I guess.
719 characters
More User Reviews:

1.38
/5
rDev
-33.3%
look: 2 | smell: 1.5 | taste: 1.5 | feel: 1 | overall: 1
I received a can of this absurd Chinese brew as a "bonus" along with a bottle of Sam Adams Triple Bock, which I actually requested in trade. Hey, I HAD to try Triple Bock; it's too legendary for me not to! Anyway, this can was an unexpected...er, "treat," and I felt I owed it to the world to review it.
Appearance: This is the beer's strong suit, and that's saddening. Poured out of an old-fashioned pop-top can, Blue Diamond Stout looks and feels like vaguely carbonated, used motor oil. It's slippery and slick, with a color somewhere between burnt coffee, the aforementioned engine lubricant, and the soul of someone who has just tasted Triple Bock. Carbonation is barely there, there's no head, and retention and lacing are nil. Why did I bother pouring this into a glass? And how am I going to sanitize said glass after forcing it to host this foul detritus?
Smell: Imagine Miller Lite, but brewed with rice instead of corn. Then add a shot or two of fireplace ashes, cut with rotten Tootsie Rolls. After that, weaken the aroma by mixing the concoction with lukewarm well water, and you might have something whose scent approximates this. It gets an extra half a point for somehow managing to produce a vague, fleeting hint of stout-like aroma in spite of all the nastiness it has going on.
Taste: Unfortunately, the taste follows the nose. There is enough roasted-malt flavor to taunt the drinker with broken promises of stout-like goodness, but it's quickly overwhelmed by a tidal wave of fermented rice. It's not good.
Mouthfeel: Horrifying. Among the worst I've ever experienced -- and this is coming from a guy who used to eat dead bees for money in middle school. This foul fluid manages to be watery, slippery, oily, and heavy in the mouth, all at once. God help me, this is bad stuff.
Drinkability: Zero. I'm ashamed of myself for finishing the whole 350-ml can. Until glancing up at the beer's description on this site, I didn't know what the ABV was. As it turns out, it's low enough to keep the beer from delivering even mild intoxication, so it doesn't even have that to redeem it.
All in all, I'm very pleased to have had the opportunity to sample this bizarre mutant beer from China. You see, I've decided to treat beer the way I treat movies: enjoy the absolute best and absolute worst of both. Triple Bock? Check. Blue Diamond Stout Beer? Check. Next up: Crazy Ed's Cave Creek Chili Beer. You're damn right.
2,435 characters
1.87
/5
rDev
-9.7%
look: 4 | smell: 2 | taste: 1.5 | feel: 1.5 | overall: 2
Bought at one of the big supermarkets here in Qingdao, China. Brew date is May 8, 2010. 330mL can. 13 degrees Plato and >4.5% ABV.
Appearance: Deep brown to black color, nearly opaque. Poured with about an inch of creamy tan head, which had a retention of a couple of minutes, leaving generous lacing. So far, so good.
Smell: My first impression was of cotton candy sweetness. No kidding. Then sort of a strange chemically sweet odor. I don't think I'm in Kansas anymore...
Taste: Watered down, vague bit of roasted malt in there somewhere. This is a far cry from the claimed stout. Not much maltiness, no hops, a fair bit of rice.
Mouthfeel: This has to be the lightest bodied "stout" (or even porter) that I have ever had. Little carbonation on the palate. Dry finish with a tease of roast malt.
Overall: A disappointment. I was intrigued by the range of ratings this beer has received, still am. It had such promise when I poured it, but I am debating whether to finish it or drain-pour it. I won't be having another, thanks.
1,036 characters
1.06
/5
rDev
-48.8%
look: 2 | smell: 1 | taste: 1 | feel: 1 | overall: 1
Bought this canned liquid straight from a local supermarket in China. Couldn't wait to taste it when I got back in the car (temperature was about 10C), and immediately realized I had just failed for another Chinese scam. It is no way can be called stout, neither porter. It is better to be catergorized as an American adjunt larger, as it says on the ingredient list: Water, malt, caramelized malt, dark malt, starch, rice, hops.
To write this review, I poured one can into a glass. Its head was creamy looking, even some laces, I bet that's why it's called stout by the brewer. Given the ingredient list, I believe they used wheat malt, not barley malt to get the heavy protein content. Smelled caramel, not hop. The overall taste is too sour, with hint of tar, no taste of hop. The bitterness taste was more of burned grains (starch). Fizzy!
845 characters

2.33
/5
rDev
+12.6%
look: 3.5 | smell: 3 | taste: 2 | feel: 2 | overall: 2
Einweizenbitte sent me a CAN during his travels and I set it aside, awaiting picture approval, determination of brewery, and some other factors and then the site went Kaput! for a while and I shunted the CAN even further to the side. Today is New CANned Black Beer Sunday for me and this will be the first offering.
From the CAN: Most of the writing is in Chinese, so it is a loss, but there is some English - "Blue Diamond Beer is suitable for all seasons and all people".
No Crack as this one is closed with a Pop Top! Pop! goes the top and I am off and running. In fact, I am often running, namely from the cops. The inherent carbonation rendered the mountain of deep-brown head rather fizzy, but it still produced a pseudo-cascading action on the inverted Glug. Color was mahogany with NE-quality clarity. Nose was quite sweet, almost syrupy and it begs the question as to style. The site currently lists it as an "American Porter", but the name identifies it as a Stout. Huh? How do you CANfuse one with the other? Mouthfeel was awfully watery, regardless of the style and the taste was of prune juice, quite frankly. How do I know? My late maternal grandfather used to drink it religiously when I was a kid and once gave me some to try in order to satisfy my curiosity. It worked, as I have never drank any since, but this had its taste. Finish was sweet, prune juice-like, unsatisfactory for any season and for anyone. Bleah!
1,435 characters
3.33
/5
rDev
+60.9%
look: 3.5 | smell: 3 | taste: 3.5 | feel: 3 | overall: 3.5
4.7 percent alcohol, original gravity 13 degrees.
Appearance: coffee color, not quite opaque. nice off-white head, little retention but good lacing.
Smell: very light nose, just a little bit of caramel.
Taste: caramel, roast. bit of a sour edge. some chocolate at the finish. tastes better than it smells or looks.
Mouthfeel is light-medium. carbonation on the light side. much better than i was expecting. A surprisingly decent Chinese dark beer, but I'm classifying it as a porter, not a stout.
508 characters
1
/5
rDev
-51.7%
look: 1 | smell: 1 | taste: 1 | feel: 1 | overall: 1
At the risk of sounding entirely too blunt and un-constructive, this is the absolute worst beer I have ever had in my life. Beers I previously called "bad", I now realize are actually just boring. I'm living in China, and a picked a few of these up in the can from a local supermarket in hopes it would be passable. Boy was I wrong. After drinking enough of the first can to confirm how truly awful it was, I dumped the remaining cans in the sink.
This beer has the appearance and mouthfeel of coca cola, and the taste of coca cola mixed with some other random terrible beer. It just has a really awful taste that's very difficult to describe, and everything else about it is equally bad. As a homebrewer, I'm actually baffled as to how this beer is made. It might be worth trying once just for the experience, and for the fact that it will probably make you much more tolerant of other not-so-great beers in the future.
If you're looking for a dark beer in China, look for Tsingtao Stout. It's surprisingly good.
1,017 characters
Blue Diamond Stout from Guangdong Blue Ribbon Group
Beer rating:
2.07
out of
5
with
8
ratings