Brewbaker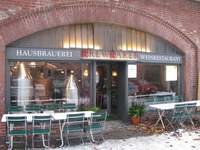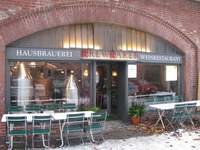 PLACE INFO
Type:
Brewery, Bar, Eatery
Arminiusstr. 2-4
Berlin
, 10551
Germany
030-39 90 51 56 |
map
brewbaker.de
Notes:
No notes at this time.
Added by elmocoso on 08-18-2007
HISTOGRAM
View: Beers | Place Reviews
Ratings: 11 | Reviews: 11
Reviews by Chinon01:
3.71
/5
rDev
-10.6%
vibe: 3.75 | quality: 4.25 | service: 3.25 | selection: 3.5
After a bit of confusion we found this place. It was formerly located under S Bahn station (Bellevue) but w/in the passed couple years had moved to Arminiusstrasse. Also we wanted to take some beer as away; as it was indicated on their website and by a display of bottles w/ price tags at the brewpub that you could purchase. However we were told they had no bottles for sale. However the beer served at the pub was fresh and outstanding. Pils was malty sweet but balanced and the pale ale was a revelation. Super clean and fruity for a pale ale. Guest beers were available too. They do not serve food but the establishment is inside of a pretty good size market which has many food stands. Had an average bratwurst from somewhere. We visited Brewbaker twice during our stay in Berlin.
785 characters
More User Reviews:

4.05
/5
rDev
-2.4%
vibe: 4.5 | quality: 4 | service: 4.5 | selection: 3.5 | food: 4
First, it's important to point out that this restaurant, though the home of Brewbaker, is actually called Zunftwirtschaft. It is one of a handful of Berlin locations that serve Brewbaker beer.
I visited in summer, and it was lovely to sit out on their patio in the evening. Their chef was outside the entire night behind a grill where he was cooking up fresh bratwurst and chicken breasts. All of the food is seasonal and local, coming from nearby farms. And you can tell with the wurst: it's juicy and clearly fresh, seared on the outside, cooked just enough on the inside. The salad is made with all fresh and local produce, and was a welcome addition to my table!
Both the server and the chef were wonderful people, pleasant, and talkative. My wife had asked for their Ginger Ale, which they were out of, and then happily suggested some other options (some of which did not appear on the menu). The chef came over to our table and personally asked about our meal, we had a lovely conversation, and he seemed genuinely touched by our praise. Both were willing to speak in German or English.
The beer – which I have talked about it individual reviews – gets tremendous props for being the best brewery (by far) in Berlin. They brew a pils and hefe, but they also brew IPAs, Stouts, Porters, and a smattering of other beers and styles. They are always trying new recipes, and it is fairly likely that every season features a different lineup of beers. The beer is very good, and, in comparison to other Berlin offerings, extraordinary. In a more international comparison, the beer is still nicely made, but nothing I'd go out of my way to trade for once back in the States. It is worth mentioning that it is also fairly cheap: a 22oz bottle costs only 5 euro!
Zunftwirtschaft is a modest establishment that really caters to the beer enthusiast. It is among my favorite establishments in the city, and I cannot recommend it more highly. If you are visiting the city, I consider this a must.
1,997 characters
4.22
/5
rDev
+1.7%
vibe: 4.5 | quality: 4 | service: 4.5 | selection: 4 | food: 4.5
We went to Brewbaker in December 2010. They had 3 beers available; Bellevue Pils, Oaty Stout and Weiner Nacht. The best for my taste was the Weiner Nacht. Their food menu is small but the food was delicious. We stopped in for lunch and had crepes and a quiche. I liked the ambiance - stylish and mellow music playing. There is a cool sheep dog that guards the door as well. All in all, it is conveniently located at the Ubahn station Bellevue and it is worth a visit. They also sell t-shirts - just ask. Cheers
510 characters

4.35
/5
rDev
+4.8%
vibe: 4.5 | quality: 4 | service: 4.5 | selection: 4.5 | food: 4.5
5 min walk from the Bellevue S Bahn, located in one the railway arches, visited on the evening of the 28/09/2010.
Bare bricked walls and low lighting, a brewing copper is visible in the left hand corner as you walk in, you can watch the brewer at work. Lots of seating available, metal chairs and tables maybe not the most comfortable. High tables, low tables, big and small, running the length of the single room. The bar/open kitchen area is the focal area in the middle of the room, making for some great people watching at work. Available beers written up on a chalkboard at the left hand side of the bar.
Atmosphere was relaxed with the afterwork crowd in for some beer and food. Lots of chatter, one woman came in for a beer, sitting at the bar with her bulldog sitting patiently by her side, it got bored, so it kept coming over for belly rubs which was entertainment in itself.
We sampled a house pils and a mohagany coloured malty bock served in 0.3cl glasses, in excellent condition and cool but not cold temp. Ideal
Service was quick considering the amount of people, the waitress was friendly recommending the bock along with the Blutwurst i had for dinner along side apple sauce and mashed potato. Very tasty!
Selection is hard to pin down, as from the website they have their regular Bellevue pils, and they regularly brew traditional German styles such as Alt, Helles, Bock along with other Foreign styles such as IPA and stout. So i think if you were here for any length of time and sampled them all when available, its a great cross section of styles to try!
Overall, great buzz with its young crowd, excellent friendly service, wonderful tasty food (albeit not extensive) and fresh lovely beer would make this a regular for me when in Berlin!All it needs is a comfy couch!
1,796 characters
3.65
/5
rDev
-12%
vibe: 3.5 | quality: 4 | service: 4 | selection: 3 | food: 3.5
Having lived in Germany for just over a year now, I've had the chance to visit several brewpubs in different cities around Germany. Without fail, those brewpubs all have the same look-and-feel and all sport the same small selection of traditional German beers. This is the first brewpub in Germany I've visited that was not only more akin to an American brewpub in its look-and-feel but was also offering beers that were not just traditional German styles. When I visited a few weeks after Christmas, they still had a Christmas Ale available, and I must say that it really nailed what a Christmas Ale should be like, with a taste full of the typical spices you find in Christmas-type offerings (nutmeg, etc.). Overall, I enjoyed this brewpub for the change of pace and would be intrigued to go back. I will say that the menu at lunch time was very limited with only three entrees and a soup available. However, the food was quite good and fresh.
945 characters
4.33
/5
rDev
+4.3%
vibe: 4 | quality: 4.5 | service: 4.5 | selection: 4 | food: 4.5
One of my favorite spots in all of Berlin, this pleasant restaurant-brewpub is super easy to get to (it's literally under the S-Bahn station Bellevue, between the Hauptbahnhof and Zoo) with a tasty, if limited, food selection, a efficient and English-speaking staff (although they've always let me speak German, for which I am thankful) and exceptionally creative beers for Germany.
There's always at least one vegetarian entree on the menu, but rarely more than four or five entrees altogether. I've had a great schnitzel, decent spätzle, a good steak, and once a great pumpkin soup. And then the beers--there are usually only three on tap, the superb pilsner, and then always something neat like a lebkuchen or a pumpkin lager. I had a potato stout once last summer which I also remember fondly, although I didn't have my notebook on me.
Highly recommended.
863 characters

3.88
/5
rDev
-6.5%
vibe: 3 | quality: 4.5 | service: 4 | selection: 3.5 | food: 3.5
I went here with my girlfriend after reading a couple of reviews on BA and we had a grand time. Just to clarify, this is not a pub or a kneipe - it could most accurately be described as a restaurant/bistro, so if you want to sink 7 or 8 pints and get a bit loud this probably isn't the place to do it. Which is perhaps a shame because their house beers are really excellent. They have a couple of outside brews, including a Weihenstephaner Weizen, and three of their own. The delicious Bellevue Pils is permanent and the night I was there I also tried a very interesting Rauchbier and a truly superb Bohemian pils. The food wasn't bad either. I had a very substantial, and tasty, water buffalo steak with fried potatoes and my girlfriend had a nice little pasta dish. The service was efficient and quite friendly and while it wasn't as dirt-cheap as some places in Berlin it was certainly very reasonable. The atmosphere was laid back and most of the customers were couples or people drinking and chatting in small groups. It's a piece of cake to find and if you're in search of memorable beer and decent food, you can't go far wrong with Brewbaker.
1,149 characters
3.75
/5
rDev
-9.6%
vibe: 4 | quality: 4 | service: 4 | selection: 3 | food: 4
Visited twice while in Berlin for Green Week 2009.
Under the railway lines, built into the arches of the raised station this up-market bunker/celler bar is very well appointed and has obviously had some serious money hoofed at it.
Attentive service and good quality beers, the smoked beer I had was lovely and crisp on both occasions. There is a chalkboard with whatever is available, their regular light and dark beers plus a seasonal/different brew.
Our food was well presented and very good, Tuna Pasta for my wife, a Schnitzel for me. Food appears to be just as important as the beer here. Wine also seems to be towards the fore.
You don't have to eat but this isn't the sort of brewpub where lads all stand about drinking and having a laugh. It has a calm, restrained atmosphere with no seats at the bar, very un-brewpub like.
I don't seem to have painted a very good picture of this place, which is a pity because we liked it. No smoking too, because of the food!
974 characters
4.65
/5
rDev
+12%
vibe: 4.5 | quality: 5 | service: 4.5 | selection: 4.5 | food: 4.5
This is hands down the best brewpub (or beer producer on any type) in the Berlin area. In the past 6 weeks, we have been here 8 times and I am sure we will be here at least 2 more times in our remaining 8 days in Berlin.
The food is very high quality, made to order by 1 guy and quite excellent. The cheese platter is very good, and tonight we had the Pumpkin soup and a Water Buffalo Steak with creamed cabbage and both were exceptional. However, the menu is very selective and every changing with only about 4 entree available any given day, so don't count on eating here if your with a picky eater.
The atmosphere is very cosy, discussion friendly, and older locals.
It is not a "pub", but rather more of a cafe feel. Although it is rather rustic and unique feeling due to it being a tunnel that cuts under the elevated train (S-bahn). Speaking of which the location is very accessible being 1 block from the Bellevue station, which is 1 station West of the Main Hauptbahnhof station.
Oh, and the Owner, Brewer, host, Waiter is a great though very subdued and quiet guy. The rest of the wait staff is also very nice.
But I really keep coming back for the beer. He always has 3 beers of his own plus a HefeWieiss from Westaphaner.
In 6 weeks the Pils has stayed on, but its very good and while authentic tasting is the hoppiest thing we've had in Germany (in a very good way).
The other beers have all been very good to exceptional, and have included: Chili Beer (the best example of the style), English Pale Ale, Potato Stout, Porter, Munich Dunkel, another Dunkel, Pumpkin Beer, Wasabi Pils, and Oktober Fest.
All of them have been well worth having another. Besides complex yet subtle flavor profiles, his beers have exceptional mouthfeel, and proper carbonation.
Make this among your first stops or you will regret not having a change to come back.
1,866 characters
4.66
/5
rDev
+12.3%
vibe: 4.5 | quality: 5 | service: 4.5 | selection: 4.5
UPDATE: MAY 2011
Its sad that Brewbaker lost his lease under the SBahn in Bellevue, but we were there to try his very first two beers at his new location on Arminiusstrasse and they were still excellent. He made a pils and an incredilble imperial stout. yes, an imperial stout. in germany. And it was glorious. Great body, hid its ABV well, great flavors. Still worth seeking him out -- this is some of the very best beer in Berlin.
OLD REVIEW:
This brewpub, set in an SBahn arch, is a long room with a brick walled barrel vault ceiling and walls. Its comfortable and candle lit. Brewing equipment sits up in the front window. There are many tables in the front and back areas -- probably seating for 80-100?. Small bar in the middle with taps and open kitchen space behind it. Some table out front on the sidewalk too.
Its easily accessible from Bellevue stop. Exit to the north of the tracks, cross the street, look for the brewpub under the train line.
A welcoming bar/restaurant with 4 beers on tap, usually 3 housemade. So far we've not eaten here but the food looks fantastic.
This is one of the top breweries in Berlin if not the top (we haven't visited them all yet..) but we've been here 3 times in 2 weeks. Small batches of experimental and high quality brews -- with interesting ingredients and sometimes not to style (that's a good thing). Last week we had a "porter" which was nice and roasty and a "real ale" british style bitter. Also the house Pils which was excellent quality (and is probably the beer style that may be always on tap given that this is a brewery in Berlin). The fourth tap is/was Westephaner HefeW.
This week we were greeted with an exceptional Chili Beer -- a dunkel with chocolate malts and just an edge of chili that hits you at the back of the throat. They also had a Fest which was sort of like an Uber-marzen with both clear pils/hops and malty profiles.
We will keep coming back. Pumpkin beer is coming soon!
Also, I think the beers have been 3 euro per .5 l which is entirely reasonable pricing.
Finally because I mourn the loss of the beer guides on these pages here is some more summative info for fellow travelers:
So far this is among the top destintations in Berlin -- along with Mommsen Eck/Haus der 100 Biere (the original near Charlottenburg SBahn stop) which has Andescher on tap (not as welcoming, but right now they have Doppelbock Dunkel on tap which is in its own eschelon), and the Speciality Beer shop in East Berlin: Bier-Spezialitaeten-Laden at 56 Karl Marx Allee with its extensive selection and very helpful and knowledgable owner.
The Lemkes are fine and we had both quality beers and food there, but this is the place (BREWBAKER) to make a beeline to.
2,727 characters
4.4
/5
rDev
+6%
vibe: 5 | quality: 4 | service: 5 | selection: 4 | food: 4.5
Brewbaker is located in one of the arches right under S-Bahn Bellevue. Take the only exit and cross the street. Walk a bit, and it's right there on your right. You can miss it, so watch out. Every time I go I think it's further than it is, but
First of all, the beer. Brewbaker is one of the most experimental brewpubs in Berlin. That's actually a huge thing, as most of the other brewpubs just have dark and light, usually lagers. Here, I've had an Espresso Stout, a traditional British Bitter, an Alt-Berliner, a Schwarzbier, as well as a Berlinsch, their take on Kölsch. Unfortunately, I missed the Pumpkin lager, and am still kicking myself for it. They usually have four beers on tap, though lately it's been only three. The Pilsner and Hefeweizen are usually standard, though the Hefe has been dropped as of late, and they are serving a commercial Hefeweizen.
The atmosphere is actually quite amazing. Even though it is under the train tracks, I don't think I've ever heard the train whiz by, despite the soft music. The arches create a dark atmosphere, and the place has never been well-lit, but it's also never too dark. The smoking section is in the front, and the non-smoking in the back. In the middle, sort of set into the wall is the kitchen and bar. The bar looks like an ordinary bar, sort of standard, but behind it, in a very open area, is the kitchen. You can see their modest set-up, and even watch the cook do his thing, if you want.
The food here is quite yummy, though I've actually only had vegetarian dishes. But it's very rare to get a good veggie dish, and even rarer in Germany. I've had twice now, the whole grain- er- pancakes- with goat cheese. They're not breakfast pancakes, but you really can't call them anything else. However, compared to other Berlin prices, the food is a bit expensive. Just a bit. However, it will be offset by the price of the beer, which is very low compared to the average price in Berlin.
The service has always been exceptional, which for Europe means attentive, but that's it. Okay, I kid. One of the waiters recognizes me now, and has always been formal and nice. I usually chat with him, though while he's filling up a growler for me.
Yes, they have growlers. I am not sure if they are still around, as they no longer advertise them like they used to. They seem to push the wine a bit more. However, I got one filled a week ago without a problem. They knew what to do with it, and besides, it has a sticker with the restaurant's logo on the side.
All in all, a great experience. Though I know it is out-of-the-way, I still think it is a great place to have a meal or visit. Just one stop away from Hauptbahnhof on the way to Zoo, or two stops from Friedrichstrasse.
2,736 characters
Brewbaker in Berlin, Germany
Brewery rating:
3.52
out of
5
with
68
ratings