Flagship IPA
| Carolina Brewery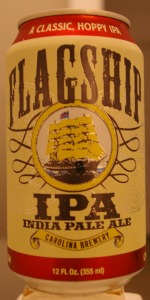 BEER INFO
Brewed by:
Carolina Brewery
North Carolina
,
United States
carolinabrewery.com
Style:
English India Pale Ale (IPA)
Alcohol by volume (ABV):
5.70%
Availability:
Year-round
Notes / Commercial Description:
No notes at this time.
Added by CWiggins on 06-24-2008
Reviews: 9 | Ratings: 29
3.06
/5
rDev
-12.1%
look: 4 | smell: 3 | taste: 3 | feel: 4 | overall: 2.5
12oz can
Served in a perfect pint glass
A - It is orange with amber highlights. It had two inches of off white head.
S - The aroma has some bread qualities. I also smell metal. It finishes off with skunk weed.
T - It starts out with some biscuit flavors and caramel malt. Then it turns bitter. It's kind of a dull, numbing bitterness.
M - Medium
O - It goes from malty to bitter and leaves a bitter aftertaste. I'm not digging it.
435 characters
3.07
/5
rDev
-11.8%
look: 4 | smell: 3.25 | taste: 2.75 | feel: 3.5 | overall: 3
Poured from a 12 oz. can. Has a cloudy caramel color with a 1/2 inch head. Smell is mild, some hops, not a lot going on. Taste is hoppy, bitter, unbalanced, Not really my thing. Kind of lacking in flavor. Feels medium bodied in the mouth and overall not a terrible beer, just less flavor and drinkability than most IPA's.
321 characters
3.09
/5
rDev
-11.2%
look: 3.75 | smell: 3.5 | taste: 2.75 | feel: 3.25 | overall: 3
Poured from a can into a Belgian glass. Orange in color. The smell does not give you much of a hint of the hop bitterness to come. The description on the can says it all "A Classic Hoppy IPA." The taste starts out bitter and ends the same way. Super hoppy/bitter beers are not my thing so I probably would not buy this again. However, if you enjoy this type of taste and style then you should give this a try.
415 characters

3.34
/5
rDev
-4%
look: 3.25 | smell: 3.5 | taste: 3.25 | feel: 3.5 | overall: 3.25
Apparently, my local, in-person trader, tone77 was recently down in North Carolina and brought a load of CANs back in support of The CANQuest (TM). I had to await my picture's approval as I do not like to Crack open a beer without a picture in place. All is well and away we go!
From the CAN: "A classic, hoppy IPA"; "First in flavor"; "Freshly-brewed all natural beer"; "Intensely hopped ales were originally brewed in the 18th century to survive the long sea journey from England to India, where the temperatures were too warm to brew. This beer's unique floral aroma results from a generous dry hopping of Cascade hops."; "Visit our website for information about our brewing process, seasonal offerings, tours, merchandise and more."
My Crack and inverted Glug created a massive two fingers of dense, tawny head with good retention on a hot, humid evening. Color was a hazy deep amber. Nose had a pleasant grassiness along with a biscuity maltiness. Mouthfeel was medium and the taste was hoppy, but not overly so as befits the EIPA style. This was very mellow after an AIPA and a nice change of pace. Lots of sticky lacing began to form as I drank from the glass. Finish was semi-dry with the malt not really adding a lot of sweetness to the equation. It was a decent beer and appropriate for the style, but I just felt like I needed more hops.
1,350 characters

3.5
/5
rDev
+0.6%
look: 3.5 | smell: 3.5 | taste: 3.5 | feel: 3.5 | overall: 3.5
A: Poured from a can to a pint glass. Had an amber color and a clear consistency. There was an inch of foamy head that quickly dissipated. Good lacing.
S: A fair amount of hops in the aroma, along with a pronounced bready quality.
T: The bready quality is the first thing you notice in the flavor - it's very much front and center, along with the malt. You get a sharp shot of hops in the finish. Not necessarily a bad flavor (it's very much in keeping with an English IPA), but somewhat unbalanced.
M: An average amount of carbonation with a bitter finish. Medium-bodied.
O: An uneven beer. Not undrinkable, but there are better examples of the style.
656 characters
3.58
/5
rDev
+2.9%
look: 4 | smell: 3.5 | taste: 3.5 | feel: 4 | overall: 3.5
Served in a standard pint glass, Carolina's Flagship IPA pours a medium amber with golden highlights. No head forms, but there is a spattering of white bubbles that occasionally coagulate and form a widely-spaced surface covering. Aromas of bright citrus and sweet, lightly roasted malts waft up from the brew with each sniff. The finish is full of malts and hops, and a nice bread-like character makes it quite fulfilling. This breadiness and hops makes up most of the aftertaste.
481 characters
3.65
/5
rDev
+4.9%
look: 3.5 | smell: 3.5 | taste: 3.5 | feel: 4 | overall: 4
Pours orange gold. Slight 1/2-finger head. No retention and no lacing, something I really like to see in an IPA.
Surprisingly bready. malty nose for the style. Yes, there are some nice citrus hops there too. A little more maltiness then I like in an IPA.
Dry in flavor and finish. There's almost a brown ale quality to it, a product of the high malt content I guess. Good body, though.
I know this one has won some medals for them, but I'm just not feeling it.
463 characters

3.96
/5
rDev
+13.8%
look: 4.25 | smell: 3.75 | taste: 4 | feel: 4 | overall: 4
12 ounce can -> New Belgium Glass
A - Very nice. Pours up with an off-white two finger head, excellent retention, and leave quite a bit of sticky elaborate lacing behind.
S - the usual: citrus, pine, bread, grass
T - Brings a lot of citrus up front with a very bitter hop finish, a little unbalanced, but very drinkable.
M - medium thick with a bit of an aftertaste
O - not the world's best EIPA, but I certainly wouldn't turn down one of these.
453 characters
3.97
/5
rDev
+14.1%
look: 3.5 | smell: 4 | taste: 4 | feel: 4 | overall: 4
Served in a pint glass a little too cold. Brilliant dark gold to light amber in color with a small white head. No real sustainance to the head.
Aroma was certainly hoppy without being overwhleming. More of an APA aroma, but very nice indeed.
Really good flavor. I could tell this beer was very fresh; fresh beers have that specific malt taste that I really love. Quite bitter with decent hop flavor. Seems to be kind of Cascadey or other west coast hops. Slightly grapefruit with more orange peel flavor. Good caramel backbone.
Wasnt expecting much but was surprised in a good way. A large hop bitterness with a bit of raw grain and a touch of astringency. I would certainly have again any day.
700 characters
Flagship IPA from Carolina Brewery
3.48
out of
5
based on
29
ratings.