Maple Amber Ale
| Horseheads Brewing Inc.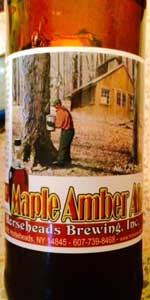 BEER INFO
Brewed by:
Horseheads Brewing Inc.
New York
,
United States
horseheadsbrewing.com
Style:
Fruit / Vegetable Beer
Alcohol by volume (ABV):
7.00%
Availability:
Spring
Notes / Commercial Description:
No notes at this time.
Added by WesWes on 04-17-2008
Reviews: 9 | Ratings: 30

3.35
/5
rDev
-12.3%
look: 3.5 | smell: 3.5 | taste: 3 | feel: 4 | overall: 3.5
A-Clear amber, not much carbonation
S-Earthy and some maple
T-The maple is way to over powering, overly sweet and not much bitterness.
M-Light with some carbonation
O-All I am getting is a overload of maple, if they'd tone down the maple and let other malts and hops shine it has potential.
294 characters
3.42
/5
rDev
-10.5%
look: 3 | smell: 3.5 | taste: 3.5 | feel: 3 | overall: 3.5
A- Pours a deep amber color with a frothy white head that has a decent amount of retention
S- Sweet maple and malt, with a nice hop aroma to follow which gives the smell a nice balance and keeps the maple in check
T- Nice balance once again. The maple is up front but not over bearing, and leads into the hop bitterness
M- Average mouthful. Has body but doesn't feel heavy. You could drink a few and not feel like you just had a meal.
O- I liked it. I don't think it is a ground breaking beer but had the characteristics of a well done ale. The thing I was most impressed with was the balance. Both in the aroma and the taste the beer had maple characteristics but it was overwhelming and the hop selection allowed the flavor to come through while still having the proper bitterness.
784 characters
3.71
/5
rDev
-2.9%
look: 4 | smell: 3 | taste: 4 | feel: 3.5 | overall: 4
a: clear copper colored body. a thin off white cap sits atop the beer. some spotty lacing is left behind.
s: nose is pretty subtle, some maple sweetness in there though.
t: taste is much bolder than the nose. maple syrup plays nicely in this beer. there is also a smooth woody character to this. and a nice little hop bite on the finish.
m: was expecting something fuller and stickier with maple in it, but this is a fruit beer so the feel is about right. smooth and creamy with a snap on the finish.
o: nice beer from a very good brewery. more people should seek out horsehead beers, well worth it.
603 characters

3.84
/5
rDev
+0.5%
look: 3.5 | smell: 4.5 | taste: 3.5 | feel: 3.5 | overall: 4
22 oz bottle courtesy of Cuzco. Pours a very clear copper color with a small cap of bubbly white head. Not much for retention and lace.
The maple is definitely notable, along with some toffee and toasty malts. All the aromas blend together perfectly and the smell reminds me of the first crisp fall morning...around here that's not till December unfortunately! It kind of smells like French toast.
Taste shows more toast and the alcohol pokes through more than I thought it would. Not overly sweet, and the maple is there, just not quite as much on the syrup. Hops are tame, but do add a bit of noticeable bittering on the finish. Mouthfeel is pleasantly medium and goes down easy for a 7%'er. Good beer and something a bit different...well worth a try, thanks Nate!
770 characters

3.88
/5
rDev
+1.6%
look: 4 | smell: 3.5 | taste: 4 | feel: 4 | overall: 4
Maple amber has a body that is a translucent amber (surprise!) colored body. Not "amber" as in red, which is how I see it used a lot, but amber as in the color of solidified tree sap. There is quite a few strands of carbonation bubbles moving around throughout the body, but they slow down pretty quickly. The head is off-white and at least two fingers. It is rocky, with a tower in the center rising up above the rim of my glass. Some great retention is followed by a wall of sticky lacing that begins half way down my glass.
The aroma is mostly clean, sweet, pale malts. In the back-end of the aroma maple comes through.
The flavor isn't huge or complex, but it is a great balance of sweet malts and maple. Up front are light crystal and butterscotch flavored malts. Maybe even just a touch of spicy hops is in there right in the beginning, but I'm not sure about that. The sweet, clean malt profile fades into a slightly dry, maple syrup flavor. Overall the beer is pretty sweet, but I would guess that sweetness comes from the malt more than the maple syrup. A good maple flavored beer.
The mouthfeel on this one is pretty interesting; the body is creamy but with a pretty good amount of carbonation. It is a little dry in the finish. After swallowing, Maple Amber leaves a slight syrupy coating on your mouth (a lot like a braggot).
I drank this thing pretty quickly, and it is the kind of beer that you could go through a bomber with no problem. In fact, the malt profile and slight hop profile remind me a bit of an oktoberfest beer (with maple added of course), which is a good thing in terms of drinkability. Overall another solid beer from Horseheads.
1,665 characters
3.97
/5
rDev
+3.9%
look: 3.5 | smell: 4 | taste: 4 | feel: 4 | overall: 4
Had a pint on-tap at J. Ryan's pub in Syracuse.
Clear amber color with a creamy white frothy head that dissipated slowly.
Aroma is very sweet upfront, with the maple clearly present along with hints of toffee and caramel.
Taste is similar to the aroma and sweet upfront with the caramel and maple evident. Towards the finish there is a nice bitterness, almost like a bittersweet finish.
Crisp, refreshing, tasty and easy to drink.
To be honest, I wasn't expecting much but this ale pleasantly surprised me.
Definitely worth a try.
536 characters
4
/5
rDev
+4.7%
look: 4 | smell: 4 | taste: 4 | feel: 4 | overall: 4
A 650 mL bomber from Finger Lakes. In a tumbler.
A: The ale, more of a brown ale than a fruit beer (but who's counting), has a late autumn glow of orange-brown chlorophyll-sapped leaves. A little lighter, not the normal Aunt Jemima syrup but a less refined, more natural color. Translucent, I can vaguely make out shadows on the other side of the glass. A good-sized head, a finger and a half on the first few pours, leaves no lace behind.
S: Toffee and nuttiness, a solid brown ale, mix with a sweet, rich maple aroma. The maple is vague at first, improving as the ale warms to a steady, syrupy presence.
T: The maple tickles, standing out immediately. Toffee and nuts support the flavor of the maple, a brown ale to its core. The nuttiness has a bit of toast, darker breads that add to the base of the body. Hoppiness, citrus, isn't as standout but it doesn't need to be. The maple does the heavy lifting, its sweetness carrying the ale. Carbonation, despite the head, is absent through most of the ale, thinning it out about. The maple hangs out, a lasting finish to the ale.
M: For almost a year old, this ale has down quite nicely. The maple is treacly sweet, a full flavor that loiters long after each sip is gone. Horseheads has the ability to bring it; it is brung in this bottle.
1,293 characters
4
/5
rDev
+4.7%
look: 4 | smell: 4 | taste: 4 | feel: 4 | overall: 4
starting the evening with a bomber of maple amber ale from one of my fav breweries in NY
A- pours a clear copper color with a slight head of foam that slips over to the sides of the glass. Strong presence of carbonation ripping upwards towards the glass. Not too much going on in lacing department
S- a scent profile similar to a reddish amber ale that swirls in with a strong maple syrup scent that establishes a good body of the brew. Good sweet maple scent
T- very good amber taste that blasts the mouth with maple syrup flavor. The maple flavor is extremely evident and clearly tasted on the palate. This is a delicious ale that establishes strong maple syrup flavor I have never tasted as strong as this
M- fair carbonation and syrupy (no pun intended) flavor all over
O- very good maple ale that is really different than most beers I have had that mention sweetness and maple flavor. Very enjoyable. I wish it was not made for just April each year
958 characters

4.18
/5
rDev
+9.4%
look: 4 | smell: 3.5 | taste: 4.5 | feel: 4 | overall: 4.5
The beer pours a dark amber color with a thick frothy offwhite head that slowly fades to lacing. The aroma is decent. It has a nicely balanced scent of caramel malts and maple syrup. It's dry with a slightly sweet aroma. The taste is excellent. It has a very smooth caramel malt flavor that lends itself nicely to the maple syrup taste. It's 7%, but it goes down real easy. It's a little sweet, but I prefer a sweeter profile when dealing with maple, which can dry out a palate. The mouthfeel is good. It is a full bodied beer with adequate carbonation. This is a very good spring beer. It's easy drinking and full flavored. This is another great beer from my favorite local brewery.
683 characters
Maple Amber Ale from Horseheads Brewing Inc.
3.82
out of
5
based on
30
ratings.