Monk In The Trunk
| Inlet Brewing Co.
BA SCORE
77
okay
59
Reviews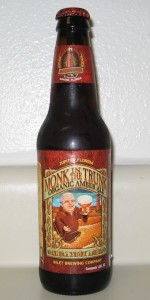 BEER INFO
Brewed by:
Inlet Brewing Co.
Florida
,
United States
inletbrewing.com
Style:
American Amber / Red Ale
Alcohol by volume (ABV):
5.50%
Availability:
Year-round
Notes / Commercial Description:
No notes at this time.
Added by bluegrassbrew on 09-02-2007
Reviews: 59 | Ratings: 207
2.89
/5
rDev
-12.2%
look: 2.5 | smell: 3.5 | taste: 2 | feel: 3 | overall: 4
Appearance: Clear brown. Would have like to have seen more reddish color. Head dissipates after about 2 minutes.
Smell: Malty scent with earthy tones. Barely floral. A hint of fruit (banana?). Not very strong aroma.
Taste: Mild. Slightly sweet. Malty. Grains have that taste like rice/sorghum (see also: New Grist from Lakefront Brewery). The main drawback of the taste is an "earthy" flavor that hits the roof of your mouth. . Slightly bitter aftertaste.
Drinkability: Really pretty good, despite that slight funk in the aftertaste.
536 characters
2.85
/5
rDev
-13.4%
look: 3 | smell: 3 | taste: 2.75 | feel: 3 | overall: 2.75
This bottle had gone off.
But the fault was mine because I left it for a year at a friend's house in Florida.
So, I can't pan it.
But, I also cannot praise it.
Lesson: don't forget about beer !
193 characters

2.74
/5
rDev
-16.7%
look: 4 | smell: 2.5 | taste: 3 | feel: 2 | overall: 2.5
Thanks to dimenhetfield for this one!
12oz brown glass pry-top bottle. Shoulder stamped "Monk-138 BA" or "Monk - 138 8A" (can't tell if the second to last character is a B or 8).
Appearance: Pours an amber gold with tall creamy head that falls down rather quickly with some spotting.
Nose: Big Belgian yeast nose and some spicyness. Something a little acrid or off-putting. Maybe a weird interaction between yeast and malts/hops? I've smelled this before but am not certain what it means. Smells like there might be some rye in there and some faint whispers of heavily toasted oak chips.
Palate: Crisp and fruity. Some caramel and dark candi sugar chill out underneath the fruity Belgian yeast. That weird over-toasted oak chip flavor is there and something odd I just don't care for.
Notes: Worth my trying once, but don't think I'd return for another one.
862 characters

2.7
/5
rDev
-17.9%
look: 2.5 | smell: 2.5 | taste: 3 | feel: 2.5 | overall: 2.5
Special thanks to Pittsky who sent me this as an extra.
A: Hmmm... For an amber, the color is not very amber... more orange in nature actually. It is crystal clear in transparency and the head was about 2-3 fingers.
S: No floral notes or hoppiness of any kind. I smelled rusted metal and a bit of yeast. A bit of Belgian funk, but no fruitiness to balance it out.
T: The taste is a bit better, but not much. Thin-bodied with a very faint fruit (pear or apple?) and hop presence that tried its damnest to poke through the yeast and malt.
M: Very thin, not creamy in the slightest, and carbonation seemed (and looked) a bit on the flat side.
D: I decided to stick it out and finish the bottle, but I won't be getting this again.
731 characters
2.63
/5
rDev
-20.1%
look: 3.5 | smell: 3 | taste: 2.5 | feel: 2 | overall: 2.5
Tried a pint of this local brew in Rooney's in Abacoa, Jupiter. To be honest I wasn't too impressed.The beer had a slightly watery funky flavour to it. Visually it looked good; clear and with a thin head. There was no offputting smell but from the first mouthful something didn't click and I switched back to Bass.
314 characters
2.56
/5
rDev
-22.2%
look: 3.5 | smell: 2.5 | taste: 2.5 | feel: 2.5 | overall: 2.5
Bottle poured into a glass.
A - Looks like a nut brown ale. Not much of a head, but was poured, by the waitress, from the bottle into a glass.
S - Not much to it. Smells like a pilsner with more malt.
T - Tastes like it smells. Definitely does not taste like a red ale, but I've been spoiled by Cigar City's red (Tocobaga) for quite some time. Tastes like a pilsner with more malt and a strong nutty flavor.
M - Very, very light for a 5.5%. A very drinkable beer - not what I was expecting - in fact, I was hoping for something much heavier.
O - Worth a try, but I won't be having another.
Intersting note: Outsource brewed. Made by Inlet Brewing in Jupiter, FL, but brewed in NC...
688 characters
1.69
/5
rDev
-48.6%
look: 3.5 | smell: 2 | taste: 1 | feel: 3 | overall: 1.5
There was an overpowering fishy taste to the beer. I lost the Belgian-y esters and the malty notes I was hoping for. I remember catching the off-flavors on an earlier bottle I'd picked up, but nothing as strong as this. After three sips, it was a bottle dump. And that's rare for me.
283 characters

1.65
/5
rDev
-49.8%
look: 2 | smell: 2 | taste: 1.5 | feel: 1.5 | overall: 1.5
I must have gotten ahold of a bad batch. This poured absolutely flat and syrupy. It had no nose whatsoever--very weird. No head. There was a slight root beer taste, but I wasn't interested enough to finish it.
212 characters

1
/5
rDev
-69.6%
look: 1 | smell: 1 | taste: 1 | feel: 1 | overall: 1
prior to purchasing we noticed this from the Inlet Brewery of Jupiter ,Fla . which actually not quite true it is actually brewed/bottled in North Carolina. ....read on I thought we were were going to rewarded with another Belgian style ale this resembles a poor Amstel light at it's best
poured into a Pint glass, medium carbonation,then settles quickly.lacings well..not much really
Amber color more like orange , hops noted but minimal and appears to be almost artificially carbonated .
Very poor and was dissappointed in smell ,taste,finish and an extremely high price for a six pack. They have some learning to do if they want to stay in business and call this a Belgian ale. see my review of Palm ales corp brewer crap
ale for dead parrots and budweiser fans,it's from a trunk alright,someone's swimtrunks
rubber bizkit swill from dead parrot's water bottle
this stuff is good for weed control and small rodents
920 characters
Monk In The Trunk from Inlet Brewing Co.
3.29
out of
5
based on
207
ratings.