Raven's Eye Imperial Stout
| Eel River Brewing Co.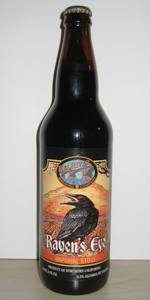 BEER INFO
Brewed by:
Eel River Brewing Co.
California
,
United States
eelriverbrewing.com
Style:
Russian Imperial Stout
Alcohol by volume (ABV):
9.50%
Availability:
Year-round
Notes / Commercial Description:
No notes at this time.
Added by beerguy101 on 08-12-2003
Reviews: 188 | Ratings: 322
4.08
/5
rDev
+8.8%
look: 4.5 | smell: 4 | taste: 4 | feel: 4.5 | overall: 4
Received this bottle from brentk56, thanks again!
Pours a flat black color with a nice large tan head. Very nice looking beer!
Aromas are subtle, smells like cereal grains, malts, and a bit of cocoa.
Tastes of espresso beans and roasted dark malts. Finish is of bitter cocoa and a bit of a kick from the alcohol. Overall it's a pretty smooth, well balanced, and kind of mellow tasting.
Nice full supple and smooth mouthfeel.
Drinkability is good, this is a nice RIS. A bit on the subtle side, but it still tasty and it's a easy beer to sip.
★
555 characters
4.75
/5
rDev
+26.7%
look: 4.5 | smell: 4.5 | taste: 5 | feel: 5 | overall: 4.5
04/23/07- Purchased at Ledger's Liquors in Berkeley, CA.
Presentation- 22oz bottle with no freshness info. $5.99 at Ledger's.
Poured into my Duvel tulip.
Appearance- Deep black in color. Maybe a reddish hue when tilted towards the side on top. 1/2 inch brown semi-creamy head. Leaves behinds some streaks and trails of lacing.
Smell- Fairly heavy and rich mildly burnt malt with notes of chocolate, coffee, maybe some dark fruits and dirt (earthy).
Taste- WOW! This is one incredible tasting stout. Huge chocolate and esresso flavors meld wonerfully together. Maybe some chocolate covered dark berries play and frolic in your mouth as well. A tad smoky, but not a real burnt taste. A lovely sweet texture as well.
Mouthfeel- Truly creamy due to the fact that it was nitrogenated according to the bottle. Rich, velvety and lighter carbonated. Sweet, but not too sticky. About perfect.
Drinkability- You can feel the hefty alcohol hit a bit more than I'd like, but otherwise it's damn top notch. By FAR the best beer from Eel River I have ever had and maybe a top 10 all time of any beer for me. Have to track down a bunch more of these. Look out Stone RIS and Speedway...you've got company.
★
1,208 characters
4.4
/5
rDev
+17.3%
look: 4 | smell: 4 | taste: 4.5 | feel: 4 | overall: 5
Pours a typical pitch black with a half finger dark tan head that melts very quickly to a ring of sticky tan lacing.
Aroma is a mild coffee and chocolate mix.
Mouthfeel is creamy, thick and rich.
Taste is again a typical IS espresso and dark bitter chocolate with a nice malt sweetness balancing the bitterness of espresso coffee and bittersweet chocolate.
Aftertaste is mostly the bittersweet chocolate with a nice alcohol warming.
Not a spectacular Imperial Stout, but not bad by any means.
This one is very balanced with no surprises and no disappointments.
An excellent 'go to' Imperial Stout if it is available to you.
Thanks to beautiful kolohoe for this bottle (and another to cellar..woo hoo!)
★
709 characters
2.88
/5
rDev
-23.2%
look: 3 | smell: 2.5 | taste: 3 | feel: 3 | overall: 3
Bottle from Liquid Solutions. Pours brown out of the bottle but appears dark in the glass. Fairly nice light brown head. Very miniscule nose. I'm comparing this next to Bristol XXX Warlock and the Warlock is powerfully aromatic. This has hardly any aroma at all. Flavor isn't much better. A light hint of malt-o-meal, dried chocolate. Not very complex, not hoppy and not nearly roasty enough. Meh, very mediocre.
★
414 characters
4
/5
rDev
+6.7%
look: 4 | smell: 4 | taste: 4 | feel: 4 | overall: 4
Thanks to jasonmech77 for sharing this...
Appears black with dark brown edges when held to the light. A small tan head slowly fades with streaky lacing left around the glass.
Smell is of coca, fruity, figs, cream, and roastiness.
Taste is the mentioned aromas highlighted by caramel in a delicious, mildly fruity stout.
Mouthfeel is medium/full bodied, fizzy up front, creamy at some points with roasty notes with mild thinness that doesn't outweigh the decent parts of this beer.
★
485 characters
4.73
/5
rDev
+26.1%
look: 5 | smell: 4.5 | taste: 5 | feel: 4.5 | overall: 4.5
This rating is from a 22 oz bottle purchased directly from the brewpub. Poured in Duvel glass at 55 degrees it was jet black with a huge tan head that left heavy lacing. Nose is very powerful, and is of chocolate and coffee with a llittle vanilla. Mouthfeel very rich and creamy. In fact almost oily. Rich flavor of dark malts, chocolate, coffee, and fruits. Finish is nicely bitter. Hides the alcohol very well. This is an outstanding Imperial Stout. What is interesting is that the bottle was better than the draft. Two reasons. First they serve their draft too cold for this type of beer. Second, it seems brewpubs always try to give you your money's worth and so fill the glass to the brim leaving little head, and that diminishes the appearance.
★
750 characters
4.15
/5
rDev
+10.7%
look: 3.5 | smell: 3.5 | taste: 4.5 | feel: 4 | overall: 4.5
The beer poured an opaque black with a thin head that diminished and left very spotty lacing on the glass. The aroma was of weak cocoa and roasted malt. The taste was a good blend of roasted barley, dark chocolate and mild espresso, very well balanced and makes quite a tasty stout. The mouthfeel is very smooth for a beer of this taste. There is some heaviness, but it's easy for the palate to handle. This is a very drinkable Imperial Stout, it almost begs to be chugged.
★
473 characters
4.06
/5
rDev
+8.3%
look: 5 | smell: 4 | taste: 4 | feel: 4 | overall: 4
Appearance: Pours a raven black color with a huge tan head that has a degree of permanence to it; sheets of lacing line the chalice
Smell: Cocoa and hazelnut with a touch of citrus sneaking through
Taste: Starts out with a roasty cocoa and hazelnut flavor that builds in bitterness, particularly after the swallow; long finish with a bit of fusel alcohol
Mouthfeel: Medium body with moderate carbonation; considerable astringency felt on the back of the tongue; some warmth on the finish
Drinkability: Not quite there as an RIS, this beer is more like an Imperial Porter; love the cocoa flavors and the well-balanced bitterness, but this doesn't have the complex dark fruit flavors I expect in an RIS
★
704 characters

3.86
/5
rDev
+2.9%
look: 4 | smell: 3 | taste: 4 | feel: 4 | overall: 4.5
Pours a two finger light head that fades to a ring leaving no lace. Black color. Light carbonation and heavy bodied. Slight bitter chocolate nose. Starts almost sweet nice balance with the hops gives it a bitter chocolate flavor. Smooth, easy to drink, the high ABV is hidden. $4.50 for a 22oz bottle from Liquid Solutions Tigard, Or.
★
334 characters

4.06
/5
rDev
+8.3%
look: 5 | smell: 4 | taste: 4 | feel: 4 | overall: 4
22 Oz Bomber, red eyed raven on the label "product of Northern California" Fantastic looking beer as it sits in my Imperial pint glass. Mostly black with hints of mahogany..great huge light brown frothy head. Aroma is somewhat subdued for style but its all there and fresh too Great complex whirl of flavours here: coffee,blackberries,esspresso, dark cocoa laden chocolate, dark brown sugar, some hop in the after taste, good stuff. Very nice on the palate , great mouthfee, A very very good Strong stout from Eel River. I really did not think they had it in em to produce this beauty
★
584 characters
3.73
/5
rDev
-0.5%
look: 4 | smell: 3.5 | taste: 4 | feel: 3.5 | overall: 3.5
[email protected]
River. Rich and sweet, with some welcomed acidity and bitterness, oily, licoricy, roasted, long finish, good stuff. Not a style i generally mark low anyway, so most of the time its gonna get an OK score, but this was a middle of the road imperial stout, tasty stuff.
★
274 characters
4.31
/5
rDev
+14.9%
look: 5 | smell: 4 | taste: 4.5 | feel: 4.5 | overall: 4
Bought a pint of this at the brewery.
Pours an impervious black with a chocolate milk head.
Smell is of burnt chocolate, coffee, and subtle malts in the background.
Taste and mouthfeel:
hop bitterness leads the way, followed by burnt chocolate, coffee, and a very nice alcohol warmth throughout my throat and stomach; but not over-powering. Mouthfeel is creamy, as expected.
Loved it!
★
399 characters
4.2
/5
rDev
+12%
look: 4 | smell: 4 | taste: 4 | feel: 5 | overall: 4.5
Dark brown color, creamy head. A full-bodied nitrogen-conditioned Russian Imperial Stout. Deeply roasted malts. Nice hop balance. Chocolate and coffee flavor. Very smooth taste, Nice flavor. Big and expansive. Mouthfeel is full and round. Finish is clean and very smooth. Aftertaste is slightly bitter. No alcohol bite despite a 9.5%. Excellent stout.
★
351 characters
Raven's Eye Imperial Stout from Eel River Brewing Co.
3.75
out of
5
based on
322
ratings.