Earth Thirst Double IPA
| Eel River Brewing Co.
BA SCORE
80
good
38
Reviews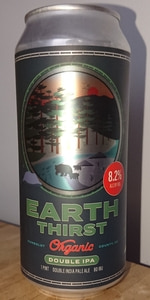 BEER INFO
Brewed by:
Eel River Brewing Co.
California
,
United States
eelriverbrewing.com
Style:
American Double / Imperial IPA
Alcohol by volume (ABV):
8.20%
Availability:
Rotating
Notes / Commercial Description:
No notes at this time.
Added by mcallister on 02-20-2011
Reviews: 38 | Ratings: 118
3.74
/5
rDev
+7.2%
look: 4.5 | smell: 3 | taste: 4 | feel: 3.5 | overall: 4
A - Pretty amber, somewhat murky, lots of head that stays for a spell. Plenty of cling lace as well.
S - Not much to the smell. Kind of musty, with a faint malt underneath.
T - Not over the top blow you up hops, but pretty solid malt happening. Tasty although not to style in my mind.
M - Medium to light body, good carb, easy enough balance.
D - On the plus, super easy to drink!
★
384 characters

3.74
/5
rDev
+7.2%
look: 4.5 | smell: 3 | taste: 4 | feel: 3.5 | overall: 4
A- Vibrant orange-amber with a fluffy off-white head that dissipates to a mossy covering, leaving patchy lacing down the glass.
N- Soft, pleasant vanilla oakiness to the nose. Muted caramel maltiness underneath with a slight metallic twang to it. Really a subtle aroma, but the vanilla is nice.
T- Definitely tastes like an oak-aged beer. Dry and crisp toasted malt backbone with tons of oak and pine providing a strong bitterness. Subtle vanilla accents and a touch of citrus keep the dry bitterness from becoming overwhelming. The hops turn chalky into the long, bone-dry finish of bitter pine and oak. Some dry toasty malt and peppery alcohol in the finish as well.
M- Medium bodied with a slickness from the alcohol. Moderate to high carbonation with a bone-dry finish.
D- Overall, I was pleasantly surprised. Very dry, bitter, and oaky, which is refreshing for a double IPA. I would love to try a dry-hopped version of this, as the aroma was really the weakest aspect of the beer.
★
991 characters
3.74
/5
rDev
+7.2%
look: 4 | smell: 3.75 | taste: 3.75 | feel: 3.5 | overall: 3.75
sort of underwhelmed by this one, although a good ipa, it lack distinction from the millions of others out there just like it, aside from being organic, which I really cant taste uniquely ya know? it pours a nice red orange color, with some floating yeast bits and a luxurious white head that slowly recedes. the nose on it is big bitter hops and some alcohol. the grains deliver only a touch of honey sweetness to the nose, while the bitterness is entirely dominant. the flavor agrees, although the hops aren't super brutal on the bitter front. they have come light pine and grapefruit notes, but remain primarily a bittering agent. some caramel flavors in the grains, but not enough to offset the hops. the feel is heavy for me, a bomber is plenty of this stuff. it reminds me of something generic from lagunitas. creamy feel though, and happening carbonation. overall a satisfying ipa, refreshing and robust at the same time, but not something I will rush to buy again. it just doesn't have anything to set it apart from the crowd. again though, props for being organic and looking after the earth!
★
1,101 characters
3.85
/5
rDev
+10.3%
look: 3.5 | smell: 3.5 | taste: 4 | feel: 4 | overall: 4
Jeu de mots.....Pours like the rain falling in an old growth forest with subtle fragrant notes of dumpstered bagel and carhart with a hint of patchouli. At first taste one is reminded of scabies and dirt with an intricate lacing pattern left on the glass reminiscent of Edward Abbey's beard. An interesting beer, one that has been well received by the oi polloi.
★
362 characters
3.88
/5
rDev
+11.2%
look: 4 | smell: 3.5 | taste: 4 | feel: 4 | overall: 4
Appearance. Pours a pretty clear, amber gold with a finger of sticky pale yellow head that leaves some decent lacing.
Smell. Caramel, a little toasted grains and pink grapefruit.
Taste. Nice toasty caramel grains and decent piney, grapefruity hops. Nice bitter citrus rind finish. Lighter in taste than some dipas, but not a negative. Really nice.
Mouthfeel. Medium body, medium carbonation.
Overall. Really nice DIPA. Another random grab from a Seattle Whole Foods that turns out to be a winner.
★
501 characters
3.95
/5
rDev
+13.2%
look: 4 | smell: 4 | taste: 4 | feel: 4 | overall: 3.75
Pours gold with a large white head.
Nose shows sweet malt, piny and resinous hops, peach and apricot.
Similar flavours with a big clean malt presence, massive piny and spicy hops along with softer fruit hops.
★
208 characters
4
/5
rDev
+14.6%
look: 4 | smell: 4 | taste: 4 | feel: 4 | overall: 4
A: Brilliant copper tinted amber under a 2" pure white foam cap that leaves intricate lace patterns on the glass.
S: Floral and citrus, malt, fruit
T: Fruit, peaches, citrus, malt, caramel, orange with a citrus rind bitter finish.
M: medium full body, medium carbonation.
O: Good balance between the malt and the hops making for a drinkable DIPA.
★
352 characters
4.17
/5
rDev
+19.5%
look: 3.5 | smell: 4 | taste: 4.5 | feel: 4 | overall: 4
Appearance: (3.5)
- This is a rather dark amber brew. Light hue to a mostly clear brew from the bomber. Foamy thick inch of head settles to a very even thin blanket of ultra-light tan head, large spotty ring in the glass..
Smell: (4.0)
- This has a really nice smell to it. Caramel malt, husky grain, bready cinnamon dessert quality to it, while balanced with a pine, grassy, and floral hop arrangement. This smells super solid and balanced, and both the malt, and hop aromas are unique to their own.
Taste: (4.5)
- Great bready caramel malt and fine malt. This isn't as sweet as I was expecting. That is a good trait. The bitter grassy hop is just right to balance the malt forward kick. This double IPA has balance written all over it as far as flavor. Light alcohol, and still an oat-like cinnamon dessert flare which is so subtle.. but perfect. I must have got a good bottle.
Mouth Feel: (4.0)
- This is a well rounded, full bodied double IPA. Its bitterness lends a dry feel, with a cloying, and chewy finish. This is a bit of a meal in a glass. Great.
Overall: (4.0)
- This is another one of those brewers that I rarely visit a beer from. I see their bottles on the shelves often, and am afraid that when I return to those outlets, they are the same bottles. I got this one fresh and new, and really dig it. It is dangerously drinkable, and I bet is a killer treat on tap. Certainly worth the purchase.
★
1,420 characters

4.18
/5
rDev
+19.8%
look: 4.5 | smell: 4 | taste: 4 | feel: 5 | overall: 4.25
Poured into a snifter/wine/tulip glass
A - Pours a very beautiful bubbly almost opaque grapefruit/orange California sunset, one finger off white head and a tiny bit of sticky
S - Beautiful citrus, huge sweet, huge malt, very earthy, brown sugar, woodsy, crisp water, yeast funk, biscuit as well, a bit floral, nice hop note under lying everything and smells down right lovely.
T - Huge punch you in the face floral/citrus hops, nice earth and wood, delicious sweet malts and grains, very nice bigger than I thought but amazing booze note, refreshingly crisp water, yummy sugar, a nice pungent yeast note and just all around nice
M - Full bodied, well balanced, perfect complexity, medium plus acidity and a very nice from start to finish hoppy/malty/boozey/sweet finish
D/O - This is a fantastic beer. Never mind the organic symbol, this just is flat out a craft beer at it's finest. Has everything I love about an IPA/DIPA and still overly refreshing. Really a joy this one. If you love IPA, you'll love this, May not be for the hop novice though.
Final thoughts - $8 is a bit high, but I live in an expensive part of CA, so everything is a dollar to five more than anywhere else. Great 8.2% abv, though it does taste a bit higher. Just a warning for those of you that don't like the sugary boozey luxuriousness!
★
1,321 characters
4.2
/5
rDev
+20.3%
look: 5 | smell: 5 | taste: 4 | feel: 3 | overall: 4
Bought a 22 oz. bottle from the Earth Origins grocery store yesterday. The fact that this is an organic beer is what caught my eye. I must say that I am a big fan of big beers, especially Double IPA's and IPA's.
While the color, pour, taste, and smoothness of this brew are all above par, the thing that I like most about this beer is I noticed chocolate-like smell that you would get from a stout.
Highly recommended for the IPA lovers out there.
★
449 characters

4.23
/5
rDev
+21.2%
look: 4.5 | smell: 4 | taste: 4.25 | feel: 4.5 | overall: 4.25
From a bomber to a tulip cause I get fancy with nice IPAs. Light, clear,gold color with generous white head that doesnt linger to long. Smells like tropical fruit grown in a pine forest. Taste is the same with floral hop notes and a dank, piney finish with slight lingering floral bitterness without any cloying sweetness. Mouthfeel is very smooth with a pop of hop tangy-ness. Overall a well rounded/balanced DIPA, by my standards, that stands up well to others on the market.
The lack of a date on the bottle is a bit irksome and it did taste better fresh released off the tap bu t then again what IPA isnt?
Very solid nonetheless!
★
634 characters
4.47
/5
rDev
+28.1%
look: 4 | smell: 4.5 | taste: 4.5 | feel: 4.5 | overall: 4.5
Pours a beautiful deep caramel amber bodied with a light tan head formin thick and billowing above the rim of my chalice, very nice look to it. Aroma has citrus layers of malts imbedded in it, with pine and caramelized malt sugars noted. Almost more of a barleywine when I smell it but after first taste I realize it is a barleywine light with less alcohol but much similar flavors. Caramelized malt sugars run across the palate with big citric and pine notes that bring out an earthy quality about this beer that is definitely enjoyable and admirable at the same time. Mouthfeel is resinous with hops and earthy (marijuana) like character a fine even keeled malt presence super sweet but balanced with hop bitterness. Enjoyable from beginning to end, the type of beer that I really enjoy especially when harvested from the West Coast.
★
835 characters

4.58
/5
rDev
+31.2%
look: 4.5 | smell: 4 | taste: 5 | feel: 4.5 | overall: 4.5
I get this for $4.99 on 52nd street and Evanston here in Indianapolis. I love Earth Thirst 2IPA! Smell is soft malt, taste is a total hop bomb. dry, citrusy, herbal. A winner! I can't understand the mediocre reviews for this beer. It's not to be missed, as far as I'm concerned.
★
278 characters
Earth Thirst Double IPA from Eel River Brewing Co.
3.49
out of
5
based on
118
ratings.