Fool's Gold Ale
| Auburn Alehouse Brewery & Restaurant
BA SCORE
79
okay
15
Reviews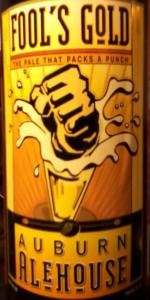 BEER INFO
Brewed by:
Auburn Alehouse Brewery & Restaurant
California
,
United States
|
website
Style:
American IPA
Alcohol by volume (ABV):
7.50%
Availability:
Year-round
Notes / Commercial Description:
No notes at this time.
Added by BeerAdvocate on 06-11-2010
Reviews: 15 | Ratings: 58
4.35
/5
rDev
+31.8%
look: 4 | smell: 4 | taste: 4.5 | feel: 4.5 | overall: 4.5
Technically, according to the label this is a IPA. I find this beer hard to find fresh. I was lucky enough to find one only a month from the bottling date. I believe the freshness makes a big difference in this beer. Very hop forward pale.
★
243 characters
4.3
/5
rDev
+30.3%
look: 4 | smell: 4.5 | taste: 4.25 | feel: 4.25 | overall: 4.25
A: Golden with a foamy white head.
S: Pine, citrus, orange, mango, in the nose.
T: Extremely refreshing, decent amount of malt. Very pleasantly dry, floral, grassy and somewhat citric.
M: Medium bodied and smooth for an IPA, great on a hot day.
O: This is a deliciously citric IPA, and I would highly recommend it.
★
318 characters
3.97
/5
rDev
+20.3%
look: 4.5 | smell: 3.75 | taste: 4 | feel: 4 | overall: 4
Picked a bomber of this up at City Beer Store for $4.99. Bottle dated 1-8-13.
Excellent clarity, golden color with a thick, slightly rocky head. Great retention and lacing. Floral and citrus hoppy aromas with modest fruity esters and toasted bready maltiness. More perfumey character (not sure if this is from the hops or alcohol) along with that floral hoppiness resting atop a toasted baguette-like maltiness. Lemon rind citrusy bitterness lingers on into a semi-dry finish. Medium body with a moderate carbonation. Some warming from alcohol but very smooth considering the ABV.
Auburn Alehouse continues to impress me with just about every beer I pick up from them. Great flavor and drinkability, I'd likely order a 2nd and 3rd pint.
★
740 characters

3.74
/5
rDev
+13.3%
look: 3.75 | smell: 4 | taste: 3.75 | feel: 3.5 | overall: 3.5
Bottled on 6.11.2013, enjoyed mid-July.
This pours a clear golden straw color with generous foam. The aroma has a piney green grass stickiness to it. The flavor is surprisingly piney and resiny with a pronounced bitterness and a phenol heavy, slightly boozy finish that's somewhat off putting. The boozy aroma becomes more pronounced as it opens up, and finishes off balance.
I'm guessing nugget hops? From the description on the bottle (something about appreciating this tasty nugget of a beer).
★
498 characters

3.68
/5
rDev
+11.5%
look: 4 | smell: 3.5 | taste: 3.5 | feel: 4 | overall: 4
A - Served a copper-orange color with a finger of frothy off-white head. The head hangs around for a while leaving behind some nice lacing as it fades.
S - Aroma is a mix of piney hops and sweet malt. There is also a bit of booze and some biscuit mixed in as well.
T - Starts off with a mix of rich caramel malt and some light grassy hops. Through the middle some citrus hop and bitterness comes through. The finish is a mix of grassy hop with a some sweet caramel and a touch of booze.
M - Medium-full bodied with moderate carbonation. Smooth and fairly crisp. The finish is a nice blend of sweetness and bitterness.
D - Very drinkable. Interesting mix of IPA and strong ale, but it was missing a bit of punch or kick.
★
723 characters

3.67
/5
rDev
+11.2%
look: 3.75 | smell: 3.5 | taste: 3.75 | feel: 3.5 | overall: 3.75
Attractive light amber in the Stella Artois glass. Nicely sudsy on the tongue and plenty of foam in the glass. Aroma is flowery with a touch of resins.
Pleasant balance of malt and hops. Not an IPA by any stretch of imagination. Quite malty and strong (label and brewery currently say this is 7.8%). Hops are piney and aromatic, but the bitterness comes on for the finish. Tangy and spicy brew that is prefectly drinkable. It's more like a strong pale Bock Beer than anything else. Actually an improvement on a lot of Bocks with the tasty hops.
Bitterness level is just right for gulping, but it it rather alcohol infused. From the 22 oz bottle bought at Beer Revolution in Oakland.
★
684 characters

3.46
/5
rDev
+4.8%
look: 3 | smell: 3.75 | taste: 3.5 | feel: 3.25 | overall: 3.25
Poured from a growler filled the same day. Thin head on a clear medium straw colored body.
The aroma is honey with a lemon drop. Nice.
The taste is moderate lemon bitterness, good balance thoughout.
The texture is crisp with soft edges. Moderate carbonation.
An enjoyable beer.
★
277 characters
3.35
/5
rDev
+1.5%
nothing really special here, although this beer was admittedly consumed among some giants in the beer world. it came across lazy and uninspired, although there is some potential here. somewhat of an amber base, its an odd starting point for a pretty mellow hop bill. one would think the malts would be lesser in a beer with only a delicate type hopping, but its so robust as to crowd out the hops. the sweetness also gets in the way. its either over grained or under hopped, and its real tough to tell which since its hard to drink more than a glass of it. it gets filling and stuffy feeling, sweet and a little boozy. i dont dislike it, but think its better as a hoppy red than as an american ipa, just never gets there hops-wise. my first beer from these guys though, i bet some of their others are more compelling!
★
817 characters
3.29
/5
rDev
-0.3%
look: 3.5 | smell: 3.25 | taste: 3.25 | feel: 3.5 | overall: 3.25
Enjoy by 10/14/15. 7.8% ABV per the label.
Pours a hazy orange with a foamy beige head that settles to a partial film on top of the beer. Small patches of lace form around the glass on the drink down. Tiny particles of sediment are seen floating around in the beer after the pour. Smell is of malt, candied citrus zest, earthy hop, and sliqght cardboard aromas. Taste is much the same with candied citrus zest, citrus juice, and earth flavors on the finish. There is a mild amount of hop bitterness on the palate with each sip. This beer has a lower level of carbonation with a slightly crisp mouthfeel. Overall, this is an above average beer that seems past its prime even though I am trying this before the enjoy by date.
Serving type: bottle.
★
748 characters
3.03
/5
rDev
-8.2%
look: 3.5 | smell: 3 | taste: 3 | feel: 3 | overall: 3
Drank 6/22/11
A: A pretty copper color, but the head is pretty much nonexistent and completely dissipates quickly. No lacing on the glass.
S: An ever-so-slightly off smell of hops. A hint of clean citrus, but it just doesn't seem to hit the nose right. It's pretty one-dimensional and isn't exactly what I'd call robust. Not bad, but not great.
T: Unfortunately the taste does nothing to make up for the smell. It's still pretty one-dimensional and actually almost acts like its a beer that wants to be IPA, but just can't QUITE make it. I have to say that this beer misses for me...
M: Pretty low carb and a bit on the watery side. I like the finish because it goes down quite smooth, still nothing to write home about.
O: I'm pretty thrown off. The label on the bottle calls this a Pale, but the style on BA is American IPA. It definitely has a bit more hops than the average pale, but it misses both styles. Gotta drop it down for that...
★
947 characters
2.96
/5
rDev
-10.3%
look: 3.5 | smell: 2.5 | taste: 3 | feel: 3.5 | overall: 3
Served on tap... probably at The Hopyard in Pleasanton (not quite sure where, but going through older notes) on 6/21/2011.
A: Gold (how surprising!), clear. Quickly dissipating white head with tiny bubbles.
S: Mostly just bready. Lightly spicy hops.
T: Pretty interesting. Can detect some booziness, but it's partially balanced by bready malt flavor, a generic fruitiness, and bitter hops. Aftertaste is pretty clean, with only a little lingering hop bitterness.
M: Medium to low-ish carbonation that results in an almost smooth/creamy texture. Medium body.
O: Interesting in the way that the balance is created, but I don't like its level of hot alcohols. It was also incorrectly marked as a Pale (not IPA) on the menu, apparently, so it seemed to defy its style.
★
769 characters

2.82
/5
rDev
-14.5%
look: 3 | smell: 3.5 | taste: 2.5 | feel: 2 | overall: 3
Pours a cloudy golden amber with a small white head that has decent retention and leaves a large amount of lacing in the glass. The aroma is pine, grapefruit, sugar cookie, and caramel. The taste is sweet with sugar cookie, pine, grapefruit, and caramel. The finish is quite bitter with a lingering pine taste. Medium-full body. Low carbonation. A bit too sweet, and a bit too thick.
★
383 characters

2.8
/5
rDev
-15.2%
look: 3 | smell: 3 | taste: 2.5 | feel: 3 | overall: 3
Bottle shared at the September iteration of the Santa Cruz tasting series. Pours, uh, gold with a small off-white head. Aroma is crystal malty with a small piney hoppiness and some muddled esters. Flavor is malty with caramel and crystal notes, aged faded hops, and low bitterness. Probably has a fair amount of age on it.
★
322 characters
2.55
/5
rDev
-22.7%
look: 2.5 | smell: 2.5 | taste: 2.5 | feel: 3 | overall: 2.5
22 oz. bottle tried 3 Jan 2012. Served in the Dillon Dam shaker pint.
Small yellowish head. Moderate carbonation. Slightly hazy orangey in color. Aroma is sweet, faintly spicy, fruity, apricots. Starts fruity tart with some resin and pine. Medium sticky body, moderate ethanol. Somewhat aspiriney bitterness in the middle and finish. Aspirin bitterness lingers for a long time in the aftertaste.
The aspirin was a big turnoff.
★
428 characters
1.58
/5
rDev
-52.1%
look: 2.5 | smell: 2 | taste: 1.5 | feel: 1.5 | overall: 1
On tap at Barclay's.
A: Pours a clear copper-amber with off-white head. It's brought by a server, so I can't comment on retention.
S: Soapy, with a biscuit-like sweet aroma.
T: Yes: soap. It's floral with this weird oily, slightly bitter flavor that carries into the back end. A mild sweetness imparted from biscuit flavors. To say there are better IPAs is an understatement.
M: Unredeeming and watery.
O: I couldn't even finish 25% of this.
★
451 characters
Fool's Gold Ale from Auburn Alehouse Brewery & Restaurant
3.3
out of
5
based on
58
ratings.