ZZ Hop Triple IPA
| Auburn Alehouse Brewery & Restaurant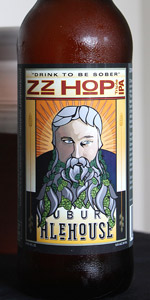 BEER INFO
Brewed by:
Auburn Alehouse Brewery & Restaurant
California
,
United States
auburnalehouse.com
Style:
American Double / Imperial IPA
Alcohol by volume (ABV):
9.80%
Availability:
Rotating
Notes / Commercial Description:
No notes at this time.
Added by Beerandraiderfan on 02-13-2012
Reviews: 9 | Ratings: 41
4
/5
rDev
+1%
look: 4 | smell: 4 | taste: 4 | feel: 4 | overall: 4
Thanks to drewone for sharing this one at his tasting.
Pours a hazy orange with a foamy khaki head that settles to a film on top of the beer. Small dots of lace form around the glass on the drink down. Smell is of malt, citrus fruit, citrus zest, and some herbal hop aromas. Taste is much the same with an alcohol kick and a medium hop bitterness on the palate with each sip. This beer has a good level of carbonation with a crisp mouthfeel. Overall, this is a good beer that is tasty but pretty strong.
505 characters

3.56
/5
rDev
-10.1%
look: 3.75 | smell: 3.25 | taste: 3.75 | feel: 3.5 | overall: 3.5
Orange pour, flimsy off white head on top. Aroma was sweet malt foremost, got some hops in there for sure, mostly c hops.
Syrupy, thick viscosity hop oils, sweet caramel, lots of bitterness of the grapefruit variety. They make better double ipas and whatnot.
263 characters
3.38
/5
rDev
-14.6%
look: 3.5 | smell: 3 | taste: 3.5 | feel: 3.5 | overall: 3.5
Cool name, this was the first triple ipa I tried at the dipa fest this year. Orangey pour, minimal off white head on the top of it. Aroma wasn't massive hops, lots of bitterness, a decent amoun of dry hopping, but completely indistinguishable as a 'triple' ipa compared to many of the uber dry hopped pales, single ipas and double ipas out there other than there was a little more malty caramel sweetness to it.
The taste, its decent stuff, delivers a little better on the hop flavor, but its still that grapefruit bitterness that gets a hold of you moreso than any other characteristic. Lots of viscosity, thickness, syrupy and all that it takes to make a beer this big.
I'd have it again, but I dunno, I think PU240 and golddigger really allow the hop profile to shine more.
783 characters
4.36
/5
rDev
+10.1%
look: 3.75 | smell: 4.5 | taste: 4.5 | feel: 4 | overall: 4.25
A: Translucent Reddish orange with a white head.
S: Sweet nectary mango and tangerine, orange, papaya and tropical fruit in the nose.
T: Sweet nectary mango, tangerine, orange, papaya, tropical fruit, malt, pine and mango.
M: Full bodied and foamy, kind of harsh but kind of smooth. Weird.
O: Not quite as good as their other DIPA, but damn good. Definitely worth a try.
382 characters
3.97
/5
rDev
+0.3%
look: 4 | smell: 3.75 | taste: 4 | feel: 4.25 | overall: 4
The beer poured a deep orange with about a fingers worth of an off-white head that left good lacing. The aroma was of pine, mango, peach, slight earthiness and a hint of astringency. The taste blasts the front of the tongue with bitterness that practically coats the whole tongue. The flavors of orange rind and pine needles are also heavily present. The mouthfeel is medium to medium heavy and finishes very dry. The taste lingers well after the beer is gone.
460 characters
4.15
/5
rDev
+4.8%
look: 4.5 | smell: 4.5 | taste: 4 | feel: 4 | overall: 4
Picked up at City Beer Store last night for $9.99. Just got it in the shop today so I'm expecting this to be rather fresh.
Pours a medium orange with golden highlights around the edges. Thin capping of off-white foam, decent retention. Luscious, inviting aromas with an initial burst of orange zest followed up with a floral/piney duet. Slight hint of toasted bread. Flavor skews towards a heavy floral/perfumey but there's a biting resiny pine too. Bitterness is intense, lingering on into the finish. Brief encounter of clean malty backbone but this vanishes quickly. Moderate body and carbonation. Definite warming from the alcohol but not harsh. One heck of a hop bomb here, the intensity of the flavors certainly indicates a fresh bottle. Delicious, I'm going to enjoy this down to the last drop.
803 characters
4.17
/5
rDev
+5.3%
look: 3.5 | smell: 4.5 | taste: 4 | feel: 3.75 | overall: 4.5
review from notes... served on draft at Taps in Petaluma, in a North Coast belgian tulip
A - In this lighting, the beer looked like orange Jell-o. Kind of a pale, caramel-ly amber. Served with about 1 finger of head that receded to a thing ring. The ring lasted. Some lacing.
S - Resinous tropical fruits. Mango, pineapple, passion fruit... This is what I'm talking about.
T - Surprisingly, the main hop presence was green and grassy. Wish it tasted more like it smelled, but it didn't detract from this excellent beer.
M - Perhaps a tad thin and slightly acidic. Not distracting, though.
O - TRY THIS BEER. I loved it and will happily order it again, if I have the chance. It was a featured beer for a book release, "Craft Beerds." A great night with great friends as part of a very cool wedding present. This beer was excellent.
43
839 characters

3.98
/5
rDev
+0.5%
look: 4 | smell: 4 | taste: 4 | feel: 3.75 | overall: 4
Serving Type on Tap poured into a Tulip glass
Appearance- A golden hue, solid white head, big alcohol legs, consistent with a West Coast Triple IPA
Smell- Big wet hops, pine cone, citrus zest, orange peel, melons, malty notes
Taste- Big wet hops up front in the true West Coast Triple IPA style true to form, citrus notes, orange peel malty, big alcohol booze notes but works well with the beer
Mouthfeel- Smooth, malty, lingering after taste of all of the flavors
Overall- One of my favorite IPA's that are made locally where I live any time this is on tap at the Auburn Ale House I make a point of getting up there and having it on tap and bringing home a bottle or two...
679 characters
4.8
/5
rDev
+21.2%
look: 5 | smell: 5 | taste: 4.5 | feel: 5 | overall: 5
Very nice beer.
First off, it's not a triple IPA, it's a DIPA. I think triple IPAs are unbalanced (on purpose) and the triple IPA name is a bit of a marketing ploy here. Oh well... but this one has a slight malt backbone, with some sweetish caramel malts thrown in. This doesn't completely hide the alcohol, but I enjoy tasting that since it's 9.4% ABV.
It's still very hoppy, with Chinook, Centennial and Amarillo hops according to the label. Its a nice tribute to some classic northwest hop varieties in the era of tropical fruit "experimental" hops.
A really solid DIPA that will satisfy any BAer.
603 characters
ZZ Hop Triple IPA from Auburn Alehouse Brewery & Restaurant
3.96
out of
5
based on
41
ratings.