Holzhacker Lager
| Bull Falls Brewery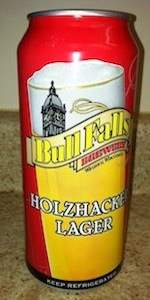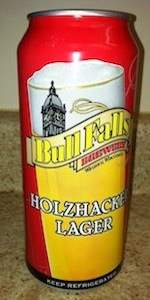 BEER INFO
Brewed by:
Bull Falls Brewery
Wisconsin
,
United States
bullfallsbrewery.com
Style:
Munich Helles Lager
Alcohol by volume (ABV):
5.80%
Availability:
Year-round
Notes / Commercial Description:
No notes at this time.
Added by KI9A on 05-19-2009
Ratings: 13 | Reviews: 9
Reviews by JerUrbans:

3.33
/5
rDev
-1.2%
look: 3 | smell: 2.5 | taste: 3.75 | feel: 3 | overall: 3.75
Pours very light yellow and very clear, with snow white head. Smell is fresh and a little earthy malt. Tastes good, nice biscuits and butter with some sour cherries. Mouthfeel is fresh, clean, crisp.
Overall, I would drink again. Not a style I've drank a lot of but this is pretty good.
288 characters
More User Reviews:

3.53
/5
rDev
+4.7%
look: 4 | smell: 3.5 | taste: 3.5 | feel: 3.5 | overall: 3.5
Poured 16oz can into a Pils glass. Some haze and golden straw, with 2 finger head. It fades quickly and leaves a thin ring with minimal lacing on the glass. Pleasant grains and cracker like malts. Citrus and some grassy hops are also present. Flavorful light cracker malts with citrusy and grassy hops. Rather straight forward for a lager. It is creamy, yet crisp with a decent amount of carbonation. A simple session lager on par with Yokel from New Glarus that has a 3.86 rating. Gives you an idea of how a brand name can influence a beer.
541 characters
4.18
/5
rDev
+24%
look: 4 | smell: 4 | taste: 4.25 | feel: 4.25 | overall: 4.25
Even Furthur 2016 cooler beer.
Bright saturated gold, compact sturdy layer of foam that sits for a few minutes, and leaves behind arcs of lace.
Aroma is mellow and clean, light apple yeast esters, vaguely biscuity and grassy.
Taste is similarly mellow and unfettered, simple biscuity malt flavors mix with apple esters, and a crisp grassy bitterness from the Hallertau. Light and crisp, very smooth and clean with a lingering grassy noble hop bitterness in the dry finish. Minimal sweetness, and far from "cloying". Easy drinking, true to style, and versatile with food.
No one is reinventing the wheel here, it's just a clean, well made German lager. Simplicity is underrated and sadly often misunderstood... simple traditional beers can be extremely satisfying.
769 characters

2.94
/5
rDev
-12.8%
look: 3 | smell: 2.75 | taste: 3 | feel: 3 | overall: 3
Random code printed on the bottom of the can but no bottling date.
Appearance: Pale straw in color with superb clarity. Tiny layer of white froth and a bit flat looking.
Aroma: Dry bready malt. Really not aromatic.
Taste: Some spicy/bitter character from the hops that builds throughout to maybe about 25 IBUs or so. Not sure if this is made from adjuncts but there is a bit of grain flavor poking through. No ABV listed but I'd estimate it around 5.5%. Finish is a little dead for the style, no lively crispness. Aftertaste is a bit like damp cereal with a hint of spicy hop character.
Mouthfeel: Between thin and medium in body but its tepid nature (either due to a canning issue or as it is intended to be) makes this hard to grade. A tad cloying but I can't really put my finger on the reason. Drinkable but I wouldn't session this.
Final Thoughts: I'm always skeptical of any newly distributed beer that's a) a lager and/or b) looks like it's from a brewery that was bought out by BMC. A lot of forgettable beer, particularly "craft" lagers coming onto the beer scene right now. Would I drink it again? Only if the head brewer handed me one.
1,152 characters

3.15
/5
rDev
-6.5%
look: 3.25 | smell: 3.25 | taste: 3 | feel: 3.25 | overall: 3.25

3.24
/5
rDev
-3.9%
look: 3.5 | smell: 3.25 | taste: 3.25 | feel: 3.5 | overall: 3
This pours a clear, amber/yellow color with a thick white head. The aroma is malty with a touch of yeast. The taste is smooth and easy drinking. There's a decent grain flavor with a touch of bitterness in the finish. Rather interesting for the style.
252 characters
3.2
/5
rDev
-5%
look: 3 | smell: 3 | taste: 3 | feel: 4 | overall: 3.5
Not sure where to place this style, the site says "Munich-style pale lager", but, tastes to me like a Helles.
A: Pours light gold, nice head & Retention. Nice lace waves.
S: malts, biscuits, a slight pine sent.
T: Good balance of malts & light, maybe saaz hops (?). Good, but, just kinda plain.
M: Light, clean, nice drinker.
D: Again, nice drinker. Nothing offensive, but, nothing outstanding
408 characters
1.87
/5
rDev
-44.5%
look: 3.25 | smell: 1.75 | taste: 1.75 | feel: 2 | overall: 1.75
If this were an artist's work, it could be entitled "A Study In Blandness". I did pick up a slight aroma of sweet wet grain. Flavor's about the same plus some carbonic tang and a bit of bitter. Plenty of water.
210 characters

3.62
/5
rDev
+7.4%
look: 3.75 | smell: 3.5 | taste: 3.75 | feel: 3 | overall: 3.75

4.25
/5
rDev
+26.1%
look: 4.25 | smell: 4.25 | taste: 4.25 | feel: 4.25 | overall: 4.25
Pours a crystal clear yellow golden color with white colored head. Cereal grains and some lager yeast on the nose; follows onto the palate. Light bodied. Finishes very crisp and clean. Nicely done.
197 characters



3.01
/5
rDev
-10.7%
look: 3.25 | smell: 2.75 | taste: 3 | feel: 3 | overall: 3.25
Pours a pale, slightly hazy golden in color. Head is just barely off-white, lacing is good. Carbonation looks pretty even and light.
Nose starts out with a fairly neutral malt profile (pale Munich and Crystal) with a lighter Noble hop profile just at the tail end. Yeast profile is neutral...
There's a 'zing' of Noble hops which begins about midway through the first sip, and a nice lingering bitterness. Malty and just barely on the sweet side, with a touch of malt depth and complexity. Nice balance: The bitterness is where it should be for the style, the sweetness held in check, and just enough tanginess from the hops as well.
Lighter esters, but some are to be expected and they do not detract.
Overall it is not a bad example of the style.
757 characters
Holzhacker Lager from Bull Falls Brewery
Beer rating:
30.8%
out of
100
with
13
ratings