Perfect Brewing Supply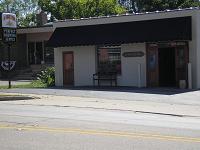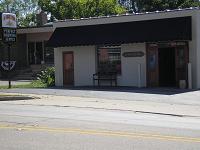 PLACE INFO
Type:
Homebrew
619 E Park Ave
Libertyville
,
Illinois
, 60048-2904
United States
(847) 816-7055 |
map
perfectbrewsupply.com
Notes:
No notes at this time.
Added by ILhophead on 09-08-2007
Ratings: 10 | Reviews: 7
Reviews by BeerLover99:

4.45
/5
rDev
+4.7%
I am completely new to home brewing, so after doing a little research on BA found this place was 15 minutes drive from my house.
The shop is rather warm and small building that one could drive right by, if you really didn't watch for the address number.
The guy that was running the store that day was an avid brewer himself and there were a few articles written about him and his store posted. He was incredibly knowledge, spoke about brewing at a beginners level and didn't have an attitude about it.
The selection of start kits was rather varied, tons of books, and plenty of fresh ingredients were available for beginner brewers and plenty to keep the most advanced beer lover intrigued.
I purchased Palmer's "How to Brew". He and every home brewer on BA all recommended it. The store clerk said just read it a few times, make sure your stuff is very clean, and relax it may take a few times, but you will get it and it's addicting. He even put his e-mail and phone number in the book if I have any questions.
Outstanding experience!
1,047 characters
More User Reviews:

4.09
/5
rDev
-3.8%
vibe: 3.75 | quality: 3.75 | service: 4.75 | selection: 4

4.04
/5
rDev
-4.9%
vibe: 3.75 | quality: 4 | service: 4.25 | selection: 4

4.21
/5
rDev
-0.9%
vibe: 3.5 | quality: 4 | service: 5 | selection: 4
I tried this place for the first time last week and was pleasantly surprised. I live in Algonquin but work in Lincolnshire so this was a quick jaunt north on Milwaukee ave for me after work. I found them online just by doing a homebrew shop search; they have a nice website and it was incredibly easy to place an order. Having placed the order around 11:30AM I wasnt sure whether to expect them to see it or fill it by 3:45 when I arrived. I had included some special notes in the order as well. I was very excited upon arriving to see that my order was filled precisely and was all ready for me in a box. They had a customer at the counter so I took a few minutes to check out some of their hardware. Overall it was a very tidy shop, with a nice layout, and very spacious considering it looks like a machine shop from the outside. The guy filling my order was polite and I told him I appreciated his service and let him know that I will definitely be coming back to shop here in the future. They mill your grain for 20 cents a pound, which I do not mind paying as it is perfectly reasonable as milling grain kind of sucks. Their selection of malt is better than the other two homebrew stores I've been to in the area, at reasonable prices.
I would certainly recommend this place to anyone within driving distance.
1,316 characters

3.93
/5
rDev
-7.5%
vibe: 4.5 | quality: 4 | service: 3.5 | selection: 4
This is a great local homebrew shop. Bought my first kit here and also my first few recipes. They have their own recipes (including a few from a local brewpub!). But the best thing about the guys at Perfect is they will fill any grain bill and have an excellent knowledge of brewing, which allowed them to make appropriate substitutions, etc. Plus having them fill a recipe saves on the shipping from Northern or any other place.
The prices are good too, they charge basic costs which are better then any online store I've seen, while providing additional tips for free!
Overall this is the best place available for folks in Lake County.
639 characters
4.35
/5
rDev
+2.4%
This is a great place for the homebrewer. All of the supplies that they carry are of good quality. Even when I was down at school in Indiana my roommate and I had them ship us grains so that we could start making our first all-grain batches. The guys will mill all the grains you buy from them if needed. Billy, who works there is one of the more knowledgeable individuals I know when it comes to homebrewing. Every once and awhile they don't have the hops/yeast we are looking for but they are knowledgeable enough to find a comparable replacement so that the beer tastes close enough to the way that you want it to be designed. The will also order any items that you feel you really need. Any equipment needs that we may have we can go to them and be sure to find it. Also as far as I know, it's the only homebrew shop without going into the city of Chicago itself. A definite thumbs-up from me.
897 characters

4.5
/5
rDev
+5.9%
My homebrewing friends lured me here with promises of greatness. I was not disappointed. Though very unassuming from the street, this place has evewrything a homebrewer needs: a huge variety of grains, many different yeast strains, hops (both whole leaf and pellet), various pieces of equipment, and even a decent collection of helpful literature. We were even able to order some rhizomes so we could grow our own hops. The guys who work there are extremely helpful and knowledgable; one of them used to even brew over at Sourthern Tier! (I will say, though, that we have differed in opinion with him in the past...) It's also a plus that you can order what you need online and pick it up later. I've done a lot of 1-gallon mini-batches in my day, and they've always been fine with measuring out strange proportions of grains for me. As far as I can tell, having only been to a couple of homebrew shops, the prices seem very reasonable, especially when it comes to the grains (which, of course, you can get milled or un-). I enjoy coming here, and I can't imagine going elsewhere (hell, it is the closest shop to our operations, after all).
1,140 characters
4.65
/5
rDev
+9.4%
I went here today to get most of my all-grain brewing supplies and equipment. Since I'm a first time brewer, I needed to get EVERYTHING. The prices were very reasonable compared to what I'd seen online and at a few other brew stores in the Chicago area. They had a good selection of equipment, including a 10 Gallon GOTT cooler which I couldn't find at any of the local hardware stores.
The guy who worked there, Billy, was very helpful in answering all my questions and making recommendations. He was also kind enough to give me a discount since I was buying so much stuff. I will definitely go back.
Since today was just an equipment run, I didn't really look at their hops or grains selections, but from what I did see, they had a good variety. I will come back here, and definitely recommend this place over Brew & Grow in the city. It's worth the trip!
860 characters
4
/5
rDev
-5.9%
So I started homebrewing again (because obviously beer wasn't draining my wallet enough...) and I needed to find a nearby homebrew store. Unfortunately this one isn't closer because it's a nice little store. When I walked in I was surprised to how much stuff they did have because the store looks really small from the outside. Two guys were working, both of whom greeted me as they packed up boxes for shipment. I had some questions about cleansers and they were answered, the dude was definitely knowledgeable.
They had a decent selection of extract kits and some clone kits along with pretty much any gadget you could ever need. Plenty of grains and hops and whatnots serving all of your basic brewing needs. Nice place that I wish was closer!
746 characters
Perfect Brewing Supply in Libertyville, IL
Place rating:
100%
out of
100
with
10
ratings