Southampton Uberliner (Imperial Berliner Weisse)
| Southampton Publick House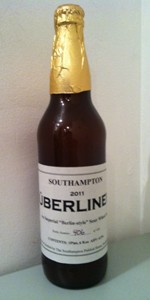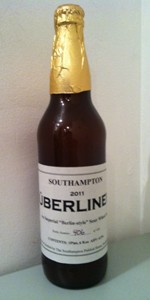 BEER INFO
Brewed by:
Southampton Publick House
New York
,
United States
publick.com
Style:
Berliner Weissbier
Alcohol by volume (ABV):
6.00%
Availability:
Limited (brewed once)
Notes / Commercial Description:
No notes at this time.
Added by MasterSki on 01-16-2012
This beer is retired; no longer brewed.
HISTOGRAM
Ratings: 111 | Reviews: 42
4.57
/5
rDev
+8.3%
look: 4 | smell: 4.5 | taste: 4.5 | feel: 4.5 | overall: 5
On tap at the publick house during their RIS release. Served in a short SH branded pils glass. The brew appears a hazed golden yellow color. A finger of creamy white head appears and fades fairly quick leaving a thin line of lace around the edge and small patchy lace patterns sticking to the glass. Very nice retention supported by constantly rising bubbles.
The first whiff of this brew brings up thoughts of lemony sweet tart candy. Some cheesy grain is evident along with mild funky notes. Trace elements of some fruited quality like pears and apples runs throughout. Earth and lactic quality like yogurt are felt towards the back and it increases in character as it gets warmer. The last thing noted about the aroma is a light hint of straw to grassy grain character.
The taste of this brew is lemony like sweet tarts. It carries with it different layers of lemon ranging from the candy-like type to coriander and zest. An inclusion of wheat grain provides a mild sweetness as well as a tangy wheat element that accents the lemony tartness of the brew. Some light fruit inclusion is noted through the middle tasting of pears and apples. A yogurt-like dryness concludes the brew with a lingering flavor of bubblegum.
This is a medium to light bodied brew with a modest level of carbonation. It is crisp and very tart that carries an ease of drinkability. This brew had some seriously big shoes to fill. Berliner Weisse is my favorite style of beer and their normal Berliner offering is my favorite beer to date. This uber take on the style was a homerun. It hints with imperial character straight across the board. It includes more of a wheat presence slightly more fruited quality and a bit more tangy tartness. Where the normal Berliner by Southampton is exceptionally clean and easy drinking with a depth of character. This one is very much imperialized in every aspect. I drank a lot of this at the release and wish I could drink it on a regular basis.
1,963 characters
4.58
/5
rDev
+8.5%
look: 5 | smell: 4.5 | taste: 4.5 | feel: 5 | overall: 4.5
A: Really beautiful appearance. Looks like hazy, light cider. But what really carries the appearance is the sight of those tiny carbonation bubbles near the bottom of the glass. Before a drop even hits your tongue, you know you are going to get a crisp, light, fresh-tasting beverage.
S: The smell of fresh, sour apples. Not overpowering by any means. In fact, it reminds me a lot of the apfelwein I drank in Frankfurt. The only downside is that the smell seemed to dissipate very quickly.
T: The taste is exactly what you'd imagine based on the appearance and smell alone. It's crisp, fresh, light, carbonated, and a hefty dose of sour apples (perhaps a tad too sour). It leaves a nice tingling sensation on your tongue.
M: Very, very smooth. The carbonation is the only reason that this beer doesn't go down like water (I really like the carbonation, because the prickly sensation pairs well with the crisp, sour taste of the beer).
I could actually drink this all day. There's so much going on between the sour apples, carbonation, and smoothness that I really do not think I could be bored by this drink.
1,113 characters

4.62
/5
rDev
+9.5%
look: 4.5 | smell: 5 | taste: 4.5 | feel: 4.5 | overall: 4.5
This beer pours a nice straw color with a thin white head that recedes quickly. Th small is wonderfully lemony with hints of apple and grass. The flavor is nice and tart with a wheat back ground and hints of grass and fruity flavors. The mouthfeel is light well carbed and refreshing. Overall one of the top 2 Berliners I have ever had
335 characters
4.65
/5
rDev
+10.2%
look: 5 | smell: 5 | taste: 4.5 | feel: 4.5 | overall: 4.5
Poured from the standard pressure cap 22oz. bottle into a Southampton snifter at low altitude. Had this on tap at the release and I'm really looking forward to trying this one again.
A: Pours a beautiful mostly opaque golden color like a bottle of fresh cider before shaking. Creamy two-finger stark white head recedes to a cap relatively quickly, but this is still a really beautiful-looking beer. Leaves some night spotty lacing on the glass throughout the session.
S: Apples, sour yeast notes, fresh olives and light wheat in the background. The smell is relatively strong and very enticing.
T: Complex sour yeast notes up front on par with some of the best Belgian lambics I've tried to date. After that, some sweet apple/pear notes and a slightly grassy wheat body followed by a very clean finish. I find it hard to stop drinking this after I've started.
M: Light-bodied and very nicely carbonated with a drying finish. Suits the flavors to a tee -- almost perfect.
D: This is a beer so good it's difficult to stop drinking after you've started, especially given its lightness. It's sour and cleansing in all the right ways. An absolute pleasure that I hope to have again next year.
1,192 characters
4.75
/5
rDev
+12.6%
look: 4.75 | smell: 4.75 | taste: 4.75 | feel: 4.75 | overall: 4.75
This is not a 2015 review but from notes found from a tasting when this beer was released. However, I was so impressed with this beer that I've had it a few times and can actually still taste it!
196 characters


Southampton Uberliner (Imperial Berliner Weisse) from Southampton Publick House
Beer rating:
4.22
out of
5
with
111
ratings