Southampton Berliner Weisse
| Southampton Publick House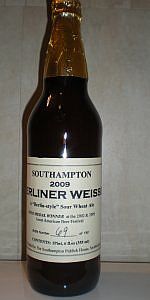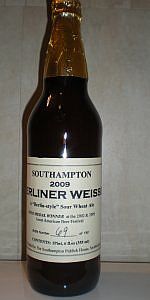 BEER INFO
Brewed by:
Southampton Publick House
New York
,
United States
publick.com
Style:
Berliner Weissbier
Alcohol by volume (ABV):
2.00%
Availability:
Rotating
Notes / Commercial Description:
No notes at this time.
Added by BeerAdvocate on 02-18-2003
This beer is retired; no longer brewed.
HISTOGRAM
Ratings: 63 | Reviews: 45
4.35
/5
rDev
-4%
look: 4 | smell: 4 | taste: 4.5 | feel: 4.5 | overall: 4.5
Big Thanks to JW77 for this rare treat.
A: Pours a cloudy pale yellow hue. Very small head no retention or lace.
S: Aromas of light grainy malt. Saltine crackers, lemon zest, and tart green apples.
T: Drinkable with a subtle tartness. Mildly grainy with hints of bready yeast. Light brine with a nice citric sting. Granny Smith apple tartness with mild lactic notes.
M: On the lighter side, zippy carbonation, crisp, champagne like...damn tasty.
D: Very nice. Very good brew.
480 characters
4.5
/5
rDev
-0.7%
look: 4.5 | smell: 4.5 | taste: 4.5 | feel: 4 | overall: 4.75
HUGE thanks to Kevin for sharing this gem!
A- Body is a quite hazy, uniformly translucent pale yellow hue. Pours with a 1 finger or so soapy white head that eventually fades to a nice thick collar.
S-Nose is an excellent balance between sour lemon, yeast, and grain. Wonderful and welcoming.
T-Flavor upfront is somewhat mild with some tart lemon and a yeast balance in the background. A lactic sourness really comes through for the finish that isn't quite a huge punch but its pretty potent.
M-Light body with very high carbonation.
D- This is a very well done, light, drinkable, berliner weisse. Can't go wrong here with 2% ABV. The balance in the flavor profile and the nose is excellent. Its too bad this is so limited because this is a great session beer packed with flavor.
784 characters

4.32
/5
rDev
-4.6%
look: 4 | smell: 4.5 | taste: 4 | feel: 4 | overall: 5
Bottle #8/150.
Pours a clear pale golden w/ a fluffy white head that goes away fast; no lacing at all. The smell is cider vinegar, clean malts, citrus, moss, tart apple, and dandelion. The taste starts with the dandelion sourness, then a slightly sweet tart apple note, moving into clean minerals, some mild breadiness, and a crisp cider vinegar finish -- mild, though, not too sour. It's thin, pretty watery, slightly effervescent. Even if you're not big on sours, this is fantastically easy to drink.
503 characters

4.82
/5
rDev
+6.4%
look: 4.5 | smell: 5 | taste: 5 | feel: 4.5 | overall: 4.5
4/4/2010
2009 batch
Bottle 90/150 received in a trade (thanks!) and consumed in a snifter. Pours an effervescent slightly hazy icterine with a mountainous white head that displays surprisingly good retention for the style.
The aroma is moderately lactic with a mild Brett presence and a flowery character. The fruit character is mostly tart lemon with a light acidity, but there's also a bit of white grape. Notes of grainy wheat and a light breadiness are apparent.
The flavor opens with a strong lactic sourness that transitions to a bready wheat flavor with a light Brett touch. A moderate fruit character is present and it's reminiscent of tart lemons. The dry and piquant finish exhibits a clean lactic sourness with a little wheat, bread, and lemon. That ubiquitous and inescapable sensation of farmer's daughter can be found here.
Light bodied with high carbonation and a dry mouthfeel.
This is easily the best Berliner Weisse I've had. It's a shame they make and sell so little of it. At 2% ABV I can think of no reason to abstain.
1,045 characters
4.57
/5
rDev
+0.9%
look: 4 | smell: 4.5 | taste: 4.5 | feel: 4.5 | overall: 5
Another rarity shared by Grant - thanks! Bottle 121 of 150.
Pours a hazy light straw color with a half-finger white head. The head recedes into a wispy layer on top leaving decent lacing.
Smells of semi-tart lemon peel with good amounts of wheat twang and lighter amounts of bread-like notes.
Tastes similar to how it smells. Mild bread-y malt flavors kick things off and are joined quickly by solid amounts of wheat flavors and lemon tartness. Midway through the sip the initial tartness recedes just a bit allowing more of the wheat to shine. The ending is crisp and mildy tart.
Mouthfeel is very good. It's got a light thickness with active carbonation.
Drinkability is great. I finished my glass without a problem and could easily have a few more.
Overall this was a great combination of all flavors that should be present in a berlinerweiss, tart but not too tart. This is a lot of flavor packed into a measly 2% ABV - well worth a shot if you can track one down.
975 characters

4.55
/5
rDev
+0.4%
look: 4 | smell: 4 | taste: 5 | feel: 4.5 | overall: 4.5
Bottle #131/150
A: Light, cloudy straw-yellow body. Moderate, fizzy white head. Quickly receded to a faint skim. Very spotty lacing.
S: Funk-ay! Green grapes, lemon juice, light floral notes. Indicative of the sourness to come. Overall, not as intense as one would expect.
T: Do you like lemon sour warhead candy? If so you will love this thing. Lactic sourness throughout. Green grapes, green apples, wheat, funky yeast, grass, and champagne.
M: Medium to high carbonation levels. Leaves a nice zing on the tongue. Refreshingly dry. Juicey, without the sweetness. Nice puckering sourness.
D: If this was mass-produced this would be the perfect weekend breakfast beer. I am rather fond of Bruery's Hottenroth Berliner Weisse, but this is just superior in every way.
771 characters
4.77
/5
rDev
+5.3%
look: 4 | smell: 4.5 | taste: 5 | feel: 4.5 | overall: 5
I have to thank BeerWorld for hooking me up with this one. Thanks Alex! Split the 22 oz. bomber with pecorasc. Bottle Number 49 of 150. Poured into tulip glasses.
A- Pours a cloudy, pale wheat color. Produced three fingers width of white, fluffy head. Dissipated pretty quickly over consumption.
S- Bring on the funk! Presence of lactic sourness is unmistakable. Noticing fresh white grape and lemons. Little bit of wheat in the finish with grassy undertones.
T- Lemon, lactic tartness right off the bat. Picking up a presence green apples immediately thereafter. Finishes off with a subdued sourness and a hint of wheat. The flavors were perfect and sourness was spot on for style.
M- Light bodied with medium to high carbonation.
D- I could drink this all damn day. No joke. It's a shame that this beer is so limited. I could easily pound a couple bottles of this on a nice spring day.
Overall, the best berliner weisse I have had to date. Hopefully, I will get to try this masterpiece again some day.
1,013 characters
4.53
/5
rDev 0%
look: 4.5 | smell: 4 | taste: 4.5 | feel: 5 | overall: 5
Shared by TempsPerdu (big thanks), bottle 99/150 poured into an Urthel tulip chalice.
A- Very light golden color (champagne-esque) with a very airy, frothy white head. Lots of bubbles rising very fast and head dissipated almost instantly leaving no lacing.
S- Slight tartness, some green apple cider.
T- Tart, crisp green apple, dry champagne. It tastes like a glass of champange with a thin slice of green apple dropped in. Very nice and light.
MF- Unreal. Like the appearance and taste, the mouthfeel is a lot like champagne. Very light, effervescent, crisp and drying. Really great on this one.
D- I mean, it's 2%abv....I could have this for breakfast every day. The mouthfeel is perfect and the taste is nice and refreshing. This is the true "Champagne of beers" and I enjoyed it immensely.
799 characters

4.77
/5
rDev
+5.3%
look: 4 | smell: 4.5 | taste: 5 | feel: 4.5 | overall: 5
A big thanks to a generous BA who recently shared this bottle at a small tasting.
Appearance: Pours a fairly transparent pale straw yellow with a 1 finger white crown that rapidly dissipates and leaves no lace. It fits to style but doesn't wow me.
Smell: Oh my...lactic goodness, green grapes, and a hint of wet grass.
Taste: Once it hit my lips I knew it was going to be a winner. Pungent (but not overbearing) lactic tartness, lemon sweet tarts, a dash of funk, wheat, green grapes, and green apples. Perfectly balanced.
Mouthfeel: Carbonation is very effervescent and extremely enjoyable. Body is light (as expected) and the finish has the right amount of pucker to make you keep wanting more.
Drinkability: Btw the amazing taste, the great puckering quality, and the low abv this brew is extremely drinkable.
Best Berliner that I've had yet.
853 characters
4.92
/5
rDev
+8.6%
look: 4.5 | smell: 5 | taste: 5 | feel: 4.5 | overall: 5
Bottle shared with some good friends while watching the LOST season premiere tonight...
Pours a very light hazy yellow with a nice light white head.
Aroma was nice...sour milk, raspberries, rhubarb, lemons and barnyard. Really nice lactic aroma...amazing
Taste was also really nice. Not over the top sour...tons of stone fruits, lemon and a nice lactic tartness. The carbonation was spot on for the style and really nice. Drink ability of this one is as good as it gets. This would be an amazing beer on a hot summer day. Really nice, I'm very impressed with what Southampton did here....
589 characters
4.27
/5
rDev
-5.7%
look: 3.5 | smell: 4 | taste: 4.5 | feel: 4 | overall: 4.5
Thanks to slander for sharing this 12oz. bottle on 12/14/09.
A - Poured a slightly cloudy pale yellow with subtle carbonation and a thin white head that fully receded, leaving virtually no lace at all.
S - Tart apple with a hint of lemon sourness and slight grape sweetness. Aroma suggests fruit skins and subtle tannins as well.
T - Sour apple is prevalent with a big Granny Smith character and a Sweet Tart candy finish. There is also a touch of toasted grainy malt that is also characteristic of the style. This is an extremely tart Berliner Weiss, perhaps the most sour example I've sampled.
M - Medium bodied with a syrupy texture and a very tart finish. Pucker up, baby!
D - It's no wonder why this Berliner Weiss has won gold medals at the GABF. Great stuff!
772 characters
4.62
/5
rDev
+2%
look: 4 | smell: 4.5 | taste: 5 | feel: 4 | overall: 4.5
Big thanks for Eric for brining this one (and thanks to Mike for giving this one to Eric!). 12oz bottle.
Poured a medium and hazy yellow color with a small sized white head. Aromas of funk, sweaty, lemons, and an all around tartness. Tastes of lemons, green apples, wheat, and some bready doughiness. Nice puckering tartness. Damn this was a good beer. I wish I could get this as my everyday beer!
Notes from 1/10/08
419 characters
4.3
/5
rDev
-5.1%
look: 4 | smell: 4 | taste: 4.5 | feel: 4 | overall: 4.5
Much thanks to egajdzis for securing this rarity...
Appears a hazy, light straw toned gold with a small white head that slowly fades into a mild cap and collar. Streaky lacing is left all around the glass.
Smell is of wet hay, lemon zest, coriander, and notes of lemon pledge.
Taste is of mouth puckering, zingy lemons, tart wheat, berries, and tart apples.
Mouthfeel is medium bodied and fluffy on the palate. It's mouth puckering, yet addictive.
447 characters
Southampton Berliner Weisse from Southampton Publick House
Beer rating:
4.53
out of
5
with
63
ratings