Auld Battle Axe
| Laurelwood Public House & Brewery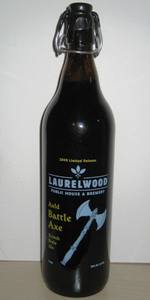 BEER INFO
Brewed by:
Laurelwood Public House & Brewery
Oregon
,
United States
laurelwoodbrewpub.com
Style:
Scotch Ale / Wee Heavy
Alcohol by volume (ABV):
10.00%
Availability:
Limited (brewed once)
Notes / Commercial Description:
2009 - released in limited edition 1-liter swingtop bottles and draught.
Added by msubulldog25 on 12-02-2009
This beer is retired; no longer brewed.
Reviews: 5 | Ratings: 6
3.7
/5
rDev
+3.6%
look: 3.5 | smell: 3.5 | taste: 4 | feel: 3.5 | overall: 3.5
Review from BeerAdvocate Magazine Issue #36 (Jan 2010):
Dark brown color is still able to show some clarity; good-sized head off of a hard pour. Massive malt aroma with a subtle twang of alcohol that holds a vague dark fruitiness. Creamy body with a modest level of carbonation. Noticeable alcohol, big on malt, but the sweetness is kept to a minimum. Small hopping, though the alcohol does come into play with a modest sting to help balance the malt. Complex flavors unfold but never rise above the rest; faint charred wood, black currants, brown bread, small amount of smoke and cake batter. Hops do drop some flavor. Alcohol is not hot at all, pretty even tempered. The malti- ness just stays on the palate like it has nowhere to go, in a good way.
This is one big, badass Scotch Ale that comes out swinging blind and seems to connect in every aspect. A memorable sipper to say the least.
★
893 characters
More User Reviews:
3.51
/5
rDev
-1.7%
look: 4 | smell: 3 | taste: 3.5 | feel: 3.5 | overall: 4
Snagged a taster of this on tap today at lunch.... and then bought 3 bottles.
- Nice dark nutty brown color... can't see much through it although doesn't seem to be very cloudy. Thin grayed head... down to a slight amount of mocha or off-white lace... brew is a bit murky... almost violet or red hues...
- Very light malty smell... a touch of zingy english-like malt... like a heavy esb... with a touch of Belgian-like ester and booze. But all seems to be well masked in the liquidy goodness. Very light smell.
- Rich and bitter malts without being too heavy on the tongue.... overall not a sugary sweet malt bomb which I am liking a lot... a well crafted brew with a mix of malts both roasted, smokie, and like figs... with a nice bitterness of pine, and dry wood.... almost a bourbon booziness too it.... seems perfect for the style.
- Not overly heavy on the tongue, somewhat thin, but rich and complex... great carbonation, and very drying to the mouth.
- A brew to drink slowly, and slightly warmer than others for sure... a very nice warming sipper of a brew... and recommended for aging and drinking if you are a fan of this style. My next of this style for me is going to be Alesmiths... let's see if it can hold up to this one.
* I feel this brew will be completely perfect and best with about 2-4 years on it.
★
1,325 characters
3.48
/5
rDev
-2.5%
look: 4 | smell: 3.5 | taste: 3 | feel: 4 | overall: 4
Served directly from a 1 liter growler into a cognac snifter. My good friends, Three Wisemen, The Great Reverend and Lucas... who isn't as cool as the rest of us, are in attendance.
Appearance: Pours a nice, solid, thick white head. I've never had a scotch style ale but I'm impressed. I usually only expect this kind of head from a stout. It dissipates almost immediately. The funny thing is that a casual swirl of the glass rejuvinates the head almost immediately. I very unusual quality in beers. Very dark for an ale, a strong red-amber color up by the light. If you don't hold it to the light it is completely opaque. Again, totally weird.
Smell: Very fruity, and a bit malty. I'm here with a couple excellent friends savoring this unique beer and the comments all over the place. Reminiscent of a beligan-style beer.
Taste: Wow, almost no linkage between smell and the taste. A bit of malt on the end for sure and a bit of alcohol concealed within. Very mild and very subdued. I worry that the irish coffees I made earlier may have killed out the taste. My other concern is that Laurelwood does not design their beers for any kind of transport. I like in San Luis Obispo, Ca. This beer was sent to me from my hometown of Vancouver, Wa just outside of Portland, Or. I'm going to try this on tap when I get home. Second opinion just in! This beer needs to be warmed up. Do not drink this beer cold. Opens up quiet a bit when you give it some time and heat. Maybe not enough to boost the score but enough to be a pleasant surprise.
Mouthfeel: The mouthfeel was relaxed. Very easy on the pallet. Honestly there's nothing wrong with it but it doesn't wow me.
Drinkability: Unbelievably drinkable. Its unobtrusive, subtle and relaxed. Malty beers are often less drinkable to me than any other style. This brew does not have that problem.
I'll need to give this beer a second going over. My initial feelings are positive if not a bit underwhelmed. I enjoyed Laurelwood's Moose and Squirrel from last year and this beer didn't quiet measure up. I was expecting a lot more body and depth of flavor than I got. It reminds me a bit of Nectar's Hemp Ale in that respect. Its beautiful color and aromatic smell are opposed to its relatively unremarkable taste. Interesting to say the least.
★
2,289 characters
3.09
/5
rDev
-13.4%
look: 4.5 | smell: 3 | taste: 3 | feel: 4 | overall: 2.5
I was impressed and pleased that I was able to try this beer at the Central Coast of CA where this beer is never seen outside of the Portland OR. Thank you, iD9. Drank this with Threewisemen and iD9.
Appearance (4.5): this beer has a thick head on initial pour that dissipates to a lacy top coat fairly quickly. The color is amazingly onyx until it is held to a light, then a drak brown, translucent amber is revealed. An interesting part is that swirling the brew retrurns most of the head.
Smell (3.0): The smell is curious it is reminiscent of a scotch sour, Lambic, Belgium, it is similar to red grapes, or currants. The color does not remind me of what notes waft from the top of the snifter.
Taste (3.0): Wow. If the other two were unaligned (appearance and smelled) , the comparison to taste and the other two is like an atheist-evolutionist marrying a evangelical born-again, 6000 year-old-Earthist. Drastically different. It is surprisingly NOT flavorful. After a bit of warming malt flavors come through mostly on the back end. When the brew was cool, there was nearly NO alcohol flavor-scratch that- there was NO alcohol flavor. The beer is 10.0% alcohol. This wasn't served that cold, perhaps 40-50 degrees F. When warm I mean 50 - 60 degrees F. This beer is better in "sat-out a bit" temperature category. A dark smoky flavor is apparent and to the discerning palette the smokiness is just a combination of the alcohol and the malt flavor.
Mouthfee (4.0)l: The mouthfeel is light on alcohol-until it warms up. I am debating on a 3.0 or a 4.0 on this score, but there is nothing wrong with the mouthfeel. My predisposition from the proceeding categories lends me to score the former, But I will grudgingly give it a four. Mouthfeel deserves a 4.0 on it's own.
Drinkability (2.5): This is exceptionally smooth. I could pound this quicker than water... but, that is not what this color indicates what should be happening. It is far too dark for the drinkibility to be incredible. I don't know what else to say but as far as the flavor goes I am unimpressed by this beer.
★
2,086 characters

3.48
/5
rDev
-2.5%
look: 3.5 | smell: 3 | taste: 3 | feel: 4.5 | overall: 4.5
Wisemen Justin Reporting. Drank this beer thanks to: iD9 also drank this beer with TheGreatReverend. Note our reviews are all over the place. This is a strange beer.
Appearance: Very thin head. This beer was poured into four different beer glasses and each one displayed the same strange qualities. Very thick head that dissipates very very quickly. No lacing. Very dark brown in color. If you hold it up to a light you can see some amber. If you swirl the beer the head reappears quickly, a new foamy head like it was never gone. It too dissipates rather quickly. This beer looks so much better when it's being poured then when it's in your glass.
Smell: The smell is very "Scotch Sour" or as I would say "Belgium." It smells like any Belgium. This is important because I have an aversion to all Belgium's that's essentially a beer drinking handicap. I smell it here. Let's see... It's a fruit bomb though, Fruit-Roll ups, sour grapes, fruit snack packs a little bit of pineapple for kicks. It's a fruit bomb on the nose if you close your eyes you could almost imagine you're smelling a wine however that Belgium smell reminds you it's definitely a beer.
Taste: Okay... Where is the "smell" in the taste? Almost nothing connects what I smelled with what I tasted. This beer is 10% alcohol, absolutely no taste of alcohol. It somehow masks the alcohol but it doesn't really taste like anything. I'm going on a limb here trying to think of things it taste like: smokey malts, a little bit of belgium. As it warms up the alcohol and the malts show up in force. DO NOT DRINK THIS BEER COLD. It is all around better warm. The alcohol comes out which enhances the smoke and malt tastes. I also think there is some nutty action going on. When it warms up also you get that "Belgium" flavor in the beer but it is very subtle. This beer taste radically different at varying temperatures.
Mouthfeel: The taste hangs around a while like I just finished a sick of beef jerky. Not to strong, finishes well with no surprises. I think this is the perfect mouthfeel. Almost more flavor in the mouthfeel then when you're drinking it.
Drinkability: For a 10% beer wow. I could get so drunk on this thing. There are however more drinkable high alcohol percentage beers out there. What this beer is missing is that the taste is pretty generic. I compared it to a homebrew beer. Just not much going on.
★
2,389 characters
Auld Battle Axe from Laurelwood Public House & Brewery
3.57
out of
5
based on
6
ratings.