Green Elephant IPA
| Laurelwood Public House & Brewery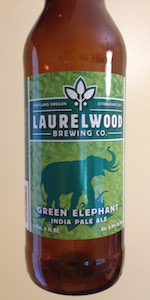 BEER INFO
Brewed by:
Laurelwood Public House & Brewery
Oregon
,
United States
laurelwoodbrewpub.com
Style:
American IPA
Alcohol by volume (ABV):
7.00%
Availability:
Summer
Notes / Commercial Description:
Green Elephant IPA has a mellow malt character that sets the backdrop for a big hoppy beast of a beer. Layers of hop flavor come from the copious amounts of hops used in this brew, soaking the beer with hop oil goodness; creating layers of pine and tropical fruits. This beer drinks so wonderfully that you have to be careful. This elephant can sneak up on you!
70 IBU / O.G. 16° Plato
Added by jdense on 01-19-2010
Reviews: 9 | Ratings: 50
3.93
/5
rDev
+1.6%
look: 3.75 | smell: 3.75 | taste: 4 | feel: 4 | overall: 4
BB: 07/23/16...about 3 weeks to go, so a wee bit old.
Pours clear golden. A little bit of soapy head quickly disappears. No glass lacing.
Versus Workhorse, it's a bit lighter in the taste, much less Citrusy or fruity. Lower abv, at 6.9%.
A very crisp, clean, summer beverage or a session.
For those not so enamored with dominating hop flavor, not a bad choice. But for me, Workhorse is a better brew.
★
414 characters
3.6
/5
rDev
-7%
look: 3.5 | smell: 3.5 | taste: 3.75 | feel: 3.5 | overall: 3.5
Poured a 12 oz bottle into a standard pint glass. Very little head & almost no lacing. Clear, golden amber in color. Tropical fruit, citrus, and light malty sweetness in the aroma. Medium body, flavored of apricot, orange and a bit of hops bite at the end. More resinous is the finish, with a slightly bitter aftertaste. Overall a decent IPA
★
348 characters
4.15
/5
rDev
+7.2%
look: 4 | smell: 4 | taste: 4.25 | feel: 4 | overall: 4.25
Huge fruity apricot and peach aroma, so thick is smells like a sweet dessert. There's a spicy grapefruit edge to the bitter finish. Medium body and overall it hits the high fruit then closes with drier, spicy hops. Cool IPA, well made. I'd buy another.
★
252 characters
3.02
/5
rDev
-22%
look: 4 | smell: 3.25 | taste: 2.5 | feel: 4 | overall: 3
Bought a 22oz bomber from local grocery store.
Appearance:
Poured a clear, copper body with minimal head. Minimal lacing.
Smell:
Traditional IPA vapors. Some floral, some citrus, ostensibly from the Cascade and Amarillo additions. Apricot sweetness, followed by some gummy malt aromas.
Taste:
Big candied orange is followed by a slightly awkward caramelly-sweetness and finishes with a dull, earthy, hop spice. Kind of a clunky mix of flavors for an IPA, but the finish is decent.
Feel:
Initially gummy and chewy, leaving a residual bit of oily-ness at the back of the palette. Relatively smooth otherwise.
Overall:
Smooth and clear, this IPA is drinkable, but probably only one pint's worth. The whole experience was sort of awkward, and left a slightly displeasing taste of spicy candied orange on my palette. Perhaps if it was a bit more decisive if it wanted to be a spicy, earthy IPA, a floral IPA, or a citrusy IPA, I'd probably enjoy it a bit more.
★
982 characters
3.79
/5
rDev
-2.1%
look: 4 | smell: 3.75 | taste: 3.75 | feel: 4 | overall: 3.75
On Cask conditioned draft at Bailey's taproom in Portland, OR
A good IPA with a lot of your classic grassy flavors, some pine as well really not a lot of intrigue here but a good, well balanced beer with tons of NW hop flavor. I enjoyed the temp. of the cask as it brought out a distinct pine/ must quality that becomes masked at lower temperatures. Again worth trying but not top on my lest of trying when visiting PDX.
★
421 characters

3.5
/5
rDev
-9.6%
look: 3.5 | smell: 3.5 | taste: 3.5 | feel: 3.5 | overall: 3.5
Nice coloring, creamy head, lingers for a bit. Smells like candy. Really sugary aroma; pleasing but...odd. hops are pronounced in an interesting way, it's not bitter and piney, more on the citrus side but even that isn't the best description. Best word that comes to mind is sugars. It tastes very sweet, but not in a malty way either. Very simple balance, but complex to pinpoint what's going on exactly. It keeps you coming back for more. Very good and refreshing.
★
466 characters
4.26
/5
rDev
+10.1%
look: 4 | smell: 4.25 | taste: 4.5 | feel: 3.5 | overall: 4.25
First time on tap. Hazy light amber with one inch of off white durable head. Modest lacing.
Smell is big whiff of piney hop oils. Malty aroma arrives later.
Taste is tropical fruit piney hop oil with a push back of sweet bready malts.
Mouthfeel is a bit low on carbonation could be due to bottom end of keg. Any it is fine and the bubbles don't get in the way of flavors. Long dry bitter finish leaves you wanting more.
Overall a huge beer for a 70 IBU IPA. Well recommended for hopheads.
★
491 characters

4
/5
rDev
+3.4%
look: 4 | smell: 4 | taste: 4 | feel: 4 | overall: 4
22 oz bottle from Trader Joe in Salem OR $4.49 pours a a nice clear burnt orange coloured ale. Nice lively carbonation strings rise from the bottom of my glass. Large rocky,bubbly white head. Lots of citrus and herbal hop notes in the aroma, Almost like lemon drop sweeties used to like in Scotland. Taste is less sweet but the taste is of lemon,grapefruit and peach in the hops. Very exuberant. The caramel malt in the back ground prevents it going over the top. Nice smooth easy going mouth feel very nice for a summer quaffer. Nice beer so easy to drink for its strength. So be careful out there!
★
599 characters
4
/5
rDev
+3.4%
look: 4 | smell: 4 | taste: 4 | feel: 4 | overall: 4
On tap at Laurelwood 51st/Sandy 6.10.2010, $3 pint during happy hour.
Orangish amber hazy body, 1 finger white head, medium dissipation with very good lacking. Nose is more floral than citrusy. Hop forward on tastebuds, firm caramel malt backbone in the middle, piney bitter finish. Mouthfeel is not too effervescent, medium fullness. This is one drinkable IPA, noticeably different from Work Horse, and certainly different from the bottled version. Worth a try.
★
463 characters
Green Elephant IPA from Laurelwood Public House & Brewery
3.87
out of
5
based on
50
ratings.