Imperial Workhorse Double India Pale Ale
| Laurelwood Public House & Brewery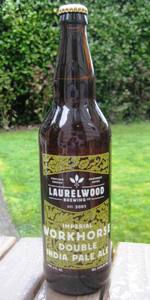 BEER INFO
Brewed by:
Laurelwood Public House & Brewery
Oregon
,
United States
laurelwoodbrewpub.com
Style:
American Double / Imperial IPA
Alcohol by volume (ABV):
9.50%
Availability:
Rotating
Notes / Commercial Description:
No notes at this time.
Added by womencantsail on 03-23-2011
Reviews: 14 | Ratings: 27
3.94
/5
rDev
-6.9%
look: 3.5 | smell: 4.5 | taste: 3.5 | feel: 3.5 | overall: 4.5
A: slightly murky golden/amber color with fluffy white head. fairly slow to subside.
S: dense hoppiness. pine, citrus, simcoe, amarillo. peachy, sticky sweet, perhaps a hint of malt. but overwhelmingly american hops.
T: begins creamy sweet but hits with immediate but not sharp bitterness. finishes hollow grapefruity on the tongue. a bit metallic, and a bit of minerally crystal malt.
M: carbonation leaves this smooth. medium bodied and clean finish.
O: pleasantly surprising ipa/dipa. wow. i'd drink a lot more of this, esp if it were on tap.
553 characters

4.13
/5
rDev
-2.4%
look: 4.5 | smell: 4 | taste: 4 | feel: 4 | overall: 4.5
Bomber poured into a pint glass. Thanks to vkv822 for throwing in this great extra.
A- Pours a orange amber color with a two inch fluffy head. Some great spots of lacing. Head sticks around for a quite a while. Great looking brew
S- Initially there is a hit of some pine and citrus hops. After pouring into a glass, I got more tangerine and orange zest as well as some pink grapefruit. There is a hint of bready mall back in the nose somewhere.
T- Blast of citrus notes including grapefruit, tangerines, kumquats, and orange zest followed by some pineapple, peach, grass, pine and floral notes. There is a sweet booziness at the end followed by some bready malt, but the 9.5 ABV is still fairly hidden.
M- Medium in body and carbonation. Slight oily mouthfeel and finishes dry. Quite drinkable for a DIPA.
O- Have had both the Regular and Imperial Workhorse's and they are both solid IPA's. The only minor thing that affected this beer IMO was the sweet booziness as the beer warmed up. Definitely worth a try if you like big DIPA's.
1,038 characters
4.32
/5
rDev
+2.1%
look: 4 | smell: 4.5 | taste: 4.5 | feel: 4 | overall: 4
On tap at Laurelwood 51/Sandy, 12 oz. tulip 4.18.11.
Deep gold clear body, no visible carbonation, good lacing. Nose is a hop bomb, resiny, mango, some grapefruit, balanced by crystal cherry-ish malts. Taste mirrors nose, not much bitterness on the back end, a bit boozy sweetness, fairly well balanced, tasty. Medium mouthfeel, average effervescence, not sticky. Booze fairly well hidden in the finish, not too hot. Wonder how this would be with a bit of cellaring re tame ABV heat. Well Done Chad.
501 characters
4.45
/5
rDev
+5.2%
look: 4.5 | smell: 4.5 | taste: 4.5 | feel: 4 | overall: 4.5
huge thanks to brian for this one, cracked open with dinner tonight and poured into a pint glass.
cloudy orange with a huge, billowing, pillow like head two inches tall. The head just would not give up any ground, very slow fade. Left behind enormous amounts of gooey sticky lace. Fantastic lookng, perfect double IPA look. Smell could have been a bit stronger and that was really the oly downside to the thing. Major contributer here was the citrus hops. Very strong grapefruit and pineapple came through from the start, as well as some of the alcohol should come as no suprise. As it warmed, more of a piney, resin type smell started to xome through. Taste was very smooth, not alot of carbonation here, but not really needed. Very strong and very bitter citrus hops in this one. The grapefruit alone will make you take a step back. Hints of pineapple as well, big alcohol taste that seemed to mellow a bit as it warmed. Big dry finish
938 characters

4.1
/5
rDev
-3.1%
look: 4 | smell: 4 | taste: 4 | feel: 4 | overall: 4.5
Thanks to Aaron for sending this one down.
A: The beer pours an amber/orange sort of color with a large white head.
S: Big time citrus on the nose. Plenty of grapefruit and pine, even some other fruits like apricots, peaches, and tropical fruits. A minimal amount of malt character, perhaps a hint of biscuit.
T: Lots of fruit notes with grapefruit, peach, and apricot. Plenty of pine which provides a rather robust bitterness that counteracts the touch of (malt) sweetness that exists.
M: Medium in body and carbonation.
O: This was pretty solid, but it wasn't quite to the elite level of Double IPAs. I think I liked the regular Workhorse better.
653 characters
4.12
/5
rDev
-2.6%
look: 4 | smell: 4.5 | taste: 4 | feel: 4 | overall: 4
On tap at Belmont Station the other day.
The beer pours an orange amber color with good head retention and lacing. The nose is complex in this beer, but I pick up some sweet malt (too much, really), pine, orange citrus, pepper and some tropical fruit. The flavor profile generally replicates the nose, but there's almost a rock candy flavor as well that I think is a bit much. The beer has plenty of bitterness to counter the sweetness (thankfully), but still, the flavor profile is dominated by sweet malt and pine, with the hoppy bitterness in the background. Mouthfeel is pretty interesting, as this beer is soft and smooth on the palate, with a long, sweet, bitter and somewhat boozy finish.
Interesting beer, but just not what I really want from a NW DIPA. Really thought the sweetness was a bit overdone in this one.
Edit from 2/15. Tried the 2015 version during Zwicklemania at the brewpub on NE Sandy, and it's a completely different animal then the version I sampled previously. The current version is very floral on the nose (I've adjusted my score, that's how profound the difference is), and the beer is much drier, leaner and lighter on the palate. The sweetness is dialed down very nicely, and the finish is dry and refreshingly bitter. Would order this one again in a heartbeat.
1,301 characters
4.23
/5
rDev 0%
look: 4.5 | smell: 4 | taste: 4.5 | feel: 4 | overall: 4
22oz pour into pint glass.
A - This beer pours fairly clear copper/amber colour with a slightly off white head. Great lacing and head retention. Awesome looking beer
S - Very piney and bitter. Some flowers and dank. Very little sweetness from malts
T - Bitter! I think I wrote that 3 times in my notes. This is very grassy, herbal, piney, earthy bitterness that is inescapable. I did not pick up hardly any malts
M - Biting, sticky, drying, medium
O - Not sure why they called it an Imperial and a Double IPA. In my mind these things are different but to each their own. As there was very little malty sweetness to balance, this hop bomb is an Imperial in my mind. BUT, it is a damn good one!
697 characters

4.5
/5
rDev
+6.4%
look: 4.5 | smell: 4.5 | taste: 4.5 | feel: 4.5 | overall: 4.5
4/14/2011
Bombers courtesy or writerljberg, thanks Luke! Poured into a snifter.
A: Golden orange with a big frothy head. Nice color and great clarity. Excellent retention and lots of lacing.
S: This is where the beer shines. Dank pine resin accompanies candied grapefruit and a light caramel backbone. Notes of tangerine are strong. The hops utilize the malt to their best advantage and cut through to really shine. There's a moderate floral presence. This is a veritable hop nectar, an outstanding aroma.
T: Grainy and lightly sweet malt sets the stage for an onslaught of orange, grapefruit, tangerine, and pine, combining in perfect harmony. This is dry on the whole, but there is enough sweetness to fend off fatigue and keep things interesting, elevating the drinkability. Alcohol is well hidden, appearing a little in the finish.
M: Lower medium in body with upper moderate carbonation. The beer is dry and sticky on the palate.
Overall: A fantastic beer. Highly recommended.
987 characters
4.4
/5
rDev
+4%
look: 4 | smell: 4 | taste: 4.5 | feel: 5 | overall: 4.5
Chilled bomber into a glass, courtesy of ramnuts. Thanks, Frank.
A: Pours a crystal clear golden copper body with an inch of off-white head. It retains well and leaves fantastic, sticky lace down the sides of the glass.
S: Pine hops, aggressive and unreserved in the nose. There is a small floral component as well, but this has that fresh-cut needle aroma with a slight mossy character to it.
T: Aggressive, in-your-face pine hop flavors. I normally gravitate toward citrus hop bills, but this is one beer (along with Herr Pliny von Elder) that showcases what a good, pine-forward recipe can do. Again, there is a floral element here that rounds out the end of the taste. Imperial Workhorse has a mild sweetness to it that is a small departure from the very dry IPAs I prefer, but it works really well here: it softens the perceived bitterness and complements the pine nicely. I'd go so far as to suggest "candied pine," if there is such a thing.
M: Satin-smooth mouthfeel. The carbonation caresses the palate and removes any lingering hop oils, preventing too much bitterness from accumulating. Some DIPAs can be really harsh and aggressive; this one nailed it.
O: I'm surprised Frank managed to part with three bombers of this. I'm not sure I could be that generous. Fantastic beer. Hopefully they will DIAL IN THE RECIPE (yes Laurelwood, I'm shouting this, as you are notorious for batch variation) and make it again.
1,431 characters
4.03
/5
rDev
-4.7%
look: 4.5 | smell: 4 | taste: 4 | feel: 4 | overall: 4
22 ounce into a nonic pint.
Pours an orangeish copper color with thick foamy off whit head that fades to some lacing.
Smells like floral hops, grass, and lot of pine. A touch of sweet malt as well.
Tastes match up with the aroma. A lot of pine, mild bitterness and a subtle malt flavor.
Mouthfeel is a light medium with a pleasant crisp bitter hop finish.
Overall is really good and this is the third bottle I've picked up. Almost as good as Green Mammoth. Probably won't buy any more as there are other beers to seek out.
527 characters
4.24
/5
rDev
+0.2%
look: 4 | smell: 5 | taste: 4 | feel: 4 | overall: 4
22 oz bottle poured into a Pint glass.
A- Medium to dark orange pour with a thick bubbly tan colored head. Clears as it settles, with good retention and lacing.
S- Very Pine forward, not much citrus here.
T- Sweet Pine, and a bit of a mild citrus on the tongue
D- Smooth and creamy in the mouth, with a slight bitter tingle finish.
O- I drank this about an hour after a Pliny, and it stood up well. A touch sweeter and creamier than most other DIPAs, but nice flavors overall.
482 characters

4.2
/5
rDev
-0.7%
look: 4 | smell: 4 | taste: 4 | feel: 5 | overall: 4.5
Big thanks to MADhombrewer for getting me a growler of this stuff. Being as I'm a fan of Workhorse, I had to see what the imperial version was all about. Poured a couple Duvel sized glasses worth as I split the growler with TulipSnifter.
A: Nice clear amber body with a couple fingers of caramel corn colored head remind me of Maharaja. A wispy cap with a glass ring remains after the head dissipates. Minimal lacing pops up but hell, this is practically 10% ABV. 4/5
S: Instant pine floods the room the moment the cap twists off. A nice amount of sweet well developed malt comes through upon closer examination. Although we're clocking in at 10% ABV, none of those off aromas are coming through. 4/5
T: Very bitter with a lot of the classic grapefruit pith and pine sap you get from PNW IPA's. Although the malt backbone is definitely there make no mistake, this is a delivery device for hops. 4/5
M: Damn good feel, in fact great! A full bodied, smooth beer that doesn't finish too sticky is not an easy feat. The boys at Laurelwood accomplished it here though. Perfect for my palate. 5/5
O: This is a phenomenal beer. I won't quite put it with the best in the world, but this ranks in my top three IIPA's in the PNW. The other two are Blue Dot and Homo Erectus. An instant classic. 4.5/5
Edit: I've had a bottle of this since the growler review and thought it was worth mentioning that the aroma is not as good in the bottles. Its a little muted and generic for an IIPA. I'd give it a 3 in an actual review. Every other category is spot on score wise by my assessment.
1,578 characters

4.23
/5
rDev 0%
look: 4 | smell: 3.5 | taste: 4.5 | feel: 4.5 | overall: 4.5
I will say, I wasn't entirely thrilled when my husband said we had a growler of Workhorse DIPA. I like workhorse enough but it's a little bitter and average for me to want a double/growler of it. To my pleasant surprise this beer was great. I actually enjoyed drinking 1/2 of this growler. I even poured my glasses because the spouse wasn't keeping up. This brew smelled good, it felt good, and it tasted good. Try it.
A: Great clarity and great head. It's the color of morning pee.
S: Sweet and malts but didn't get a whole lot that I wasn't already expecting.
T: pleasantly sweet and hoppy
M: surprisingly clean and crisp. I expected this to be heavy and syrupy because it's a double but it isn't at all.
O: Very easy to drink. You get all the great flavors of a quality DIPA without the heavy syrup feel. Very good.
820 characters

4.33
/5
rDev
+2.4%
look: 4.5 | smell: 4 | taste: 4.5 | feel: 4 | overall: 4.5
Appearance- Clear copper color with an off white head. Little lacing.
Smell- Floral notes abound. Some pine as well with malt in the background.
Taste- Much more piney in the taste than in the aroma. Damn that is good. Little floral hops and malt back it all up. Lots of bitterness clinging to my tounge.
Mouthfeel- A little more heavy than I typically like but it is still good.
Overall - This is a great beer! I really hope Laurelwood does this one again. Can't wait to get a bottle when they release them. By the way, the ABV is 9.9%.
545 characters
Imperial Workhorse Double India Pale Ale from Laurelwood Public House & Brewery
4.23
out of
5
based on
27
ratings.