Ink Heart CDA
| Laurelwood Public House & Brewery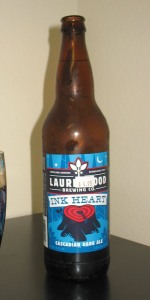 BEER INFO
Brewed by:
Laurelwood Public House & Brewery
Oregon
,
United States
laurelwoodbrewpub.com
Style:
American Black Ale
Alcohol by volume (ABV):
7.30%
Availability:
Spring
Notes / Commercial Description:
No notes at this time.
Added by Docer on 03-25-2012
This beer is retired; no longer brewed.
Reviews: 13 | Ratings: 19
3.6
/5
rDev
-4.5%
look: 4 | smell: 4 | taste: 3.25 | feel: 3.5 | overall: 3.75
I am a little disappointed with the ink heart. The beer pour as if it was over primed so I think th taste was affected. Nevertheless, the beer poured a dark nearly opaque black with a big foamy head that is lacing like a Vicki secret catalog. The smell is very nice bolstered by huge hop aroma. The taste had a metal twang to it and not well balanced. Although it is getting better as it warms. The mouthfeel is a medium body ale with big carbonation I. Overall it is a decent beer and with proper priming it might be a great beer. Thanks bro in law for brining this beer back!
577 characters

4.06
/5
rDev
+7.7%
look: 5 | smell: 4 | taste: 4 | feel: 4 | overall: 4
22 oz bottle from "Lifesource" in S.Salem. $4.99 Very nice looking beer, black with a great thick,creamy tan head. Fruity,floral hop aromas, backed by dark chocolate toasty malts. Very nicely balanced flavour with the piney,floral hops melding well with a creamy toffee,coffee maltiness. Delicious really. Good and substantial mouthfeel silky on the tongue. Very nice CDA..enjoyed this one
389 characters

4
/5
rDev
+6.1%
look: 4 | smell: 4 | taste: 4 | feel: 4 | overall: 4
22 oz. bottle picked up at the Portland Airport (PDX). Nice.
Dark murky brown coffee body. Small, pinkie finger of light sandy brown head. Some lacing. Roasted coffee on the nose, with some robust, stouty molasses, peat, and toffee. Herbal, piny hops as well.
Roasted barley and dark chocolate bitterness up front. Piny, herbal hops perk up the bitterness, as dark fruits, sweetened coffee, and tobacco fill the palate. Scotch tape hops into the finish. Drier, with lingering dark chocolate and licorice/tobacco. Nice. Medium-bodied with a fairly smooth feel. Nicely done!
574 characters

3.43
/5
rDev
-9%
look: 4 | smell: 3.5 | taste: 3.5 | feel: 3.5 | overall: 3
Pours mostly black, with some ruby edges. Light brown colored creamy head of a finger. Nice foamy lace. The aroma is roasted malts, with some tinges of citrus and pine, with a bit of chocolate. The taste is roasty, with some pine notes and a slight bitterness. Slightly creamy on the palate, medium bodied, noticeable carbonation. Drinkabiility is good, and it's a pretty decent ABA, but it's nothing special really.
416 characters
3.97
/5
rDev
+5.3%
look: 3.5 | smell: 4 | taste: 4 | feel: 4 | overall: 4
On tap at the Hopvine in Seattle.
A - Black coffee appearance with tan head. Minimal lacing but some sticky stuff hanging around, especially up top.
S - Dried grass with a hint of chocolate and a wisp of smoke. A subtle nose.
T - Grass marrid with sweet malt reveal on the front with floral and pine developing in the background along with some chocolate and roastiness. Very smooth and well-balanced.
M - Medium bodied with a coating quality. Carbonation is just right.
O - A definitive Cascadian Dark Ale. So smooth and enjoyable. It's just good.
557 characters
4.02
/5
rDev
+6.6%
look: 4 | smell: 4.5 | taste: 4 | feel: 3 | overall: 4
22oz bottle poured into a large mug
Pours very dark with a nice light brown head. Smell is caramel-y and sweet, a little coffee roast smell, then some nice hops. Smells quite good. But maybe that's because I'm craving a beer right now.
Taste reveals this is something of a hop bomb, over the top hoppy grapefruit rind bitterness with a nice toffee-ish roasty malt flavor to accompany it. Still leans heavily toward the hops.
Mouthfeel is light, thin, slightly oily or slick feeling. Overall, I'm quite pleased with this beer.
528 characters
1.64
/5
rDev
-56.5%
look: 3 | smell: 1.5 | taste: 1.5 | feel: 3 | overall: 1
This beer exemplifies the reasons I hate the 22oz bottle format. Within a few sips, I knew the beer was terrible. But, due to financial reasons, I couldn't give this beer the drain pour it deserved, and it was to be my only beer of the day. If I had had the option of buying a 12oz bottle or can, this would have gone better for both of us. Rant over, on to the review.
Poured into straight pint glass. Poured the expected black color, with just a hint of translucence around the edges, with about an inch of dark khaki colored head that had moderate retention and OK lacing. Typical, in other words.
There was an immediate punch in the nose from a strong burnt scent. Not just roast, actual burnt grain aromas. There was just the faintest hint of grain showing through, and the burnt scent all but completely covered what little hops showed through. On the tongue, the same story. Just a pure burnt taste. You know how if you sit near the coffee pot at a diner and there's a pot on the burner that's been there a couple hours and that burning smell dominates everything around you? That's how this beer tasted. Just a very little bit of the expected beer flavor made it through this mess.
The body was about average for this young style, perhaps a bit thinner than most. Drinkability, well I already said I would have drain-poured this one, but couldn't afford to. Overall, a terrible beer. I'll admit that CDA's aren't my favorite style (I don't think the roast and hop aspects go together very well), but I've liked the other Laurelwood brews I've had, and had a CDA a few days ago that blew me away. Dear laurelwood, please go try Firestone Walker's Wookey Jack. That's a CDA worth drinking.
1,698 characters

4
/5
rDev
+6.1%
look: 4 | smell: 4 | taste: 4 | feel: 4 | overall: 4
I had this beer on-tap in a pint glass at the Hooverville in Seattle.
Appearance: quite entirely black with a finger of creamy tan foam. I would say nicely attractive.
Smell: aroma is quite hoppy with a sweet-citrusy character which works quite well. I like it.
Taste: brash bitterness right up front with a big flavor of dank and citrusy hops. Murky but good.
Mouthfeel: medium body with a good, well integrated carbonation yielding a satisfying creaminess.
Overall: a strong showing in the black ale category. Usually I'm not a huge fan of the style but this beer was pretty satisfying. I'd definitely have this again.
625 characters

4.12
/5
rDev
+9.3%
look: 4 | smell: 4.5 | taste: 4 | feel: 4 | overall: 4
A big thanks to James (cavemanlawyer) for this great extra. Cheers!
Appearance – Pours into a tulip with a opaque color that shows hints of ruby red when held up to the light. Two fingers of nice fluffy tan head is achieved.
Smell – Grassy and floral aromas, slight char, chocolate, hops, and pine.
Taste – Similar to the aroma. There really is a floral flavor up front that mixes well with a bittersweet chocolate flavor. The resiny pine comes through midway and finishes up with slight caramel.
Mouthfeel – Light medium bodied, decent carbonation, nice an oily, finishes dry.
Overall – A solid black IPA. One I'd have again.
643 characters
3.92
/5
rDev
+4%
look: 4 | smell: 4.5 | taste: 3.5 | feel: 4 | overall: 4
Big thanks to MADhombrewer for providing this in a recent trade.
Fairly bright off white head forms for such a dark colored beer. Nice retention. Very dark brown and almost black in color. A touch of suds left in the glass.
Nice aroma. Even blend of pine and some dark roasted malt. Slightly green and resinous. Hops are the focus here.
Wow, bracingly bitter up front and a pine green forest showcase. Very fresh flavor here. A bot of charcoal at the end. Almost ash like. This is so close to being great. A touch of sweetness would do wonders here.
Medium bodied bitterness causes a larger than life feel.
Good representation of the style. Very glad to have had the opportunity to try this.
697 characters

4.32
/5
rDev
+14.6%
look: 4 | smell: 4.5 | taste: 4.5 | feel: 4 | overall: 4
Poured into a Gulden Draak tulip. Pours a very dark mahogany brown, nearly opaque, but red tints on the edges. Nice, ine light brown half finger head with great retention an lacing, looks nice. Good aroma of pineapple hops and sweet malt. Flavor follows aroma, with piney and citrus hops and lots of roasted malt, developing a charred, coffee and citrus hop bitterness at the finish. Interesting and satisfying flavor progression. Body is medium to heavy with good creaminess. The char on the finish is a hair overstated, but overall this works quite well. I really enjoyed this. And I'm glad Laurelwood is using the Cascade dark ale designation for this.
655 characters
4.21
/5
rDev
+11.7%
look: 4.5 | smell: 3.5 | taste: 4.5 | feel: 4 | overall: 4.5
Served on tap at Pints Urban Taproom at 412 NW 5th Ave in Portland, OR.
A: A sexy mocha-brown with a frothy tan head and gorgeous lacing. Very nice looking beer.
S: Subtle. Grassy hops and a hint of chocolate.
T: Piney, floral, grassy cascade hops well-balanced by the roasted malts that add add dark chocolate and caramel to the mix.
M: Medium bodied with a kind of oily finish that hugs the palate. Intensely satisfying.
O: I'm a big fan of the genre and this is the best of the bunch. Cascade hops balanced by a perfect blend of roasted malts. It's beautiful to look upon, delicious to taste, and has a great mouthfeel. Everything you could ever want in a beer and more.
678 characters
3.66
/5
rDev
-2.9%
look: 4 | smell: 3 | taste: 4 | feel: 4 | overall: 3.5
Appearance: (4.0)
- Nice thick dark brown ale. Can't see through it though there is some brown ruby light coming through the edges of my in-house pint glass. Frothy tan head.. settles nicely to a lot of lace, and spotty thin blanket above the brew. Very nice looking CDA.
Smell: (3.0)
- It's hiding something. Not much of an aroma other than some hidden grassy hops, and a light bitter earthy aroma. Certainly a light mocha bed of grain, and some chocolate... but beyond an odd husky grain funk, not much at all.
Taste: (4.0)
- Nice bready and grainy malt flavor. It's not overly sweet which is very nice. Lots of biscuit, bready grainy malt with a touch of chocolate and bitter coffee. The hops all seem early-boil in the flavor.. grassy bitter early zest, and a nice herbal touch in the finish. It's well balanced, and has a nice floral vs. citrus finish which is light.
Mouth Feel: (4.0)
- I think this portion of my judging is the best part about this beer. It is well carbonated, a medium to creamy body that just seems spot-on for the style in my palate. It's a touch dry... but there is no sweetness to leave any sticky or lingering syrup. Nice chewy flare to it.
Overall: (3.5)
- It's a good drinker, but overall bland compared to many others of the style in our area. Is it smooth? Hell yeah! This is one of the more easy drinking beers I have had recently. But... it doesn't stand out as a killer CDA. It's good, but also a better-luck-next-time.. kind of CDA.
1,477 characters
Ink Heart CDA from Laurelwood Public House & Brewery
3.77
out of
5
based on
19
ratings.