Gudeløs
| Bryggeriet Djævlebryg ApS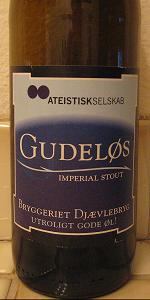 BEER INFO
Brewed by:
Bryggeriet Djævlebryg ApS
Denmark
djaevlebryg.dk
Style:
American Double / Imperial Stout
Alcohol by volume (ABV):
8.90%
Availability:
Rotating
Notes / Commercial Description:
For every sold beer, a small sum is donated to the Danish Atheistic Society.
Added by HopHead84 on 02-20-2009
Reviews: 88 | Ratings: 156

4.48
/5
rDev
+7.4%
look: 5 | smell: 4.5 | taste: 4.5 | feel: 4 | overall: 4.5
Absolutely black with a medium chocolate foamy head like the froth on a glass of chocolate milk. A bit craggy on the surface, the head stays greater than two fingers thick for several minutes; great retention. This looks terrific.
Smell is a bit lactic and reminds me a little of chocolate milk, too. Some whiskey-like alcohol notes are certainly detectable, but nothing too offensive or overpowering. I suppose if there were such a thing as an "imperial milk stout", this would be it. Smells wonderful.
Begins with sweet chocolatey, coffee-like malts turning slightly boozey in the middle accompanied by a slightly "burnt sugar"-like flavour, then going moderately bitter with delightful, earthy hops, the sweet malts still vying for attention.
While certainly a thick, heavy stout, I could have actually taken this a little thicker still. Carbonation was quite modest and just enough to tickle your palate. Still very nice, indeed.
Given the 8,9% abv ( well concealed ) and how thick this is, I personally feel that for a stout of this calibre, this is very drinkable.
A very well crafted stout that I will certainly seek out in the future! Very, very well done!!
1,165 characters

4.5
/5
rDev
+7.9%
look: 4.5 | smell: 4.5 | taste: 4.5 | feel: 4.5 | overall: 4.5
Reviewing the Gudeløs from Bryggeriet Djævlebryg ApS (a brewery from Denmark).
Score: 94
9 oz tap pour served in a St. Benardus Watou snifter glass at the Lincoln Park beer geek bar The Local Option (located on the DePaul campus, more or less)
Appearance: Pours a 100% opaque, ink black color with two fingers of soapy mocha head that slowly settles into a thin layer. Amazing lacing. 4.5/5
Smell: Roasted chocolate and dark fruit. Some roasted coffee, lots of roasted malts. Caramel and light vanilla too. Burnt sugar, milk chocolate and hints of marshmallow. The aroma is loaded with chocolate 4.5/5
Taste: Roasted unsweetened chocolate throughout. Just tons and tons of roasted chocolate here. Some dark fruit and light caramel on the mid-palate. Some chewy raisins and fig on the mid-palate and in the finish. Lingering unsweetened bitter chocolate finish. 4.5/5
Mouthfeel: Full bodied with light-medium carbonation. Finish is extremely dry and bitter. This is very thick and viscous stout that coats the palate with chocolate flavors. 4.5/5
Overall: A top notch imperial stout. I recently traded for a couple of bottles of this European beer, and I can't wait to try this one again. I would not be surprised if I enjoyed this brew even more in a non-bar setting, where I can serve it at my preferred temperature without "environmental" aromatic distractions.
Recommendation: A must-try stout for both beer geeks and casual beer drinkers alike. All must revel in the chocolaty goodness.
Food pairings: Warm chocolate cake.
Cost: $9 for a 9 oz pour at the bar.
1,574 characters
4.5
/5
rDev
+7.9%
look: 4.5 | smell: 4.5 | taste: 4.5 | feel: 4.5 | overall: 4.5
A - Beautiful thick mocha head that leaves tons of lacing, nice thick black body.
S - Deep coffee, chocolate and some spice. Maybe a cinnamon like smell? It's hard to tell. All I know is that I really like it. Not overbearingly pungent, either.
T - Nice thick stouty flavors. Chocolate, with a nice thick malty backbone. Very tasty. I'm having trouble describing this.
MF - Super creamy, no alcohol burn. Very nice!
O - Delicious beer, but pricy. Still worth having at least once, or more.
Searched all over Lund, Sweden and Copenhagen for this beer.
Found it 6 months later at State Line Liquors in MD.
614 characters
4.5
/5
rDev
+7.9%
look: 4.5 | smell: 4.5 | taste: 4.5 | feel: 4.5 | overall: 4.5
a. warm black with lingering, fine tan head
s. strong dusky licorice, cocoa, caraway
t. licorice, coffee, dark chocolate, with nice hoppiness
m. chewy, with medium carbonaation
d. lovely, balanced
Sat well. Would go out of my way to drink this one again, and not just for the Atheists.
290 characters

4.5
/5
rDev
+7.9%
look: 4.5 | smell: 4.5 | taste: 4.5 | feel: 4.5 | overall: 4.5
I have been wanting to try this beer for a long time. Was able to have it a chocolate and beer dinner at stone brewery!!!!
Heavy pour (asked th server if I could keep a finished bottle and he finished the bottle into my glass... resulting in a more the double sized pour compared to every one else' glass!) into a brandy snifter resulting in a thick big bubble head.
Appearance is dark brown in the body with a light mocha head.
The nose is lots of medium to dark roast coffee with some dense chocolate and booze.. slighlty sweet booze.
The taste is wonderfull... lots of coffee upfront with a great oaky vanilla cream flowing over the mid to back palate. finishing with just a slight warmth.
The mouthfeel is so silky as it warms up... like a thin milkshake.
This was the highlight of the dinner for me beer wise!
822 characters
4.58
/5
rDev
+9.8%
look: 5 | smell: 4.5 | taste: 4.5 | feel: 5 | overall: 4.5
Drink a good beer and support the godless masses? Fantastic then! Poured from the bottle into my Bruery tulip.
The pour is fairly thick and quite black. Holding it to the light reveals a slight ruddy edge to the beer. Beautiful sandy cap on top, initially three fingers, but recedes to about a half-finger and stays there for most of the beer. Good lacing. A swirl produces beautiful, cascading tiny bubbles down the sides of the glass... truly an excellent-looking imperial stout, one of the best I've seen.
Aroma is lovely. Requisite roasted coffee, slight bitter chocolate. Anise and some smoke - though I tend to be very sensitive to both of these components, this beer gets it right on the level. I think that's impressive, because I've hurt other beers because of their anise (e.g., Ten Fidy) and smoke (30th Anny SN beers). Damned impressive. Perhaps a touch of vanilla in there somewhere too, but the dominant aroma is darker in nature.
Taste is also quite nice. A little sweetness. Again, the chocolate plays more in the background, opening up the way for roasted malt and coffee flavors. Anise is there, but as a supporting player instead of the star. Smokey, maybe only very slightly peaty. Touch of bittering hops at the finish, balancing this brew out nicely.
Nice full mouthfeel, excellent level of carbonation, finish is dry-ish. Slightly warming. Drinkability is great for this beer, I'm sorry that my half of the bottle was gone so soon.
I will need to get more of this beer to support my heathen friends in Denmark. This beer is seriously, seriously good. It's not over-the-top craft insanity with booze or crazy flavors (though I like those kinds of beers as well)... however, it is an expertly crafted example of the style. Highly recommended.
1,769 characters
4.58
/5
rDev
+9.8%
look: 4.5 | smell: 4 | taste: 5 | feel: 4.5 | overall: 4.5
Writing my 250th BA review, and decided on the Gudeløs to be the beer I want to review.
Poured an almost motor oil consistency pitch black color from a 500 mL bottle into a snifter. Absolutely no light penetration whatsoever. Wicked sense of humor in the name of the beer and the tongue in cheek of donating a Danish krone to the atheist society for every bottle sold; adds a fun touch.
Massive three finger head that dissipates very slowly. The head actually looks to have two shades, the upper film is a lighter shade of mocha whereas the lower half is a much darker shade.
Aroma is all chocolate. Feels like a blend of different kinds and forms of chocolate with hints of malt and some roasted coffee.
Taste upfront has hints of sweetness before the espresso coffee like bitterness mixed with dark chocolate flavors from the malt takes over. The finish is on the drier side with hints of lingering bitterness. Very robust, yet very smooth. The warmth from the alcohol is not very noticeable.
Creamy and silky mouthfeel, coats the palate so very well. Almost full bodied stout. Perfectly balanced with very good mouthfeel and very good drinkability.
Brilliant lacing all along the insides of the glass. This is a visually stunning beer.
One of the best imperial stouts I have had in a long time, and possibly one of the finest imperial stouts from Europe. I am glad I got my hand on a bottle and would not hesitate to get another one if the chance arises.
Very highly recommended, and a 'must-try' for every dark beer (stouts/porters) lover. If you see a bottle, get it, you will not regret it. Cheers !!!
1,616 characters

4.59
/5
rDev
+10.1%
look: 4.25 | smell: 4.5 | taste: 4.75 | feel: 4.5 | overall: 4.5
500 mL bottle poured into a tulip
A- Black with a three finger mocha head.
S- Dark fruits, licorice, smoky, roasted coffee, chocolate, well balanced.
T- Bittersweet chocolate, some roasted coffee, licorice, some fruits and some nice smokiness, great balance and complexity.
M- Smooth, good carbonation, creamy, full body.
O- A very nice stout, gets even better as it warms, love the smokiness it has, and the chocolate is great too. Can't wait to pick up another bottle.
475 characters

4.6
/5
rDev
+10.3%
look: 4.5 | smell: 4.5 | taste: 4.5 | feel: 4.5 | overall: 5
Ahh, the moment I saw this beer brought up I knew I had to have one. Big thanks to Adam of Lincoln Park for bringing it to his store and West Lakeview for having a second bottle for me.
Vision
Inky darkness with that senna head. Lots of head! I love it! Two fingers that lasts and leaves a broad lacing all down my glass. Finally a stout that handles itself appropriately after so long. There are milk chocolate hues when light attempts to penetrate. Not much known about the carbonation other than it sure has it.
Bouquet
Ooo tasty aroma. Its quite well blended, although a little fainter than I'm used to. The black licorice, anise, is present on the tip of the outflow. The burnt grains are not blasted up my nose like so many stouts seem to do, bravo on that. There is a faint sweetness, different the previous candy notation, that reminds me of bourbon, but I know it can't be that.
Flavor Profile
Definitely something different in this ever-growing craft beer world. Right at the moment this flips onto the tip of my tongue I find myself delighted to have purchased this beer.
There is black licorice that doesn't cause me to be nauseous. It is a flavor to be appreciated because it is molded and folded into the greater mass. The burnt grains as a finish are distinct without being carcinogenic. The chocolate malts are not bitter dark chocolate but milk chocolate ones in the middle that don't sicken me as I continue to drink.
Oral Sensations
Perfectly tingly, clingy where I want it to be, and one of the smoothest beers I have ever drank. There is an unbelievably quality of being velvet and liquid at once.
I rarely find a Russian imperial this fulfilling. I just can't believe it. When I find it hiding on my lips or palate, I gratefully lap it up.
Conclusions
I would drink this every night of the week for months at a time. I don't know of many beers that I could or would want to drink day after day, but this is it. It is the best compromise you can have without actually compromising. To continue being a cliche, it is the best of both worlds!
The nine percent isn't even a problem. This beer begs to be sipped thus keeping you from going down a slippery slope.
2,192 characters

4.6
/5
rDev
+10.3%
look: 4.5 | smell: 4.5 | taste: 4.5 | feel: 4.5 | overall: 5
A: Poured from a bottle to a pint glass. Had a jet black color and a completely thick texture. There was a huge amount of tan-colored, long-lasting, creamy head. Very good lacing.
S: A strong aroma of chocolate, malt, coffee, and maybe a little vanilla.
T: Tasted of roasted malt, coffee, chocolate, vanilla, and some spices. Extremely well-balanced and vibrant.
M: A good amount of carbonation with a dry finish. Full-bodied, but not in an oppressive way.
D: Excellent. One of best American doubles out there. Drinkable.
525 characters

4.6
/5
rDev
+10.3%
look: 4.5 | smell: 4.5 | taste: 4.5 | feel: 4.5 | overall: 5
Had this one on-tap at the Local Option. Poured into a 10oz snifter.
Pours a dark roasted coffee color with a nice two finger mocha head.
The brew smells of dark bitter chocolates, reminiscent of a Mexican cafe mocha; mixed with some sweet milk sugar and dark roasted malts.
The taste matches the smell closely, there is some spice and very slight alcohol burn, but mostly just a very smooth, full and velvety beer that if I didn't know the actual ABV I would say I could drink all night long.
I would love to find this beer bottled, and I would definitely drink it again.
576 characters

4.75
/5
rDev
+13.9%
look: 4.5 | smell: 4.5 | taste: 5 | feel: 5 | overall: 4.5
Poured from a 22 oz bottle into a Duvel tulip.
A-Pours midnight black with a small, frothy, toffee-colored milkshake-like head. Lovely.
S-Big wafts of dark fruits, grap/raspberry/cherry, roasted coffee and sugars. Reminds me of a nice mocha with some fruit on top.
T-Roasted coffee, lots of sugar and booze wake up your palate, very long and complex development from coffee to sweet cherries to smoky tobacco bitterness. A ton of flavor here without being overwhelming.
M-Thick, very similar to a milkshake, very smooth. Everything I love in a great chocolate IS.
O-4.75/5, one of the best I've had of the style to date.
625 characters
4.9
/5
rDev
+17.5%
look: 5 | smell: 5 | taste: 5 | feel: 5 | overall: 4.5
Man, is this good beer! I let the bottle warm a bit out of the fridge. Poured with a large, tan, foamy, frothy, thick, billowy head and some lace. Color is an absolutely opaque black brown with lots of little bubble trails. Aroma is roasty, malt, dirt, barnyard, licorice, toffee, dark, coffee, leather, cherries. Flavor is very similar and is very well balance between all main components of sweet, bitter, sour in proportions that fit this style. Body is full, round, lush with a few sharp points and perfect carbonation. Finish is like flavor and is long with some alcohol at the end. Session for slow drinking. A superb beer, even if it is godless.
652 characters
Gudeløs from Bryggeriet Djævlebryg ApS
4.17
out of
5
based on
156
ratings.