Old Mephisto
| Bryggeriet Djævlebryg ApS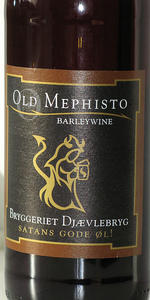 BEER INFO
Brewed by:
Bryggeriet Djævlebryg ApS
Denmark
djaevlebryg.dk
Style:
English Barleywine
Alcohol by volume (ABV):
10.50%
Availability:
Year-round
Notes / Commercial Description:
No notes at this time.
Added by Phyl21ca on 08-16-2009
Reviews: 40 | Ratings: 73

4.19
/5
rDev
+7.4%
look: 3 | smell: 4 | taste: 4.5 | feel: 4.5 | overall: 4
500ml bottle poured into tulip 9/9/11
A dark amber with a short lived finger of tan foam that leaves no lace
S loads of toffee and butterscotch with some faint candied apple, some brown sugar both burnt and crystal and just a little booze
T some herbal hops and rum raisin cake on top of what I smell, not overly sweet but big caramel and toffee with a little butterscotch and very faint nutty chocolate. lots going on here and very well concealed booze add up to one tasty brew
M quite thick and syrupy, slightly sticky on the lips and ultra smooth with zero heat and for over 10% that's pretty impressive
O looks basic but pretty solid in all other areas and it tastes great
I'm curious to know the age of this bottle but see nothing on the bottle, tastes a little aged with faded hops and loads of malty caramel and the booze is quite mellow. If this stuff is fresh I'd be even more impressed, worth looking for give it a go if you get the chance
957 characters

4.23
/5
rDev
+8.5%
look: 4.5 | smell: 4 | taste: 4.5 | feel: 4 | overall: 4
Served in a chalice at Local Option.
The 2011 Bachelor Party Extravaganza continues its takeover of Local Option! This victim pours a dark sienna-garnet topped by about a finger of dirty khaki foam. The nose comprises toffee, Belgian dark candi sugar, cashews, light oak, dark fruit, light cocoa, and a touch of spiced rum (the darker the better in this case). The taste heaps on the toffee, caramel, brown sugar, maple syrup, and light cocoa; some dark fruit remains, particularly fig; and the rum is now accented with vanilla bean and molasses. This is one damn-tasty beer, my friends! The body is a stolid medium, leaning toward some minor heft, with a very light moderate carbonation and a pretty smooth feel. Overall, this was one of the highlights of the Extravaganza. It's a decidedly tasty b-wine, one that is meant to sipped and enjoyed in the company of fine folks. Good times, indeed.
896 characters

3.98
/5
rDev
+2.1%
look: 4.5 | smell: 4 | taste: 4 | feel: 3.5 | overall: 4
Beer served from bottle into a Tulip shaped glass
A - Beer pours with a dark oak brown colored body; plenty of carbonation; nice beige colored head formed, about 1 finger in size; some lacing formed on the side of the glass and the appearance of the beer was slightly viscous
S - Nice brown sugar, candy scents; sweet caramel and toffee; nutty malt backbone and finish of alcohol; fig and dark fruit
T - Sweet brown sugar taste; touch of vanilla; back flavor of caramel and toffee are topped off with a nut and biscuit malt back-end; slightly buttery; slight oak flavor; fig and dates
M - Nice and effervescent; kind of thin consistency; aftertaste of sweet nut malt and dark fruit; alcohol flavor lingers for quite a while
O - Great drink; caramel and sweet brown sugar flavor are perfectly balanced to created a great Barleywine; perfect for a meal pairing
863 characters
4.27
/5
rDev
+9.5%
look: 3.5 | smell: 4 | taste: 4.5 | feel: 4 | overall: 4.5
I let the bottle warm up a bit out of the fridge before opening. Poured with a nice, foamy, frothy, thick, creamy, light tan head that soon settled to a light cover and a little lace. Color is a hazy/cloudy brown amber. Aroma is dark ripe fruit, malt, caramel, toffee, fresh baked black bread. Flavor is bittersweet and like the nose. Body is full and soft with light carbonation. Finish is like flavor with a lingering bitterness. Don't notice any alcohol. Great for sipping but not session.
492 characters
4.33
/5
rDev
+11%
look: 4.5 | smell: 4 | taste: 4.5 | feel: 4 | overall: 4.5
A- A little darker than most barleywines I've tried. Beautiful two finger cocoa head, which sticks around and leaves wonderful lacing. Very dark copper color than it impossible to see through. Wonderful appearance on this barleywine.
S- Malt, hops, rum soaked fruit. Some alcohol as well. I wish the nose was a little stronger, and I'd bump it up a notch. Had to leave it at 4 though. Very nice and balanced, although on the weak side.
T- Very smooth and more malty compared to other barleywines I've had. Almost like a shake in consistency. The hops make a brief appearance on the front side, but quickly get overrun by malt, alcohol, and rum drenched fruit. This is possibly the easiest to drink, smoothest barleywine I've had- it's really fantastic.
M- Very silky and smooth, but a little on the thin side. If it were thicker it'd be a 4.5 for sure. Not much on the aftertaste other than nuts and malt.
O- This was an extremely tasty barleywine, and it's highly recommended if you're into the style. I know I'll look for it again. Cheers.
1,046 characters
4.22
/5
rDev
+8.2%
look: 3.5 | smell: 4 | taste: 4.5 | feel: 4.5 | overall: 4
so, im curious is this something decently rare? why so little reviews? i hadnt seen it before i bought it but thought it might be something new or seasonal. though it seemed strange sitting there at the beginning of summer as an english barleywine.
appearance - a nice dark ruby red in color. fizzly inch head that laces nicely
smell - raisins, cream, caramel, lots of roasted malts (a bit of chocolate in there), not strong but not weak
taste - caramel, raisins, malt, cream
mouthfeel - wonderful body, very creamy and rich without being cloying whatsoever. pretty good young (at least im assuming its young since i picked it off the shelf about 2 months ago)
664 characters

4.1
/5
rDev
+5.1%
look: 4 | smell: 4 | taste: 4 | feel: 4 | overall: 4.5
On-tap at Beachwood BBQ
A: The pour is a deep dark amber color with a finger of off-white head.
S: A surprisingly hoppy nose to this one. Lots of floral, perfumey hops with a bit of citrus peel and pine. Great maltiness with tons of dark fruit undertones, specifically black cherries and raisins. Definitely some alcohol as well.
T: Just a bit of an alcohol bite to the beer, but it's nicely masked by the sweet caramel, brown sugar, and molasses. Dark fruits help to do this as well. Still a solid hop character with lots of floral notes and piney bitterness.
M: Just about full in body with a medium level of carbonation.
O: A very well balanced barleywine that toes the line between hopped up American barleywine and sweeter old ale/English barleywine.
760 characters
4.17
/5
rDev
+6.9%
look: 3.5 | smell: 4 | taste: 4.5 | feel: 4 | overall: 4
On-tap at Beachwood BBQ,
A: Pours a translucent amber red with a medium tan head, some lace, murky at times.
S: Strong dried dark fruit, endemic to the English barleywine style, light hopping, but I do get some pungent pine initially.
T: Raisins and dates, Oloroso sherry, this is sugary and it should be. Strong malt flavour, light hopping as with the nose, keeps it in check. Reminds me of a lighter Avery Samael's.
M: Full to very full-bodied, viscous, smooth, light carbonation.
O: Djaevlebryg impresses again. I'm glad that more of the very underrated English barleywine style is being made. Good stuff.
613 characters
4.3
/5
rDev
+10.3%
look: 4.5 | smell: 4.5 | taste: 4.5 | feel: 3.5 | overall: 4
On tap at Ol Baren in Copenhagen. From notes.
A - Dark red or amber colour with a creamy tan or khaki head. No visible carbonation. Bright. Nice thin cap of head remains and it leaves great, thick lacing.
S - Great dark fruit with some yeast and hops. A touch of alcohol blends in there well. Lovely, rich stuff.
T - Dark fruit in the form of plum or raisins or dates. Alcohol and yeast are there also. A touch of hops too. Sweet to finish. Nice.
M - Light carbonation with a full body. I do not have much written aside from that and do not remember this being all that interesting to hang around in the mouth.
D - Nice stuff. A good barleywine but obviously the ABV is a barrier. Very tasty and a pleasure to drink though.
728 characters
4.32
/5
rDev
+10.8%
look: 4 | smell: 4.5 | taste: 4.5 | feel: 4 | overall: 4
Wow, this is a really surprising brew. It has a very unique nose with strong aromas of dark grape vines, raisins & dates. Usually I see other people's reviews of other various beers naming every fruit in the book and I think "yeah right, when's the last time this fool smelled a 'enter the random fruit here'" (apricot for example). But I digress, anyways, for real, this brew smells like a full fruit drawer in your fridge that's getting overly ripe. One of the best and most interesting noses I've come across in the barleywine style. Man, it's got a great flavor that I am just totally unfamiliar with even after having had umpteen different breweries take on the barleywine style by now. It has an awesome bitter fruit flavor. Not sweet fruit and not fruity in the traditional sense but rather balanced by bitter hops. I'm talking about a very different bitter-fruit balance that's awesome but hard to describe. Tastes just like the nose. Wow, super impressed. I had low expectations for this brew (I guess simply because I had never heard of it and then saw only 5 reviews on it when I got home) but super happy with the purchase! Seek this one out. I had no idea Copenhagen, Denmark is brewing such killer English barleywine style ales.
1,242 characters

4.13
/5
rDev
+5.9%
look: 4.5 | smell: 4 | taste: 4 | feel: 4 | overall: 4.5
A: Poured from a bottle to a pint glass. Had a rust color and a thick, cloudy consistency. There was an inch of foamy, fairly long-lasting head. Good lacing.
S: A sharp aroma of caramel, hops, and some malt.
T: Tasted of hops, roasted malt, caramel, and a slight vinous quality. A generally well-rounded and a flavorful beer. Gets better as you go along.
M: A good amount of carbonation with a slick finish. Medium-bodied.
D: On the whole, a solid, well done, drinkable beer.
479 characters
3.88
/5
rDev
-0.5%
look: 4 | smell: 3.5 | taste: 4 | feel: 4 | overall: 4
Amazing bonus beer courtesy of madsberg. Thanks mads. Pours deep amber with thin tan head. The aroma is full with loads of dark fruitiness, sweet nutty extract butter and sweet yummy goodness. The taste is smooth rich blended dark fruity yum with dates, prunes, raisins, brown sugar and a light amount of booze. Wow, this is very nice and will only improve will years of cellaring.
381 characters
3.25
/5
rDev
-16.7%
look: 3.5 | smell: 3.5 | taste: 3 | feel: 4 | overall: 3
A: Pours a golden hue with red highlights. Medium sized off white head with no lace.
S: Aromas of caramel malt, mild spice and boooze.
T: Flavor of nutty toffee, summer fruit, light hops and booze.
M: Fairly full in body, rich, sweet, chewy.
D: Just okay not a favorite of mine.
282 characters
3.21
/5
rDev
-17.7%
look: 4 | smell: 3 | taste: 3 | feel: 3.5 | overall: 3.5
Reviewed on 08/03/2009. Bottle thanks to my Secret Santa. This beer pours a cloudy orange with a small white head. The aroma is of raisin and sweet malt. Flavor of super sweet caramel malt and some raisin. Very sweet. Your typical barleywine here. Meh.
252 characters
3.5
/5
rDev
-10.3%
look: 3.5 | smell: 3.5 | taste: 3.5 | feel: 3.5 | overall: 3.5
Bottle: Poured a clear deep copper color ale with an average size off-white foamy head with good retention and minimal lacing. Aroma of cookie dough with some light dry fruits. Taste is also dominated by cookie dough with some dry figs and minimal residual sugar. Body is about average with good carbonation and no alcohol was apparent. A bit too much cookie dough in the mix for my taste and lacking some character though still enjoyable.
439 characters
Old Mephisto from Bryggeriet Djævlebryg ApS
3.9
out of
5
based on
73
ratings.