Amstel (Pure Filtered)
| Amstel Brouwerij B. V.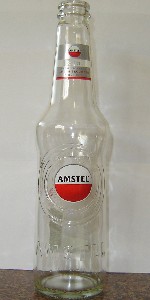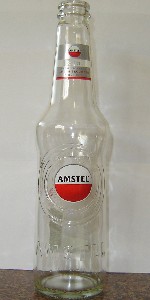 BEER INFO
Brewed by:
Amstel Brouwerij B. V.
Netherlands
amstel.com
Style:
Euro Pale Lager
Alcohol by volume (ABV):
4.70%
Availability:
Year-round
Notes / Commercial Description:
No notes at this time.
Added by joecast on 11-07-2006
HISTOGRAM
Ratings: 13 | Reviews: 6
Reviews by DARIVA:

More User Reviews:
2.01
/5
rDev
-14.8%
look: 3.5 | smell: 2.5 | taste: 1.5 | feel: 2 | overall: 2
thought this might have been their regular beer with new packaging. turns out its new. pure filtered. full strength, refreshing, crisp, and hey fewer carbs to boot. lets get it on.
gotta admit, for a clear bottle, its damn sexy. if you're into that sort of thing. looking past that, 330ml, 4.7% abv. best before 02/07.
as you'd expect, clear very pale yellow. little carbonation. formed a decent enough white head which settled to a bit of lace.
actually, its got a touch of hops in the nose. slightly grassy, but the adjunct type sweetness starts to overwhelm it as it warms.
goes a bit downhill from there. a light sour acetic twang hits pretty quickly. too bad there isnt much else to cover it up cause its not strong. a touch of sweetness in the middle but its gone by the finish when the sourness makes an unwelcome return.
was expecting a bit more from these guys, not sure why. this is not something i would be going back to.
949 characters
2.7
/5
rDev
+14.4%
look: 2 | smell: 2 | taste: 3 | feel: 3 | overall: 3
Very much your typical mainstream import...as expected not too bitey...no real bitterness or hops, no real malty flavour...nothing too memorable.
Aroma was quite faint, some floral hops, a little malts...& a fraction hops, but again this beer is a typical example of imports aiming at mainstream markets.
Just a little too bland for me...although a litte hint of lolly/candy sweetness in the flavour. Too metallicy for me, & no bitterness - bugga!
Mouthfeel - light, not too bad...if you've tried these pure filtered beers before, then this is the same.
It struggled to pour up a decent head & zero lacing...very light strawish gold. The look matches the taste - nothing real special.
Only drink if there's nothing else, as its an easy drinking liquid - just not a nice flavoursome beer.
787 characters


2.23
/5
rDev
-5.5%
look: 3 | smell: 2.5 | taste: 2 | feel: 1.5 | overall: 2.5
Got it from Greece.
A- fizzing foam,white,staying for few minutes. pale usual color. Medium carbonations.
S- Nothing special,sweet malt,skunk,hops.
T/M-Very sweet,cheap taste,extremely waterly. have some spices in aftertaste.
O-Sumer beer for one euro.
252 characters

1.88
/5
rDev
-20.3%
look: 2.5 | smell: 2 | taste: 1.5 | feel: 2.5 | overall: 2
within freshness date.
A - light strawish colour, a little head, good lacing
S - not strong, quite weak, a little skunked as well
T - like weak beer with half a glass of soapy water added. borderline offensive.
M - reasonable carbonation
D - wouldnt have another.
worst of the major dutch beers.
297 characters

1.52
/5
rDev
-35.6%
look: 1 | smell: 1.5 | taste: 1.5 | feel: 2 | overall: 1.5
Bottle: dodgy 300mL clear bottle, with a very, very ordinary label.
Appearance: looks like someone's taken a slash. Low carbonation, very strong yellow colour. Seriously unpleasant.
Aroma: what smell? Hardly any, and what you can pick up is a nasty off grain.
Taste: a very unpleasant metallic fug, mixed with awkward grains. Pretty poor, to be honest.
Aftertaste: what aftertaste? There is none.
Mouth feel: quite light in body, with a limited carbonation. Very watery.
Overall: tasteless bollocks. Hardly has any taste. Cheap and off-tasting grains, metallic fug. A terrible beer.
588 characters

2.53
/5
rDev
+7.2%
look: 3.5 | smell: 3 | taste: 2 | feel: 2 | overall: 3
Presentation - Clear glass bottle with red and white Amstel logo and some ridges in the glass. Actually pretty cool looking. 330ml. Best Before May-2007.
Apperarance - Pale Yellow/straw colour, Decent head actually. little lacing. moderate carbonation.
Smell - Ok. Surprised me here. No skunked aroma to be found and a little grassy hops on the nose. Pretty crisp and fresh hops. Smooth sweet malt smells. However all this smell is very faint.
Taste - Ah. Well that explains the lack of skunk...this brew has very little hops to speak of. Very smooth malty body, a little hops trying their best to come to the show at the end but in the end pretty basic.
Mouthfeel - Smooth, thin and sweet. little chemical aftertaste, little bitterness, carbonation is low to moderate.
Drinkability - Very easy to drink. Ticks a few boxes for the style. however malt flavours are a bit fake/bland tasting and not very complex. Hop bitterness is very low.
Smells like Cascade Lager
Tastes like a weak Victoria Bitter with half the hops
1,037 characters
Amstel (Pure Filtered) from Amstel Brouwerij B. V.
Beer rating:
2.36
out of
5
with
13
ratings