Mill Race Mild
| Grand River Brewing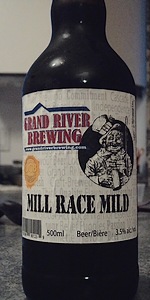 BEER INFO
Brewed by:
Grand River Brewing
Ontario
,
Canada
grandriverbrewing.com
Style:
English Dark Mild Ale
Alcohol by volume (ABV):
3.50%
Availability:
Year-round
Notes / Commercial Description:
Darkly coloured and rich in appearance, this mild ale is brewed in the traditional style of British mild beers that are disappearing even from the pubs of London, England.
Grand River Brewing has revived this traditional style of beer that is deep in colour but doesn't possess the harsh bitterness that many people associate with a darker beer. The pronounced creamy head welcomes you and is followed with a beautiful roasted barley flavour and a smooth creamy taste.
This is a beer that just makes you want to have another and with being a mild, go right ahead.
Added by Viggo on 09-15-2007
Reviews: 38 | Ratings: 52
4.07
/5
rDev
+4.9%
look: 3.5 | smell: 4 | taste: 4 | feel: 4 | overall: 4.5
A nice looking dark brew, courtesy of Derek. Thanks for the opportunity to try some elusive beers from southern ontario! Almost black, but clarity is revealed by the garnet highlights at the edges of my glass. Mildly carbonated, only managed a thin tan head which dissipated to leave a decent collar. Initially some decent, intricate webs of lacing.
A nice and inviting nose on this one. Creamy hazelnuts meet a nice touch of roasted malts hinting at dark chocolate and dark roasted coffee. An underlying earthy leafiness rounds out the aroma.
This is a very tasty brew, especially considering the low abv. Hazelnuts and multigrain crusty bread meet the roasted flavours much like that described above for the aroma. Then the hops show up with their earthy leafiness and mild bitterness to clean things up.
Light bodied yet very flavorful. A nice balance is struck between the pale malts and more roasted malts. The hops fit in quite nicely as well. The slight watery quality of this brew is not surprising, and makes for a great thirst quenching drink.
This is the definition of a session ale. Very drinkable, with a solid amount of flavour. Much like a light porter, and as far as im concerned that is a very good thing. Would love to knock back pint after pint of this on draft, and am jealous of those who have the opportunity to do so. Thanks to Derek i have a few more offerings from this brewery that i am really looking forward to trying after this one, its damn good stuff!
★
1,486 characters
4.07
/5
rDev
+4.9%
look: 3.5 | smell: 4 | taste: 4 | feel: 4 | overall: 4.5
Had this first in a taster (alongside Grand River's Galt Knife and Pumpkin Ale) at the Castle on King in Kitchener, Ontario. This one was the clear winner for me, and I liked it well enough I followed up with a pint.
The exact colour was hard to tell...not quite enough light in the pub to see clearly, but it came off looking a lot like a porter. Nothing exceptional, but still quite fine.
Smell and taste-wise, this is just a really good beer. It's not a knock-your-socks-off beer, but there are nice waist-deep earthy smells and tastes in there...a fair bit of complexity; nicely rounded mouthfeel that I wasn't expecting in something with 3.5% ABV. There's some coffee, maybe some chocolate (but not sweet), lots to make it interesting, but not overwhelming. It's really easy to just drink and enjoy.
I'm a fan of English Ales, but I generally like them lighter...browns and reds mostly. This beer really surprised me, all in pleasant ways. I'd quite happily drink more of these, and may well find myself doing so in the future. It's good beer.
★
1,053 characters

3.98
/5
rDev
+2.6%
look: 4 | smell: 3.5 | taste: 4 | feel: 4 | overall: 4.5
Thanks to Derek for this bottle.
Pours a dark reddish-brown with a two finger head of light tan bubbles. Not much lacing, though.
The aroma is of roasted malts, dark fruit, and molasses. Initially the smell was strong, but it faded before I could really enjoy it for what it was.
The flavor is quite interesting. The dark fruits and molasses from the smell are there, but so is some coffee, some nuttiness, and some burnt toast.
Thinner medium body, good carbonation. It's a bit drying, as well. The low abv and good taste of this one make it almost dangerously drinkable. Thanks, Derek.
★
592 characters
3.53
/5
rDev
-9%
look: 4 | smell: 3.5 | taste: 3.5 | feel: 3.5 | overall: 3.5
Caveat: this is an unfamiliar style for me.
A - Unexpectedly dark: very dark but clear red, with a very creamy tan head.
S - Fruity and dark smelling - raisins and molasses with a light backing of husky grain.
T - Dark, rich fruit, caramelized sugars, molasses and toasty grain. Hint of coffee in there as well. Finish is nondescript and lightly bitter.
M - Fairly light body and carbonation. Quite dry as well.
D - Quite tasty, especially considering how "small" this beer is. Good session beer if you like darker ales I think, but not quite my cup of tea.
★
563 characters
4.07
/5
rDev
+4.9%
look: 3.5 | smell: 4 | taste: 4 | feel: 4 | overall: 4.5
Pours a very dark ruby red, brown really. Nice tan head. Not much in the way of lacings.
Sweet malty aroma. A slight roastiness, caramel and restrained earthy hops.
Quite nutty. Good caramel/toffee malt with a nice brown bread character to it. Sugary fruit like figs and dates. A good dry roasted flavour. Subtle bitterness in the finish.
Mouth feel is moderate, perfect for session drinking.
Glad I don't live in the GTA, I'd be in trouble if this was on tap at a bar near my place. Good.
★
494 characters
4.3
/5
rDev
+10.8%
look: 4 | smell: 4 | taste: 4.5 | feel: 4 | overall: 4.5
On tap at Volo. Not as good as other milds I've had, but a fine example nonetheless, and considering their rarity in these parts its a real treat. Dark amber body with a sweet aroma. Malty flavors at the fore, with caramel, coffee and a hint of smoke. I also found a suprising fruitiness with hints of apple and figs in both the nose and flavour. Low level of bitterness. Like other people have said, this makes a great session beer.
★
433 characters
4.38
/5
rDev
+12.9%
look: 3 | smell: 5 | taste: 4 | feel: 4 | overall: 5
Sampled at cask days at Volo café.
Appearance: Cola brown with a bit of red thrown in for good measure, it sported a nice frothy ring.
Smell: Roasted, caramel sweetness intertwined to give it an aroma similar to hoisin sauce. It absolutely floored me.
Taste: Light as a feather, totally dangerous to drink, the flavors are concentrated in the finish where a mild sweetness, similar to maple sap caress your taste buds and only the faintest kiss of hops pulls it all together.
This is a good a reason to advocate for milds on cask as I have ever seen.
★
556 characters

4.1
/5
rDev
+5.7%
look: 4 | smell: 4 | taste: 4 | feel: 4 | overall: 4.5
sampled at volo as part of cask days 2007
pours deep rub red, nearly brown if not held to the light. a small off-white head forms, disappearing fairly quickly and leaving no lace.
aroma is nice. just a hint of alcohol. toasted biscuits with lightly fruity jam. raisin. just a hint of date. bit of grain. hint of spicy hop character too that almost feels like cardamom.
taste is good. toasted multigrain bread. date and raisin, but very light. alcohol is almost completely hidden. light toast and a hint of caramel carries this one very well.
mouthfeel is good. low carbonation. nice medium-light body.
drinkability is great. a light ale that isn't light on flavour. good balance. solid and interesting malt base. absolutely sessionable. grand river is quickly becoming a powerhouse in ontario - even brewing under 5% ABV.
★
826 characters
3.53
/5
rDev
-9%
look: 4 | smell: 3.5 | taste: 3.5 | feel: 3.5 | overall: 3.5
Some pleasant malty and floral aroma. Dark colour with a soapy mocha head, as expected in a cask. Easy drinking mild bitterness.A bit of coffee for balance and taste. Sessionable and worth trying, but about what you can get out of a low ABV beer. OK, but nothing outstanding. Had this again six months later at Volo on cask and was mediocre again. I had this on tap 2.5 years later at the Golden Kiwi and it was a bit more mouthfeel and appearance noticed. A milder version of a shwartzbier.
★
491 characters

4.3
/5
rDev
+10.8%
look: 4 | smell: 4 | taste: 4.5 | feel: 4 | overall: 4.5
Growler from the brewery at the end of August.
A: Deep mahogany, off-white/light-tan head, not a lot of retention but it leaves some lace.
S: Dark toffee, caramel, dark fruit and a light spicing.
T: Dark toffee, chocolate, caramel, roasted nuts, dark fruit, figs, orange zest, some mineral flavour, balanced bitterness.
M: Residual sugar yeilds a pleasant, moderate body (impressive for its strength), yet the finish is still crisp & relatively dry.
D: Very drinkable.
★
478 characters

3.15
/5
rDev
-18.8%
look: 3.5 | smell: 3.5 | taste: 3 | feel: 3 | overall: 3
Pored from a fresh growler, we get a decent clear mahogany colored ale with a tight tan cap that lasts well enough.
Light toast and some roasted husk "char" in the nose, light hay-like hop tones.
Medium body, rocky, sharp mouth feel malty character with a mild astringency. Hard water gives the hops more of a sharp edged "bite" than is common in most milds.
Malty-toasty in the front side then the bittering hops kick in and compliment the roasted barley char astringence leaving mild lightly dry, roasted finish....light metallic after taste.
Fairly true to style for a mild although I would like to see some fruity esters from better ale yeast in this brew, even though it is not necessary for style adhesion....which is a "mild ale" not "traditional".
Drinkable and clean...but just too much like the so-so dark milds from F&M which I have never been partial to Sorry to break up the love-in but I was not overly impressed with this effort....even as well crafted as it was
★
982 characters
4.35
/5
rDev
+12.1%
look: 4 | smell: 4 | taste: 4.5 | feel: 4.5 | overall: 4.5
One of the four growlers picked up at the brewery last week, this poured into the glass a deep dark brown with a nice tan head. Smell was very malty, like a good English brown ale. The malt was very prominent in the flavor which is a good change from the other three more hoppy brews this brewery does well. The texture of this was smooth and slightly creamy, there was some body to this brew. The low ABV makes this a very easy drinking and satisfying session beer.
An excellent offering from this brewery.
★
508 characters
4
/5
rDev
+3.1%
look: 4 | smell: 4 | taste: 4 | feel: 4 | overall: 4
Growler full at Golden Tap awards. Have since had it on tap at Volo.
Pours a clear reddish brown, thick off white head, not much lacing, thin collar is retained throughout the glass. Smell is grainy, cherry, mild roast and chocolate, bit of floral. Taste is caramel, grains, chocolate, light fruits, bit of caramel, touch of roast in the finish, bready, nice. Mouthfeel is light bodied with low to medium carbonation, very smooth, good flavour for such a low ABV beer. Nicely done!
★
484 characters
Mill Race Mild from Grand River Brewing
3.88
out of
5
based on
52
ratings.