Jubilation Spiced Ale 2007
| Grand River Brewing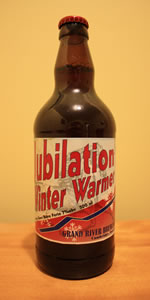 BEER INFO
Brewed by:
Grand River Brewing
Ontario
,
Canada
grandriverbrewing.com
Style:
Winter Warmer
Alcohol by volume (ABV):
6.50%
Availability:
Limited (brewed once)
Notes / Commercial Description:
No notes at this time.
Added by grub on 12-01-2007
This beer is retired; no longer brewed.
Reviews: 11 | Ratings: 11
Reviews by pootz:

3.47
/5
rDev
-11.9%
look: 3 | smell: 3.5 | taste: 3.5 | feel: 3.5 | overall: 3.5
From tasting notes dated Dec.30/09
Drank several bottles of this at Xmas and still have some cellared to try in the fall.
Clear amber ale with a smallish cap, laces well though.
Very aromatic without being overpowering...spicy,fruity lightly sweet, some grass.
Matly-grainy start is balanced with spice which begins to dominate slightly near the finish which has a nice bite to it...possibly from pepper. Full bodied with a warming character.
Nice Xmas seasonal, discrete enough on the spice that you could have a couple without nuking your palate with xmas spices.
★
574 characters
More User Reviews:
3.69
/5
rDev
-6.3%
look: 3 | smell: 4 | taste: 3.5 | feel: 3.5 | overall: 4
At Volo. Very much like their and others' pumpkin ale. Clove city, some other spice but this was liquid cloves. Light almost transparent with thin white head. The alcohol was there. Drying bitter almost grapefruit peel astringent finish, C hops in abundance as evidenced by grapefruit in aroma. Overall fine try.
★
312 characters
4.1
/5
rDev
+4.1%
look: 4 | smell: 4 | taste: 4 | feel: 4 | overall: 4.5
500 ml bottle poured into a Duvel tulip. This year's batch is marked 7% ABV.
A: Pours a clear reddish brown with one finger of beige head which quickly recedes leaving a little lacing.
S: Smells of malt and fruit (cherry?). Smells sort of barleywine-y. Not picking up any spices.
T: Tastes of sweet malt and fruit upfront but some nice hops in the finish. Again, I'm not picking up on the spices and overall have the impression of a light barleywine.
M: Mouthfeel is medium with adequate carbonation.
D: The drinkability of this is high: a barleywine "lite" with no detectable alcohol.
After my recent disappointments with 1913 and Plowman's, I'm glad to see there is no downward trend at GRB. I don't think they made this last year (at least I didn't have any) and I recall previous years being good but more in the vein of your average seasonally spiced winter warmer. I'm not getting any spices from this and it really reminds me of a barleywine. I think I like this better than previous years!
★
1,007 characters
4.1
/5
rDev
+4.1%
look: 4 | smell: 4 | taste: 4 | feel: 4 | overall: 4.5
Sampled both at the brewery, and from growler. Pours a transparent orange/amber liquid, topped with frothy, slightly off white foam. Again, nice head retention and lacing, as is a constant with this brewer. Nosing it, there is a huge blast of nutmeg, cinnamon, rose petal, Christmas cake, floral and honey notes. Good sweet caramel malt up front, excellent balance of nutmeg, cinnamon, floral spices, ginger, with a superb addition of equalizing hops to finish it off. This is really excellent craftsmanship. The somewhat higher alcohol content doesn't even seem to be there. Excellent.
★
586 characters

4
/5
rDev
+1.5%
look: 4 | smell: 4 | taste: 4 | feel: 4 | overall: 4
KwaiLo was nice enough to share this one. thanks scott!
pours a great golden amber colour with a small dense white head. drops fairly quick and leaves spotty lace behind.
aroma is nice. bit of alcohol. spice, but not overpowering. cinnamon, clove, maybe cardamom. bit of orange and tangerine. bread and biscuit malt.
taste is good. lots of spice, but again not overpowering. cinnamon. bit more clove than in the aroma. cardamom is definitely there now. orange peel. bit of grapefruit. good biscuity malt base. light alcohol. medium bitterness level.
mouthfeel is good. medium carbonation level. nice medium body.
drinkability is good. the bitterness, alcohol, and malt are well balanced and make a solid base to build the spices on. i generally don't like spiced beers, but found this one quite enjoyable because the spices aren't overpowering - strong, but not over the top. another finely crafted beer from grand river. keep up the good work guys!
★
964 characters
3.97
/5
rDev
+0.8%
look: 4 | smell: 4.5 | taste: 4 | feel: 3.5 | overall: 3.5
Made a stop at the brewery on my way home from Cambridge earlier today and as usual I'm glad I did.
This poured a rather nice clear yellow/orange with a nice very soapy looking head. Smell is very interesting. Cinnamon and Cloves, the smell reminds me somewhat of a spiced Saison. Flavor is a combination of the above, with abundant hops in the body. The spices make for a somewhat astringent mouthfeel, but it does not retract from the qualities of this beer.
Once again Grand River has brewed another winner. I'll make sure I get more of this before they run out.
★
567 characters

4.17
/5
rDev
+5.8%
look: 4 | smell: 4.5 | taste: 4 | feel: 4.5 | overall: 4
On-tap at Volo.
A: Golden-bronze with a white head, very little retention, some lacing.
S: Wonderful spicy aroma with plenty of depth, without being overpowering (cloves, cinnamon, nutmeg?). Slight fruityness.
T: Pleasant, well-rounded spicyness; tropical fruit with perhaps a touch of phenols from the yeast (hard to tell with the added spice). Otherwise, the alcohol is rather subtle. Surprisingly, this one doesn't have the dark fruitiness (or residual sweetness) of some of their brews. The bitterness is modest as well. It's much more different from the highballer than I expected.
M: Really well-attenuated, moderate body with a dry finish.
D: It's digestible like a Belgian & doesn't seem as strong as it is.
★
720 characters
4.12
/5
rDev
+4.6%
look: 4 | smell: 4.5 | taste: 4 | feel: 4 | overall: 4
Thanks to KwaiLo for bringing this growler to warm our souls on a frigid brewday!
Pours a clear orange, thin white head, leaves some nice lace chunks as it settles to a thin ring. Smell is nice, sweet, honey, oranges, some banana-spice, cinnamon, almost mead like, yeasty, bit of caramel, quite nice. Taste is similar, sweet, lots of honey and meady again, oranges, spices, bit of grapefruit and pine, spicy citrus finish. Mouthfeel is medium bodied with low to medium carbonation, bit of warmth, quite nice. Excellent winter warmer. Thanks Scott!
★
548 characters
3.58
/5
rDev
-9.1%
look: 4 | smell: 3.5 | taste: 3.5 | feel: 4 | overall: 3.5
500ml bottled December 8th, 2010
A- Slightly chill hazed red / burnt copper pour with a two finger soapy eggshell head. Lacing is decent.
S- Cinnamon with a bready backing. Sherry soaked figs with a touch oid cherries. Brown sugar and a subtle cloves.
T- Cinnamon and brown sugar. Nutmeg and figs with a slight spiced rum warmth on the way down.
M- Thin to medium bodied, cinnamon dries out the mouth. Slight alcohol warmth with a lingering aftertaste.
O- Decent winter warmer. I'm going to assume it's past its peak but you would be hard pressed to know for sure.
★
569 characters

4.06
/5
rDev
+3%
look: 3 | smell: 4.5 | taste: 4.5 | feel: 3 | overall: 3.5
Ive been looking forward to this seasonal from GRB.
Served from a 64fl oz growler into a pint glass.
A- Nice flashy golden color. Looks great when held to the light. Decent bubbly head diminishes but laces fairly good. Slightly foggy if you look really hard.
S- Oh man, this smells awsome! Strong aromas of fresh baked ginerbread, lots of clove, orange peels, some cinnamon.
T- Mmmm very tasty. Flavors of gingerbread, spices, cinnamon, cardamom is noticed, clove is in abundance. Citrusy hops come into play mid way and lead to a finish full of spices and gingerbread once again.
M- Medium bodied beer with carbonation that works really well. Also somewhat powdery mouth feel.
D- Awsome drinkability. Could drink it all night actually ; - ) . Just have to take er easy because the alcohol in this brew is hidden very well.
Overall this would have to be one of my favorite beers for the festive time of year. The balance and drinkabilty of all Grand River Brews is immaculate. This brewery is the real deal. Absolutely recommended.
★
1,040 characters
4.03
/5
rDev
+2.3%
look: 4.5 | smell: 4 | taste: 4 | feel: 4 | overall: 4
2007: Pint at Volo. Pours a nice burnished gold with a large white head. The nose is all about the spicing, and dominated by allspice. In fact, as the previous reviewer said, it is very reminiscent of the pumpkin beer that the brewery released. The taste is also heavily spiced, with allspice once again dominating. There's also a good measure of sweet malts in there too. 6.5%? You'd never know it. Another strong offering from a highly recommended brewery.
★
458 characters
Jubilation Spiced Ale 2007 from Grand River Brewing
3.94
out of
5
based on
11
ratings.