Bumbleberry Wheat Ale
| Grand River Brewing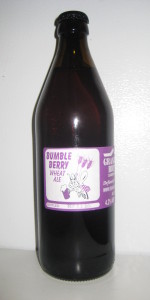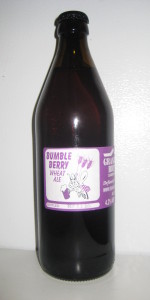 BEER INFO
Brewed by:
Grand River Brewing
Ontario
,
Canada
grandriverbrewing.com
Style:
Fruit / Vegetable Beer
Alcohol by volume (ABV):
4.20%
Availability:
Summer
Notes / Commercial Description:
No notes at this time.
Added by allergictomacros on 09-21-2008
This beer is retired; no longer brewed.
HISTOGRAM
Ratings: 14 | Reviews: 12
Reviews by wordemupg:

3.68
/5
rDev
+10.2%
look: 3.5 | smell: 3 | taste: 4 | feel: 3.5 | overall: 4
500ml bottle poured into pint glass oct13 2009
A peachy golden in color with a big head that falls fairly fast but leaves some lace while it lasted
S mild honey, sweet grains and the berry its nice but a little faint
T stronger then the smell, nice berry flavor with a little honey. I liked this one its much better then some fruit beers I've had. not going overboard on the fruit but still having plenty is working well for this one
M bubbles up a little much but its a pretty minor thing
D my only complaint is the snow outside, this would be a perfect patio beer no questions asked
thanks wittaker for this one I hope the bif is nice to you
650 characters
More User Reviews:
3.6
/5
rDev
+7.8%
look: 3.5 | smell: 3.5 | taste: 3.5 | feel: 3.5 | overall: 4
Went for a trip down to the brewery and picked up a sampler pack. This one's a bit out of season, but I never turn down a wheat beer, even if it's got a friendly bee on the front.
Bottled on Nov 6, so just over a week ago - I love how GRB always dates their bottles; it's great knowing how fresh the beer is. Pours a dark golden, almost rosy. Pours a one inch head that dissolves into a ring, a little bit of lacing.
The smell is of honey, yeast and blueberry pie. Not really bumbleberry, but still very inviting.
The taste is about the same. Almost too yeasty, but the berry flavour and dryness pulls it back.
Carbonation is about right, but it's a bit thin. Would have been happy with a bit more meat to it.
All in all, a solid brew. Flavoured wheats are always a tricky business - either they work or they don't - and this one works. I'm not a big fan of the style, but this one is certainly one of the better examples of the style. A great patio beer!
961 characters
3.42
/5
rDev
+2.4%
look: 3 | smell: 3.5 | taste: 3.5 | feel: 4 | overall: 3
On tap at C'est What. Light colour with rising carbonation bumbles and mushroom room. Slight aroma of fruit and wheat. Mouthfeel is creamy, taste is a tart wheat, and so what was intended. Easy drinking but not something I personally would seek out on a regular basis. The natural bitter water and the enoz salt mineral carbonation combined together to create a good amount of gas and burping.
393 characters
2.63
/5
rDev
-21.3%
look: 3 | smell: 2.5 | taste: 2.5 | feel: 2.5 | overall: 3
Bottle: Poured a golden yellow color ale with a good size foamy head with good retention and minimal lacing. Aroma consists of fruity notes with some lightly sweet malt. Taste is a mix between some medium fruity malt with some sweet notes as well as some grainy notes. I couldn't detect much wheat or berry for that matter. I guess this is OK but I was expecting a bit more from this up and coming brewery.
406 characters
3.12
/5
rDev
-6.6%
look: 3 | smell: 3.5 | taste: 3 | feel: 3 | overall: 3
500 ml bottle from the brewery-Pours a an amber body with a nice frothy cap of long lasting fizz. Nice lace here too. The nose is yeasty, grainy, and of fresh blueberries and perfume, with a bit of grains and candy. Tastes somewhat sweet blueberry, grains, some moderate hopping here....leads to a fruity mixed berry finish. Refreshing, but I prefer other beers from this brewer.
379 characters

3.78
/5
rDev
+13.2%
look: 4 | smell: 3.5 | taste: 3.5 | feel: 4 | overall: 4.5
A: A krystal-clear American Wheat that's bronze with a white cap. Not a lot of head or retention, considering it's a wheat.
S: Bready malt and field berries with a hint of spicing.
T: Bready malt with a light, peppery (tettanger-like) spicing. There's a pleasant fruitiness, but the bumbleberry is quite subtle (mostly blackberries & blueberries, with a little raspberry jelly candy). Nice bittersweet balance.
M: Smooth body is on the lighter side of moderate.
D: Very drinkable.
484 characters
3.68
/5
rDev
+10.2%
look: 4 | smell: 3.5 | taste: 3.5 | feel: 4 | overall: 4
On tap at Volo.
Pours a clear light golden, yellowish in the light, decently thick bone white head forms, slowly settles to a thin ring around the glass, some spots stick. Smell is neat, very fruity and fresh, blueberries, raspberries, almost a cranberry fruitiness, blackberries, light malt sweetness, some caramel, minerally, almost a bit salty, wheat, pretty neat. Taste is similar, very fruity, very heavy minerally character through the middle, makes this very crisp, bumbleberry mix, wheat, some malty sweetness, good balance. Mouthfeel is light bodied with medium carbonation, pretty drinkable stuff. The fruitiness almost reminds me of an ice cream or frozen yogourt, I enjoyed it.
690 characters

3.72
/5
rDev
+11.4%
look: 3 | smell: 3.5 | taste: 4 | feel: 3 | overall: 4
On tap at the King.
Taps a clear gold- orange color, smallish white cap for a wheat ale. Laces well enough though. Moderate carbonation.
Light biscuit malt and berry aroma not overstated.
Light toasty-wheat malt body...good hop bite but the fruit is very subtle, tart but flavorful.., light berry finish with a wonderful biscuity snap at the end.
Good effort and I enjoyed the wheat ale more than the berry flavor...maybe they will make this an unflavored wheat beer and put it in the standard line up...I like the wheaty-malty character.
546 characters
2.58
/5
rDev
-22.8%
look: 3.5 | smell: 3 | taste: 2.5 | feel: 2.5 | overall: 2
Bottled July 19th. Light orange-gold colour, a bit hazy. A half finger white head did not last long. A single string of bubbles persisted for a short while, not a lot of carbonation. Light fruit nose. Tart, more rhubarb than anything else. A bit unpleasant tasting, bitterness low, malt subdued, lots of yeast coming across but not in a good way. A bit heavy on the palate for a fruit beer and it just didn't seem to come together for me.
I've had five different beers from Grand River Brewing before this and thought highly of each, this was my least favourite. Looking forward to trying the Pils next. Thanks to biegaman for making the trip to the brewery.
660 characters

2.85
/5
rDev
-14.7%
look: 3.5 | smell: 3.5 | taste: 2.5 | feel: 2 | overall: 3
Bumbleberry may describe a mix of berries but this beer's appearance looks a lot like a peach. It has an almost saffron yellow base that is spotted with interspersing orange-red camouflage. The natural haze allows the different tones to meld but it doesn't much interrupt transparency. Its head has just the faintest blush of rose that is most flattering to the beer's appearance and persona. Unfortunately, this head disappears almost instantly.
The smell has a pleasant, but very indiscriminate, berry character. It's a vague fruitiness with no one specific berry being all that pronounced. I was happy to just enjoy the bouquet without feeling the need to identify specifics but if you insist I take a guess, I'd probably side with raspberry, although a blueberry-like tartness vividly comes through with swirling. This is exponentially more aromatic once the air gets at it (but it does requires the labour).
The taste is not without some of that same indistinct fruit component either. Again I note a fairly appreciable blueberry-like tartness. I could entertain suggestions of cherry, strawberry and huckleberry but I won't claim to tasting them. For certain there is nothing artificial or sweet about the flavouring. In fact, it more closely resembles unpopular fruits, huckleberry or rhubarb, than the sweeter, conventional varieties.
I appreciate the genuine, unprocessed flavour of the fruit but what's beyond that is painstakingly plain. The malts are incredibly bready, far too forwardly bready for a fruit beer, and there is the strong taste of corn. It's nothing redolent of adjuncts, but an equally natural flavour that has an alarming similarity to corn bread and Louisiana-style biscuits. This would be fine in something like a Munich Lager but it's most unflattering for a fruit beer.
I do love Grand River's portfolio of lighter strength, full-bodied beers but I feel Bumbleberry Wheat isn't quite on par with the rest of them. It isn't a complete failure but it's not something worth keeping around given this brewer's talents could be invested in better projects. Hopefully next summer the brewery can come up with an improved seasonal, or at least an improved recipe, that better represents their capabilities.
2,239 characters
3.57
/5
rDev
+6.9%
look: 3.5 | smell: 4 | taste: 3 | feel: 4 | overall: 4
Had this one on tap at C'est What in Toronto. Obviously filtered radiant gold body with a frothy white head of bubbles. Some retention and lacing. Fruity, summer berry aroma and a clean wheat smell. The malt is nicely prominent, and its good to see that the wheat has not been overwhelmed by the berries, which nonetheless bring a pleasant element to the beer. The sweetness of the fruit flavours also helps to balance out the bitterness. Light mouthfeel with moderate carbonation. Quite crisp and refreshing. Very drinkable, but why I ordered it in Fall I don't know.
568 characters
3.68
/5
rDev
+10.2%
look: 4 | smell: 3.5 | taste: 3.5 | feel: 4 | overall: 4
A - Pours a clear gold with a big, white, loose head of foam with decent stickiness.
S - Fruity - hard to describe berry aroma - blueberry maybe, but mixed with others. To me the wheat/berry combo smells a bit like pumpkin...
T - Light wheatiness and a slight tartness up front. Some citric hints, light berry fruitiness and tea-like flavours. Moderately bitter finish.
M - Body is fairly soft, with a wheaty crispness.
D - Interesting, and very drinkable brew. Fruit flavour is on the light side, but balances well with the wheat.
536 characters
Bumbleberry Wheat Ale from Grand River Brewing
Beer rating:
3.34
out of
5
with
14
ratings