Raspberry Pils
| Grand River Brewing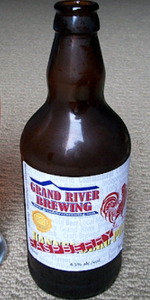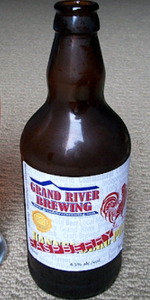 BEER INFO
Brewed by:
Grand River Brewing
Ontario
,
Canada
grandriverbrewing.com
Style:
Fruit / Vegetable Beer
Alcohol by volume (ABV):
4.50%
Availability:
Limited (brewed once)
Notes / Commercial Description:
No notes at this time.
Added by biegaman on 05-30-2010
This beer is retired; no longer brewed.
HISTOGRAM
Ratings: 11 | Reviews: 9
Reviews by pootz:

3.4
/5
rDev
-0.6%
look: 3 | smell: 3 | taste: 3.5 | feel: 3 | overall: 4
On tap:
Pours pale gold with no pink tint to indicate the use of real fruit, small cap, soft carbonation.
Aroma is biscuit dough with some light berry tones and twiggy hopping.
Sandy mouth feel, dry-fruity character, light bodied.
Up front biscuity malts balance with extract berry tones and leafy floral hops, tart dry finish with a nice biscuity snap at the end.
Tastes like their regular pils with some fruit extract flavoring in it.
Quenching, fruity-dry, decent summer patio brew, bur I expected more from this brewer,.
531 characters
More User Reviews:
3.23
/5
rDev
-5.6%
look: 4 | smell: 3.5 | taste: 3 | feel: 3.5 | overall: 3
Bottle picked up at the brewery. Freshness date August 9th 2010.
Poured into a pilsner glass. Slightly opaque golden with a slight orange-pink tinge, leaving a thin, but stable frothy head.
Nose is yeast, light hops, a slight fruit character I wouldn't have called raspberries if I hadn't known the name. Smells like neither a pilsner nor a fruit beer.
Hrrm. Not sure about this. Tastes a great deal like the Hannenberg Pils, of which I'm quite fond, but with a bit of a strange fruit character in the back, which again I wouldn't necessarily call raspberry. The hops and fruit almost cancel each other out, to the detriment of both - the fruit is muted by the hops, so it doesn't taste like how I feel a fruit beer should, but the fruit also softens the hops, reducing its 'pils' standing. What I get is a very bready, yeasty brew, with only a slight fruit flavor lurking in the background.
Betwixt and between, neither a pils nor a fruit beer. Didn't really do it for me. Might have worked better with a wheat ale base to allow the fruit to make more of a statement. Or at the very least a more potent raspberry flavor.
Bit of a disappointment. It certainly is quite drinkable, and I wouldn't turn it down, but it's not really worth seeking out either. Stick with the Hannenberg Pils.
1,294 characters
2.23
/5
rDev
-34.8%
look: 3.5 | smell: 3 | taste: 2 | feel: 2 | overall: 1.5
Bottle from their 3rd anniversary party. Pink appearance with crowning head. Far from real raspberry, this was some infusion and dominated the taste. Me, I would rather the pils alone. Gelatiny and astringent, not very drinkable.Synthetic aromas.Skippable.
256 characters

4
/5
rDev
+17%
look: 4 | smell: 4 | taste: 4 | feel: 4 | overall: 4
A: Rose with an off-white head, some retention & lace.
S: Surprisingly, the light berry aroma actually works with the floral hopping.
T: The raspberry is fairly mild, allowing the quality malt & hops to still come through. I'm not sure if it has as much bitterness as their Pils... but it has a nice balance. I liked it, though I wonder if it may not be fruity enough for some people. No tartness at all.
M: Light to moderate body is smooth.
D: An easy drinker for a hot summer day!
486 characters
3.64
/5
rDev
+6.4%
look: 3 | smell: 4 | taste: 3.5 | feel: 4 | overall: 3.5
On tap at C'est What's 2010 Fall Festival of Craft Breweries. Pours a light pinkish-red colour without zero head. Smells of fresh raspberry with some of the typical pilsner smell. Flavour is a bit tart with the raspberry, but still a crisp grassy hop bite. Quite sweet too. Mouthfeel is surpringly good given that there wasn't any head. Nice beer.
347 characters

3.38
/5
rDev
-1.2%
look: 3.5 | smell: 3 | taste: 3.5 | feel: 3.5 | overall: 3.5
On-tap at C'est What?, in Toronto.
Raspberry Pils' sandy-taupe colour has a smidgen of salmon to it; usually we see pink by way of a lighter toned red but in this case it seems to wash right out of the orange. As well as that light rosé tint, the berries have added a light haze too. As its soapy white lather sinks with the beer, it cleaves to the glass so tightly you'd swear it had claws.
This bouquet has the lightness of a Strauss operetta. The raspberry essence is slow to seep through and once it does the sensation of tart, luscious berries is no more than a mere pin prick. To its credit, the scent is genuine and without an ounce of sugar. The soft, bated sweetness of the pale malt is definitely the stronger hand of the two.
Whether you're in this for the raspberry or the pilsner, either way, you're likely to be underwhelmed. As expected from a brewery with the integrity of Grand River, the raspberry component is indeed genuine and not over-sweet in the least; unfortunately, it's also rather vague and, until the air could work at it, a little bit too indiscriminate.
As for the pilsner, which is obnoxiously present in the taste, it is incredibly bready, like warm corn muffins and white loaf bread, but without a trace of hop flavour. These grainy, bready malts aren't exactly a match made in heaven for the lush, lightly tart taste of the berries. A more neutral malt bill would let the fruit pass through much less abated.
Like Grand River's other fruit-beer seasonal, Bumbleberry Wheat, I can't help but feel this brewer's talents could have been invested in better projects. A beer so indiscriminately fruity isn't likely to stand-out to those who tend to drink fruity drinks nor is it likely to appeal to those who appreciate the virtues of well-crafted, lower alcohol beers. I'm glad to have enjoyed one pint of it this summer, but I doubt I'll be having another.
1,898 characters

3.32
/5
rDev
-2.9%
look: 3.5 | smell: 4 | taste: 3 | feel: 2.5 | overall: 3.5
Got this on tap at the winking judge.
Appearance: A nice amber colored without any sort of red tint that I would typically expect from this type of offering, so that is nice. Decent carbonation in the body, but very little in the way of head.
Smell: A light raspberry smell dominants the nose but is closely followed by a floral hop undertone that I would expect from a pilsner. I'm also catching a bit of biscuit malt in the background. Fairly solid all around.
Taste: Sadly this beer has an identity crisis, it's still good but the meshing of the sweeter raspberry doesn't mesh very well with the pilsner elements. It seems like a cycle of one flavour trying to fight the others, with the raspberry trying to take over the malt at the start, the hops trying to take over the berries in the middle and the malt appearing at the end to take out the hops. Interesting, but the whole experience seems off.
Mouthfeel: This beer doesn't transition very smoothly. As I said earlier, it's like every part of the beer is fighting other parts of the beer. The carbonation is alright, and the aftertaste is alright as the hops seem to disappear leaving a malt raspberry aftertaste but there is room for improvement.
Drinkability: Well my pint went down quick enough, and it is refreshing and easy sitting down. Really this brew is great for those summer days when most beers don't quite cut it for refreshment, so you want something fruitier instead. That's really it though, and even the hoppier elements reign that potential back a bit.
Final Thoughts: It's alright, and worth one shot but not much more. It is as advertised, but I think you'll find you will want this beer to be either exclusively a fruitier beer or exclusively a pilsner by the time you are done.
1,764 characters

4.02
/5
rDev
+17.5%
look: 3.5 | smell: 4 | taste: 4 | feel: 3.5 | overall: 4.5
Pours a nice light pinkish beer with a small head and no lacing. Intriguing... Aroma is an enjoyable mix of fruit and a bit of bready malt. The taste is an excellent balance between the tartness of the raspberry and a bit of bitterness in the body. Mouthfeel had a carbonation that was a touch too strong, and the bitterness was a bit too lingering... Stunningly drinkable beer. Never thought I could like a raspberry beer this much.
433 characters
3.85
/5
rDev
+12.6%
look: 3.5 | smell: 3.5 | taste: 4 | feel: 4 | overall: 4
Surely this is just the Hannenberg Pils with a hint of raspberry waved in its general direction? I'll repeat my review for that beer here, as it tasted almost identical, but I'll add the corrolary that there was the faintest taste of raspberry. Let's rewind the clock...
The beer arrives at the table proudly showing off a golden yellow body and small white cap of a head. The head hugs the side of the glass as the pils is drank, leaving a good deal of lacing. The smell is light but has a good dose of grassy floral hops and biscuit malt. The flavour is malt heavy, embodied in the taste of bread, honey and caramel. The hops come through at the edges, cloaked in grassiness, lending a light bitterness. Medium bodied and with almost perfect carbonation, this one can be consumed all day long.
796 characters
Raspberry Pils from Grand River Brewing
Beer rating:
3.42
out of
5
with
11
ratings