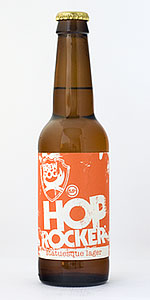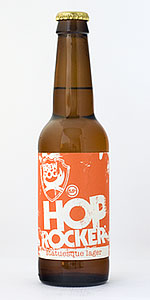 BEER INFO
Brewed by:
BrewDog
Scotland
,
United Kingdom
brewdog.com
Style:
American Pale Lager
Alcohol by volume (ABV):
5.50%
Availability:
Limited (brewed once)
Notes / Commercial Description:
No notes at this time.
Added by bark on 11-24-2007
This beer is retired; no longer brewed.
HISTOGRAM
Ratings: 14 | Reviews: 8
Reviews by flyingpig:
3.5
/5
rDev
-4.4%
look: 4.25 | smell: 3.5 | taste: 3.25 | feel: 3.5 | overall: 3.75
330ml bottle from Brewdog.com (£1.28 approx.):
This one turned out to be quite an interesting beer from Brewdog & one that started well with some nice caramel & bread malts to give the beer an early sweetness before some of the grassy hops & subtle bitterness started to come through. It was a very strongly carbonated beer that seemed overly gassy at times but was still pleasant enjoy, my biggest complain however would be the balance of the beer with it seeming a little aggressive at times & definitely a little dated too; that probably explains why Brewdog stopped brewing it in truth. It's on that I'm pleased I've managed to try but I'm not sure I'd go back to it again if it was a permanent offering either.
716 characters
More User Reviews:


3.35
/5
rDev
-8.5%
look: 3.25 | smell: 3.25 | taste: 3.5 | feel: 3.25 | overall: 3.25
A 330ml bottle with a BB of July 2017, so it's slightly out of date. Acquired a while back from the Brewdog webshop; specially re-brewed for their 10th anniversary (along with their original branding).
A: Poured into a tulip. A hazy orange-amber colour with fine sediment and low carbonation. Yields a large head of creamy white foam that lasts for a minute or so before collapsing and dissipating. Slight lacing.
S: Aroma of caramel malt with hints of grain, leafy hops, subtle floral notes, earthy yeast and a touch of stewed husk. Unlagerlike but not too shabby.
T: Tastes of caramel malt with notes of leafy hops, mild grass/hay, faint pine, subtle grain and earthy yeast. Slightly sweet, followed by a subdued bitterness upon swallowing.
M: Mouthfeel is smooth and tingly, with soft carbonation and good body. Almost creamy. Aftertaste of leafy aromatic hops, caramel malt, earthy yeast and a mild bitterness.
O: Not bad; a bit muddled for the style. Subpar looks - no carbonation or head retention. The aroma and flavour are alright, balanced with a little sweetness. Nice body but lacking texture. I reckon the hop character has faded somewhat, and it isn't as crisp or refreshing as it could be. That said, worth sampling (not that you'll find it).
1,261 characters

3.59
/5
rDev
-1.9%
look: 4 | smell: 3.75 | taste: 3.5 | feel: 3.5 | overall: 3.5
3.82
/5
rDev
+4.4%
look: 3 | smell: 3.5 | taste: 4 | feel: 4 | overall: 4
Brown 330ml bottle, best before 10-10-2009, drank on the last day of May 2009. Poured into a Corsendonk stemmed tulip shaped glass.
Very slight haze to the beer, otherwise it was an old gold, mid-range lager colour. A white collar and wispy covering sat on top with some lacing as the beer was consummed.
Good hop aroma, some mixed fruit in there too (apples and pears?). My nose picked up some yeast hints as well.
Hops dominate the taste, is this really a lager? Not as I know it anyway. Rarely has a lager beer tested my tastebuds so. Well hopped beers often become very dry in the aftertaste, this became drier, but not overly so. Not cheek suckingly dry anyway, nor does it taste metallic or like cardboard, a trait I've discovered in some lagers as I circumnavigate the globe looking for the perfect pint.
very drinkable, but too hoppy foe me to have as a session drink.
880 characters
4.12
/5
rDev
+12.6%
look: 4.25 | smell: 4 | taste: 4 | feel: 4.5 | overall: 4.25
3.82
/5
rDev
+4.4%
look: 3.5 | smell: 4 | taste: 4 | feel: 3.5 | overall: 3.5
330 ml bottle, at Olympen Mat & Vinhus, Oslo. ABV is 5.5%. Deep golden colour, moderate head. Very nice aroma of hops and caramel, hints of butterscotch. Fairly sweet, malty and fruity flavour, hints of toffee and butterscotch. Not bad at all. Retired now?
256 characters
3.78
/5
rDev
+3.3%
look: 4.5 | smell: 4 | taste: 3.5 | feel: 3.5 | overall: 4
The colour is golden yellow; the liquid is a little hazy. The two finger head is white, airy and firm, it even builds a little crater.
The smell is semi-sweet and malty. There are some fine notes of bitter hops and a hint of bitter citric fruits. It smells sorts of a watered down American IPA. Nice.
The first taste is very bitter – it is like a hoppy American lager mixed with a rough German Pilsener. There are some mild flavours of grapefruit and dough. But where are all the malts that I expect from a good lager? Its like: It is bitter, but it lacks a fine body. The aftertaste is sour-bitter with some citric flavours and a hint of sweet bread.
The carbonation is medium; there are lots of fresh small bubbles. The liquid is mid-smooth.
As one could expect from BrewDog, this beer is not a compromise in any way. It got lots of strong flavours, but I would really like some more malts. But it is far from dull.
931 characters
3.63
/5
rDev
-0.8%
look: 3.75 | smell: 3.75 | taste: 3.5 | feel: 3.5 | overall: 3.75

3.89
/5
rDev
+6.3%
look: 3.75 | smell: 4 | taste: 3.75 | feel: 4 | overall: 4
3.83
/5
rDev
+4.6%
look: 4 | smell: 3.5 | taste: 4.5 | feel: 2.5 | overall: 3.5
This is ONE extreme beer - Trashy blondes lagered brother - extremely dry hopped and very challenging in that way. But a small bottle so maybe challenging in an interesting yes almost enjoyable rather than negative sense. Would I want more than one - NO! Would I want ONE - yes!
Bitter, dry hops everywhere all the way smell, taste, aftertaste, coating and the golden colour to match it!
388 characters
3.82
/5
rDev
+4.4%
look: 3.5 | smell: 4 | taste: 4 | feel: 3.5 | overall: 3.5
A - Poured into a pilsner glass a very clear light golden colour with an inch of fluffy white head that slowly falls away leaving a touch of lace.
S - Slightly floral & grassy hop note with a nice grainy maltiness to balance it.
T - Very much along the same lines as the smell with a slightly sweet, nutty taste to the malt.
M - Fairly light bodied with a medium to high carbonation.
D - A tasty lager. Not something I'd buy often given the price but worth a try.
463 characters
3.13
/5
rDev
-14.5%
look: 3.5 | smell: 3 | taste: 3 | feel: 4 | overall: 3
Coming in a slim 330ml brown bottle, BB 01/01/09, served chilled in Rodenbach's slim goblet.
A: pours a lightly translucent straw colour, coming with incredibly mild carbonation and a dissipating white frothy head. Not pasteurised, it seems.
S: lots of nectar-ish sour-sweet aroma and orangey+starfruit-ish exotic fruitiness upfront, leaving the grainy touch of light malts behind; quite pronounced in the fruity compartment at the expense of other elements that a typical lager should have, and overall the sourness - a bit like lactic drink - is a bit too much.
T: so very sour upfront, like nectar or oxidised honey-drink plus sour-sweet green-asparagus-juice on top of extremely mild, bitter-sweet lightly-toasted malts, with a dash of citrus cordial... then, slowly, a medium-level dried-grassiness of hops creeps up, bringing along a deepening impact of lightly zesty and chewy bitterness to last in the end.
M&D: the palate is alright, quite refreshing and lightly fizzy, and the body holds pretty well... but the overall flavour is slightly too revolutionary for me if I was to be persuaded the nectar in the glass is actually a lager? Well, at least not in any conventional sense of a lager, that is. Also, if only the sourness could be tuned down a bit, this might have been slightly more pleasant to drink.
1,318 characters
4.03
/5
rDev
+10.1%
look: 3.75 | smell: 3.75 | taste: 4.25 | feel: 4 | overall: 4
Hop Rocker from BrewDog
Beer rating:
3.66
out of
5
with
14
ratings