BrewDog Paradox Grain (Batch 007) - Carsebridge 1963
| BrewDog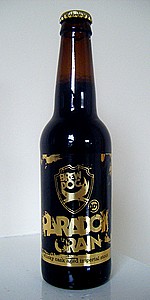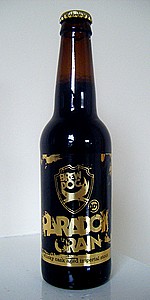 BEER INFO
Brewed by:
BrewDog
Scotland
,
United Kingdom
brewdog.com
Style:
American Double / Imperial Stout
Alcohol by volume (ABV):
10.00%
Availability:
Limited (brewed once)
Notes / Commercial Description:
No notes at this time.
Added by BeerAdvocate on 03-19-2008
This beer is retired; no longer brewed.
HISTOGRAM
Ratings: 13 | Reviews: 13
Reviews by Garin:

3.74
/5
rDev
-3.4%
look: 3 | smell: 4 | taste: 3.5 | feel: 4 | overall: 4
It poured a deep ash black with some orange highlights, and the thinnest of heads barely stayed afloat.
Grainy sweet boozey aromas dominate, with fruitiness underneath. Coffee flavours and burnt flavours come through. Vanilla and whisky are throughout, but mild. Grain acidity is strong, but balances the sweetness as there isn't a whole lot of hoppiness in here. Low carbonation and low-key richness make it quite drinkable especially considering the style.
460 characters
More User Reviews:
4.05
/5
rDev
+4.7%
look: 4 | smell: 4 | taste: 4 | feel: 4.5 | overall: 4
I've had this bottle sitting (and aging?) next to my whisk(e)y collection for a while now, and since it's Burns' Night, and -25 outside, I can't think of a better excuse...
This beer pours an opaque black, with red cola edges, and a small foamy tan head. The smell is dark roast malt, alcohol, and oak barrel essence. The taste is smooth, creamy dark roasted malt, sweet treacle (this from my girlfriend - I had to look it up...), with a nice warming from the booze. The mouthfeel, as noted, is silky smooth, with low carbonation. This is very easy to quaff, and quite dangerous, given the punch it packs.
606 characters
2.36
/5
rDev
-39%
look: 3.5 | smell: 2.5 | taste: 2 | feel: 3.5 | overall: 2
Close to black in the glass with a wisp of tan head. No lacing to speak of.
Smell is very boozy, whiskey and vanilla are almost overpowering. Coffee grounds beneath that. A bit heavy on the liquor side for my tastes.
Tastes like a whiskey and coke, with a hint of coffee flavour sticking its head up in the middle of the mouth. Boozy impression from the whiskey, not so much in the finish. Beer flavours beat down by the whiskey, I'd rather have the beer stand up and the whiskey be subtle.
Slightly thick and lightly carbonated. Not bad mouthfeel for the style.
If I wanted a whiskey and coke, I wouldn't be buying a beer. Won't be picking this one up again.
663 characters
3.97
/5
rDev
+2.6%
look: 3.5 | smell: 4 | taste: 4 | feel: 4 | overall: 4
Bottle: Poured a deep black color stout with a small bubbly head with limited retention and no lacing. Aroma is a mix between some barley malt with some fine whiskey notes but not as much peat as in the Islay stout. Taste is also a very well balance mix between some barley and roasted notes with some fine whiskey notes though direct alcohol was noticeable. Very well done but I prefer when more peat is noticeable.
416 characters

4.12
/5
rDev
+6.5%
look: 4 | smell: 4.5 | taste: 4 | feel: 4 | overall: 4
Pours out an opaque black, mahogany highlights when held up to direct light. Thick creamy light tan head that settles to a thick cap.
Gorgeous sweet aromas of wood and vanilla, figs and black currants, treacle and brown sugar.
Intense sweet flavour, smooth malt and wood, dates and figs in the middle, plums pop out near the finish, with roasted malt and warming alcohol on the finish. Vanilla comes out in the aftertaste and also coats the lips. More wood shows up longer into the aftertaste.
Mouthfeel is medium-bodied and quite slick, not much carbonation, although it doesn't detract too much from the overall.
This is one of my favourites of the Paradox's so far, it would probably age well and dry out some of the sweetness, however it works as it is too.
765 characters
4.27
/5
rDev
+10.3%
look: 4 | smell: 4.5 | taste: 4.5 | feel: 4.5 | overall: 3.5
330ml bottle bought from Cornelius, Edinburgh... best before date of 21/12/08...
Poured pretty much pitch black. Dark mocha head poured small but thick and foamy then faded quite quickly to the faintest covering with thick edging... light patches of lacing...
Aroma - Tons of vanilla (extract ? beans ?) to the fore mixed with deep rich lightly roasted chocolate malts, nice deep smokiness, muscovado sugar, charred wood, hints of very ripe (almost rotten) banana, quite boozy, fruit loaf, earthy, definite bourbon traces, peppery, some nutmeg, sweet milky notes...
Taste - Quite a lot of roasted chocolate malt with a strong whiskey aftertaste, again lots of (fresh) vanilla, peaty / charred wood smoke, light molasses sweetness, spicy nutmeg and black pepper bite, booze is pretty noticeable, dried dark fruits... very well balanced - everything melds very well together...
Feel - Fairly rich and smooth with a little sharp bite just coming through... full bodied... this ones definitely a sipper...
Overall - An excellent example of a barrel aged Impy stout... so well balanced... if only all barrel aging was as good as this... recommended...
1,151 characters
4.12
/5
rDev
+6.5%
look: 4 | smell: 4.5 | taste: 4 | feel: 4 | overall: 4
11.2oz bottle. Batch 007 BB 3/12/08.
Poured a dark brown color with red edges and an averaged sized off white head. Aromas of oak, wood, vanilla, light whiskey, and some earthiness. Tastes of wood, vanilla, whiskey, light peat, caramel, and some dark fruits.
Notes from: 8/16/08
281 characters
4.2
/5
rDev
+8.5%
look: 4 | smell: 4 | taste: 4.5 | feel: 4 | overall: 4
12 oz bottle, thanks Ralph! 007 is Carsebridge 1963.
Pours a very hazy dark brown, almost black, thin off white head forms, drops to a thin ring and leaves some spots on the glass, decent retention. Smell is real nice, very oaky and buttery, toffee, some roast, scotch, raisins, boozy, intense dark fruit, chocolate, oak comes through real nice. Taste is similar, very malty, vanilla and butterscotch, raisins, biscuits, sweet brown sugar, oak, chocolate, light scotch, alcohol is well hidden. Mouthfeel is medium bodied with low carbonation, really nice and smooth. Great barrel aging, the scotch is very well done. Thanks Ralph!
632 characters

3.6
/5
rDev
-7%
look: 3.5 | smell: 3.5 | taste: 3.5 | feel: 3.5 | overall: 4
Picked this up in Edmonton. Batch 007. Mainly black-labelled bottle, with a clever little story describing the method and oak used for the casking. Popping the cap releases a strong mocha odour. Poured into a chalice at room temperature. Paradox is very ebony, very thick, only revealing molasses brown at the edges when held to light. Light brown head appeared briefly and then disappeared. The bottles description of vanilla in the aroma is spot on here. Indeed, instead of the strong roast aroma I was expecting, this almost gives off a wet-cardboard smell at first. The aroma does take on other notes when warmed more I found. Definitely some oakiness, strong licorice, plenty of sweetened black coffee, some lactose notes, and sweet sweet malting. The aromas are all good in themselves, but I have the hardest time coaxing them FROM the beer. Maybe that's what's throwing me off here...the aroma doesn't jump out of the glass. Subdued. Subtle maybe. The first taste is that damp, old beer taste. Extremely low carbonation here. Slick. I do detect the vanilla and bourbon oak though, which adds another dimension to the beer. Again on the taste, a little less bold than the North American versions. A little more laid back, but that's fine. It's their interpretation of the style. Strong vanilla on the back of the tongue. Black coffee, some maple syrup maybe. It's tasty enough, but seems decidedly on the malt side of things. Very little bitterness. It's good, but not great, for me personally. Drinkability is good for me...especially with the low carbonation and masking of the alcohol. Absolutely worth a try, but I won't be sad if I don't buy another for a while. Not essential. But good.
1,698 characters

3.95
/5
rDev
+2.1%
look: 4 | smell: 4 | taste: 4 | feel: 3.5 | overall: 4
A: Pours to dark black, almost no head, minimal carbonation.
S: Sweet, very much like bourbon aged beers,
T: Very sweet, tastes like most bourbon barrel aged beers I've had. All the stout aspects of the beer take a back seat to the sweetness from the barrel aging.
M: Very thin, but it really sticks around, leaving a sweet taste.
O: Not bad, not the best barrel aged beer I've had, however, very enjoyable.
This is a great end of the night beer/sleepy time beer.
Serving type: bottle
494 characters
3.87
/5
rDev 0%
look: 3.5 | smell: 4 | taste: 4 | feel: 4 | overall: 3.5
A - Poured from the 330ml bottle at room temp into a snifter glass. Extremely dark brown with a 1cm fluffy beige head that falls away very quickly.
S - The whiskey notes certainly come through pretty strongly at first followed by quite a sweet vanilla and coffee aroma. Pretty evident oakiness as well as some dark fruit touches.
T - The taste is pretty intense as well; lots of sweet vanilla & oak notes followed by some chocolate & coffee finishing with a smokey whiskey flavour.
M - Medium to full bodied, very low carbonation, slightly sticky lingering smokey & dark fruit whiskey aftertaste.
D - An interesting beer indeed and well worth seeking out. Can't see myself drinking it often though as $18AUS for a 330ml bottle is certainly very expensive.
755 characters
4.15
/5
rDev
+7.2%
look: 4 | smell: 4 | taste: 4 | feel: 4.5 | overall: 4.5
Coming in a slim 330ml slim brown bottle, Batch 007, BB 02/12/08, served cool in Hapkin's branded bulb-shaped sniffer.
A: even after a force pour, the beer head comes up to a thin, soapy tan foam, on top of an nearly black hue with apparently non-existent carbonation.
S: hard to say, but I find the aroma like a rather traditional RIS than a modern "American RIS" - a bit like Harvey's actually. For, the sour smoked black prunes with a fine touch of staleness are mixed well with rather deep and subtle chocolaty black malts, laced with a fine whiff of whisky, tobacco, spicy leather, and bitter herb syrup. Alc. comes very light but still makes a non-negligible presence. The aroma is so settled that even given a swirl, all the elements identified above stay put. All in all, this is not like one's vanilla-packed RIS matured in American white oak barrels, but like a traditional old wooden cask aged RIS with but a subtle tinge of whisky. Interestingly, in a distance the whisky+oaky hints come more pronounced than in a close sniff...?
T: as settled as the nose, the foretaste is surprisingly light, prune-ish, chocolaty, and grainy-malty in a sense, then quietly a delicious undertone of Chinese walnut-date cake develops; the aftertaste continues with the fashion, understated as well, showing a bit more spicy-bitter impact from hops and cask-ageing, leading towards a chewy, lengthy bitter and tobacco-ish finish along with aromatic hints of chocolaty malts. But still, I wonder where the whisky is gone...? Trying hard, the rear of the tongue finally picks up the aroma as of whisky casks, in the most understated manner amongst all whisky-cask aged ales I've had. Also in the swallow, a most subtle warmth gives a feather-light kickback of whisky, or so I imagine...
M&D: the lack of carbonation is not a problem for enjoyment of this mature stout; the much lighter-than-full body, an approachable palate, plus almost non-existence of alc. warmth all point to a much much lighter version of RIS. As said above, overall I find the whisky bit and alc. strength both very hard to pick up on the palate, maybe thanks to how skilfully the ale has matured in the casks?! While this is not a whisky- & oak-packed RIS (much less so than the cask-conditioned version tasted at NWAF 07), the balance and approachability render a truly decent level of enjoyment.
2,364 characters
3.94
/5
rDev
+1.8%
look: 3 | smell: 4 | taste: 4 | feel: 4 | overall: 4
Solid black body with a very wispy black head that manages to form the outline of Greenland. Bizarre, but I'm liking the way this is going. Loads of toasted oak in the aroma (and I mean loads...this is like a woodpile), along with a big dose of vanilla. It doesn't smell like beer, but it sure as hell smells good! Great whiskey character to the taste, with the oak coming out of the gate strongly, with the aforementioned vanilla trailing behind. Slightly sweet caramel notes underpin the rest of the body, and there is also a delicious coffee and cream aftertaste. Restrained carbonation and medium body. I really like this one...its a very well-done barrel aged beer in my book. Big thanks to wildone for this beauty!
720 characters
BrewDog Paradox Grain (Batch 007) - Carsebridge 1963 from BrewDog
Beer rating:
3.87
out of
5
with
13
ratings