BrewDog Paradox Smokehead (Batch 015) - Smokehead

BrewDog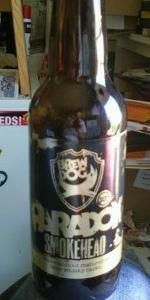 Write a Review
Beer Geek Stats:
| Print Shelf Talker
Style:

ABV:

10%

Score:

86

Avg:

3.77

| pDev:

19.36%

Reviews:

163

Ratings:

From:

Avail:

Retired (no longer brewed)

Wants

Gots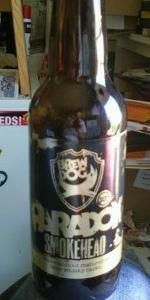 Notes: Identical to Batch 010 as the casks were re-used.
Reviews: 163 | Ratings: 263
4.02
/5
rDev
+6.6%
look: 3.5 | smell: 4 | taste: 4 | feel: 4.5 | overall: 4
Expected extra-dark espresso with translucent body- heavier than iced coffee of course but maybe a little less viscous than a style benchmark. About ½ finger ginger-colored head, which is par for the course for the Portsmouth snifter. Head retention is a little light for the style, while the sparse lacing helps a bit.
Huge intense, peaty Scotch character. It's enjoyable as hell but the only drawback is that it's ALL I'm getting at first. After a while, I do get a little bit of patent tannin as well as very dry dark roasted malt. Very austere cocoa with a small amount of creaminess against small kick of moderate piney hops? Maybe.
Oooh...yeah, sure...this needs time 'cause there's an opportunity for some synergies to be had and the Scotch in this is wicked wicked hot, but there's some creaminess and saltiness that shines through. Patent tannins pile onto the peat and the dry, austere booze of the Scotch cask. Slight brown sugar tone - even more dry than a typical impy that is a little more sweet. But it's coming along nicely.
The mild sweetness on the back end of this brings the offering all together and moderates the patent tannins and the scratchy, peaty woodiness and pininess of the casks and the subtle hopping. Finish may need smoothing out but the intensity and the pleasure of sipping on this are well-represented. Not sure if it's the Scotch or the huge amount of wings I had earlier at Duff's in Buffalo, but something "tastes like burning."
It may be warming that's helping this deal, or maybe I'm opening my mind to some of these innovative vessels for aging, but this is a pretty damn good one that needs time. There's a fair amount of ultradry slate on the back end that dries this up while soaking the layers of it all.
1,758 characters

1.71
/5
rDev
-54.6%
look: 3.5 | smell: 2.5 | taste: 1.5 | feel: 1 | overall: 1
The beer was served lightly chilled in an Imperial Pint glass.
Appearance: The beer has a ruby opaque body to light. The head is a small tan quickly resolving affair. No lacing is noted on my glass.
Smell: The beers aroma is an odd combination of smoke, solvents and medicinal odors. Up underneath all the medical sorts of smells is a suggestion of peat, vanilla and more smoke. The medicinal odors bring this beer down for me.
Taste: Again for me the flavors are an odd combination of smoked medical supplies. I really dont get anything else. Doesnt taste terrible I just dont like it.
Mouthfeel / Drinkability: The body of the beer is slick but seems like someone put a solvent in my beer. Honestly the beer really wasnt drinkable between odd medical aromas and flavors and thin solvent body. In short this beer is not for me. I will allow to warm up to room temperature and try it again but frankly I am done with Brewdog.
930 characters
3.54
/5
rDev
-6.1%
look: 3 | smell: 4 | taste: 3.5 | feel: 4 | overall: 3
pours very dark, almost jet black, not much light getting through. Head, well what head, a few bubbles and a bit of cascade eeffect, but thats it.
smells smokey, peaty, bit of medicinal iodine in there. quite woody, burnt toast.
Tastes, peaty, some more iodine. plenty of smoke and a strong earthy flavour. a very slight burnt toast flavour get's through the peat and smoke.
mouthfeel, good without being great, could do with a bit more body.
Overall, well, im a touch biased being a big islay whisky fan. I thought it was great, very interesting, love the the smokey medicinal peat thing, also love big stouts. so right up my alley, however, not for everyone.
664 characters
3.82
/5
rDev
+1.3%
look: 3.5 | smell: 4 | taste: 4 | feel: 3.5 | overall: 3.5
A - Poured into a snifter a very dark brown with only a minimal amount of bubbley head that falls away to nothing rather quickly.
S - An intense peaty & burnt rubber hits first followed by some dark fruit, woody & vauge dark chocolate & slightly roasty character.
T - Much like the smell but the peat is even more full on. Also lots of woody & dark fruit in the taste.
M - Medium bodied, very low carbonation.
D - While it's not a bad beer it's certainly not something I'd buy again.
I'm very happy that we at least have these barrel aged beers available in Australia I just find the beer qualities are lost amongst the intense Whisky flavours from the barrel aging.
667 characters
1.96
/5
rDev
-48%
look: 4 | smell: 3 | taste: 1 | feel: 4 | overall: 1
Remarkably obsidian black and perhaps perfectly opaque. An odd mix of ultrafine and very large bubbles float atop the darkness in a fairly sturdy beige-ivory head. The nose is full of smoke (obviously), but it comes through in unpleasant ways, like plastic, burning tires, Band-Aids, or hospital equipment. However, there is also a more enticing, meatier side to the smoke, reminiscent of burnt wood and (naturally) peat. Underlying notes of vanilla and toffee and fruit are all but decimated by the barrel. The flavor is similar to the aroma, but weirdly simplified; sweet and smoky with virtually no nuance to speak of. My tongue searches for subtlety and turns up nothing - basically, this is nondescript, somewhat rum-raisiny sweetness inelegantly wed to nondescript, smoky Scotch. I wonder if these two strong, ordinarily complex flavors destroyed each other. On the palate it is quite full, oily, and chewy, which creates a sort of illusion of richness even though the flavor is rather weak. Dry finish. Overall, this is not very good. I may have to use it as a marinade.
1,077 characters

4.32
/5
rDev
+14.6%
look: 4 | smell: 4.5 | taste: 4.5 | feel: 4 | overall: 4
It might help you to know as - a beer fan but not necessarily a fan of Islay whisky - that I'm reviewing this as a fan of Islay whisky. That smoky-tar-burned grass quality that is the calling card of your Laphroigs and whatnot is something I'm pretty fond of, and is a big part of what makes this beer so different. If you DON'T dig it, well.... that crazy smoke taste is all over this beer.
The Brewdog Paradox range is all whisky-barrel aged - in this case from the Smokehead distillery, the newest kids on the island, so to speak. I'll have to grab some of theirs sometime.
Pours almost black without much head - at this ABV it's to be expected. Great lacing though.
Smells massively of those aforementioned whiskies - peat-smoke and tar. There are also fruity, resiny hops in there somewhere in back.
First sip is all smoke and Scotch, a little disconcerting coming from a beer at first. Whether the beer got warmer while I thought about it a bit or I just got used to it I'm not sure, but the big, peaty taste mellows and it all starts pulling together nicely. A little sea salt, leather, prunes, typical chocolate & burnt toast flavors of a strong stout shining through, though no real roast bitterness to speak of. The hops are there too, in the finish, mostly adding a hint of pine and accentuating the wood flavor from the barrel. There's a so much going on it's hard to tell sometimes. Seriously.
Slick mouthfeel with the lower end of medium body. It suits the beer well. No carbonation to speak of.
There's a slight burn in the finish, but not so much alcoholic as "I just smoked 2 cigarettes". Weird. Still VERY drinkable but could conceivably become quite heavy. For best results, save it for the coldest possible evening you're expecting. I have more and I can't wait.
Edit 17 September 2009: Cracked my second one of these tonight. It's a bit chilly out and this seemed just the ticket. Approaching it from the point of view of a guy who's already reviewed it and doesn't need to sit and pick it apart, I can sit back and relax with this one and find it more drinkable than I remember. The harsh cigarette feel is still in the finish, along with pronounced dark fruit I didn't noticed the first time. I've marked drinkability up by 0.5. I want another. THE perfect beer for a relaxing nightcap. Outstanding, seriously.
2,345 characters
3.95
/5
rDev
+4.8%
look: 4 | smell: 4 | taste: 4 | feel: 3.5 | overall: 4
Bottle from Hyde Park.
Poured a black color with a moderate frothy off-white head that mostly lasted and produced fair lacing. Good roasted peaty malt and musty wood aroma. Full body with a smooth texture and flat carbonation. Complex wood and smoke stout flavor with a burnt wood finish of moderate duration.
Interesting earthy and smoky stout.
347 characters
4.19
/5
rDev
+11.1%
look: 3.5 | smell: 4.5 | taste: 4 | feel: 4 | overall: 4.5
Serving date: 2009-03-20. Served in small snifter. Best before: 2010-10-10.
A: Appears to be black, but it is actually dark brown colored and is several shades brighter than many other beers of the same style. Clear liquid. Basically no head, it's rather a small layer of uneven bubbles. The bigger bubbles show some retention, the smaller disappear quickly. Minimal lacings.
S: A pleasant and interesting smell. Plenty of whisky aromas, both sweet and a little bit fruity and smoky (peat, charred wood, smoked ham). The sweet and smokey aromas blend really good and works well with a noticeable smell of malts. Not very complex, but very nice.
T: Big whisky flavors all around. Plenty of smoky flavors - peat, charred wood are very prominent. Beautiful sweet flavors as well, and some seaweed. Subtle roasted malt backbone behind the whisky flavors. Barrel character, leather and a hint of tannins. Faint notes of dark fruits, nice chocolate notes. In the finish, there is a restrained bitterness, malt residuals, lingering whisky notes and most of all a very pleasant taste of salt licorice. All in all, not a very complex taste, but still very nice. The whisky character in this one is absolutely beautiful.
M: Rather full body but quite light considering the style. Minimal levels of carbonation. It actually feels almost boring in the mouth, and - god forbid - almost bland. However, towards the end it seems like the beer opens up a bit and gains some body and viscosity.
D: Despite the average appearance and mouthfeel, this is a really good beer, one of the best whisky barrel-aged stouts I've had. The whisky character is really good and blends well with the flavors coming from the beer itself.
1,711 characters
4.29
/5
rDev
+13.8%
look: 3.5 | smell: 4.5 | taste: 4.5 | feel: 4 | overall: 4
11.2oz brown bottle with a best before date.
Off of a hard rousing pour comes a lightly crackling tan bubbly lace. The tiny bubble have some retention and the big ones that must have captured some fusel oil start popping right away. Peaty, charred wood, lemon oil, fusel alcohol and ripe plum on the nose. Slick and creamy on the palate with a very light carbonation. Big dry malt character tries to stay afloat as the wood and alcohol trait try and smack it down. Modest hopping here which is fine as it is not needed. Peat flavor throughout is lazily dominant letting both the charred wood and roasted malt flavors to come through. Big breath of alcohol though it never runs hot. Finishes with a sweet fusel alcohol, roasted grain and wood tannin ... obviously dry.
I am very impressed with this beer, the barrel qualities never overpower but are present throughout.
870 characters

4.79
/5
rDev
+27.1%
look: 4 | smell: 5 | taste: 5 | feel: 4.5 | overall: 4.5
Although I'm not a huge whisky fan, I have to admit that I do have a taste for the stuff from Islay (Laphroaig, Lagavulin, etc.). So, when I saw this batch-only brew, aged in Islay whisky casks, I had to give it a try. Wow is an appropriate word. Although the appearance is reasonable for an imperial stout (black, thick, thin tan head), it's not particularly remarkable. The smell, however, blew me away. It's a fantastic mix of peat smoke (akin to the Islay whisky) and well made imperial stout. Lots of smoke, wood, char, charcoal, raisins, malt, alcohol, plums, and so it goes. Incredibly complex and powerful aroma. The taste follows suit. Spot on with with aroma. The smoke is wonderfully matched with a big malt flavor and plenty of roasted, burnt grain flavors. Lots of roasted barley, bitter chocolate, oily, thick sensations are abundant. This is one complex and very well balanced beer. It's sweet as well, but not cloying. It also hides it's alcohol quite well, except for a nice warming and the noted scent. Wonderfully drinkable and incredibly complex. Great stuff!
1,079 characters

4.17
/5
rDev
+10.6%
look: 3.5 | smell: 4 | taste: 4.5 | feel: 4 | overall: 4
[email protected]
Apperance: Black as night with almost no head.
Aroma: Peat, Smoke, Roasted malts, Whisky.
Flavor: Chocolate, Roasted malts, Tar, Whisky, Dark caramel, Licorice.
Palate: Nicely balance and not the slap-in-your-face i expected from this. Quite dry. Salt/Sweet.
Best Paradox i've tried so far. Very nice!
319 characters

4.58
/5
rDev
+21.5%
look: 5 | smell: 4.5 | taste: 5 | feel: 4 | overall: 4
Thanks to my brutha Onslow for this tastey mid-afternoon snack.
this brew pours up solid black with a quickly fading bubbly tan head. great retentive lacing. the nose is scotch, pale roasted malts, nicely smokey. the taste is very salty, seaweed, scotch, smoke, peaty. A very dry beer and not boozy at all! medium bodied, low carbo, a thin head lasted through the whole ride. Amazing beer....
393 characters

4.89
/5
rDev
+29.7%
look: 4 | smell: 5 | taste: 5 | feel: 4.5 | overall: 5
Thanks to Reakt for this amazing gift.... where do i begin? ... amazing amazing aroma's, from earth, burnt toast, toffee, smoke, more earth, peat, iodine, whiskey, , truly crazy and dry and delicious ... is almost to complex to fully comprehend... this brew was made for special occasions, like a day off from work after an amazing sunday off watching man utd thrash chelsea 3-0 ...
382 characters
BrewDog Paradox Smokehead (Batch 015) - Smokehead from BrewDog
Beer rating:
86
out of
100
with
263
ratings