BrewDog Paradox Longrow (Batch 018)
| BrewDog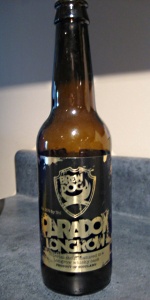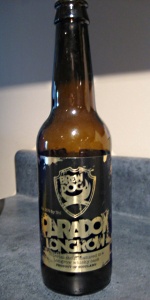 BEER INFO
Brewed by:
BrewDog
Scotland
,
United Kingdom
brewdog.com
Style:
American Double / Imperial Stout
Alcohol by volume (ABV):
10.00%
Availability:
Limited (brewed once)
Notes / Commercial Description:
No notes at this time.
Added by biboergosum on 07-11-2009
This beer is retired; no longer brewed.
HISTOGRAM
Ratings: 7 | Reviews: 5
Reviews by prosper:
4.29
/5
rDev
+6.7%
look: 3 | smell: 4 | taste: 5 | feel: 3.5 | overall: 4
pours a very dark black, with ruby highlights.
Smells of prunes, figs - dary dried fruit, slight hint of coffee-like toast, and peaty smoke.
Taste is an amazing blend of the above elements. Not too sweet, not to smoky, excellent balance.
Mouthfeel is OK - surprisingly light for a 10% ABV beer. Probably a lot of simple sugars in this one. Some sticky malts, and a good amount of alcoholic warming.
Drinkability is pretty good - especially impressive for such a high alcohol beer.
484 characters
More User Reviews:
4.03
/5
rDev
+0.2%
look: 4.5 | smell: 4 | taste: 4 | feel: 4 | overall: 4
The bottle I have is called Paradox Longrow, and has Japanese writing on half the label. Since the Springbank distillery produces the Longrow expressions, this may be the same thing as the Paradox Springbank Batch 17, but in the interest of simplifying things, let's make a Longrow entry, since Springbank does make other whiskys.
This beer pours an opaque black, with reddish-copper edges, and two fingers of soapy beige head, that leaves consistent webbed lacing as it recedes. It smells of bitter roasted coffee, and a little salty, peaty seaside essence. The taste is mildly bitter coffee, chocolate, butterscotch, vanilla, and a slight resinous herbal character. The alcohol is very well integrated, appearing only as a slight overall warming. The carbonation is quite low, the body fairly full, creamy, and a bit slick, and it finishes with a little more of those understated island seaside whiskey notes - salt, iodine, peat.
This is more tame, yet also more balanced, than the previous whiskey barrel RISs that I've had from BrewDog. It's quite enjoyable, a lovely sipper.
1,082 characters

4.15
/5
rDev
+3.2%
look: 4 | smell: 4 | taste: 4 | feel: 4.5 | overall: 4.5
Pours out a deep dark nearly opaque brown hue, faint cola hues when held to direct light. Moderate creamy beige head that settles quickly to a very thin cap. Sparse strings of lacing.
If you enjoy scotch whiskey then you'll take to the aroma quickly, otherwise it becomes the case of a very subjective crap shoot. Wood, peat, some spice, molasses and licorice. Roasted malt appears as it warms.
The mouthfeel stands out first before the flavour, full and creamy smooth.
Vanilla, oak and roasted malt stand out most in the flavour, not presented individually in a linear fashion, but combined together in a sweeping rolling wave of a well-contained flavour profile that seems greater than the sum of its parts. Vanilla coats the lips afterwards, with a sweet boozy malty aftertaste.
An impressive Russian Imperial Stout, as well as a cask-aged ale on its own. Also an easily approachable RIS in its own right for those curious about trying out the style, although it's a curious approach to it. I'll be going back for more of this one.
1,038 characters



4.5
/5
rDev
+11.9%
look: 4.5 | smell: 4.5 | taste: 4.5 | feel: 4.5 | overall: 4.5
This beer was poured into a St. Bernardus chalice, the pour produced a decent tan head on a near black brew. The head recedes quickly to a small white ring of bubbles around the glass.
Great smell of strong malt, whiskey and a slight sweetness.
The taste is awesome, big malty flavours, some chocolate, slight sweetness especially when the beer warms a bit. The whiskey can be tasted but it's very appealing and not overpowering. The alcohol is present and produces a nice warming.
Perfect mouthfeel, thicker with almost no carbonation.
Really great imperial stout.
571 characters

4.69
/5
rDev
+16.7%
look: 3.5 | smell: 4.5 | taste: 5 | feel: 5 | overall: 4.5
From the bottle into a tulip glass - let it warm for almost 20 minutes
Visual (3.5): Extremely dark, with only the faintest ruby hue when held up to the light. Single finger tan head of tight bubbles settles into a film quickly. A lack of real original qualities, but true to the style. Leaves a decent lacing on the tulip.
Aroma (4.5): Peat dominates, with a light smokiness. The Longrow whiskey really hits on the smell providing both the peat dominated smokiness and the whiskey malt undertones.
Taste (5): Wow. Being a little bit of a whiskey drinker I was expecting a real hit with the smokey malts and alcohol. I was wrong. An amazing balance of savoury sweet malts, perfect alcoholic flavour and just the smallest hop bitterness on the swallow. Chocolate (dark), coffee grind, and dark nutty malt flavours really entice the pallet before the peat and light hit of hop last on the pallet. A real winner as an imperial stout.
Mouthfeel (5): Creamy. Beautifully creamy with a thick body and great alcoholic warming that would make its whiskey origins proud. A faint course feel accentuates certain malt flavours, such as the coffee grind and dark chocolate.
Overall (4.5): Highly original and fitted to its style. A perfect balance of malt and alcoholic flavour. The peat flavour from the whiskey cask does not over-dominate but rather invites with it's aroma and compliments the savoury, sweet malt flavours. An expensive one-off ($10+/bottle Canada) but worth a sip on a December evening.
1,499 characters
BrewDog Paradox Longrow (Batch 018) from BrewDog
Beer rating:
4.02
out of
5
with
7
ratings