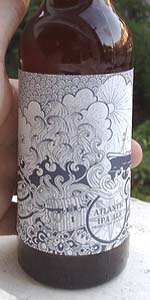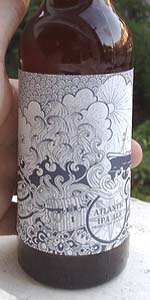 BEER INFO
Brewed by:
BrewDog
Scotland
,
United Kingdom
brewdog.com
Style:
English India Pale Ale (IPA)
Alcohol by volume (ABV):
8.50%
Availability:
Limited (brewed once)
Notes / Commercial Description:
Based on a 210 year old recipe, loaded with classic English hops such as East Kent Goldings and Bramling Cross; 90 IBUs. Then aged for 2 months in oak at sea.
Added by Todd on 08-02-2009
This beer is retired; no longer brewed.
HISTOGRAM
Ratings: 28 | Reviews: 24
3.77
/5
rDev
-1.8%
look: 5 | smell: 3 | taste: 4 | feel: 3.5 | overall: 4
Well, here it is, finally. Into a Portsmouth snifter.
The head is absolutely perfect. Bready, doughy and with depth and muffin tunnels, it sticks around quite a bit, leaving pretty solid lacing. Bourbon-colored body displays very solid clarity while also showing slow, sparse bubble action through the viscosity of it all.
I get a lot of charred, expired oak and almost a roasted dark malt here. It definitely feels old school but it slightly off the radar for today's hop bombs. Speaking of hops...where are they? Seems the barrels and sea have washed them ashore, 'cause they're not really here. (later) With warmth, I'm getting a little more caramel oiliness and maybe a dash of hops. Interesting.
Well, this is a neat little experiment, yes...but again...where the hell did the hops go? Maybe some grass but that's about it. Sure, it's been at sea for a couple of months, aged in barrels...but that's all I'm really getting. Spent malt and oakiness. It tastes GOOD, but if I closed my eyes I'd get...
...OK, we're back on the reservation now. A little more warmth brings out the hop oils...at least some of them...Still a lot more smoky than the average DIPA these days, but it's quite smooth.
Palate feel works pretty well after a while. Sure, there's the dry BBQ char up front, but it gets oily after a while and generates enough pucker to keep it at least somewhat interesting. Dryness: good. Needs a little more oiliness and palate viscosity, though.
Well, it drinks just fine, mind you. Those who have taken a look at this on the shelf understand that it may not be cent-for-cent the best beer in style to say the least. But it's interesting, even if a gimmick. Do I buy another one for no other reason than novelty sake? No...fucking...way...
1,757 characters
3.93
/5
rDev
+2.3%
look: 4.5 | smell: 4 | taste: 4 | feel: 3 | overall: 4
As noted in the first review, this is quite the expensive beer. I poured it into my DFH glass. Swirled in the sediment, I want to get my money's worth. And it does look quite nice: hazy copper, head with some very good stick to it. Indeed, the retention here is excellent.
In the aroma, I pick up a good balance of earthy, flowery hop along with some slight caramelized sugar. It's probably just the power of suggetion, but I could swear I pick up some brine. As it warms, wood comes into the equation with some strength. Whoa, scrap what I said about balance, it's pretty woody.
Hmmm, I was expecting this to be disappointingly close to ordinary, given the maturation process this endured. There is definitely something unusual about this, though. At first, it doesn't taste like much. In fact, it doesn't even come off as all that bitter. Yet, with each sip, the bitterness does build, analogous to a deceptively hot chile pepper. It's a rather dry, flinty bitterness at that - not the juicy grapefruit or pine-resin bitterness of American hops. Beyond that, I find this very woody and powdery, with an underlying minor spiciness that almost comes off to me as cumin. The more I drink, the more woody this seems to get. My word for this beer is certainly "flinty." Again, I'm very sure this is power of suggestion, but I could swear I taste a little salt. All in all, I can't say it is the most lip-smackingly delicious IPA I've ever had, but there are some layers of complexity to it.
In the feel, I am used to some more stickiness out of IPAs. In fact, BrewDog's beers seem thin to me in general.
This was a fun experience, though not worth the money. As it stands, I would probably choose quite a few IPAs over this one, including Meantime's reproduction of the classic English IPA. Of course, I would never turn one down. Don't get me wrong, this is a very good, highly interesting beer....yet I'm sure 95% of you would choose any number of American DIPAs over this. I would count myself among that 95%. Oh, is it easy to drink? Yeah it is. Very easy to drink, though you might feel as though you are drinking pureed dollar bills.
2,144 characters

3.9
/5
rDev
+1.6%
look: 4 | smell: 4 | taste: 4 | feel: 3 | overall: 4
I have to say first thing, that this beer is WAY too expensive. I understand that the conditions under which it was made dictate a higher than normal price, but $26 for an 11.2 ounce bottle that bears a striking similarity to Sierra Celebration is ridiculous.
A:Pours a medium amber with a thin, tight head.Minimal lacing.
S. Smells like a dry, lightly citric,floral, well-balanced IPA. Nothing mind-blowing.
T: Very nice. Sticky, bracing hoppiness. Lightly sweet caramel malts and touches of pine. A little bit of soft oak. Well balanced.
M: Chewy, effervescent carbonation. Medium bodied.
D: I would drink a lot of this if it weren't obscenely overpriced. I don't think hanging the barrels off the side of a fishing boat for a few months added much of anything to the beer's character. As much as I appreciate the inventiveness and initiative of Brewdog, their beers have always been just okay, and too expensive.
921 characters
Atlantic IPA from BrewDog
Beer rating:
3.84
out of
5
with
28
ratings