Avery Brown Dredge
| BrewDog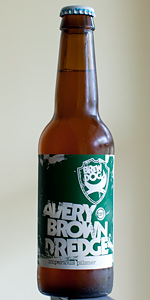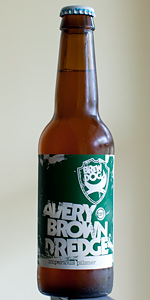 BEER INFO
Brewed by:
BrewDog
Scotland
,
United Kingdom
brewdog.com
Style:
American Double / Imperial Pilsner
Alcohol by volume (ABV):
7.50%
Availability:
Limited (brewed once)
Notes / Commercial Description:
No notes at this time.
Added by mdagnew on 04-17-2011
This beer is retired; no longer brewed.
HISTOGRAM
Ratings: 14 | Reviews: 12
Reviews by Wattsox:
3.53
/5
rDev
+1.4%
look: 4 | smell: 3.5 | taste: 3.5 | feel: 3.5 | overall: 3.5
330ml bottle, consumed May 2011, BBE 2012.
A - Hazy golden body with a large, tightly-bubbled head with good retention, leaving decent lacing and cling.
S - Slightly fruity, floral notes with some hop on the back end of the aroma.
T - Hop notes lead the taste, with some sweeter malts for balance, leading to a lingering bitter finish.
M - Medium body, punchy carbonation with a lingering finish.
O - Overall not a bad one; maybe a little high on the alcohol front for a session beer (7.5% ABV) but nice enough for one or a couple.
536 characters
More User Reviews:


3.6
/5
rDev
+3.4%
look: 4 | smell: 4 | taste: 3.5 | feel: 3 | overall: 3.5
330ml bottle purchased from Slowbeer and poured into a Mikkeller tulip style glass.
Has a orange appearance with a hint of gold about it. Hazy and with a generous glow to it, it has a nice white head of foam that turns to film after a couple of minutes.
Smell is very intense, even for the style. Plenty of ingredients used in this one. Has a strong Euro hop aroma, backed with plenty of sweet malt. Very full on compareed to others of the style.
Taste has plenty of lightly toasted malt flavour, along with a hoppy spiciness that is relatively big.
Mouthfeel is quite full, particularly early and this dies off a bit late to help you take another sip, but probably a bit over the top in this regard.
Bigger isn't necessarily better, plenty going on, some good points to it, but the actual drinking side of it doesn't reach the lofty heights that this could.
864 characters
3.7
/5
rDev
+6.3%
look: 4 | smell: 4 | taste: 3.5 | feel: 4 | overall: 3.5
330mL bottle thanks to
[email protected]
Textbook orange, clear as day, with a finger or so of white fine bubbles which dissipate to a raised ring.
Nose is not at all as expected, being dominated by floral honey, citrus peel and pear aromas I more often associate with Belgian yeast character. Good amount of nutty malts, marzipan and cassia bark. Interesting.
Seriously busy. The combination of aggressive bitterness with the signature Saaz spiciness makes unpacking the flavours quite difficult. The aromas are here, but they're obscured. There's a blur of citrus, hazelnut, marzipan, orange sherbet, pepper, cress, and a strong, clean, Fisherman's Friend character.
Feels light for 7.5%. Spritzy carbonation and a suitably dry finish which keeps the bitterness form lingering.
Quite an interesting brew. Respect the innovation but the hopping seems a little gratuitous for mine.
885 characters

3.68
/5
rDev
+5.7%
look: 4 | smell: 3.5 | taste: 3.5 | feel: 4 | overall: 4
330ml bottle.Lager glass.Enjoyed on jul´11.Light golden.Crown is white, close & lasting.Lacing on sides. Floral & malty aromas.Mildy malty flavor. Gentle sweet buttery character yields to a dry hoppy mouthfeel. Viscosity lingers to the finish.Full body, medium carbonation.Hoppy aftertaste. Good drinkability.
310 characters
3.3
/5
rDev
-5.2%
look: 4 | smell: 4 | taste: 3 | feel: 3 | overall: 3
330ml bottle bought from Gapwines, Belfast
Poured a slightly hazy golden honey colour. Slightly off white head poured fairly thick and foamy with a whipped meringue like top then faded slowly to a good one finger covering which lasted throughout... lots of sticky lacing patches coat the glass all the way down...
Aroma - Spicy tart fruits (oranges (peel?), pears, lime), very grassy (freshly cut), lots of floral notes, sea saltiness, quite rubbery, chalky notes, some soapiness, peppery hop bitterness, very herbal - some hints of basil, some tobacco notes, some graininess...
Taste - Lots of harsh grassy and peppery hop bitterness up front followed by lots of herbal notes, light biscuity malts, some grainy sweetness, metallic notes, light marzipan traces, tart fruits (grapefruit, lime, pear), some alcohol warmth just coming through, faint tobacco...
Feel - Pretty sharp and dry... medium bodied... fairly drinkable at 7.5% but just a bit harsh to want more than one...
Overall - A fairly average brew.. there are much better Impy Pilsners around - Mikkeller's Draft Bear and Birra Del Borgo's My Antonia both show how it should be done... worth a try once..
1,180 characters
2.76
/5
rDev
-20.7%
look: 3 | smell: 2 | taste: 3 | feel: 3 | overall: 3
A: Pours a lovely, cloudy yellow-orange with a dense white head leaving some fantastic lacing.
S:Nutty notes surrounded by bread are apparant on the nose with not much else.
T: Light bread and soft citrus to start out the taste followed quickly by a strong grapefruit note.
M: Has a full mouth feel with a piney bitterniss on the finish.
O: Good and well crafted beer but not really along the lines of a Czech pils. Still liked it though
444 characters
3.3
/5
rDev
-5.2%
look: 3.5 | smell: 3.5 | taste: 3 | feel: 3.5 | overall: 3.5
Deep gold with steady white froth
Toasty bread crust, wet grass, butter and a vegetal herbal scent.
Toasted pan moving to all toast, like pretzels, with big peppery, sandalwood hops. Cinnamon oil and aniseed finish and tingly linger.
Medium, chewy, oily, not crisp.
A bully. A big pilsner in broad strokes, but all toast and spice (continuous Saaz!), no snappiness or subtlety. My Antonia shows how it should be done.
421 characters
3.88
/5
rDev
+11.5%
look: 3.5 | smell: 3 | taste: 4.5 | feel: 3.5 | overall: 4
Poured from a 33cL bottle into a BrewDog cervoise glass. Batch 43. Best before 27 March 2012. From notes. Reviewed 30 May 2011.
A: Bright white head...short-lived. Thin beads of bubbles on the side. Clearish pale gold. Good lacing.
S: Pale maltiness. Grassy. Citrus hops.
T: Shockingly good. Grainy, flavourful-sweet, and one of the best pilsners I've ever had. Still lagery, and sort of straight-forward. That said, the extra alcohol and general over-the-topness made it really nice. A bit citrusy.
M: Drying at times, wet at others. Grainy and fun.
O: Delicious pilsner. Quite strong. Definitely recommended. I might drink again.
636 characters
4
/5
rDev
+14.9%
look: 4 | smell: 4 | taste: 4 | feel: 4 | overall: 4
This brew pours a hazy golden hue with beautiful carbonation that leaves behind a beige tinted two finger creamy head and clingy lacing here and there,the smell is sweet honey,herbal hops,sandalwood and blood oranges,it has a medium bodied creamy mouthfeel and the taste is definately a unique experience and a first for me with hints of honeyed malts,apricots,bitter pink grapefruit,a touch of marzipan,mikan fruit and finished off with a nice hit of spicy,earthy,herbal hops that make themselves well known but the sticky sweet candy malts really sugarcoat the spicy hoppiness beautifully and i have to say it is one different pilsner basically like one on steroids that you will not be able to compare to something else and most likely either love or hate.
759 characters

3.58
/5
rDev
+2.9%
look: 4 | smell: 3.5 | taste: 3.5 | feel: 4 | overall: 3.5
This brew pours out as a rich golden color with a big thick white head that has a decent retention to it. The smell was similar to any other pilsner out there but also had a bit of black pepper on the nose. The taste was good for a pilsner. I normally hate them but this one wasn't bad. It was hoppy enough to cover up the grassy flavor that usually Dominates the pilsner genre. The mouthfeel was good, it was a little heavier than most pilsners with nice carbonation and a slight hoppy bite. I liked this brew.
511 characters

4.17
/5
rDev
+19.8%
look: 4 | smell: 4.5 | taste: 4 | feel: 4.5 | overall: 4
A: Pour is slight hazy golden with a rather large white thick head that slowly sinks into nice lacings.
S: Bready malts, semi-sweet. The Saaz hops smells more German than Czech - must be something with the water in Scotland. Fruity; mostly citric. Bitter.
T: Bitter hops galore! The dry bitterness doesn't feel right considering the Saaz hops - not bad but not what you would expect. Malt with moderate sweetness - nice.
M: Aftertaste is awesome - very like a great German Pilsener; dry bitterness for a really long time. Body is meidum, and smooth. Carbonation is medium.
O: This is actually a really nice Imperial Pilsner; well balanced and with great bitterness.
670 characters

2.9
/5
rDev
-16.7%
look: 3 | smell: 3 | taste: 2.5 | feel: 3 | overall: 3.5
Pours a golden orange filtered beer into the regular half pint brewdog glass. White head, kinda pilsner that disappear very fast.
The aroma is quite hoppy, earthy, you can feel the brtitish hops used in this one.
The taste interesting, malty notes at first that turns smooth. Not that much bitter than i expected. Good carbonation, the aftertaste is honorable for a pilsner. Quite interesting after all.
403 characters
Avery Brown Dredge from BrewDog
Beer rating:
3.48
out of
5
with
14
ratings