Old World India Pale Ale
| BrewDog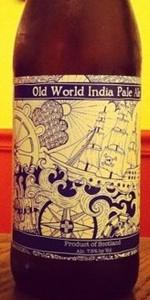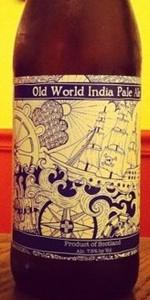 BEER INFO
Brewed by:
BrewDog
Scotland
,
United Kingdom
brewdog.com
Style:
English India Pale Ale (IPA)
Alcohol by volume (ABV):
7.50%
Availability:
Limited (brewed once)
Notes / Commercial Description:
Brewed exclusively for Total Wine.
Added by UCLABrewN84 on 12-06-2011
This beer is retired; no longer brewed.
Ratings: 88 | Reviews: 39
3.85
/5
rDev
+3.8%
look: 3.5 | smell: 3.5 | taste: 4 | feel: 4 | overall: 4
Poured into a pint glass, nice creamy head. the color is copper/amber and teh head is pure white. Carbonation is medium and the nose is of earthy hops and slight caramel. The body is a good malty backbone with a hint of caramel. The hops are earthy and grassy. Their bitterness is much like unsweet ice tea. Easy drinker with good balance.
339 characters

3.82
/5
rDev
+3%
look: 4 | smell: 4.5 | taste: 3.5 | feel: 4 | overall: 3.5
500mL bottle with one of the coolest labels i have seen in a while. batch 440. best before 07-01-13
A: very orange, very clear. fluffy, slightly reddish, but mostly white head is thick. retention is good and the lacing is great.
S: a little bit of smoke. burnt popcorn. earthy. herbal green tea-like hoppy aroma. minty as well. the nuances are subtle, but picking each one out is fun.
T: starts sweet. caramel and bits of marshmallow. there is a solid amount of sweet grain going on here. much sweeter than most EIPA's i have ever had before. a little bit of that burnt, smokey grain comes out towards the finish. as well as some nutty flavors. some hop bitterness tries to peak its head out, but it is still a bit one-note with the malt.
M: moderate, natural feeling carbonation. medium body slightly teetering towards full.
D: really neat brew from BrewDog. cool that they did a brew specifically for Total Wine as well as trying to recreate EIPA's as they were made in the 1800s. the flavor is slightly too one-note on the grain side for me and for this to be an EIPA i want some more hops. if this is how they did it back then, neat, but i still would like some more hops please. otherwise, malt is flavorful and easy drinking.
1,240 characters
3.53
/5
rDev
-4.9%
look: 4 | smell: 3.5 | taste: 3.5 | feel: 3.5 | overall: 3.5
A: This poured a clear copper with fluffy light tan head.
S: It smelled like earthy barley and caramel malt, with some herbal hops and artificial strawberry.
T: It tasted like earthy barley and caramel, with some bitter resin and herbal hops. It had a bitter aftertaste that was a bit buttery.
M: It was oily with moderate carbonation. Decent body.
D: This was not bad for an English IPA, but it had more malt than hops which bothered me. The scent and taste were ok, the body was alright, and the alcohol was pretty well hidden. But the finish was somewhat dirty, so it wasn't super easy to drink. The beer improved as it warmed, but I generally wasn't impressed with it.
672 characters

3.61
/5
rDev
-2.7%
look: 4.5 | smell: 3.5 | taste: 3.5 | feel: 4 | overall: 3.5
A great pour into an imperial nonic,deep rick copper color with a large bllomin white head,great rich color with a long lasting head.This is a true EIPA no doubt about it with its big sweetish malt notes and subdued (to American standards)and subtle leafy hops,still it's not bad and nice for what it is.Caramel/biscuit malt flavors layered in with slightly medicinal and leafy hops,again the hops are more subtle but again it's not bad.I love being smacked around with big left coast hops but I appreciate a good UK IPA,this is prety good.
540 characters
4.18
/5
rDev
+12.7%
look: 4.5 | smell: 4 | taste: 4 | feel: 4.5 | overall: 4.5
I was just thinking the other day, "funny how most modern IPAs would be completely unrecognizable to the English sailors, rulers and merchants of centuries ago," shortly after I was telling someone about why it's called an "India" pale ale. (She asked...I don't go off spouting this crap randomly.) Then I spotted this in a Total Wine store after that. It doesn't say BrewDog on it but looks just like their stuff. Apparently it is BrewDog but credited as JBW 77 for this special/exclusive release. Anyway...
It's certainly a shade or two darker than your modern IPA, having a deep, deep burnt bronze/brown color, while the head is a superbly foamy, creamy. Looks a lot like a double IPA actually, and at 7.5%, it could be I suppose.
Really good nose. Nutty bitterness, as much nut husk as that greenness of fresh hops. A musty vibe permeates, with a healthy dose of toffee to boot. Only the relatively excessive alcohol whiff keeps it from achieving true greatness. It's not medicinal, but is close, and at 7.5% it shouldn't even be close, should it?
Everything the nose hints at comes through in the flavor. Big toffee flavors, hugely bready, bitter nuttiness, hops that are almost astringent in their bitterness, and also something candy-like...and that sweetness helps a lot with balance. There is a slightly medicinal pull to the alcohol, but it's supportive and not oppressive. Wet and slick mouth, even creamier than your average IPA, with a big herbal tea bitterness hanging around in the finish. Love the feel.
Old World IPA It comes close to feeling like a burly English brown, with all that malt character. But the hops keep it wilder and louder. Really like this. It's unique and flavorful, and something to ponder, like most BrewDog beers. And like most BrewDog beers, I seem to like it more than the average BA, but whatever, different strokes and all that. Sign me up for a months-long sail to India, if this is the stuff they're serving. Could probably handle it day in and day out...
2,006 characters

4.57
/5
rDev
+23.2%
look: 4.5 | smell: 5 | taste: 4.5 | feel: 4 | overall: 4.5
appearance: pours a healthy brownish copper/amber, noticeably hazy, well-carbonated with antique-white beady foam that reduces into a similar beady lacing.
smell: aroma is very floral outright, with a crisp tangyiness that tingles the nostrils, all the while giving off a clean essence, well balanced.
taste: begins clean yet bold, with the maltiness becoming apparent on the palate before the hop character comes forth, tangy with a light syrupy-sweetness, finishing with a notably tangy-crisp bitterness that lingers well.
mouthfeel: the slight syrupy-sweetness in the taste is reflected in the body.
overall: very good, prime example of a premium-styled IPA; has everything it should with nothing it doesn't.
715 characters

3.98
/5
rDev
+7.3%
look: 4.5 | smell: 4 | taste: 4 | feel: 3.5 | overall: 4
Tulip
A - Orange/Red/Copper, nice one finger almost frothy head, and very sticky lacing. Head sticks around for quite a while
S - Toasted malts, very sugar sweet, sweet fruit, caramel, wood, soil, slight weed, there is a citrus/piney hops smell that is covered up by the massive malt and sugar, very bready yeast and tons of grain and maybe some wheat
T - Very sugary, lots of pine, wood, citrus, grain, wheat, very nice and huge bitter, has almost a peat flavor when it warms, this is a hugely malty ipa, wow. Lots of bread and biscuit flavors and the bitter is just awesome!
M - Very sticky. Full bodied, balanced, low complexity, medium minus acidity and long finish
D - If you are scared of malt and hops colliding like 2 cars playing chicken, then you might want to stay away. This is definitely old world in every way. Not very refreshing, but full of flavor and goes great with anything sweet and anything fatty. I would give this one a try while it is around. I think it is a total wine and more exclusive
Final thought - If you have $6 and want to take a trip to Europe for an hour for over the cash cause this one will take you on an adventure
1,159 characters
3.24
/5
rDev
-12.7%
look: 4 | smell: 2.5 | taste: 3.5 | feel: 3.5 | overall: 3.25
Poured into a snifter. Label says best before 7-01-13.
A- Pours a reddish amber with a two finger head that slumps down to a 3/4 inch head with some lacing. Good retention.
S- Huh? This is what IPAs smelled like in the old world? Smells like a combination of body odor, hay and manure...at least that's what I think it smells like. Either way, PU!
T- Ok, I think I understand now. The malts are dominant and unique with the hops standing in the background which are also unique. This combination of heavy, uncommon malts along with the also uncommon hop varieties creates a seemingly unintentional roastiness like a porter or even a stout. Yeah, the aroma is still awkward and nasty, but it kind of makes sense with the flavor profile making it bearable to drink.
M- Light and slick. Medium-high carbonation.
O- I'm not a big fan, but I can still appreciate it for what it is. All things considered, my least favorite BrewDog offering so far.
947 characters

3.49
/5
rDev
-5.9%
look: 4.5 | smell: 3 | taste: 3.5 | feel: 4 | overall: 3.5
A: Pours a dark caramel color with a brilliant head, and a nice lacing around the stein.
S: Slightly malty with some herbal and earthy hops.
T: Some nice sweet biscuity malt notes, along with some woody and earthy hops. It has some nice light honey and caramel notes on the back of the tongue.
M: Good mouthfeel. It has a medium carbonation and a nice rich feel.
O: Not bad for an English IPA, but the Dragonslayer from Marina Alehouse in Marina, California-which is near Monterrey, CA- has one of the best English IPAs I have had to date. This IPA is definitely a nice IPA with some nice woody hoppiness and some nice malty, honey notes. I would definitely buy this IPA again.
684 characters

2.87
/5
rDev
-22.6%
look: 4 | smell: 2 | taste: 3 | feel: 3.5 | overall: 3
A-really dark amber. nice light tan head.
S-not too many hops in this aroma. slight hint of salted caramel. really just a super faint taste of malts.
T-comes in with an odd soy sauce grainyness with a touch of crackers and then comes an extreme bitterness. a finish of spice and pepper. very unique tasting, doesn't taste like an IPA. some warmth to the finish.
M-medium carbonation with a warm dry finish
O-very interesting that this is possibly the sort of beer that started the IPA movement. its a far shot from any american IPA, with no hint of hops. it definitely has a good bit of bitterness to it. its not a bad beer, very unique, but it takes a long time to finish
676 characters
3.46
/5
rDev
-6.7%
look: 4 | smell: 3 | taste: 3.5 | feel: 4 | overall: 3.5
Brewed by JBW 77 (BrewDog) for Total Wine.
Batch 448. Best before 1/7/13.
Pours a crystal clear copper orange with a 2 inch puffy sand colored head that settles down to a thin cap. Foamy rings and chunks of lace stick to the glass on the drink down. Smell is of toasted malt, toasted nuts, caramel, and some mild hop aromas. Taste is of toasted malt, some nuts, slight caramel, and very herbal hops. There is a bit of a metallic flavor I am getting too. The bitterness is quite assertive and lingers on the palate long after each sip. This beer has a good level of carbonation with a crisp yet smooth mouthfeel. Overall, this is a pretty good English IPA but it seems out of balance in my opinion.
700 characters
Old World India Pale Ale from BrewDog
Beer rating:
52.3%
out of
100
with
88
ratings