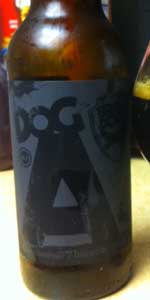 BEER INFO
Brewed by:
BrewDog
Scotland
,
United Kingdom
brewdog.com
Style:
American Double / Imperial Stout
Alcohol by volume (ABV):
15.10%
Availability:
Limited (brewed once)
Notes / Commercial Description:
No notes at this time.
Added by Knapp85 on 11-11-2012
This beer is retired; no longer brewed.
Reviews: 9 | Ratings: 37
4.75
/5
rDev
+11.5%
look: 4.75 | smell: 4.75 | taste: 4.75 | feel: 4.75 | overall: 4.75
I won't say this is the perfect beer, but it is close. It pours with a great dark brown head, but it doesn't last long. The white swirls in the beer are mesmerizing when you swirl the glass. The smell is very nice and I recommend drinking it like a fine wine. This beer has a great combination of chocolate and coffee flavors balanced nicely with naga chili. It is not too sweet. It's 15 percent so it is quite intense. It is for those who love strong intense beers. Once you drink this it is hard to drink anything else the same night.
536 characters
4.55
/5
rDev
+6.8%
look: 4.25 | smell: 4.75 | taste: 4.5 | feel: 4.5 | overall: 4.5
Shared with JLindros at his Birthday Whale Tasting. Reviewed from notes. Waited a LONG time to crack this one. For those who don't know this is an amped up recipe of a, according to BrewDog, one of their best selling beers ever Abstrakt:04.
A - Poured into a Kate the Great tulip a deep dark oily black with an impressive one finger creamy milk chocolate hued head that faded to leave a light creamy halo.
S - OOhhh yeah, this is nice. VERY nice. Wafting aromas of lovely, smokey ghost chili, light bakers chocolate, faint flashes of caramel as well. No alcohol noticeable on the nose. Seriously though, the chili on this is stupendous. Don't fear the ghost!
T - Taste is delicious, just delicious. This is a beautiful chili stout. There are nice dark chocolate notes, light roast malts, and then whammy...the slow building heat of chili. It never gets too overpowering, just a constant reminder that there is in fact those lovely smokey ghost chili. Excellent.
M - Mouthfeel is shockingly good here. Very rich and smooth with virtually no alcohol, which absolutely blows my mind considering the ABV.
O - Overall, yeah, awesome beer. Everyone was so scared/hesitant to try this beer when I told them it was brewed with ghost chilis. Those fears quickly left them when they tried it and saw how well executed this was. A home run for BrewDog, wish I had some more!
1,369 characters

4.38
/5
rDev
+2.8%
look: 4.75 | smell: 4.25 | taste: 4.25 | feel: 4.75 | overall: 4.5
Appearance: pitch black, dense, with a solid dark brown head. OK lacing.
Aroma: very intense, coming straight from the bottle and fills the room. Alcohol strikes first, then comes the roastiness and hints of dark chocolate and cocoa with some coffee in the background. Can't smell the chili.
Taste: again, first comes the alcohol, however that shouldn't bother you at all, because it combines well with everything that comes in second, everything being quite intense roastiness, dark chocolate and coffee. So pretty much it tastes as it smells, but it's soooo good. No chilli again, however I'm a big chilihead so maybe it's just too weak for me, even though they used Naga Jolokia, a chili that for a long time was considered the hottest one on Earth. Bitterness is quite high, coming more from the alcohol than from hops, but it's still very nice.
Mouthfeel: very soft carbonation, almost flat. Full bodied.
Overall: very good Imperial Stout. Didn't try the new, Dog B version, but this one is really good. Beer was bottled on 01.04.2012 so I have no idea if it was supposed to be more hoppy or what, it's been almost 2 years after all. Still, I'm glad I've tried this one and I'm looking forward to Dog B.
Enjoyed from a teku glass.
1,240 characters

4.34
/5
rDev
+1.9%
look: 4.25 | smell: 4.5 | taste: 4.25 | feel: 4 | overall: 4.5
Brewdog 5th Anniversary (Dog A), bottle bought at Cervezorama in Madrid, Spain. Bottled 01/04/12 and consumed in late March '13. 15.50EUR.
Appearance: Served in wine glass, barely a line of mocha-tainted head. Deep oily presence, total darkness.
Smell: Coffee, spice, chocolate, a tad of hops. Brown sugar, liquorice, booze.
Taste: High-quality cocoa beans, then jalapeno. Spicy (hoppy?) finish. Peppery all around, touches of soy, balsamic vinegar. Roastiness.
Mouthfeel: Low carbonation, full body and flavor. Viscous, thick. Very well balanced despide the all-around heft.
Overall: Fantastic taste and balance. Drinkable, the booze is not overwhelming. Expensive but worth trying at least once.
707 characters
4.3
/5
rDev
+0.9%
look: 4.25 | smell: 4.25 | taste: 4.25 | feel: 4.25 | overall: 4.5
330ml bottle, lucky are we in Alberta to have been granted a few cases or so.
This beer pours your basic black, in the abyss or hole variety, as there are no highlights - none up, down, or all around, with two broad fingers of tightly foamy, somewhat bubbly, and near creamy milk chocolate brown head, which leaves but a few forlorn specks of islet lace around the glass as it steadily sinks from sight.
It smells of dry, chalky cocoa, gritty espresso beans, subdued caramel cream, treacle, roasted bell peppers, and a sharp, much spicier green chili twang, one that I think would make my eyes water if I got much closer, and dispels any investigation into the AWOL alcohol. The taste is big up front on the semi-sweet, lush chocolate pudding, followed closely by some grainy caramel malt, raisin-like dark fruitiness, more hard to pin down, musty molasses quasi-sweetness, and lovely smoked fleshy chili peppers - I'd say chipotle, but chipotles have a weird edge that just isn't present here - a lilting spice just seems to cut through the malt heavies and dance across the tongue. The 30-proof+ booze is still conspicuously noticeable by its absence, huh.
The bubbles are rather sublimated, surely going about their business under the radar - perfect for this sort of affair, the body a rather solid medium-heavy weight, smooth without doubt, even in the face of some loitering spiciness, and creamy without any such hangups. It finishes on the sweet side, sure, but the offsetting chili heat, subtle coffee and chocolate notes, and oh so miniscule booze warming do well to create an incredible sense of balance.
Wow. I've had plenty of sub-10% stouts that have at the least a substantial burn, but here, at a rarefied 15.1% - damned near nothin'. Again, wow. The thankfully understated deployment of the Ghost Pepper essence (as it is more commonly known in pepper-head circles) just adds to the perception of dexterity and poise, especially for such a big, big boy. Which poses a question as far as the label's suggestion for cellaring this - why bother? It's perfect in the here and now, and mellowing out the booze quotient seems patently unnecessary. My only complaint might be the north of 20 dollar price-tag, but I suppose that's just a built-in mechanism to keep me from doing something inherently foolish.
2,322 characters

4.26
/5
rDev 0%
look: 4 | smell: 4.25 | taste: 4.25 | feel: 4.5 | overall: 4.25
330ml bottle poured into tulip 5/3/13
A shes a black one with just a thin cola edge, a short lived dark finger of foam leaves no lace but at over 15% I don't expect much foam or lace, leaves a little color on the glass after a swirl
S bakers chocolate and syrup, espresso, caramel, fudge, faint peppers and vanilla with just a hint of booze but nowhere near 15+% and some more chocolate, molasses, and faint char
T still lots of dark roast and a little sweeter then the nose, reminds me of a chocolate liqueur, more booze then I could smell but all things considered the alcohol is very well concealed. mimics the nose fairly otherwise
M faint heat from the chilies builds slowly but it never gets hot, pretty thick and a little syrupy and sticky on the lips, long finish of coffee and chocolate lingers and overall it feels great just a little booze heats impressive considering the strength
O a well put together massive monster, a nice combination of flavors and its quite rich and could be very dangerous because no beer this strong should go down this easy
great stuff but very expensive at over 20$ for a 330ml here in Alberta, I'm glad I tried it but I don't quite understand the massive price tag. I think this one would be something special after a decade or so in the cellar but I don't know if I could pull the trigger a second time
1,354 characters

4.23
/5
rDev
-0.7%
look: 4.5 | smell: 4 | taste: 4.25 | feel: 4.5 | overall: 4.25
Another birthday, another chile beer. Thanks to Chris (wordemupg) for this rare offering. Served in a DryHop taster glass.
A - Nice tan foam settles to a thick collar, leaving behind minimal lacing. Pitch black body.
S - As expected, this reminds me a fair bit of Abstrakt AB:04, although this seems to have less chile intensity to it (odd as the descriptions states there was 3.5x as much). The intense roast, dark chocolate, and coffee flavors are there, but without as much sweet and vegetal chile this gets a tad too charry. Gets a tad sweeter as it warms up, and alcohol is impressively disguised here.
T - The taste is quite similar; it's a big stout with oodles of dark chocolate, coffee, molasses, roasted malts, and some sweeter dark fruit notes that gain intensity as the beer warms up. Chile flavor is present, but I was expected more burn from the Naga peppers; both that and the alcohol heat are conspicuously absent. Don't really get the advertised vanilla either.
M - Smooth, full body, with a creamy texture, lower carbonation, and negligible alcohol. No complaints here.
D - A very nice stout that is miles better than most BrewDog offerings. Still, I'm a little disappointed that the chile wasn't as intense as in AB:04; no one is drinking this beer for it's balance and subtlety - right? I could probably work through the 33cl bottle on my own.
1,368 characters

4.2
/5
rDev
-1.4%
look: 4 | smell: 4 | taste: 4.5 | feel: 4 | overall: 4
This poured out as a jet black color with a thin brown head on top. The head settles and leave a light lacing. There is a big malt aroma with the pepper comes through a little bit, there is also some booze in there too. The taste of the beer has a really nice cocoa flavor from start to finish. The pepper is very subtle but noticeable. The aftertaste is dry and bitter. The mouthfeel is smooth, it's heavy and has a nice light carbonation. Overall it's a very interesting beer, definitely a sipper. Worth a try though.
519 characters

4.19
/5
rDev
-1.6%
look: 4 | smell: 4.25 | taste: 4.25 | feel: 4.25 | overall: 4
12oz bottle generously shared by Matt at our latest whale tasting last night. Poured into a Portsmouth tulip.
A - Pours a very dark brown color, just shy of black...very good clarity when held to the light. Small dark brown collar.
S - Chili peppers...roasted, smoked, chipotle-like...dark chocolate and molasses.
T - Very roasty...chipotle peppers, mild chili warmth, roasted malt, cararmel and dark chocolate. Good pepper flavors without the heat.
M - Super smooth...alcohol is virtually undetectable (how is this possible at over 15%?), nice roasted pepper flavor. Super thick and syrupy in feel...lower carbonation level.
O - This is a very good pepper imperial stout. Super smooth and hides the alcohol amazingly well. This is by far the best Brewdog offering I've had to date.
787 characters
Dog A from BrewDog
4.26
out of
5
based on
37
ratings.