BA SCORE
84
good
11
Reviews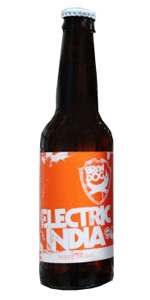 BEER INFO
Brewed by:
BrewDog
Scotland
,
United Kingdom
brewdog.com
Style:
Belgian IPA
Alcohol by volume (ABV):
6.50%
Availability:
Rotating
Notes / Commercial Description:
One day. One brewery. Seven thousand co-creators. Two hundred brewers. The result? Electric India. This beer is the bastard love child of the craft beer revolution.
An unholy union between a Belgian Saison and an India Pale Ale; democratically brewed by our very own Equity for Punks shareholders.
Electric India is a hoppy saison brewed with fresh orange peel, lashings of heather honey, crushed black pepper corns and enthusiastically hopped with mountains of Amarillo and Nelson Sauvin.
A beer for the people, by the people direct from the craft beer republic of BrewDog.
Added by flyingpig on 07-08-2013
Reviews: 11 | Ratings: 73

3.94
/5
rDev
+6.5%
look: 4 | smell: 3.75 | taste: 4 | feel: 4 | overall: 4
[This entry is for the 2015 5.2% release of Electric India. -- "Re-brewed as a spring seasonal, this beer – which appeared originally as an Equity Punk shareholder creation – retains its trademark spicy, fruity edge. A perfect blend of Belgian saison and US IPA, crushed peppercorns and heather honey are also added to give a genuinely unique beer."
From a bottle in Edinburgh.
Fairly strong floral and fruity aroma.
Hard style to get right but BrewDog nails this. Very drinkable. Minimal funk is mostly evident only in the aroma.
Seems to have some teaberry flavor! (probably due in part to having peppercorns in the ingredients, and in part to the yeast).
667 characters

3.82
/5
rDev
+3.2%
look: 4 | smell: 3.75 | taste: 3.75 | feel: 3.75 | overall: 4
Pours with almost no head, just a tiny sticky lacing. Golden orange.
Fruity hops are big in the smell, also vanilla, honey, sweet citrus.
Taste is really fruity, with lots of sweet citrus (tangerine, lime, lots of orange peel, grapefruit), some exotic pineapple, a bit of sour cherries, apricots and banana. Pale malts, but nice sweet honey, with floral notes too. Spicy with some clove, vanilla, prickly peppercorn. Big herbal finish, as expected from the hops, spicy and bitter. There are hints of green grass and hay, but the barnyard funkiness of a saison is lacking.
Almost flat body, with a low fizz helping the pepper pinch. Somewhat buttery, smooth, a bit too oily maybe.
The yeasty feel gets the "Belgian" part right, the hops are typical BrewDog, but not a "saison". Tasty.
783 characters
3.56
/5
rDev
-3.8%
look: 3.25 | smell: 3.5 | taste: 3.75 | feel: 3.25 | overall: 3.5
The colour is straw yellow (5 EBC), the liquid is clear. The finger thick white head quickly sinks down to a thin lid.
The smell is yeasty with hints of soap, spices, lime, pineapples, white currant, orange peel and fresh bread.
The taste is loaded with phenolic spices and clean passing bitterness. Lots of mixed fruits: Gooseberries, orange peels, grapefruit, kiwi fruits and some pineapples. Clean hints of soap. Medium to full body. The aftertaste got notes of citric fruits, green bananas and gooseberries. Hints of apricots and smooth bitterness. The finish is clean with mild spices and green fruits.
The carbonation is quite mild, the large bubbles are short-lived. The liquid is smooth and a little thick.
A pleasant and relaxed Belgian IPA/hoppy saison.
770 characters
3.92
/5
rDev
+5.9%
look: 3.5 | smell: 4 | taste: 4 | feel: 4 | overall: 3.75
Bright brass with a streamer of bubbles up the middle and snow white froth that fades to foam pretty quick.
Flowers, gentle funk, bananas and tangerine peel.
Country white loaf dough and candy sugar sweetness, and mild clove and white pepper hit, then spicy white grape and candied orange fighting it out on the hop front.
Rubbery yeast comeback and lime linger.
Crisp, fizzy, light.
Amarillo and Nelson present and accounted for, I could see the honey, maybe the orange peel, but not the black peppercorns. Not sure why'd you'd spice a saison like a wit, anyway. Overall pretty mild for a mashup - not overly yeasty or hoppy. But round and interesting and easy, so no complaints.
Nice drinker, but not a standout Belgian IPA.
731 characters

4
/5
rDev
+8.1%
look: 4 | smell: 4 | taste: 4 | feel: 4 | overall: 4
Reviewing the 2015 5.2% version of the beer, which is, apparently, different from the older versions.
The pour is hazy yellow with a very tall head (tripel-style) with decent retention. The smell is dominated by flower and citrus notes, along with kneaded dough and the characteristic smell of Belgian yeast. The taste is exactly what was advertised, a hoppy saison. Notes of citrus and tropical fruits do well to complement the honey, spicy and bitter notes of the saison. Light body with medium carbonation. Bitter-sweet aftertaste.
536 characters

3.14
/5
rDev
-15.1%
look: 4 | smell: 3.75 | taste: 2.75 | feel: 3 | overall: 3
This beer had such an interesting flavor that, to me, was so much like something from my childhood, that I had to tell the world what flavor I got... Liquified Flintstones Vitamins. There was a touch of fruity hops, too. But I could barely stomach it. The visual of drinking a lot of vitamins was too much for me.
313 characters
3.49
/5
rDev
-5.7%
look: 3.5 | smell: 3.25 | taste: 3.5 | feel: 4 | overall: 3.5
330ml bottle, Good Spirits Co (Glasgow, £2.80):
Golden straw colour with a fomay looking, half cm head that holds pretty well over the opening minutes.
Tarty and sour to begin with, there is some citrus and lemon plus a helping of yeast and a few nondescript, summery fruits. A good smell but not the most complex saison out there.
Orange and apricot notes to begin along with some strongish citrus flavours and a hint of sourness along with the tarty bits from the nose. There is some lighter yeast as well and an assortment of fresh fruits too.
Spicy with some bitterness and a medium body that boasts solid, strong carbonation. There is a few touches of sweetness throughout from the fruits.
A mixed back really and didn't really strike me as a great beer although it was quite enjoyable and relatively easy to drink. The taste was nice but the beer didn't do much to actually grab my attention and seemed pretty average throughout.
949 characters

3.15
/5
rDev
-14.9%
look: 3.75 | smell: 3 | taste: 3.5 | feel: 2 | overall: 3
BB 7/15
Hmmm. The verbiage promises much, but whilst I can indeed get the orange peel and the saison element that's about it.
It comes across as a sweet n sour saison, with oranges, but not too many hops. No earthiness or barnyard.
And the feel is just sooo watery it's unfunny. At 6.5% it's also a waste.
305 characters

4.1
/5
rDev
+10.8%
look: 4.25 | smell: 4.25 | taste: 4 | feel: 3.75 | overall: 4.25
From a 330ml bottle. 5.2% ABV.
L: Cloudy, dark yellow colour with a massive, open, foaming head. Reasonable retention and some lacing. Streams of bubbles chase up the side of the glass.
S: Lots of yeasty, spicy, citrus notes. Smells sharp and clean.
T: Lemon, honey, spicy Belgian yeast.
F: light body with generous carbonation. Light, dry finish. Hint of sweetness.
O: Very, very smooth. Will be a great summer beer. Much more a Belgian pale ale than a "hoppy saison". The hops are definitely there but they're not as prominent as the marketing blurb implies.
560 characters
3.5
/5
rDev
-5.4%
look: 3 | smell: 4.25 | taste: 3.25 | feel: 3 | overall: 3.5
Pours a pale straw color, clear, and wit ha very small and quickly disappearing white head.
There are citrusy hops in the aroma, slightly sweet as well.
The taste is initially slightly sweet, but immediately a hard bitter taste kicks in. A very strong tasting beer, but still drinkable.
287 characters

4.11
/5
rDev
+11.1%
look: 4 | smell: 4.25 | taste: 4 | feel: 4 | overall: 4.25
Poured into pint glass, looks very clear with moderate carbonation and quickly dissipating head. Smells very pleasant, orange peels are immediate, followed by all sorts of fruits: mango, pineapple passion fruit with a sweet malty background. Hops are only in the background. The fruitiness is also very present on the palate with a dry finish. Moderate carbonation and a medium body. Nice.
389 characters
Electric India from BrewDog
3.7
out of
5
based on
73
ratings.