European-Style Premium Lager
| Burleigh Brewing Co.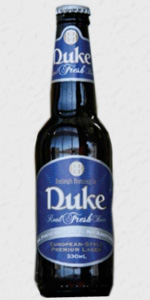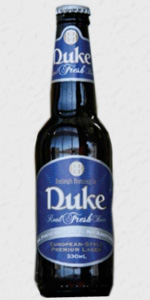 BEER INFO
Brewed by:
Burleigh Brewing Co.
Australia
burleighbrewing.com
Style:
Euro Pale Lager
Alcohol by volume (ABV):
5.00%
Availability:
Year-round
Notes / Commercial Description:
No notes at this time.
Added by lacqueredmouse on 12-15-2007
HISTOGRAM
Ratings: 8 | Reviews: 8
None found.
More User Reviews:
2.42
/5
rDev
-16.6%
look: 2 | smell: 2.5 | taste: 3.5 | feel: 1 | overall: 1
Duke "European-style Premium Lager" 330mL bottle, best before 29.04.08.
Appearance: Pale gold-yellow lager, low head retention, extremely low carbonation. Lacing is patchy and only slightly persistent. Underwhelming first impression.
Smell: With no head, it's hard to get anything out of it, even though it's a warm morning on the Gold Coast and my senses should be at their sharpest. Faintly sweet grassy aromas, maybe a little bit of fruity yeastiness but that's about it.
Taste: Quite refreshing, and sweeter than I anticipated. Peach flavours, some mildly bitter hops, some citrus zestiness. Not overly complex, but satisfying and definitely better than the appearance and smell of the beer would have you believe.
Mouthfeel: Extremely lousy. Since this beer is practically flat the instant you crack the lid, there isn't much to get excited about in the mouth. No fizz, just a bland heavy-water feel in the mouth.
Drinkability: Because it feels like you're drinking dishwater, albeit dishwater that tastes like a good beer, the flat mouthfeel cloys really quickly. I bought a case of these but was disappointed. The first couple of beers are nice and satisfying, but you can't get excited about the prospect of drinking this all night. Which is hard for me to understand, because I love beer, especially craft brewed. Why don't I enjoy drinking this? Because it's flat!
Overall: I've tried this on tap at the surf club as well as in the bottle, and I complained to the bar staff, thinking they hadn't flushed the lines properly or that there was a pressure leak or something. I had a second one after they'd checked everything and replaced the keg, and it was still flat. The first mouthful or two in the schooner glass was great, but it got old fast.
Worth a try I suppose, because there's not much else on offer up here! Although I did manage to pick up a case of Dos Equis for $25 - ridiculously cheap. Even that was more satisfying than this locally brewed craft beer! But overall this is a let-down. I haven't tried the Pale Ale yet though, so I won't write off this brewery altogether.
2,103 characters

2.15
/5
rDev
-25.9%
look: 1.5 | smell: 1.5 | taste: 2.5 | feel: 3 | overall: 2
Pours a very pale straw color with a foamy white head that fades away fairly quickly. There's some floaters in the beer, I'm not sure what they are, they don't seem to be sediment, and the beer isn't cloudy, it's just got some flakes of something floating around in it. Anyway, I figure the alcohol will kill any germs, so on we go. The smell is slightly yeasty, and a little coppery? Could that be what the flakes are? The taste is odd, there seems to be some noble hop flavor there, but mixed with some coppery thin hop (pride of ringwood, maybe?). It's not terrible, but it's not good, either. Mouthfeel is thick, but not creamy, bubbly but not fizzy. Overall, it's moderately drinkable, but for what I paid for it, there's far better beers available.
754 characters
3.5
/5
rDev
+20.7%
look: 3 | smell: 3 | taste: 3.5 | feel: 4 | overall: 4
There's no point pretending this beer is something it isn't. It says it right there on the label; Euro Lager. So you're thinking Heineken, Stella, Grolsch maybe? I was. For my ten cents worth this is much better than all of those (especially the locally brewed versions). If you can get this fresh, it is a simple, dry lager with not a lot of hop action but some grainy notes, decently assertive bitterness and a clean finish that doesn't suffer any of the funky skunk fumes you may find in the green bottle brigade. Overall, it may be over-priced and may not rock your world but it is a well made beer for sure.
Drunk on a hot day, enjoyed with a bag of chips. Tasty
667 characters

3.6
/5
rDev
+24.1%
look: 3.5 | smell: 3.5 | taste: 3.5 | feel: 3.5 | overall: 4
5/10/2012
Bottle simply says Duke Premium Lager but I think it's the same as the European-Style Premium Lager. I spent 3 minutes figuring that out. I want my time back. Whohoah! New cap added to the collection.
A: Pellucid yellow gold with an inch of white foam
S: Lightly floral with a touch of grassiness. Malt is bready and grainy. The nose is clean.
T: Lightly sweet grainy malt with a touch of biscuit and strong Pils character. There's a little lemongrass in the smooth, crisp, clean finish. There's a low bitterness throughout.
M: Upper light body with medium carbonation.
Overall: A nice Euro Lager. Seems very similar to a Munich Helles, which is a tally in its favor. I could drink a lot of this. Ideal for an impromptu outback safari, which is probably what they were going for.
795 characters
2.95
/5
rDev
+1.7%
look: 3 | smell: 3 | taste: 3 | feel: 2.5 | overall: 3
I lost interest in reviewing this mid-glass...
They salient points being:
a) Pale, frothy
s) Grassy/straw, waxy
f) Husky, light honey/light herbs/light bitternes
m) Light
d) Easy, not memorable
Preferable over macros, but I'd look elsewhere for excitement.
256 characters
2.93
/5
rDev
+1%
look: 3.5 | smell: 3 | taste: 2.5 | feel: 3 | overall: 3.5
Explodes on opening. Huge frothy four-fingers of head. Coarse rocky foam, that leaves a bit of sticky lacing. Body is light clear gold with some suspended floaties.
Not much on the nose - a light spice character, perhaps a hint of lemon, or sugar.
Taste is a bit messy. The front palate is almost reminiscent of a Belgian wit, with spice characters dominant and a hint of light toffee sweetness, but the back stings with an unwelcome amalgam of hops and bread yeast. There's some good characters here, but they're a bit unbalanced and the whole thing feels a bit slapdash.
Ends up being like an overhopped wit - I think it needs to be one thing or the other: either spicy-sweet, or dry and hoppy. Together the characters clash.
Overall though, it's actually reasonably drinkable, but I feel as though they need to tone down the schizophrenia here.
859 characters

2.6
/5
rDev
-10.3%
look: 3 | smell: 3 | taste: 2.5 | feel: 2 | overall: 2.5
Format: reasonable brown 330mL bottle, an okay macro label.
Appearance: an enormous, frothy four-fingers of head that slowly sinks to a coarse, rocky finger of foam. Body is light clear gold.
Aroma: very light aroma with spice characters, with a hint of lemon. Something is a little awry
Taste: the front tastes of a Belgian wit, with spice characters and a hint of light toffee sweetness, the back has an unwelcome amalgam of hops and off bread yeast. Unpleasant.
Aftertaste: not quite so bad, the awful bready yeasts have disappeared.
Mouth feel: I would normally approve of lower body and higher carbonation, but in this case it carries the off yeast flavour. Bleugh!
Overall: not a nice beer from Burleigh. I think I'll steer clear of this one in future. What a hit or miss that place is! I'm thinking that perhaps the one I had was from a bad batch?
861 characters
3.08
/5
rDev
+6.2%
look: 3.5 | smell: 3 | taste: 3 | feel: 3.5 | overall: 3
A - Medium golden colour with a couple of centimetres of white head that falls away pretty quickly.
S - Sweet grainy malt, slightly spicy, herbal hops & a cooked corn hint.
T - Along the same lines as the smell.
M - Medium bodied, medium to high carbonation.
D - Not much to get excited about here. I guess there isn't many Australian micros doing lager styles so that's a positive but I'd rather drink their Pale Ale any day.
426 characters
European-Style Premium Lager from Burleigh Brewing Co.
Beer rating:
2.9
out of
5
with
8
ratings