Fanny Gertrude's ANZAC Bickie Beer
| Burleigh Brewing Co.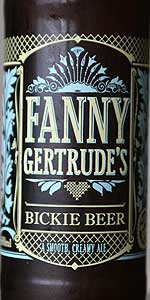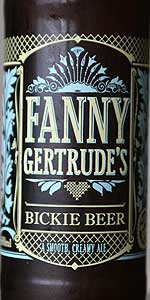 BEER INFO
Brewed by:
Burleigh Brewing Co.
Australia
burleighbrewing.com
Style:
English Brown Ale
Alcohol by volume (ABV):
5.00%
Availability:
Limited (brewed once)
Notes / Commercial Description:
No notes at this time.
Added by dgilks on 02-18-2011
This beer is retired; no longer brewed.
HISTOGRAM
Ratings: 8 | Reviews: 7
None found.
More User Reviews:
3.67
/5
rDev
+23.6%
look: 3.5 | smell: 4 | taste: 3.5 | feel: 3 | overall: 4
Pours dark amber with a large, quickly fading head.
Nose shows vanilla, oatmeal and to a lesser extent, coconut. Also some caramel.
Same story with the flavours, followed up with a mild/plain bitterness.
Could use more carbonation, it's pretty low.
249 characters

3.02
/5
rDev
+1.7%
look: 2.5 | smell: 3 | taste: 3 | feel: 3.5 | overall: 3
Slightly burnished golden amber colour, lack of head really but small trails of lace around. Small, slow bead through the clear body. Looks a bit flat and unimpressive.
Smells very sweet, with nice coconut notes but a darker side that has touches of children's cough medicine about it. Yeah, there's a "dissolved in water" edge to the sweetness; seems weak and simple. Not a bad smell, I like everything that's here but there's not enough and it doesn't bode well for the flavour.
Taste is similar; there's plenty of sweetness with vanilla, coconut, a touch of brown sugar and some molasses but ultimately it's just weak and lacklustre. Slight oatmeal note as well towards the mid, but the finish is short, and fairly watery, with a touch of boozey bitterness. Not enough, however, to save this palate from mediocrity.
Thin feel, I guess but has a bit of texture as it goes down thanks, I'm sure, to the oats used.
Sweet enough and not bad, but I want a lot more flavour and body.
984 characters
3.32
/5
rDev
+11.8%
look: 3 | smell: 3.5 | taste: 3.5 | feel: 2 | overall: 3.5
On-tap at the Local Taphouse as part of the GABS.
Pours a clear golden colour, with almost no head whatsoever--just a gauzey collar of film. Little lacing. Looks decent enough, but still pretty average.
Nose is weirdly chemically, with a sweetness that combines to make it smell like artificial caramel sundae sauce. Thick and sweet, but weirdly bland as well.
Taste is similar. Caramel topping comes through but with a weird sweet astringency like butterscotch schnapps. Some burnt toffee, but it's the only complexity to it. Very light body, and a beer like this needs a lot to back it up. This just doesn't cut it.
It's drinkable, and not unpleasant. It just could have been so much better.
697 characters

2.64
/5
rDev
-11.1%
look: 3 | smell: 4 | taste: 2 | feel: 3 | overall: 2
Again I'm back after recovering from another virus and my taste buds are looking forward to something unique (which is why this ale caught my eye).
Poured from a 650ml "tallie" into a pint glass (not all of it obviously - we'll see how I go).
A: The body poured a nice golden brown, much like the ANZAC biscuit it aims to imitate. The head was a very minimal white lacing but overall I was pleased with the colour of the ale more than anything else.
S: Light dusting of vanilla with a burnt coconut base. There is a malty grain scent underlying the whole operation here but otherwise this ale is as advertised on the bottle.
T: Really quite a let down - and I'll tell you why; the bottle makes grand claims of vanilla, rich coconut and a creamy mouthfeel and I'm getting none of that, just a ho-hum run of the mill malty brown ale with no real excitement or exotic flavours to speak of. Yes if this were a cheaper ale I would be mildly impressed, but at it's price point and factoring in all the crap they wrote on the side of the bottle I am disappointed. What does it taste like? A grain driven malt with a back note of toasted caramel and ne'er a single hop to speak of... if I close my eyes and try really hard I can conjure up a minuscule hint of coconut.
M: Slightly flat, a little creamy bordering on watery.
D: I had my rant above, yeah if was cheaper (and there weren't fine options like LCPA or Stone & Wood available) I would drink it. Would I session up with it? Not really, it's a bit dull and insipid to be frank. My advice: spend your money on Little Creatures or Cooper's Dark Ale (if you want a more appropriate Australian brown ale experience).
Food Match: Something light in flavour to match the ale's uninspired taste... Tofu! In a salad! Without dressing! Maybe also some sort of cottage pie will do... no sauce though, you won't even taste the beer otherwise.
1,888 characters
2.95
/5
rDev
-0.7%
look: 3 | smell: 3 | taste: 3 | feel: 2.5 | overall: 3
As soon as i saw this beer i thought looks interesting nice looking bottle and description bout it but thats where it stops,it pours a lucozade fluro copper hue with average carbonation that leaves behind a fast vanishing one finger head and no lacing,the smell is weak with aromas of caramel,vanilla,oats and some light fruity hops,the mouthfeel is light bodied and watery with hints of biscuty malts,a light touch of cocconut,vanilla and finished with a nutty,fruity finish and overall from what was a great idea they just didnt execute it and would not buy this one again cheers.
582 characters

2.56
/5
rDev
-13.8%
look: 1.5 | smell: 3 | taste: 2.5 | feel: 2.5 | overall: 2.5
Pours amber with a one finger heads that fizzes and dies before I have finished typing this. No lacing. No film. Zero zip zilch. Looks like cordial.
Aromas of bickies (yep!) oatmeal, caramel, hefe yeast.
Taste is hops and bitteness and malts, but the wrong way round. Hops up front, bitter initial palate, sweetness to follow.
Cloying sweetness lingers.
This came in a great looking bomber. Shame about the contents. It's not a brown ale, either... Sad.
457 characters
2.88
/5
rDev
-3%
look: 3.5 | smell: 3 | taste: 2.5 | feel: 3.5 | overall: 3
Deep copper colour with a small, short lasted off-white head.
Really pungeant artificial coconut and vanilla smell. Almost like a stale biscuit.
Very sweet and, again, artificial. I can't get past a thick, sticky coconut note and the vanillin. Over the top and not entirely pleasant.
Medium-full body with moderately-low carbonation.
A nice idea with plenty of possibility. I question the choice of an amber ale as the base beer and I think a slightly nutty brown ale may have withstood the coconut better.
518 characters
Fanny Gertrude's ANZAC Bickie Beer from Burleigh Brewing Co.
Beer rating:
2.97
out of
5
with
8
ratings