FIGJAM
| Burleigh Brewing Co.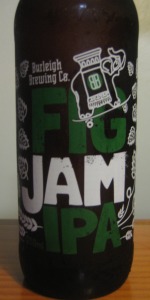 BEER INFO
Brewed by:
Burleigh Brewing Co.
Australia
burleighbrewing.com
Style:
American IPA
Alcohol by volume (ABV):
7.00%
Availability:
Rotating
Notes / Commercial Description:
No notes at this time.
Added by spicelab on 10-21-2012
Reviews: 7 | Ratings: 17
2.33
/5
rDev
-30.4%
look: 2.5 | smell: 2 | taste: 2.5 | feel: 2 | overall: 2.5
Bomber from
[email protected]
Bay.
Bright golden orange with a sudsy off-white head that reaches two fingers with some coaxing. Falls relatively quickly to a bare collar.
Aromas display some familiar candied orange and grassy hop notes, but they're conspicuously muted for an IPA of this freshness and ABV. Otherwise, there's a mild grainy element, doughy yeast and a decent amount of sweet malt character.
Flavours are only a tad better. Plenty of sweet tangerine before a slow transition into mellow resinous pine. The graininess becomes more pronounced, perhaps owing more to the emptiness of the hop presence overall.
Light but relatively syrupy with restrained carbonation. Consistent with every other aspect, it's insipid and unsatisfying for what this beer purports to be.
I'm a huge fan of Black Giraffe and had pretty high hopes, but this was very disappointing. There are more charismatic 5% Pale Ales available in Australia than this. No escaping how pallid this seems in comparison with what the US, NZ and, more recently, Australia have been producing. For all its shortcomings however, it is very easy to drink.
1,125 characters

2.7
/5
rDev
-19.4%
look: 3 | smell: 3 | taste: 2.5 | feel: 3 | overall: 2.5
from Dannos
Pours a light amber. Frothy head of two fingers leaves clingy lace which looks a bit high tide like.
Aromas are fruit salad with mango and apricot to the fore.
Taste is also quite sweet. Fruit to the fore, but hang on, this is supposed to be an IPA?.. Hmm, not a lot of hops, maybe a hint of pine. Dull and stale notes on back palate.
Mouthfeel lightly carbonated and a little oily.
Burleigh make some good beers but this is not at the top of the pile.
470 characters

3.1
/5
rDev
-7.5%
look: 3.25 | smell: 3.25 | taste: 3 | feel: 2.75 | overall: 3.25
A - Pours a slightly cloudy golden orange colour with frothy white that retains well
S - loads of pineapple up front , lemon, tangerine, grainy and a little sour.
T - Tangerine, bitter lemon, with a tangy like slightly bitter dry finish.
M - light to medium body with very little carbonation
O - Ok and nicely balanced but lacks a real hoppy punch required to bring me back for more.
388 characters

3.43
/5
rDev
+2.4%
look: 3.5 | smell: 3 | taste: 3.5 | feel: 4 | overall: 3.5
Bottle: large 650mL brown bottle with a translucent and - for the Burleigh Brewing Co - pretty dodgy label.
Appearance: dark yellow / amber with moderate, sparse carbonation. A fluffy white head pops up and drops to a one-finger creamy head.
Aroma: the typical American IPA elements - grapefruit and pine with a touch of sweet bread malts and earth. Nothing special, to be honest.
Taste: spiky hops comes through, without much in the way of subtlety. Some of those sweet malts come through too.
Aftertaste: those resinous and pine hops come through again. A touch of bitterness as well.
Mouth feel: medium in body with a low to medium carbonation. Sticks to one's teeth on the way through - quite a spiky beer on the way down, but good for one every now and then.
Overall: a pretty standard American-style IPA. The only problem is that it is more expensive than some of the U.S. Imports, and this is from just down the road. At over AU$12 a bottle i.e. Over AU$120 a case of 24 x 330mL (2013), the price is outrageous. Okay for one every now and then, but only when it's on sale.
1,085 characters

3.54
/5
rDev
+5.7%
look: 3 | smell: 4 | taste: 3.5 | feel: 3 | overall: 3.5
Burleigh are to me brewers with promise that somehow miss the mark of their lofty aspirations, such as Fanny Gertrude's ANZAC Bickie Beer; quod erat demonstrandum. However it is because of their lofty aspirations and willingness to experiment that I am willing to give them another chance; enter FIGJAM, an IPA (a style I know well and love) waiting to ensnare me with it's hop-filled glory.
Poured from a 650ml bottle into a nonic pint.
A: Presents a slight hazy golden body with a 0.5cm chalk head.
S: Pine resin hops slap one upside the nose most delightfully. This is backed up by some citrus hop notes, some sweet aromas of tinned pineapple, peaches and pears, with a light sourdough yeast hint at the end. Overall it's a decent balance for what is expected to be a hop dominated brew.
T: That good aroma balance is followed through in the flavour; above tinned fruits, light sourdough, buttery diacetyl, bitter lemon and a sharp pine resin hop finish makes it both an IPA in the vein of the American style and interestingly light enough to be enjoyed by those with less of a palate for an out-and-out hop blitzkrieg. The only downside to this is that the market for an American IPA is already accustomed to being pulverised by a hop onslaught and this beer does not bring that to the table.
M: Mid to light body, slight oiliness with a light carbonation.
D: This one could grow on me if it was cheap and readily available, it's like the American IPA for American IPA drinkers who need a rest from the hop-headiness of other American IPA's. It stands to reason this beer is actually filling a niche market. It also stands to reason that said niche market does not actually exist. You be the judge.
Food match: The buttery flavours and mildly heavy hops would work well with a traditional Indian butter chicken with saffron rice, paneer naan and mint raita... I'm salivating just thinking about it.
1,909 characters
3.95
/5
rDev
+17.9%
look: 4 | smell: 4 | taste: 4 | feel: 4 | overall: 3.75
Pours amber with a fading white head.
Nose shows sweet malt, biscuity and bready malt with earthy, resinous and floral hops leading to orange marmalade characters.
Very similar flavours. Biscuity and bready malt, lots of sweetness followed by resinous hops and marmalade.
Carbonation is a little low.
Real nice understated English IPA.
335 characters

4
/5
rDev
+19.4%
look: 4 | smell: 4 | taste: 4 | feel: 4 | overall: 4
From bottle, Clear light amber with a medium head. Aroma and taste of hops, grapefruit, caramel. Taste pretty much the same as the aroma. Very nice beer.
153 characters
FIGJAM from Burleigh Brewing Co.
3.35
out of
5
based on
17
ratings.