Eerwaarde Pater
| Brouwerij Het Alternatief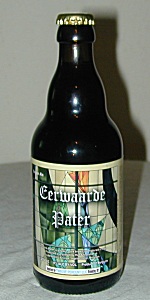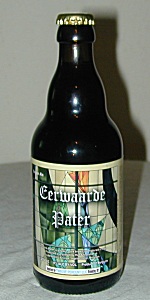 BEER INFO
Brewed by:
Brouwerij Het Alternatief
Belgium
brouwerijhetalternatief.be
Style:
Belgian Strong Dark Ale
Alcohol by volume (ABV):
9.00%
Availability:
Year-round
Notes / Commercial Description:
No notes at this time.
Added by Bitterbill on 12-06-2008
Ratings: 40 | Reviews: 29
3.68
/5
rDev
-2.4%
look: 4.5 | smell: 4 | taste: 3.5 | feel: 3.5 | overall: 3.5
A: The beer poured hazy brown in color with a two finger high off white head that slowly died down but has very good retention properties. A light to moderate amount of carbonation is visible.
S: Aromas of oak really stand out in the nose, which is slightly sour also has some hints of dark fruits and spices.
T: The oak aging seems to contribute a mild amount of sourness. The flavors also have notes of dark fruits (mainly cherries) and herbs.
M: It feels medium-bodied and a bit thin on the palate; there is a light amount of carbonation.
D: It's relatively easy to drink this beer because the alcohol is very well hidden.
625 characters

3.3
/5
rDev
-12.5%
look: 2.5 | smell: 2.5 | taste: 4 | feel: 3.5 | overall: 3
11.2 oz brown glass pry-top squatty bottle. Label notched Dec...yup, that's it. I HATE notched labels. Attention brewers: It NEVER works right. Ever. Luckily, the cap is dated Dec 2010.
Appearance: Pours a hazy mahogany brown with thin off-white suds.
Nose: Nose is fairly closed, but some simple chocolate and red cherry notes come through.
Palate: Some sourness comes right across, a little funk, and the predominant flavor is of milk chocolate covered cherry cordials. The body lacks a little in texture, but the flavor is there.
Notes: A decent brew, but I'm not sold on the quality. I prefer 't Gaverhopke Extra is better and very similar in flavor profile. Check it.
676 characters

4.16
/5
rDev
+10.3%
look: 4.5 | smell: 3.5 | taste: 4.5 | feel: 4.5 | overall: 4
- Labeled as a dark brown ale matured in oak. Cap lot 319. EPA Dec 2010. consumed 1/10.
A: Poured a dark caramel apple coloring with a thick turbid haze that barely allowed a sliver of light through, while micro bran colored yeasty matter lied sparingly on the bottom of the glass. A monstrous 5 finger plus sandstone colored head that was rigid and foamy sits atop with a seemingly everlasting appeal before eventually collapsing into a rocky and towering formation. The capping never falls below a 1 finger topping. A near full sheet coating clings to the glass walls with much resistance while the visible effervesce was explosive causing the micro yeast particles to dance up and down in the glass with much excitement.
S: A soft toasted nuttiness is first evident on the nose along with a good deal of breadiness, almost pancake like with a dried syrup sweetness. No signs yet of the oak maturation yet.
T: The flavor opens with a beautiful caramel nuttiness combined with a yeasty character of liquid bread and flashes of alcohol. Warm cola spicings along with an oaky character, vanilla bean and apple fruitiness also come into play. Moments of dark ripe fruit also come into play. The malting is really luscious being blended beautifully with a Belgian yeasty quality that delivers a solid performance.
M: The mouthful was luscious, nearly full with an incredible amount of carbonation. Swooshes around the tongue with much delight and with incredible ease and silkiness.
D: Drinkability was very nice, if not for the 9.0%abv, which is incredibly well hidden, this would be a fantastic session. Luscious malting with a great Belgian yeast quality gives this the best of both worlds. Drinks more like a Belgian brown then a strong dark ale.
1,757 characters

3.45
/5
rDev
-8.5%
look: 4 | smell: 4 | taste: 3.5 | feel: 2.5 | overall: 3
Interesting beer but not quite my cup of tea. This beer pours a rather dark ruby/brown, transparent though it looks nearly black in the shadows. Big, creamy beige head. Fruity aroma - apricots, plums, berries, cherries. Some caramel and a touch of chocolate. A fair bit of oak sourness, as well. The flavor is surprisingly sour. It's not a real big pucker, compared to a true sour, but it's a surprising, almost difficult flavor to interact with the dark malt and belgian yeast notes. Otherwise, there's a lot of Belgian malt flavor and a relatively dry finish despite a fair bit of sweetness upfront. Unfortunately, the carbonation almost kills it for me. I think this beer suffers from serious over-carbonation. It's chock full of tiny prickly bubbles, all bursting forth as I try to swallow. I think that I would enjoy this beer a lot more with less aggressive carbonation.
876 characters

4.1
/5
rDev
+8.8%
look: 4 | smell: 4 | taste: 4 | feel: 4 | overall: 4.5
A: Light brown/red murky body. Creamy white head which holds steady at one finger for awhile and leaves good lacing.
S: As soon as the bottle was opened I could smell the fruits. Cherries and strawberries are what comes to mind. There are also a few spicy, yeasty notes.
T: Starts off with the fruitiness. Then there's some rich malts in the middle, though I only get them in the sides of my mouth and they're not very strong. A pleasant tart cherry taste is sometimes lurking in the beginning and middle, sometimes isn't, but always makes its presence known towards the end. The aftertaste is a bit of sourness, but goes away quickly.
M: Fairly light for 9%, which I think is good considering the often present tartness.
D: The mild sourness in this otherwise sweet and malty brew is refreshing, and the thinner body make for easy drinking.
Not as complex as I had hoped, but tasty, and one of the easiest brews at 8 or 9% abv to drink that I've ever had. The brewery calls this a bruin, which perhaps should have its own category if it doesn't already, as this is not too similar to most BSDAs I've had.
1,110 characters

3.95
/5
rDev
+4.8%
look: 4 | smell: 4 | taste: 4 | feel: 3.5 | overall: 4
11.2 oz bottle into chalice at 45 degrees.
Healthy, effervescent head fills half the glass, and sits atop a deep ruby/brown body. Fades to steady film with a touch of lacing.
Interesting aromas leading with tart plum, a rich spice, and on to some sweet caramel in the back.
Prickly and powdery mouthfeel, and the flavor has a much more pronounced tart & dark fruit quality than the aroma suggests. Little bit of apple cider and some musty yeast.
This has a surprisingly 'light' character overall for a 9% ABV, and would be a nice compliment to a tomato-centric meal (Italian), or a fruity dessert.
605 characters

3.75
/5
rDev
-0.5%
look: 3.5 | smell: 3.5 | taste: 4 | feel: 4 | overall: 3.5
Super whippedup head of dark tan color, dimples as it dissolves as a swift clip, thick streaks of lacing left behind, eventually settles into foam islands scattered across the surface. Hazily opaque yellow-brown colored liquid, easily visible sediment, might want to stand up the bottle and pour slowly. The first thing which impresses about the nose is the taut, wiry sourness, more inviting than offputting, sour lemons, cocktail bitters, whole cloves and nutmeg, the malts appear dry, like powdered cocoa, not fruity per se, as many raisin and prune scents as cherry or plum. Light-bodied, the sediment does add to a grittier texture, very dry throughout, the carbonation light and moderately active. Sour and yeasty, red cherry, yellow raisin and apricot pits. Brown sugar and carob add a pinch of sweetness. Ends with a swirl of pepper and herbaceousness. Unabashedly idiosyncratic, methinks it would show best with food. As well as closer to room temperature.
965 characters
3.5
/5
rDev
-7.2%
look: 3.5 | smell: 3.5 | taste: 3.5 | feel: 3.5 | overall: 3.5
On tap at Max's during Baltimore Beer Week.
The beer pours a solid brown color with OK head retention and minimal lacing. Don't get a lot on the nose, just some rootbeer and brown sugar. Flavors replicate the nose and I can't say I'm greatly impressed. The beer also has a slight sour component, which I don't think plays well with the other flavors. Furthermore, the beer is a bit watery on the finish, which I find surprising in a 9% abv. beer. The beer is otherwise fairly light on the palate, and while the alcohol is not very noticeable, there just isn't enough flavor to make this very enjoyable to drink. Can't say I'm greatly impressed by this.
653 characters
4.03
/5
rDev
+6.9%
look: 4.5 | smell: 4 | taste: 4 | feel: 4 | overall: 4
Eerwaarde Pater pours a hazy deep chestnut body beneath a massive head of bone white froth. The retention is amazing, and it leaves mountains of lace about the glass. Throughout the serving it maintained a thin cap across the surface.
The aroma is fruity and perfumey (sweet and floral) with a hint of cocoa and some caramel.
The flavor reveals more dark maltiness than the aroma suggests, and that's balanced by a sharp fruitiness (tart berries, juicy apple, cherry) with a bit of tartness. Some spice is present, but it's low-key. There's a cola note; and an herbal edge as well. It's solidly balanced by bitterness from beneath, and it finishes quite dry and tart; and short, only a hint of some very dull spice remains.
Despite a hint of alcohol here and there, it remains very drinkable because it's so interesting. It's reminiscent in some ways of an oud bruin, but it's also got a big bump of bitterness to it. Certainly worth trying.
944 characters
4.2
/5
rDev
+11.4%
look: 4 | smell: 4 | taste: 4.5 | feel: 4 | overall: 4
I poured this one from an 11.2 oz stubby brown bottle into my New Belgium globe style glass. The cap was stamped "EPA Dec 2010 LOT 319".
A= This ale poured (at fridge temp) a hazy amber-brown color with a 1.5" foamy white head. The head settled fairly quickly to a broken skim, but I did get a nice pattern of spotty lace down my glass.
S= Almost vacant while at fridge temp, but once it warmed properly this ale had a nice complex aroma profile. Definite brown malt underneath a fruity/sour cherry note. Some wood and leather in there too. Some spices present, but they were just faint enough to be of unknown origin. Fair amount of alcohol presence when swirled.
T= Very much like the smell, with the odd combination of brown ale maltiness and slightly sour Belgian funkiness playing nicely together. I think the barrel must have imparted a bit of "wildness" to the fermentation. Tart red cherries and a sweet treacle flavor wrapped each swallow almost from start to finish. Speaking of finishes, this one was fairly dry and a bit tart, with some warming alcohol present. Nice!
MF= Fairly thin in body with a constant and effervescent carbonation level. Not quite sharp on the tongue but not soft either.
D= Extremely drinkable in that the 9% abv is really not an issue here. Interesting and pretty complex ale overall. Recommended!
1,340 characters
3.85
/5
rDev
+2.1%
look: 4 | smell: 4 | taste: 4 | feel: 3.5 | overall: 3.5
Bottle. Pours a dark brown with a very small white head. Aroma of sweet fruits (especially apple), applesauce, cinnamon, light spices, molasses, and sweet malt. Flavor is sweet with coffee cake, candi sugar, dark fruits, molasses, and a slightly spicy finish. Full, heavy palate. This is a nice BSA--very interesting and tasty.
327 characters
3.62
/5
rDev
-4%
look: 3 | smell: 3.5 | taste: 4 | feel: 3 | overall: 3.5
11.2oz bottle. Cap stamped Dec 2010.
Poured a deep and cloudy amber color (almost brown) with a smaller sized off white head. Lots of big suspended floaters. Aromas of roastiness, bananas chips, chocolate, caramel, toffee, and lighter spices. Tastes of chocolate, caramel, tart cherries, grape skins, dark fruits, and some sugary sweetness. Had a lighter tart finish which I liked.
383 characters
4.12
/5
rDev
+9.3%
look: 3.5 | smell: 4 | taste: 4 | feel: 4.5 | overall: 4.5
Picked up a single at Abe's Cold Beer for $5. Poured a clear brown with little head and no retention. This is certainly a unique beer and is sort of a hybrid of an American brown ale and dark strong Belgian. I'm sure that wasn't the brewer's intention, but the malts come out very clean and crisp with roast caramel, not at all hidden by yeast-driven flavors like fruit and spice. The oak aging (at least according to the label) adds a mildly acid sour tang that's an not-so-natural, but interesting pairing with the robust dark malt flavor. The aroma is a smoother, inviting caramel and chocolate candy smell. And in the sour aftertaste there's a hint of farmhouse funk. This beer would likely be greatly improved with a year or two of cellaring to let the wild critters grow and develop, you know, if you're into that sort of thing. Overall, a different take on the style and very drinkable. Try this beer.
908 characters
3.88
/5
rDev
+2.9%
look: 4 | smell: 3.5 | taste: 4 | feel: 4 | overall: 4
Pours a quite murky brown with a slightly thick creme head. Nose is mild. Kind of a subdued spice there. Flavor is hearty, but doesn't overpower at all. Defined sweet tone with a fruity character that is more grapefruit and tart fruits than anything. I think I get some grass on the backside? Feel is smooth on liquid with a standard carbonation. This is an easier drinking ale. Nice and hearty with enough going on to keep it pleasurable.
439 characters
4.07
/5
rDev
+8%
look: 4 | smell: 4.5 | taste: 4 | feel: 3.5 | overall: 4
I got this bottle in a trade with Nutbrown. Thanks Alan!
I read the reviews on Rate Beer and they said this was a gusher and it is. Glad I had my glass in the ready. Did not lose a drop.
It has a murky rusty colour with a huge head of foam and lots of lacing. I waited maybe 30 seconds before the foam died down...a welcome surprise.
The smell has strong notes of yeast and fruit tartness followed by some notes of pepper and roasted malts that border on sweet. Nice and complex.
The taste has roasted malt and a good sour fruit and herbal hop flavour up front with very light pepper, and some light sweet malt character hidden way in the background. Very unusual tasting but I favour it. Btw, the second pour was all calm and cool and collected and I didn't have to wait long for the foam before I could take another sip. This really has a nice head on it..a solid 1 inch is as small as it gets.
The mouthfeel is medium for the most part but at times comes across as thin, the carbonation is on the light side and it finishes with some tartness and biterness putting it firmly into the dry category.
Drinkability is good as the 9% abv is *very* well hidden. I could drink, I think, 2 at 1 sitting but not more. A nice one to revisit though.
As I said before, very unusual beer and I can't even begin to give a guess as to how it will be rated when more BAs get their hands on bottles. For me, it worked.
1,412 characters
Eerwaarde Pater from Brouwerij Het Alternatief
Beer rating:
57.5%
out of
100
with
40
ratings