Orkney Blast
| Swannay Brewery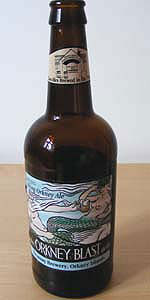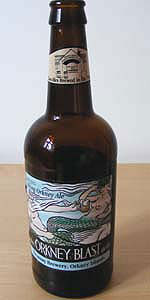 BEER INFO
Brewed by:
Swannay Brewery
Scotland
,
United Kingdom
swannaybrewery.com
Style:
English Strong Ale
Alcohol by volume (ABV):
6.00%
Availability:
Year-round
Notes / Commercial Description:
No notes at this time.
Added by mdagnew on 11-24-2008
HISTOGRAM
Ratings: 14 | Reviews: 10
Reviews by Zimbo:

4.35
/5
rDev
+14.5%
look: 4 | smell: 4 | taste: 4.5 | feel: 4.5 | overall: 4.5
Forms a reasonably easy but thin fluffy white head and pours yellow golden with a nice sexy sparkle. To the eye at first are some large bubbles but these soon disappear being replaced by some fine beading leaving lacing rings in the glass. Quite full bodied but not at all roidish and gives the impression of almost being a blond.
Very nice very long good spicy bitterness which, together with honey flavours, forms a firm and rich chewiness. A real rivalry here between the hops and the malt too. Rugged yet restrained there is depth and power but without at all being extreme. Volumptuous and buxom too.
606 characters
More User Reviews:
3.92
/5
rDev
+3.2%
look: 3.5 | smell: 4 | taste: 4 | feel: 3.5 | overall: 4
A: small bubbles line the edges of the glass from top to bottom. short and moving head, transparent, cough medicine orange. little rising carbonation.
S: Smells like a delicious IPA! Fruity orange, sweet, and not the least bit bitter.
T: Oh, not an IPA. A moderately sour, and there's a citrus rind tartness. An interesting flavor. There's some rubber (like a sneaker) Mild bitterness. Still kind of in the IPA world.
M: Mild stinging depth.
O: Pretty nice ale.
463 characters

3.96
/5
rDev
+4.2%
look: 4.25 | smell: 3.75 | taste: 4 | feel: 4 | overall: 4
Poured from a 500ml into a Speiglau IPA glass.
Look is a light golden orange with a thin slightly tan head with very small bubble.
Lots of biscuit malt on the aroma and not much else. Dry and crackery. Disappointingly not much in terms of hops.
Malt is strong, like a scottish ale. lightly hopped and not very IPA like.
Almost tastes more like a barleywine scottish ale combo. When I think of it as an IPA it disappoints, but when I think of it as a scottish ale it satisfied.
483 characters
3.86
/5
rDev
+1.6%
look: 3 | smell: 3.75 | taste: 4 | feel: 3.75 | overall: 4
My third and final hand-pulled half-pint of Orkney brews in The Plough, Shifnal, during a CAMRA pub crawl on 14th Dec 13.
This was by far the best of the three IMHO: the Dark Munro was fine, the IPA too citrusy for me.
Pours a clear light golden colour with a full white cap.
The aroma was semi-sweet, as was the taste: light malts seemed to give off caramel and butterscotch esters which also carried on into the taste. Nice feel to the whole thing: well balanced as the hop content rears up towards the end of each sip to equal out the sweetness.
The alcohol is well hidden within the flavours and makes the beer far to easy to drink: I prefer slightly sweeter brews, so this suited me fine.
697 characters

4.1
/5
rDev
+7.9%
look: 4 | smell: 4 | taste: 4 | feel: 4 | overall: 4.5
500ml bottle bought GapWines, Belfast...
Poured a clear golden amber / orange colour. Slightly off white head poured fairly thick and foamy then faded quite quickly to light wispy covering. No carbonation bubbles at all... light patchy lacing...
Aroma - Lots of sweet biscuity maltiness, honey, spicy fruits (pears, oranges, pineapples), grassy and piney hops, sea salt, light toasted nut hints, quite earthy, some light rubbery traces, faint marzipan, quite bready and yeasty...
Taste - Lots of juicy ripe fruits (oranges, apples, some figs, plums) mixed with lightly toasted caramel malts, honey sweetness, bready, some of the alcohol just coming through, good spicy and piney hop bite, quite peppery, light nuttiness, salty notes, faint metallic traces...
M&D - Pretty smooth and creamy with a little sharpness underneath... medium bodied... an extremely quaffable brew - dangerously so at 6%...
Overall - An excellent strong ale - this was a nice find... recommended...
988 characters

2.68
/5
rDev
-29.5%
look: 3 | smell: 2.5 | taste: 2.75 | feel: 2.5 | overall: 2.75
4.27
/5
rDev
+12.4%
look: 3.5 | smell: 4 | taste: 4.5 | feel: 4 | overall: 4.5
Nice golden color with some carbonation though no real head to speak of. Very nice malty nose and a nice touch of hops. All about the malt at first then a heavy hand of hops, for a UK beer, comes right on. Very nice biscuit like quality to this one. Lingering hop bite with a nice trace of caramel sweetness. Good mouthfeel, the trailing hop bite leaves a bit of a zing on the tongue. I really am enjoying this one. The bartender in the pub said he thought it was a waste and undrinkable as we got into a discussion of US beers. I sure wish I had bought more then 1 bottle but I can only carry so much home. Damn yummy for me.
626 characters
3.73
/5
rDev
-1.8%
look: 4 | smell: 3.5 | taste: 3.75 | feel: 4 | overall: 3.75
3.7
/5
rDev
-2.6%
look: 4 | smell: 4 | taste: 3.5 | feel: 4 | overall: 3.5
Poured from a 500mL bottle into a Blackthorn pint glass.
A: Golden orange, with clouds of bubbles gusting up from the bottle of the glass causing the almost two fingers of head to roil. The off-white head has good retention and is made up of rather large bubbles. High clarity and good lacing.
S: A lot going on, but rather subdued. Biscuity scents, piny hops, some yeast and spices.
T: Strange, and not entirely to my taste. Honeyed fruit was unexpected and clashes with the bitterer hops. Once I acclimate to it, the fruitiness is increasingly pleasant -- oranges and bananas in the forefront, with perhaps berries in the background. The aftertaste is kind of drying and vaguely metallic, the sweetness having receded. The battle between sweeter flavours and uncompromising hops is one without victors; the battlefield of my tongue is left ruined and despoiled. Not unbalanced as much as schizophrenic.
M: Substantial and tasty. Honey smoothness and hopped dryness.
D: Orkney Blast is too contradictory to win my full approval, but it's an interesting, good beer brimming with flavours and sensations. Approach with caution.
1,131 characters

4.2
/5
rDev
+10.5%
look: 4 | smell: 4 | taste: 4.5 | feel: 4 | overall: 4
I got this beer in a parcel send by my buddy Zimbo, thanks for this treat Craig! Today was my birthday and i opende this bottle for a small tasting of UK beers.
Poured in my La Trappe glass this beer is darkyellow with a light foam and some nice carbonation. Just good!
Bitter taste of the hops and the beer is dry. For this warm weather we had this was a good starter. Still have one bottle left...
402 characters
3.39
/5
rDev
-10.8%
look: 3.5 | smell: 3.75 | taste: 3.25 | feel: 3.25 | overall: 3.25
3.34
/5
rDev
-12.1%
look: 3.5 | smell: 3.25 | taste: 3.25 | feel: 4 | overall: 3.25
500ml Bottle from Drinkmonger, Pitlochry (£3.75):
Interesting stuff from Swannay here, this one is a little more boozy & has more alcohol showing the longer it has to open up but it's a pleasant enough offering with some nice caramel malts & touches of butterscotch coming through as well. The nose was a slight disappointment given how light it was but the taste wasn't a bad one & definitely came through stronger but I doubt it's a beer I'd hurry back to given it never really lived up to its billing as either an IPA or a barleywine sadly.
544 characters

3.99
/5
rDev
+5%
look: 4.25 | smell: 4 | taste: 4 | feel: 3.75 | overall: 4
A - poured a caramel honey bronze, highly active carbonation, soft pillowy cap of white head, amazing retention and great lacing, stunning. 4.25
S - fruity and florals out of the glass, tangerine citrus, fresh floral hop bitterness, nice and aromatic, but balanced against the grainy malt. 4.
T - smooth mineral esters, fruity citrus, dry caramel malt, zesty lemon with a herbal almost minty finish, nice and complex with good balance. 4.
M - moderate, with gentle carbonation, good crispness and a dry grassy finish, quite refreshing. 3.75.
A really nice beer that took a unique take with a really nice fruity floral hoppy profile, great balance throughout. Drinks very nicely.
682 characters
Orkney Blast from Swannay Brewery
Beer rating:
3.8
out of
5
with
14
ratings