Tallgrass Köld
| Tallgrass Brewing Company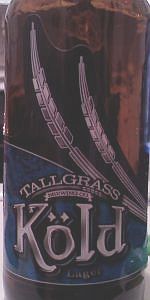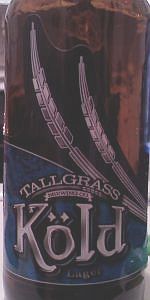 BEER INFO
Brewed by:
Tallgrass Brewing Company
Kansas
,
United States
tallgrassbeer.com
Style:
Kölsch
Alcohol by volume (ABV):
5.00%
Availability:
Year-round
Notes / Commercial Description:
No notes at this time.
Added by russpowell on 07-22-2009
This beer is retired; no longer brewed.
Ratings: 38 | Reviews: 30
2.85
/5
rDev
-18.3%
look: 3 | smell: 3 | taste: 2.5 | feel: 3.5 | overall: 3
Very little head, pale yellow color. Nothing remarkable in appearance or smell. Taste was crisp, metallic, tasted a lot like a Kolsch, which is what I thought this beer was aiming for, judging by the name. I'm just not a fan of that style of beer though. I thought there was some liveliness to the flavor, but it was too dry and metallic for me.
345 characters
2.98
/5
rDev
-14.6%
look: 3 | smell: 2.5 | taste: 3 | feel: 3 | overall: 3.5
OK. So the can would lea me to believe this is a kolsch, but your telling me its a german pilsner, I really o not buy it as either, but thats my deal. Served cold and poured into a pint glass on 07/25/2010.
The pour was decent, crystal clear golden hay in color with a huge and pillowing head of white that quickly fades into a bare top with token lacing down the sides.
Aroma is practically non existent with light floral hops and a touch of light bready grains, but your searching to find it to be sure. Quick hitting the flavor, feel, and drinkability are all fleeting as i could throw this one down in no time.
Overall this is a macro lager clone type beer in my opinion. Decent flavors were there, but there was no full profile and follow through. When its 107 like today it works, but only as a refreshment.
816 characters
3.5
/5
rDev
+0.3%
look: 3.5 | smell: 3.5 | taste: 3.5 | feel: 3.5 | overall: 3.5
Poured from the can a very faint yellow with two fingers of bright white head.
The aroma is lightly hoppy with floral and grainy notes.
Mush like the aroma the taste is mildly hoppy with light cracker and floral touches. Finishes very clean.
Light bodied and a crisp mouthfeel.
Very drinkable but a bit on the lighter side of Pilsners for my tastes.
353 characters
3.07
/5
rDev
-12%
look: 3 | smell: 3.5 | taste: 3 | feel: 2.5 | overall: 3
Does the phrase "Kolsch" have marketability or point toward greater quality than other style names? Where this is a fine Blonde or Golden Ale, it misses major marks when compared to true German Kolsch Biers.
The over-carbonated and fizzy pour doesn't hold much promise and the stark white bubbles quickly rise and equally as quickly, fall. No lacing and really slacking on head formation and retention. Bright yellow look though. Could be mistaken for High Life.
A nice floral hop aroma is burried under high sulfur (match sticks), light vegital, and strong scents of wet grains.
Part malt and part grain flavors remain undecided and weak. Grainy and bitey, the beer has some harsh bitterness and sulfur flaovrs.
The high carbonation, raw sulfurs, and bite causes the beer to be quite harsh to the mouthfeel despite it's watery flavors.
Kold suffers quite a bit throughout, but the floral hop aroma being a bright spot in the session.
939 characters
3.97
/5
rDev
+13.8%
look: 3.5 | smell: 4 | taste: 4 | feel: 4 | overall: 4
12 fl oz bottle poured into my pint glass
Pours a vibrant gold color with a one inch white head. Average head retention with a no lacing noticeable.
The aroma is very basic with hints of grains, citrus hops, honey, and some fresh cut grass.
Taste was slightly sweet upfront with honey and slight citrus hops which consist mainly of some lemon. As it warms some cracker like malts come through.
Mouthfeel is light bodied with average carbonation. Refreshing taste and easy drinking.
Overall it is pretty good and the low ABV makes it a good session beer.
558 characters

3.58
/5
rDev
+2.6%
look: 4 | smell: 3.5 | taste: 3.5 | feel: 3 | overall: 4
Appearance: Poured from the 12 oz bottle into a pilsner glass. The beer is clear and golden yellow in color. A slow pour produces a fluffy white head about 3/4 inch in height. Head fades to a covering on the liquid that leaves a little patchy lacing.
Smell: Scent leans to hop related aromas. I get grassy and citrus hop aromas (lemon) with a little grainy malt (as it warms).
Taste: Light malt backing, with a light hoppy (citrus fruit, perhaps a little lemony) bitter finish. Overall, in line with the style.
Mouthfeel: Light bodied with a moderate carbonation. Still, not too fizzy or bubbly. Crisp and clean finish.
Drinkability: A very drinkable, sessionable lager. THis beer goes down quickly, a wonderful alternative to most macro lagers. I liked it. It's nice to see a bottle beer from Kansas here in Lincoln, worth a try.
834 characters

3.56
/5
rDev
+2%
look: 4 | smell: 3 | taste: 3.5 | feel: 4 | overall: 4
Kold has a more attractive label than its brewery mates. It pours a light, almost white gold that's slightly hazy. Its got a middling white head that bubbles down quickly.
To me this beer smells like bread with a little mold, a bit awkward, but interesting. I'm also catching a tad of sweetness, perhaps honey.
A nice sweet wheat flavor. Light in the mid-palate then an unexpectedly hoppy aftertaste.
Same body as the rest of the Tallgrass products I've tried, a little thin, but it works very well with this "German-style lager."
531 characters
3.48
/5
rDev
-0.3%
look: 4 | smell: 3.5 | taste: 3.5 | feel: 3 | overall: 3.5
Semi-cloudy pour at 40 degrees. Big foamy head. Looks like a great lager, but would have liked to have seen less cloud. Head settles to a lacing. clean.
Musky malt aroma with small hints of pear, caramel and lemon zest. Very small.
I think this beer could use more carbonation. It has a soft malt backbone and refreshing hops presence, but feels a bit soft. A good zing from bubbles could make things crisper. Yet, that's not this style. But within this style it falls short on the malt. It seems crossed between German and Czech pilsener.
Still, this is a good beer. Easy drinking.
585 characters

3.24
/5
rDev
-7.2%
look: 4.5 | smell: 3 | taste: 3 | feel: 3.5 | overall: 3.5
12 oz bottle without any sort of freshness stamp on it. Pours a slightly hazy medium yellow color with a huge cap of airy white foam. Retention is one of the best I have seen on a lager as it leaves a large mesa in the middle of the glass. Lacing is decent as well. Lack of clarity is the only thing keeping this beer from a 5.
Nose is light grainy malts with a notable orange and lemon citric kick. Smells a bit pithy though and a bit too fruity for a German pils.
The fruitiness is not limited to just the citric hops, but rather has a Smartees candy flavor and even journeys in to the realm of 'homebrewy' for lack of a better term. Yeast esters are too prevalent for what should be a crisp, clean lager. The base maltiness is good, carbonation level is perfect and does have some nice hop characteristics to it. Work out some of the kinks on this beer and Tallgrass might have a nice summertime lager on their hands.
922 characters
4.76
/5
rDev
+36.4%
look: 5 | smell: 4 | taste: 5 | feel: 5 | overall: 5
Most describe this as a Pilsener. I think it's a Kolsch because of the slight Wheat taste on the back of the tongue. I'm a home brewer and made a Kolsch this Spring and it had the same hint of Wheat/Grain taste. Mmmh. Damn I love Kolsch.
Clean and crisp.
Pilsener aroma when cold. Kolsch aroma when warmer.
Better then Goose Islands "Summertime".
Tallgrass, if you are reading this, PLEASE make it year round!
Why does the spell checker keep underlining beer style names as misspelled?
490 characters
3.98
/5
rDev
+14%
look: 4 | smell: 3.5 | taste: 4 | feel: 4 | overall: 4.5
I'll be honest- I think everything else from Tallgrass is pretty sub-standard for the style- and I want them to succeed- Kansas desperately needs more good breweries.
Kold is the exception for Tallgrass. It is an excellent German Pilsener. The malt is sweet and the hops are spot on, perfectly balancing the sweet smells and aromas. It probably helps that this is one of the few FRESH German Pilseners I've ever had, but it tops the versions I've had from better Kansas breweries like Free State and Blind Tiger.
I'd highly recommend it- I could have rated drinkability a 5.
578 characters
3.78
/5
rDev
+8.3%
look: 4 | smell: 3.5 | taste: 3.5 | feel: 4 | overall: 4.5
A - Poured out a very fizzy, highly carbonated, pale, golden-yellow color with a small, pillowy, white head of foam. It left some patchy rings of lace.
S - It smelled of caramel, grains, honey and a touch of citrus.
T - This is a nice sweet pils with good caramel and citrus flavors. There is a very subtle bitter hop spice.
M - It was very crisp and sharp. A light-bodied, easy-drinking lager.
D - This is a pretty good pilsener. I'm impressed with this one from Tallgrass.
478 characters
3.54
/5
rDev
+1.4%
look: 3 | smell: 4 | taste: 3.5 | feel: 3 | overall: 3.5
This won a Gold at the recent "American Open Beer Championship" in the German Pils category for what that's worth...
Pours straw colored with 1 finger of pearl colored head. Average head retention & lacing
S: Grassyness, slight signature & perfumy hops
T: Grassyness, crackery notes, lemons, & lemon grass up front. Lemons & some grapefruit sneak through as this warms. Finishes semi-crisp, crackery & a bit watery
MF: Light/medium bodied, soft carbonation & decent balance, thins out too much in the finish...
Drinks easy, but lack of malt depth would fail to keep interested unless I was outside in the heat
615 characters
Tallgrass Köld from Tallgrass Brewing Company
Beer rating:
31.6%
out of
100
with
38
ratings