Dismiss Notice
Dismiss Notice
Rockfish Wheat
| Blue Mountain Brewery
BA SCORE
84
good
33
Reviews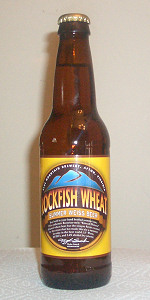 BEER INFO
Brewed by:
Blue Mountain Brewery
Virginia
,
United States
|
website
Style:
Hefeweizen
Alcohol by volume (ABV):
5.40%
Availability:
Year-round
Notes / Commercial Description:
No notes at this time.
Added by Todd on 11-02-2007
Reviews: 33 | Ratings: 104
3.58
/5
rDev
-3.2%
look: 4 | smell: 3.5 | taste: 3.5 | feel: 3 | overall: 4
Pours a clear golden with a rocky head. Good retention.
Aroma is wheat beer like. Yeasty, some notes of citrus, banana.
Taste is wheat beer like...yeasty and citrusy and banana.
Mouthfeel is okay. I think its too watered down. Taste is fine, but the finish makes it have the consistency of water. Even though wheats are supposed to be light, they shouldn't be this thin. Flavor profile is good, though, and it still delivers. Drinkable.
★
441 characters

3.8
/5
rDev
+2.7%
look: 4 | smell: 4 | taste: 3.5 | feel: 4 | overall: 4
A - A finger and a half of creamy and fluffy white head which displays moderate retention but ultimately fades to an appealing lace... Terrific coloring - a rich copper toffee... Some minor moderate carbonation rises throughout...
S - Subtle but quite enjoyable... Subtle wheat... Subtle yeast... Malt in the form of caramel and toffee... Minor fruity and floral accents....
T - Subdued wheat character... Some minor caramel, butter, and toffee notes... A hint of banana...
M - Some minor biting carbonation on the tongue to start... Very smooth... Very even... Fills mouth fully... A bit on the dry side... Medium bodied and quite sturdy by wheat beer standards...
D - A very solid offering and introduction to Blue Mountain Brewery... Would gladly welcome to my beer fridge in the future... A slightly maltier and sweet wheat beer which is quite welcomed by this BA...
★
878 characters
4.07
/5
rDev
+10%
look: 3.5 | smell: 4 | taste: 4 | feel: 4 | overall: 4.5
The liquid is effervescent and clear apricot in color. The off-white head is decent in size, but doesn't stay as long I as would have liked.
The nose is pretty subdued, but I guess that's okay for the style. Just a light whiff of phenols, mostly clove-like.
There is clove is the flavor as well, but it's not as dominate as the nose might lead you to believe. There is a cornucopia of fruit flavors as well, but none are over-powering or even particularly strong. Apple, banana, pear, grapefruit...it's sweet and bitter at the same time. However, true to style, the finish is quite crisp and clean.
The body is medium-light and bubbly throughout.
This is my first of the style, so I'm no expert, but I definitely enjoyed this beer. To my inexperienced palate, this almost seemed like a hopped up hefeweizen. Nice.
★
818 characters
3.75
/5
rDev
+1.4%
look: 4 | smell: 4 | taste: 3.5 | feel: 3.5 | overall: 4
a: allagash weizen glass, one-finger eggshell white head shows good retention, the beer is a clear orange-amber in color
s: full, aromatic wheat body with mild to moderate banana esters and clove phenols, delicately spicy noble hops, a glimpse of guava and other tropical fruits, nice - but some more yeast influence would really help this one out
m: carbonation on the lighter side of medium, light-medium body, the coarse carbonation kinda clashes with the thicker (for a wheat anyway) body
t: wheat body with a light barley presence and some kinda apple-pear-white fig thing going on, underripe banana, I liked this much more on previous tastings - but somethings missing here, it's just kinda...bland, a light dusting of clove in the finish
d: just fine
my first domestic kristalweizen, best by 9/2009, went through a six-pack before realizing I hadn't rated, so I picked up a single from Norm's in Vienna to get that karma
★
932 characters
3.63
/5
rDev
-1.9%
look: 4 | smell: 3.5 | taste: 3.5 | feel: 3.5 | overall: 4
12oz single, given to me by blackie while visiting NORVA and consumed watching the nba draft in charlotte
appearance: served in a standard pint, straw-orange body with a light beige film
smell: crisp wheat, light banana, light malt structure, touch of clove
taste: a nice weizen but not overly flavourful...dry wheat, banana creme, grassy hops, light malt structure. doesnt really distinguish itself
mouthfeel: light
drinkability: good
★
440 characters
4.47
/5
rDev
+20.8%
look: 3.5 | smell: 4 | taste: 4.5 | feel: 5 | overall: 5
12 oz bottle poured into a snifter - fridge - enjoy by 08/2009
Appearance: Pours a hazy dull orange color with a 1" ivory head. Large bubbles proliferate the surface, while small ones make up the body of the foam. Decent retention with some spotty lace remaining on the glass.
Smell: Banana, wheat malt, spicy clove and even some nutmeg. This one smells a lot spicier than most. A tad of hops, but mostly malt.
Taste: Spicy Belgian yeast, banana bread, nutty oils, hops, pepper and clove. A very tasty beer that has plenty of flavor. I love it.
Mouthfeel: Sweet, spicy, yeasty, plenty of lively carbonation, medium body, chewy, bready and a little bit of alcohol to top if off.
Drinkability: Awesome. This would be considered a great beer if it had hype to surround it. A very good example of the style. Worth seeking out to try.
★
834 characters
3.33
/5
rDev
-10%
look: 3.5 | smell: 3 | taste: 3.5 | feel: 3 | overall: 3.5
A: Poured from draft into pint glass. A single
finger head with active carbonation. A light
maize color. Not a cloud in the sky for this
transparent brew.
S: Virtually odorless save for a the slightest
hints of alcohol/malt.
T: Not as candy and bananas as I had expected
from reading other reviews and basic
expectations of the style. There is a herbal
taste on the back of the tongue and the
requisite bananas and sweetness are present
but not overly so.
M/D: This is a thin beer with little body and
comes in a little short on overall
character. I will be much more prone to
choose a good hefe or wit over this version
of the krystal.
★
658 characters
4.07
/5
rDev
+10%
look: 3.5 | smell: 4 | taste: 4 | feel: 4 | overall: 4.5
12 oz. bottle into a pint glass. Best by 8/2009 notched on a black part of the label. Easy to see, which I like very much.
Appearance: A clear straw color with decent carbonation rumbling to the top. White head foams up nicely at first and stays there floating above the body, but doesn't leave a lot of lacing or have much retention.
Smell: Big wheat aromas and esters, with banana cream and bubblegum coming to the forefront. I like it a lot because it's strong, and I'm a sucker for those aromas.
Taste: I like the initial sweet flavors of the banana and bubblegum, then some vanilla and cream and wheat notes, but then it slides into some herbal bitterness, somewhat initially halting the sweetness, but then the flavors linger without the sweetness combined with the nice bitterness. Oddly done really well, I'd say. Not entirely complex, but very tasty and with a finish that doesn't keep you sipping every second to find one.
Mouthfeel: Medium-bodied and coating with great carbonation and nice subtle creaminess.
Drinkability: A highly drinkable version of the style. Complex enough without trying to do too much, and balanced enough to make it great for the weather. This year's batch is coming out at the perfect time. I only got a single bottle, but I wouldn't have minded if it were a six-pack.
★
1,315 characters
4.32
/5
rDev
+16.8%
look: 4 | smell: 4.5 | taste: 4.5 | feel: 4 | overall: 4
A: Poured from a bottle to a weizen glass. Had a yellow-brown color and a cloudy consistency with some sediment. There was a huge, long-lasting head and some good lacing. Not necessarily consistent with kristalweizen style, but good-looking.
S: Had a sweet smell of bananas and other light fruit, combined with wheat.
T: There was the flavor of bananas and wheat up front, with that bubble gum taste going down, that's typical of the style. Surprisingly tasty.
M: High level of carbonation and a smooth finish.
D: This is an tasty beer and one of the best American examples of the weissbier I've had.
★
604 characters
3.88
/5
rDev
+4.9%
look: 4 | smell: 3.5 | taste: 4 | feel: 4 | overall: 4
Bright pumpkin with 24-karat gold edges. True to its style, the beer is perfectly clear. In fact, there aren't even many bubbles disturbing the placidity of the liquid. The ecru hued head looks good enough, managing to stick to the glass in several spots like marshmallow cream.
The nose, although acceptable, isn't a barnburner. Since a lot of the yeasty goodness is filtered out, kristalweizens tend not to be aroma bombs. There's a pleasant fruitiness emanating from the glass that *might* be banana-like if I use my imagination.
Rockfish Wheat actually has a fair amount of flavor. I've had several hefeweizens that didn't deliver this much fruit and spice. It's also more malty than the style average and tastes bigger as a result. A hint of alcohol is contributing to that impression as well. I'd have guessed the ABV at least one percentage point higher.
This stuff would probably be killer if unfiltered. That is, if it had more fruit and spice. The (hefeweizen) banan-o-meter score is 2.0/4.0. Not too shabby, considering. Spicy clove and white pepper, in combination with an alcohol smack and tickle, gives the back end a bracing quality that keeps the drinker fully engaged. RW seems like more of a beer geek beer than a mass appeal one.
The mouthfeel reflects the ingredients. In other words, it's on the chubby side (for the style), maintains its structure throughout, and has enough carbonation to keep things hopping through the final ounce. Well done.
I love drinking previously unheard of beer from previously unheard of craft breweries. Especially when they're as good as Rockfish Wheat. For my money, when it comes to beer, aggressiveness beats timidity almost every time. Thanks ahatcher78.
★
1,715 characters
3.8
/5
rDev
+2.7%
look: 4 | smell: 4 | taste: 3.5 | feel: 4 | overall: 4
Giving this a fresh review, as I don't feel giving one from the sampler was reasonable, so now it's being done from a standard 12 oz. bottle.
A: A clean looking, light golden blonde. Head retains alright, not a lot of lacing.
S: Malts, cloves, sweetgrass. Some bubblegum aromas that float around quite nicely.
T: Bubblegum, clove, and a grassiness. Banana as it approaches the finish, but quite mild. A touch of bitterness towards the finish that seems a little out of place, but still a decent experience overall.
M + D: A little sticky, but not so much as to really damper the experience. As it gets warmer, this has a little more of a draw, and I can see myself having it a few times over the summer. It may start to seem a little bit thick after a few, though.
★
772 characters

4
/5
rDev
+8.1%
look: 4 | smell: 4 | taste: 4 | feel: 4 | overall: 4
Served on-tap in a weizen glass -- BMB has a great glassware arsenal!
A: Slightly hazy orangy-gold with tall off-white head and plenty of lace
S: Soft banana esters, citrus twang of the wheat, and clove
T: Smooth with the typical wheaty tanginess and good blend of fruity sweetness and solid yeast character
M: Very quenching with a little dryness in the finish but very smooth and nicely carbonated.
D: I don't usually go for wheat beers, but I sniffed my friend's sample and went with it because of the softness of the aromas. I was very pleasantly surprised -- I think I will go for round two on my next visit to BMB.
★
625 characters
3.37
/5
rDev
-8.9%
look: 3 | smell: 3.5 | taste: 3.5 | feel: 3.5 | overall: 3
Served as part of a sampler at the brewery in Afton, VA along w/ five other beers (four others brewed there, and one guest beer).
Appearance was very nice, crisp, clear, golden, slightly bubbly, and almost no head, quickly disappearing lacing.
Smell was sweet and fruity, light citrus notes, esters very prevalent - banana, I believe, as well as cloves.
Taste was initially very nice, sweet and crisp, with a refreshing, clean aftertaste - just as in the nose, notes of banana and cloves were prominent.
Mouthfeel was decent, minimal carbonation, crisp, and very light.
Drinkability is not terribly great, however - after finishing with the sampler, I ordered this beer, and found the taste to diminish rather quickly with time, to where I wasn't really enjoying the beer by the time I was halfway through it. Never a good sign. However, it remains an interesting - if typical - attempt at the style.
★
908 characters
Rockfish Wheat from Blue Mountain Brewery
84
out of
100
based on
33
ratings.