Evan Altmighty
| Blue Mountain Brewery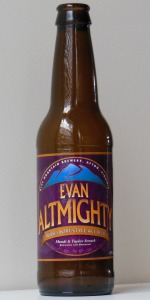 BEER INFO
Brewed by:
Blue Mountain Brewery
Virginia
,
United States
bluemountainbrewery.com
Style:
Altbier
Alcohol by volume (ABV):
6.60%
Availability:
Rotating
Notes / Commercial Description:
34 IBU
Pilsner, CaraPils and Vienna Malts
Hallertau Mittelfruh Hops
Ale Yeast
Deep Well Water
Added by CrellMoset on 01-11-2011
Reviews: 15 | Ratings: 82
3.6
/5
rDev
-5.5%
Review according to BJCP2008 guidelines (style 7C). AROMA: predominant malt aroma. almost absent hop aroma and absent esters. APPEARANCE: Orange copper color, clear, ivory persistent and creamy head. TASTE: well balanced flavour between moderate bitterness and complex malt. dry finish. very low esters, no diacetyl. Finishes dry. very low hop flavours. PALATE: medium to light body and very smooth. no astringency. OVERALL: a very well balanced, bitter and malty ale. requires a bit more hop aromas and flavours.
★
514 characters

3.66
/5
rDev
-3.9%
look: 3.75 | smell: 4 | taste: 3.5 | feel: 3.25 | overall: 3.75
Part of a flight of 10 at the brewery. Pours a light orange-amber color, with a thin off-white head. Initial impression is toasted malt, to the virtual exclusion of any hops presence. Mouthfeel is on the light side of medium - too thin for my tastes. Finish is dry and smooth, but has a sweetish aftertaste.
★
311 characters

3.73
/5
rDev
-2.1%
look: 3.5 | smell: 3 | taste: 4 | feel: 4 | overall: 4
Brewed about three hours south of where I had it, the Whole Foods in Vienna, Va.
Poured into a standard pint.
Slightly yellowish orange amber color, little head or lacing.
Smell is faint, OK.
Taste is more hop-forward than expected for this style (but not from this brewery),;mainly citrus, only a litte bitter. Balanced with adequate malts.
Overall a good, drinkable beer.
★
376 characters
3.73
/5
rDev
-2.1%
look: 4 | smell: 3.5 | taste: 4 | feel: 3.5 | overall: 3.5
Served on tap at Blue Mountain Brewery in Afton, VA.
A: Pours a crystal clear dark copper in color with moderate amounts of visible carbonation and just a hint of garnet red highlights. The beer has a half finger tall light beige head that slowly fades to a large patch of very thin film and a thin ring at the edges of the glass. Moderate amounts of lacing are observed.
S: Light to moderate aromas of light fruit malty sweetness (apple and pear) with some floral and herbal hops.
T: Moderate flavors of toasted malts which give it a slightly nutty flavor that combines with the light fruit malt sweetness (apple mostly but a touch of pear as well). There are light amounts of floral and herbal hops that contribute a light bitterness which fades quickly.
M: Just shy of medium bodied with slightly more than moderate amounts of carbonation.
O: Now I need to state upfront that I have been to Dusseldorf and visited and tried all of the altbiers available there which probably has made me a touch overly critical of the style. I think there was an excellent balance to this beer with the upfront sweetness and light bitterness in the finish. Definitely an enjoyable beer.
★
1,177 characters

3.73
/5
rDev
-2.1%
look: 4.25 | smell: 3 | taste: 4 | feel: 4 | overall: 3.75
$1.99/12 oz bottle at Vintage Estates, Boardman, OH
Undated bottle at 45 degrees into nonic
Aroma faint, toasted malt
Head average (3 cm, aggressive pour), off white, creamy, slowly diminishing to 8 mm ring and irregular layer
Lacing OK – partial curtain and some islands and archipelagoes
Body light amber, clear
Flavor of toasted malt, light; slight bitterness with no hops taste, no alcohol, no diacetyl
Palate light to medium, watery, soft carbonation
Appearance 4.25, Aroma 3, Flavor 4, Palate 4, Overall 3.75
★
517 characters
3.75
/5
rDev
-1.6%
look: 4 | smell: 4 | taste: 3.5 | feel: 3.5 | overall: 4
Served in a 10 ounce water glass at Zinc in Charlottesville.
A: Finger of nice head has decent retention. Lots of persistent bubbles. Clear yellow gold. Gold lacing. Pretty!
S: Fruity-floral hops. Nice and fresh. Distant, lagery whiffs.
T/M: Predominantly malty and smooth. Despite the bubbles, lightly carbonated. Sweet mainbody, with an almost rye-like grain dryness emerging on the aftertaste. Not spectacular, but enjoyable.
O: Nice altbier, if a bit boring. Very drinkable and sure to find wide appeal. I might not have it again, but I suppose I'd recommend it.
★
572 characters

3.83
/5
rDev
+0.5%
look: 4 | smell: 4 | taste: 3.75 | feel: 3.75 | overall: 3.75
Poured a copper body with one- finger head and minimal lace. Caramel & toffee malts in aroma but not much else, including bread/yeast, and has a fuller, slightly sticky body with a bit of a sweet taste. Add a bit of booze and dryness along with hint of fruitiness for the finish and you have a decent beer.
★
306 characters
3.88
/5
rDev
+1.8%
look: 4 | smell: 3.5 | taste: 4 | feel: 4 | overall: 4
12 ounce bottle into pint glass, no bottle dating. Pours slightly hazy/cloudy deep orange/copper color with a 1-2 finger dense off white head with good retention, that reduces to a nice cap that lasts. Nice dense soapy lacing clings down the glass, with a moderate amount of streaming carbonation retaining the cap. Fantastic appearance. Aromas of caramel, brown sugar, brown bread, and toasted biscuit; with lighter notes of nuttiness, plum, apple, herbal, floral, and yeast/toasted earthiness. Nice and pleasant aromas with good balance and complexity of dark/bready malt and light earthy hop/fruity yeast notes; with solid strength. Taste of caramel, brown sugar, brown bread, and toasted biscuit; with lighter notes of nuttiness, plum, apple, herbal, floral, and yeast/toasted earthiness. Light herbal/spicy bitterness on the finish; with lingering notes of caramel, brown sugar, brown bread, toasted biscuit, herbal, floral, and yeast/toasted earthiness on the finish for a good bit. Very nice complexity, robustness, and balance of dark/bready malt and light earthy hop/fruity yeast flavors; with a great malt/bitterness balance and zero cloying flavors after the finish. Light dryness from bitterness, increasing through the glass. Medium carbonation and body; with a very smooth, moderately creamy/grainy, and lightly sticky mouthfeel that is nice. Zero warming alcohol for 6.6%. Overall this is a very nice Dusseldorf altbier. All around nice complexity, robustness, and balance of dark/bready malt and light earthy hop/fruity yeast flavors; very smooth, clean, and easy to drink. A very enjoyable offering.
★
1,616 characters
3.92
/5
rDev
+2.9%
look: 3.5 | smell: 4 | taste: 4 | feel: 3.5 | overall: 4
A - orangish amber color with a thin white head and nice, slick lacing.
S - Smell of caramel and other malts. Faint hops and slightly sweet fruits.
T - A nice mix of traditional hops and malt flavors with the sweet caramel notes at the forefront.
M - Thin-medium bodied, ok carbonation. Smooth.
O - The Evan Altmighty is a nice example of the altbier style. A very pleasant and well-balanced brew.
★
401 characters
3.95
/5
rDev
+3.7%
look: 4 | smell: 4 | taste: 4 | feel: 3.5 | overall: 4
Pours dark bronze with 1 finger of medium white head. Good retention and nice lace points.
Nose is sweet with bread malts. Raisin and fig combine with the bread malts for a nice aroma.
More raisin and fig in the flavor with thick chewy malt body. Hops take a back seat here, with only a suggestion of cascade coming in. Mild finish, with a flash of molasses sweetness very late.
Very thick for the style, but works well as a winter beer.
Overall a tasty representation of the style.
★
488 characters
3.98
/5
rDev
+4.5%
look: 4 | smell: 4 | taste: 4 | feel: 3.75 | overall: 4
A-clear ruddy brown. Short tan lived head leaves no lacing. No visible carbonation
S-robust with roasted malt, caramel sweetness and dark bread
T-rich, caramel malt again with some bread and a nice hint of German hops on the finish
M-smooth. Full but not thick . Pleasant
O- a really good altbier
★
301 characters
4
/5
rDev
+5%
look: 4 | smell: 4 | taste: 4 | feel: 4 | overall: 4
a: shaker pint serving, nutshell brown with a coating of white carbonation showing decent retention
s: dominant aromas of heavily toasted malt give a nice nutty, slightly sweet character, autumn tree fruits -mostly red apple, grassy hops
m: carbonation around moderate - appropriately lively but still smooth, body medium but retaining a crisp feel
t: nice combination of flavorful, nutty toasted malts and a clean, refreshing lager base, a balanced maltiness leaves this one lightly sweet with clean fruit flavors, hops grassy and light impart a nice cleanliness the the finish
d: easy - a flavorful lager with plenty going on to keep things interesting, nice balance for a malty lager, it's tasty and well crafted as are most offerings from Blue Mountain
draft at Galaxy Hut
★
781 characters

4.02
/5
rDev
+5.5%
look: 3.5 | smell: 4 | taste: 4 | feel: 4.5 | overall: 4
Served on-tap in a clear glass Shaker pint at Blue Mountain Brewery (Afton, VA).
A: Light amber with a short, 1/2-finger nearly white head leaving a touch of lacing around the glass.
S: The aroma is balanced with herbal, floral noble hops and light fruit maltiness with pear and apple flavors coming through most.
T: The flavor is more alive than the aroma with a much more floral and herbal hoppiness. The pale maltiness is substantial and provides more than enough grain and mild sweetness, but the hops pack more punch with a lemon blossom quality.
M: This beer has a great feel with moderately high carbonation and a light-medium malty body.
O: This is a really nice brew that could be a good 2-3 pint session brew at BMB. It packs hoppiness, maltiness, and a smooth, drinkable feel into one package.
★
809 characters
4.12
/5
rDev
+8.1%
look: 3.5 | smell: 4 | taste: 4 | feel: 4.5 | overall: 4.5
Brewed with Pilsener, Munich, and Caramel malts and hopped with Hallertau, this traditional altbier was named in honor of the brewmaster's and his wife's new son. Served out of a growler in to a fluted pint.
Appearance: Pours a bright, clean, filtered copper, sort of that perfect halfway mark between light, fizzy orange and robust amber that evokes both the body of the latter and the refreshing quality of the former. It's a nice, balanced color, interrupted by plenty of active, large-bubbled effervescence and marred only by a head with alarmingly poor retention. A turbulent, almost violent growler pour yielded a finger of slightly off white head that surged for about twenty seconds before it faded in to only the faintest hint of a collar and little else.
Aroma: Clean, crisp fruits dominate the warmed nose on this one. They're lively and intense, but not particularly high or low in the register - apple-like, mainly, with hints of banana, cherries, and even mushroom (in its earthiness). The maltiness is secondary here, roasty, bready.
Taste: Like a roasted Kolsch, precisely as the menu describes it. You can definitely taste the similarities. The malt foundation is the dominant flavor note here, relatively dry, roasty, toasty (largely by virtue of the dryness, not the level of kilning). Caramel, toast, and husky brown sugar mingles beautifully with yeast overtones, suggesting bright fruits, buttery pears and apples. A slight yeasty spiciness melds beautifully with the fruit and the roast to suggested baked cinnamon apples, or perhaps, more appropriately, baked cinnamon apples in a baked cinnamon apple cobbler, golden brown, very bready and wholesome. It's all incredibly clean and crisp, bright and burnished. Fairly flavorful for the amount of cleanliness too.
Mouthfeel: A great feeling beer at first, with a nice amount of evenhanded lift for a near perfect mouthfeel, though the carbonation dies down a little too quickly for me, I think. The end result is a still-even though slightly less lively, vivacious brew with a body of moderate thickness and a little bit of slickness that manages to amplify the flavors above adequately.
Drinkability: So I notice something I'm doing with drinkability as I've reviewed BMB brews, and I think it's been a little unfair of me. Whenever I have a Blue Mountain Kolsch and think about how drinkable it is, I realize that - though I'm mostly thinking about the beer itself - I'm also evoking memories out sitting outside the brewery tasting room in the shadow of the Shenandoah Mountains in beautiful Nelson County, VA, gazing out over the Cascade hop fields and the neighboring bucolic farms and vineyards, soaking up the perfect 78 degree late August afternoon air as it blows down Skyline Drive and the Appalachian Trail. Essentially, I'm thinking about how perfect that beer is for that time and for that place, and how perfect that place is. And you know what? I'm ok with that. I'm ok with rewarding a beer brewed for outside summer drinking with an enhanced drinkability score because it reminds me - even when I'm not drinking it outside during the summer - of how perfect it is to drink it in the manner in which it was intended to be drank. This beer offers something similar to me, though with a cold winter twist. That is, it's a rustic, roasty, earthy brew, traditionally brewed and laid down over the winter for early new year enjoyment ... and I can imagine few things nicer than sipping one on a chilly January evening, awaiting tonight's snowstorm, relaxing with friends. There are few experiences I can point that bring the importance of drinking (and eating, for that matter) seasonally (and locally). Soapbox aside, this is just a superbly well made, easy drinking beer, flavorful, relatively low in abv, and one I hope BMB makes again next year.
★
3,840 characters
4.23
/5
rDev
+11%
look: 4.5 | smell: 4 | taste: 4.5 | feel: 4 | overall: 4
Lovely golden amber color. On the nose- rich malt and barley with a caramel overtone. Leaves a slight lace on the side of the glass. Lively and rich, extremely drinkable with a nice complexity that prevents it from being boring. One of the better VA session beers that I've tried. Purchased a growler on draft to go at The Wine Seller.
★
335 characters
Evan Altmighty from Blue Mountain Brewery
3.81
out of
5
based on
82
ratings.