Rise Up Red
| Hopworks Urban Brewery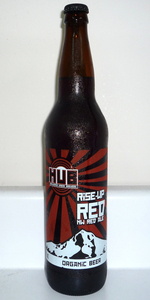 BEER INFO
Brewed by:
Hopworks Urban Brewery
Oregon
,
United States
hopworksbeer.com
Style:
American Amber / Red Ale
Alcohol by volume (ABV):
5.80%
Availability:
Summer
Notes / Commercial Description:
No notes at this time.
Added by RedDiamond on 07-12-2009
Reviews: 62 | Ratings: 151

4.22
/5
rDev
+7.7%
look: 4 | smell: 4.5 | taste: 4 | feel: 4 | overall: 4.5
650ml bottle purchased by my dad at The Brewery Creek Liquor Store in Vancouver, British Columbia. Shared with mrmanning. Pours a brilliant, hazy copper red with amber hues, a thick ring of cream white head, and dots of lacing on the tulip. Smell is orange peel, citrusy hops, Clementine, some spices, sweet fruitiness (lychee?), perfume, very bright and floral, pink grapefruit, quite resinous. Taste is light toasty graininess up front, blood oranges and caramel in the body, with a pithy, citric, and lingering hop bitterness to end. Mouthfeel is slick, oily, medium, and juicy. Finishes dry and bitter, but the hops don't smack you in the face like an IPA or DIPA. In fact, just as one would expect of a true American amber, this beer is exceptionally balanced. At 5.8% ABV, Rise Up would be a regular session brew for me if I had consistent access to it. A solid effort from HUB.
884 characters

3.33
/5
rDev
-15.1%
look: 3.5 | smell: 3 | taste: 3.5 | feel: 3 | overall: 3.5
pours a clear copper with a medium size dirty white head, and good lacing.
smell is of light grapefruit, organic funk, perfume, malt, hops, and some spice.
taste is of grapefruit, spice, caramel, malt, a touch of pine, some lemon, and a little sweetness in back, ends bitter with an organic aftertaste.
304 characters
4.03
/5
rDev
+2.8%
look: 4.5 | smell: 4 | taste: 4 | feel: 4 | overall: 4
Nice American red. Copper with a thick white head. Malty, piney scent. Almost like an American IPA.
Hoppy taste, with a mild maltiness. This tastes more like an IPA than a red ale, but that's probably just the northwest twist on it.
Mild carbonation, but I think it could be toned down a bit. Nice ale, but a bit hoppy for the style.
335 characters
3.72
/5
rDev
-5.1%
look: 3.5 | smell: 4 | taste: 3.5 | feel: 3.5 | overall: 4
A - Pours a dark red clear color with half a finger off white head that thins to a layer of bubbles relatively quickly.
S - Very nice roasted malt aroma, good piney hop smell to compliment.
T - Roasted malts are the majority of the taste with the pine hops showing up less than in the aroma. Not too complicated of a taste, but that's what HUB sticks to.
M - Medium bodied with good amount of carbonation. Finish is dry and bitter with a nice nutty taste.
D - Very drinkable, nothing too complex, very well balanced. Good representation of the style.
555 characters

4.1
/5
rDev
+4.6%
look: 4 | smell: 4 | taste: 4 | feel: 4 | overall: 4.5
Hopworks Urban Brewery--HUB RiSE-UP RED NW RED ALE--CARBON NEUTRAL--SUSTAINABLE ORGANIC BEER--2010 22 oz. Bottle. 5.80% ABV. 60 IBU's. (4.25 / 5.0) Sediment dusting. Fizzy thin lace off white head. Haze hint rich amber color. Toasted malt fruit ester rich floral Cascade hop front. Dry sweet crisp toasted biscuit caramel light hop pine fruit tangy body.Smooth creamy cloying malt dry citrus hop spice balanced tasty end. Smooth & Delicious. Sampled 8/8/2010. 2 @ $5.99 Each.
475 characters
4.3
/5
rDev
+9.7%
look: 5 | smell: 5 | taste: 3.5 | feel: 4 | overall: 5
A: Deep red. 1/8-finger head. A bit cloudy.
S: Delicious grapefruit. Lots of hops. Wonderful.
T: Bready grapefruit, is pretty good, but too light. Hops are good, but could be stronger. Great for someone starting reds or IPA. Could definitely be more flavorful.
M: Dry, non-astringent, medium-light body
D: Goes down great, especially with a meal.
350 characters

4.28
/5
rDev
+9.2%
look: 4.5 | smell: 4 | taste: 4.5 | feel: 3.5 | overall: 4.5
22oz bottle into pint glass.
Pours a nice amber color with a foamy tan head. Has nice citrus hop note aroma with a good malty bread base. The flavor is a nice hoppy start with good biscuity backing. A bit more hoppy then I would expect from an amber, but in nothing but a positive way, as it does not take from the malt flavors.
The mouthfeel is a dry, light to medium body, with nice carbonation. This is a very drinkable and sessionable amber, I would go so far as to say my favorite I have tried thus far.
509 characters

3.19
/5
rDev
-18.6%
look: 3 | smell: 4 | taste: 2.5 | feel: 2.5 | overall: 4
Bomber split between two pint glasses for my wife and I to enjoy. It seemed like a solid bet at $4.50 a bottle. This is my first beer from HUB.
The pour yielded about three fingers of lite beige head seated atop a clear strawberry colored body with yellow-orange edges. Some spotty lacing is visible.
The smell is very promising. Nice aromas of pineapple and biscuit is evident.
The taste is not great. Lots of generic bitter and some lemon dominate. Some burnt caramel is apparent. Its a little bland and watery.
Mouthfeel could be better. Its a little thin with low carbonation.
Drinkability is easy. Its easy, because its thin an boring. I wish it was a little more complex with a bigger body. I wanted to like this one, but didn't and won't try again. I prefer Ninkasi Believer for my red ale fix.
811 characters

4.45
/5
rDev
+13.5%
look: 4.5 | smell: 4.5 | taste: 4.5 | feel: 4 | overall: 4.5
Bomber poured into my Samuel Smith's imperial pint glass, Rise-Up Red is pale, ruddy caramel with a fluffy light tan head that leaves foamy lace.
Smell is resinous hops, pine forest and cedar, minty well.
Taste is full and satisfying, with the hop flavor dominating the clean, cracker flavored malt. More citrus in the flavor, with moderate bitterness.
Mouthfeel is on the lighter side, dry, oily.
Drinkability is very good. Great amber ale, full flavored but smooth, well hopped for the local palate. Get it while it's fresh.
534 characters
4.35
/5
rDev
+11%
look: 4 | smell: 4 | taste: 4.5 | feel: 4.5 | overall: 4.5
Tasted from tap at HUB (Hopworks Urban Brewery). Liked so much I bought and filled a growler!
Gorgeous reddish amber hue. Good foam and lace. Smells like a very nice red ale, full of fresh hops and a hint of roasted nuttiness. Some subtle malty and red fruit flavors on palate. The level of astringency and acid is well balanced. Very fresh, good body, and great to sip. Tasted with 10 Hopworks beers and this one went into my growler!
436 characters
4.43
/5
rDev
+13%
look: 4.5 | smell: 4 | taste: 4.5 | feel: 4 | overall: 5
My first tasting at the OBF!
- Great clear dark amber/brown color... subtle head, bubbly, with a bit of reddish lacing...
- Nice smooth buttery malt, rich... creamy... roasty.. sweet... lots of bittering citrus.. pine....
- Smooth and light, but yet complex balance and flavor... truly a malt masterpiece with a perfect compliment of bittering and smooth pine/citrus...
- Light, clean, slightly dry... but good!
- Super good red.. and light, not over the top... and almost perfect... a great flavorful session red! Hopworks is never a let down!
549 characters
4.12
/5
rDev
+5.1%
look: 4 | smell: 4.5 | taste: 4 | feel: 4 | overall: 4
Succulent, resinous aroma, sustained head retention, and assertive bittering with alt-like undertones contribute to a russet colored ale with an appealing wooden nuttiness. Turbid and zesty. Rise Up Red is further testimony to Hopworks resilience and reliability.
263 characters
Rise Up Red from Hopworks Urban Brewery
3.92
out of
5
based on
151
ratings.