Simcoe Red
| COAST Brewing Company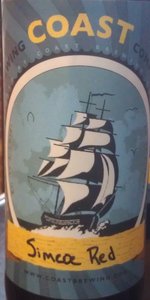 BEER INFO
Brewed by:
COAST Brewing Company
South Carolina
,
United States
coastbrewing.com
Style:
American Amber / Red Ale
Alcohol by volume (ABV):
5.50%
Availability:
Limited (brewed once)
Notes / Commercial Description:
No notes at this time.
Added by avalon07 on 02-03-2012
This beer is retired; no longer brewed.
Ratings: 15 | Reviews: 8
3.86
/5
rDev
-5.2%
look: 5 | smell: 4 | taste: 3.5 | feel: 4 | overall: 4
Appearance: Arrives with a thick head that sits atop the amber colored liquid and leaves thick sheets of lace behind
Smell: Caramel dominant, with a hint of pine
Taste: Caramel, up front, with the piney character developing by mid-palate; the finish was rather fruity
Mouthfeel: Medium body with moderate carbonation
Overall: While still a good beer, this was my least favorite COAST beer so far; I am not a big fan of ambers and those I have really enjoyed have been a bit more hoppy relative to the caramel; perhaps the bottled examples have that balance but the draft version I tried did not
598 characters


3.28
/5
rDev
-19.4%
look: 4 | smell: 3.5 | taste: 3 | feel: 3 | overall: 3.5
22oz. bottle poured into a nonic. Thanks Bob!
(A)- Pours a cloudy reddish amber color. Produced a nice cap of yellow-ish tan froth. Good retention and lace.
(S)- A nice combo of mild pine, lemon citrus, and caramel amber malts.
(T)- Similar to the smell. The hops definitely have a "cotton" taste and feel to them; quite drying.
(M)- A bit thinner than expected, but a good carbonation level and balance.
(D)- A solid little amber. Much highly hopped than the norm, but it fits with a good malt backbone to back it up to help even it out.
543 characters

4.13
/5
rDev
+1.5%
look: 4.5 | smell: 4 | taste: 4 | feel: 4 | overall: 4.5
A: Poured from a growler to a pint glass. Had a reddish color and a cloudy consistency. There was a big, foamy, long-lasting head. Excellent lacing.
S: A nicely hoppy smell, with some citrus thrown in as well.
T: Tasted of hops, a light amount of malt, some citrus (grapefruit maybe?), and a hint of caramel. Much hoppier (not to the point of being distracting) than other red ales. A solid, focused flavor.
M: A highly carbonated beer with a creamy, smooth finish. Medium-bodied.
O: A completely enjoyable, easy to drink beer.
539 characters
4.47
/5
rDev
+9.8%
look: 4 | smell: 4.5 | taste: 4.5 | feel: 4.5 | overall: 4.5
Served from bottle into a COAST Willi. Poured a slightly hazy red-orange with a two finger off-white head that subsided to a half finger very slowly. Maintained excellent lacing throughout the glass. The aroma was comprised of sweet malt, citrus, citrus hop, caramel, and subtle pine. The flavor was of sweet malt, citrus, citrus hop, subtle pine, fruit, and subtle pine hop. It had a medium feel on the palate with medium-high carbonation. Overall this was a very good brew. I'm not usually a big fan of this style considering it isn't quite hoppy enough for my palate, however, COAST came out of the gates swinging on this one. There are a really nice and well balanced citrus aspect going on with this that leaves you wanting more and more. Couple that with a great mouthfeel and you've got one easy drinking brew. A definite must try and another solid offering from COAST!
882 characters

4.08
/5
rDev
+0.2%
look: 4.5 | smell: 4 | taste: 4 | feel: 4.5 | overall: 4
Bomber, dated 1/25/12, into a 25cl Duvel tulip. Big thanks to Modernartblues for hooking me up with this one. Shared with friends.
A: Hazy deep amber body under an inch of creamy light-tan head. Good retention, great lace. Lovely looking amber.
S: Pine straw, grapefruit, leafiness, and caramel. Really nice.
T: Balanced throughout between caramel malt and citrusy hops, with a distinct apple overtone. Malt sweetness in the middle completely gives way to a clean, assertively bitter finish. Hoppy, herbal aftertaste. Quite tasty.
M: Smooth, creamy, lively, soft. Terrific.
O: Very tasty beer. I bet it was superbly hoppy when super-fresh, but I really can't complain about a red ale being balanced. Yet another solid offering from one of my favorite Southern breweries.
Cheers!
784 characters

4.08
/5
rDev
+0.2%
look: 4.5 | smell: 4 | taste: 4 | feel: 4.5 | overall: 4
Appearance - Pours a cloudy amber with a creamy off-white head that settles to a thin cap, leaving behind lots of sticky lacing clinging to the glass.
Smell - Fresh and pungent Simcoe-heavy aromas of pine resin, grapefruit, and pineapple with a moderately sweet caramel malt profile.
Taste - Very similar to the nose, lots of grapefruit, pine resin, pineapple, and mango with some sweet amber malt and a solidly bitter finish.
Mouthfeel - Crisp and smooth, with a medium body and good carbonation.
Overall - Another great Amber Ale from COAST, this would serve as a nice into to the much bigger Carnie Fire!
607 characters


4.02
/5
rDev
-1.2%
look: 3.5 | smell: 4 | taste: 4 | feel: 4.5 | overall: 4
22oz bomber from Coast. Poured into a shaker pint...
A: Pours a murky, tawny-red, with a light beige head (about 1 finger); leaves some spotty sheets of lace, but nothing too crazy.
S: Aroma consists mostly of rindy citrus hops; a little on the dank side.
T: Grapefruity hops; just a touch of malt sweetness; doughy notes in there, too. Not as malty as I was expecting, which makes things seem a bit incomplete, taste-wise.
M: Full bodied and high carbonation; a nice palate washer, with a good body for the abv; the lack of malt sweetness lends to a drier finish.
O: A very drinkable red ale; the smaller malt profile almost makes this one a bit refreshing. 5.5% helps out in the drinkability department, too. I'd say the Cascade and Chinook Pale Ales top this one in Coast's single hop series, but still pretty good.
827 characters


4.42
/5
rDev
+8.6%
look: 4 | smell: 4.5 | taste: 4.5 | feel: 4 | overall: 4.5
Bottled on (no longer have bottle, but apx. 6 weeks old), Poured into a Tripel Karmeliet Tulip, Reviewed from Notes
A: dark copper red body, hazy, nice one inch off white head, better than average lacing for the style
N: SIMICOE! is in the forefront, I love this hop and this beer is no exception, fruity-vegetable goodness
T: friut-citrusy combines with a herbal-vegetable hop assault, nice bitterness with adequate carmel malt backing things up, but mainly acts as a counter-balance for the high alpha acid hop. hops are the deal in this beer.
M: full, but right on for the style
O: really loved this beer, another world class beer for COAST
648 characters
Simcoe Red from COAST Brewing Company
4.07
out of
5
based on
15
ratings.