Export Scotch Ale
| COAST Brewing Company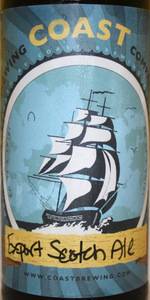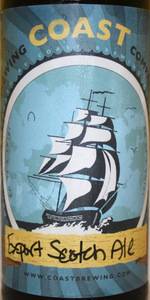 BEER INFO
Brewed by:
COAST Brewing Company
South Carolina
,
United States
coastbrewing.com
Style:
Scottish Ale
Alcohol by volume (ABV):
4.50%
Availability:
Limited (brewed once)
Notes / Commercial Description:
2 varieties of smoked malt with typical Scotch ale maltiness. All Glacier hops and low ABV.
Added by avalon07 on 02-18-2012
This beer is retired; no longer brewed.
HISTOGRAM
Ratings: 14 | Reviews: 8
Reviews by kkipple:

4.08
/5
rDev
+3.6%
look: 4.5 | smell: 4 | taste: 4 | feel: 4.5 | overall: 4
Baby growler from our friends at Green's!
This is another one of those lightly smoked styles Coast has been playing with lately, which are always fun to try, if nothing else. I am happy to report this light Scotch Ale is 4.5%, which is just right for a hot ninety degree South Carolina today like wot this is.
Anyway, into an Imperial pint glass.
A. Pretty dense hazel-red, unfiltered and bubbly. A generous, dense and almost nitro-ish toasty light tan head leaves absurd lacing rings; this looks like pub ale by gum! Yes.
S. Big nose for a little beer! Lightly estery, toasty malt sweetness with hints of peat and a stronger smoked note that is pretty appealing. Does have that gentle caramel you'd expect from a Scotch Ale, but it's reserved. This is not a malt bomb.
T. Light toasted malt with a slight, indistinct fruity yeast bit and a generally semi-sweet profile, all wrapped up in a delightfully medium-smoke flavor. A little rustic and grainy. Hints of darker roasted malt and a fine melanoidin-rich flavor too. This is characterful, a bit strange, and tasty. If you like milds, or Rauchbier, or just subtle malt-forward table / session beer, this will be your sort of thing. It absolutely lends itself to quantity drinking and goes down very easy. Finish is light sweet caramel malt and dry, toasty smoked grain. Full flavored, yet not strong.
M / O. Nearly creamy mouthfeel, full at any rate, with a longer-than-expected smoked note that veers into Canadian Bacon at times. Gently crisp and tight however, and the malt is never overly sweet or out of balance.
Putting away a liter of Coast Export Scotch in an hour or so is simplicity itself. I'll add here that Coast makes the most drinkable beers of anyone in our state.
Bottom line: If you like this sound of this, give Scotch Export a go; it is a pleasant departure from the norm and a delightfully light smoked ale.
1,890 characters
More User Reviews:

4.03
/5
rDev
+2.3%
look: 4.5 | smell: 4 | taste: 4 | feel: 4 | overall: 4
Another fine beer from kkipple!
Export Scotch Ale pours a very attractive copper color. Looks a tad hazy. Backlighting reveals brilliant crimson highlights. A very large off-white head caps it. It stands nearly three fingers tall and takes quite a while to dissipate. Very thick, sticky sheets of lace cling to the glass as it descends. Very nice!
The nose is quite good. The malt base definitely smells like caramel and toffee. It's on the sweet side, but not by a large margin (surprisingly). There's a nice smoky scent that comes through. It doesn't seem all that strong, but adds a dimension. Works nicely with the sweet, malty notes. Secondary scents include cocoa, bread, and perhaps some light hops. Alcohol isn't noticeable at all. Smells quite good.
The flavor is likewise impressive. It kicks off with a very nice caramel malt flavor. It is sweet, but not overly so. Light cocoa is also noted. There is a nice bread-like flavor that resonates throughout. Smoky flavors are secondary, but are very effective. They complement the malt flavors extremely well and really drive the flavor up a notch. Light hop flavors are noted and work well. They seem grassy and floral. Reminiscent of noble hops. Alcohol isn't noticeable. I'm not getting any. Finishes malty, smoky, a little grassy, and dry. Very good stuff.
Export Scotch Ale has a body that's on the lighter side of medium. Carbonation is light and relatively soft. It definitely goes down easy. This bomber isn't even a challenge. I could go for more honestly.
Export Scotch Ale is just another fine beer on Coast Brewing Company's roster. It has a really nice flavor that features a really nice mix of malt, smoke, and hop flavors. Those elements, in tandem, produce a really nice flavor. It might be a little simple and straight forward, but that doesn't mean it's not tasty. Very good stuff. Thanks, Dan!
1,897 characters
4.23
/5
rDev
+7.4%
look: 4.5 | smell: 4 | taste: 4.5 | feel: 4 | overall: 4
Served from bottle into a COAST Willi. Poured a slightly hazy red-orange with a one finger off-white head that subsided to a minimal amount slowly. Maintained phenomenal lacing throughout the glass. The aroma was comprised of sweet malt, smoked meat, citrus, and very subtle caramel. The flavor was of sweet malt, wood, smoked meat, citrus, and subtle caramel. It had a light feel on the palate with medium-high carbonation. Overall this was a pretty good brew. I wasn't expecting what I picked up on in this brew at all going into it. Smoked meat!? Effing right doggie!!! This flavor was very nice incorporated with the rest of the components present which made it quite easy to drink. Another solid brew from COAST that I suggest you try for yourself.
755 characters
4.59
/5
rDev
+16.5%
look: 4 | smell: 5 | taste: 4.5 | feel: 4.5 | overall: 4.5
Appearance - Pours a cloudy copper-brown with a creamy khaki head that settles to a nice cap, leaving behind lots of sticky lacing.
Smell - Malt-forward aromas of caramel and baked bread with a good amount of "hammy" smoke. Phenomenal nose, LOVE the smoke character.
Taste - Very similar to the nose, flavors is dominated by moderately sweet caramel malt, brown bread, and baked ham. So nice, and the smoke aspect play into the malt perfectly. This could stand up nicely to some of my favorite Schlenkerla offerings.
Mouthfeel - Smooth and creamy, with a medium-body and excellent carbonation.
Overall - A new favorite from COAST, I really wish I had an entire growler to myself!
679 characters

3.73
/5
rDev
-5.3%
look: 4 | smell: 3.5 | taste: 4 | feel: 3.5 | overall: 3.5
Poured from tap into taster at the brewery.
Pours a reddish brown haze. Smells of typical scotch...malty, sweet; but has a bit of hop character; but smokey.
Similar taste...very smokey sweet malts mixed with some hops. Almost a chocolate flavor to it.
The smoke is very much present, but not to extreme. Everything is well balanced, nice flavor...but scotch isnt my thing and this doesnt change my mind. Good but not great.
424 characters


4.03
/5
rDev
+2.3%
look: 4.5 | smell: 4 | taste: 4 | feel: 4 | overall: 4
A: Poured from a growler to a pint glass. Had an orange color and a cloudy consistency. There was an inch and a half of foamy, long-lasting head. Great lacing.
S: An extremely smoky aroma, with a lot of malt present as well.
T: Tasted of malt, a little caramel, and light hops in the finish. The factor that makes this beer differ from other Scottish ales is the smoky quality. It almost seemed more like a Rauchbier than a Scottish ale. Still, a well-rounded flavor.
M: A good amount of carbonation with a dry finish. Medium-bodied.
O: Certainly not typical of the style, but definitely well made and worth a try.
626 characters
3.73
/5
rDev
-5.3%
look: 4 | smell: 3.5 | taste: 4 | feel: 3.5 | overall: 3.5
Big thanks to Andrew for the hookup on this one...
Bomber into a RR snifter
A - Pours a murcky dark amber with a two finger khaki head. Head retention is decent, and there is a good amount lace that clings to the glass...
S - Caramel and roast dominate. Pretty straight foward...
T - Caramel and toasted malts up front with a good amount roast following. Finishes with roast, and a smooth grassy hop note. Aftertaste lingers with an almost bacon like taste left behind...
M - Easy drinking light mouthfeel. Definitely on the lighter side of the medium bodied range. Finishes dry with a nice amount of carbonation...
O - Not very complex, but everything melds together nicely to make an enjoyable drink. Looking foward to trying more offerings form COAST...
Cheers...
773 characters


4
/5
rDev
+1.5%
look: 4 | smell: 4 | taste: 4 | feel: 4 | overall: 4
22oz bottle, courtesy of Modernartblues (thanks Eli!), poured into a 25cl Duvel tulip. Shared with friends.
A: Clear chestnut body with a 3/4", creamy tan head. Good retention and lace. Solid.
S: Smoky and sweet, with equal parts caramel, smoked, and toasted malts. Pleasant.
T: Opens with generically sweet and toasty malt, followed by a bit of smoke, plenty of caramel, and a tasty cookie-like vanilla tinge. Long, toffee finish that fades into dryness. Sweet without being cloying. Good stuff.
M: Creamy carbonation in a smooth medium body. Very good.
O: While this one didn't quite blow me away, it was an enjoyable and well-crafted beer in every way. Yet another winner from COAST.
Cheers!
700 characters

Export Scotch Ale from COAST Brewing Company
Beer rating:
3.94
out of
5
with
14
ratings