Dave Brown
| COAST Brewing Company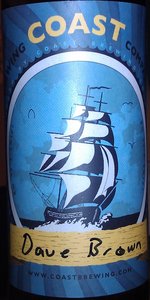 BEER INFO
Brewed by:
COAST Brewing Company
South Carolina
,
United States
coastbrewing.com
Style:
Chile Beer
Alcohol by volume (ABV):
6.90%
Availability:
Rotating
Notes / Commercial Description:
Some of the things David loves include peppers and his Big Green Egg. Dryhopped with home smoked jalapenos and habaneros. Brewed with brown sugar, with a nice light body.
Added by scottyshades on 05-15-2012
Reviews: 8 | Ratings: 28

4.25
/5
rDev
+6.8%
look: 4.5 | smell: 4.5 | taste: 4 | feel: 4 | overall: 4.5
Bottle from GBX. A brown ale with smoked jalapenos (chipotle), habaneros, and brown sugar
A: Pours a light semi transparent brown color. Decent foamy head, retention is decent
S: Light semi-sweet malts back and a caramel/ burnt brown sugar backing balanced with a delicate hop profile. Definitely pick up on the pepper aromas
T: Delicate and balanced with a subtle pepper flavor (especially habanero) but with even subtler heat. Definitely a pepper kick to it. You definitely pick up the pepper flavors more than the heat, but the finish you get a little heat. The brown sugar isn't really detectable to me but provides a little balance to the peppers and hops
MF/O: Creamy and smooth feel. A light body for sure with perfect carbonation, and a lingering peppery finish. For those interested in the heat - there is definitely some restrained habanero kick to this one.
Another winner from the brewery that has yet to disappoint me
★
935 characters

4.2
/5
rDev
+5.5%
look: 3.75 | smell: 3.75 | taste: 4.5 | feel: 4.25 | overall: 4.25
22 oz bottle poured into a pint glass at cellar temperature.
L – Brown color with a 1-finger bubbly, cream-colored head. Pretty nice retention but not much lacing. Hazy with not many appreciable bubbles.
S – Mostly darker malt aromas with brown sugar and some cocoa notes. I know there are supposed to be peppers here but I can't smell them.
T – Wow. This beer packs a punch. It starts off sweet for a split second with brown sugar but jalapeño and habanero spiciness comes screaming in immediately after. After the spice fades, brown sugar and cocoa become apparent again, but wow this is spicy.
F – Medium-bodied with nice carbonation, a sticky mouthfeel, and a very spicy finish. Hot pepper heat lingers for a long, long time.
O – This beer is awesome. I remember having this last year and I do not remember it being so spicy. I love how it sneaks up on you with the peppers not really being evident in the aroma. It's definitely a beast of a chile beer – a must-try if you're a fan of this style.
★
1,024 characters
4.14
/5
rDev
+4%
look: 3.75 | smell: 4 | taste: 4.25 | feel: 4 | overall: 4.25
growler into a tulip
Brown ale brewed with house smoked jalapeno and habanero peppers.
A: Pours a dark brown with some red hues when held to light. A smaller sliver of light tan head builds and then quickly fades. Leaves absolutely no lacing.
S: Sweet malts, caramel, roasted malt, bakers chocolate, fair amount of peppery spice/heat.
T: Tons of heat right off the bat. There is also a fairly big smokey/roasted malt character. This literally burns the throat and into the chest with each sip. Jalapeno and habanero both shine. I honestly dont get many other flavors, a touch of sweet malts maybe, but its mostly just pepper heat and I like it!
M/D: Lighter side of medium bodied, pretty heavy carbonation, with a burn down the throat and into the chest with each sip. Whole body warming sensation from the pepper heat. Drinkability is somewhat limited due to the burn, but I find myself drinking faster and more than I anticipated.
O: Overall, I am a huge fan of this, but be warned, its not for the faint of heart. In reading the other reviews on BA, which are all from the old batch, Im inclined to think they've made some significant changes because the pepper notes are huge in this one! If spicy isnt your thing stay away. But if you love hot peppers then this beer is for you!
★
1,294 characters
4.08
/5
rDev
+2.5%
look: 4.5 | smell: 4 | taste: 4 | feel: 4.5 | overall: 4
A- Pours a nice brown mahogany with a sizable tan/mocha colored head. Solid retention, great lacing
S - Sweet caramel malts, slight piney presence. Definitely a pepper aroma although it is not overpowering. Slightly spicy
T - Semi sweet with mostly caramel and some chocolate. A little resinous pine and a fair amount of pepper flavor. The heat takes about half a beer to really kick in but when it does theres definitely a solid tingle on my lips/in my throat from a comfortable hotness from the peppers.
M- Medium bodied at most, appropriate carbonation. Perfect mouthfeel IMO
O - Not too bold and outrageous with the pepper but a perfect amount that allows the full profile of the beer to be tasted and enjoyed
★
717 characters
4.03
/5
rDev
+1.3%
look: 4.5 | smell: 4 | taste: 4 | feel: 4 | overall: 4
Served from bottle into a COAST Willi. Poured a dark red-orange with a half finger off-white head. Maintained phenomenal lacing throughout the glass. The aroma was comprised of sweet malt, dark chocolate, subtle citrus, subtle smoke, and peppers. The flavor was of sweet malt, citrus, toasted malt, citrus hop, subtle dark chocolate, subtle smokiness, and jalapeño sweetness/spiciness . It had a light feel on the palate with medium-high carbonation. Overall this was a good brew. The citrus aspect I picked up on this one was really quite nice and a pleasant surprise. It really mixed well with the rest of the notes in the flavor and aroma. There was a nice backbone for the style present and the peppers were definitely out in force as they brought a nice spicy followthrough. Definitely worth trying if you get the opportunity.
★
832 characters
4
/5
rDev
+0.5%
look: 4 | smell: 4 | taste: 4 | feel: 4 | overall: 4
Super stoked to tick this off my list. Cheers to the CBX crew for saving me a growler!
Pours a lovely mahogany-red with a dense ivory head that settles to a half-finger cap that leaves some nice lacing clinging to the glass. Getting some really nice aromas of sweet caramel malt, brown sugar, roasted nuts, some slightly resinous hops, and a whiff of "salsa verde" heat. Not a ton of the pepper character in the nose, but I'm expecting more in the taste.
Hmm..not a ton of pepper flavor. It's definitely there, and the more you drink the more of a tingly sensation you get in the throat, but it's in no way overwhelming. Brown sugar, moderately sweet malt, and a whiff of smoke round out the flavor.
On second though, I'm feeling the heat nicely now that I'm about 1/3 of the way through the glass. Definitely a nice warming in the mouth.
Mouthfeel is smooth and creamy, with a touch over medium-bodied and good carbonation. Overall a really enjoyable beer, I'd be curious to try it with more peppers (speaking to Jamie at COAST, she informed me that Dave and Mikey want to do a version with a TON more chilies...here's hoping).
★
1,134 characters
3.84
/5
rDev
-3.5%
look: 5 | smell: 3.5 | taste: 3.75 | feel: 4.5 | overall: 3.75
22 oz. bottle served in a COAST snifter. Bottled 3.15.13. Thanks to rnorgart for the bottle.
A: Pour a dark brown with some sienna highlights. A light khaki head forms on the pour and has some amazing retention. It sticks around for quite sometime and leaves sticky sheets of lace down the glass. Great looking beer.
S: Dark fruit with a crystal malt base, slightly sugary, with some caramel sweetness. A little cocoa with light piney hops and a little spice note.
T: Caramel malt and cocoa with a little brown sugar. Light piney hops with a mild espresso bitterness. The heat comes in waves towards the finish, almost like crushed red pepper. A very dry heat with out the vegetation-like flavor that is imparted in some chili beers.
M: Medium to light bodied with a medium high carbonation. Sweet and spicy finish with a high drinkability.
O: I enjoyed this one as a chili beer and as a brown ale. The base showed through while providing heat which is definitely the byproduct of the dry-hopping technique used with the peppers. A must try for any chili beer fan.
★
1,070 characters
3.78
/5
rDev
-5%
look: 4 | smell: 4 | taste: 3.75 | feel: 3.25 | overall: 3.75
22oz. Kind of a murky brown pour, nice finger of white head. Retention is very good, sticks to the glass ever so slightly.
Aroma, some toasted malt, very herbal and earthy. Some roasted chilis.
Taste, malty brown ale up front, hot pepper in the finish. Peat and leather on between. Some herbal hops that quickly give way to the pepper. Not very vegetal like some can be.
High side of light body. Higher side of the carbonation scale, which probably helps amplify the pepper. The flavor is big, but it seems a tad watery. The pepper is big and it really turns this into a bit of a sipper.
Very unique, I'll just leave it at that.
★
632 characters
Dave Brown from COAST Brewing Company
3.98
out of
5
based on
28
ratings.