Taco Mac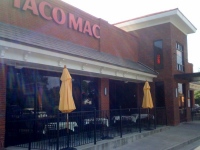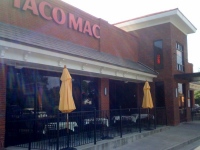 Bar, Eatery
3543 Peachtree Industrial Blvd
Duluth
,
Georgia
, 30096
United States
(678) 387-3403 |
map
taco-mac.com
Notes:
Recent ratings and reviews.
| Log in to view more ratings + sorting options.
Ratings by jjayjaye:

Reviewed by jjayjaye from New York
3.63
/5
rDev
-6%
vibe: 4 | quality: 4 | service: 2 | selection: 4.5 | food: 4
I've been to the Duluth Taco Mac once before and was impressed with the beer selection...100 taps and over 200 quality bottles. I went to the Ellard Village location the other night and was disappointed overall. I will say that it (EV) had a totally different 'vibe'. The Duluth facility is more along the lines of a sports bar...on steroids. EV may have had a little more 'homey' decor..but you lose that quickly in a large crowd. Duluth was easy getting to and it had tons of parking.
The place is absolutely huge...brick and wood paneled walls with tall vaulted industrial ceilings. Probably 36 booths, a bunch of tables in the large open dining area, and a couple of dozen stools at the bar. Overall very sporty; a couple of dozen 50 inch flat panel TVs, a number of smaller ones through out...there's no 'bad seat in the house" to view the venue of the day.
Again, i was impressed with the beer selection. Overall the prices are reasonable, but there were a couple of outrageously priced bottles ...Southampton Saison Deluxe $28 ouch!!! GD Hercules $10/22oz (nice), ST Mokah $23, ST Big Red $21!!! Innis & Gunn $8!! A pretty decent draft mix...Brooklyn was the 'beer of the month'...that's cool (it's not in everybody's backyard..yet), Dog fish, Founders, GD, Left Hand, Ommegang Pale & Hennepin $6 (very cool), Southern Tier, Sweetwater, Terrapin, Tommyknocker, Victory, Weihenstephan.
I've gotta say...the service pretty much sucked. It wasn't that they were understaffed ...they just couldn't be bothered. The food was reasonable...the national menu had a 'Beef on Wick' that i was looking forward to, but this place only carried Beef Au Jus. Hit the spot. I would recommend this place if you're in the area on game day...maybe you'll have a better experience with the service. Wow..a "2" really tips the scales, doesn't it.
Aug 14, 2011
More User Ratings:
Reviewed by neostar63 from Wisconsin
3.83
/5
rDev
-0.8%
vibe: 3.5 | quality: 4 | service: 3.5 | selection: 4 | food: 4
The place is generic feeling. It definitely comes off as a chain, a nice one at least. It is big and there is a good number of tvs if you need them. The bar space is nicely sized and can seat a large number of people

The selection is 100 tappers and 200 bottles. There is nothing that is terribly unique, but you can choose from a good selection of good beers. I something from stone and something from terrapin while I was there I was told later during my stay in the area that this is about as good as it gets.

The food was pretty good. I had the fish tacos and was pleasantly surprised. Our waiter was friendly enough.
Oct 18, 2012

Reviewed by bigfnjoe from Pennsylvania
3.63
/5
rDev
-6%
vibe: 3.5 | quality: 3.5 | service: 4 | selection: 3.5 | food: 3.5
Everyone told me that when I came to Atlanta, I needed to go to Taco Mac. So, I went twice on this trip. There are positives and negatives about this location. They have a great selection....100 taps, 200 bottles. There was nothing really "outstanding" on tap....it was mostly stuff I could get in sixers back home in PA. I mostly stuck to local drafts, and they were priced reasonably. Of course, two of the beers I ordered had kicked since they last updated the menu....that irked me a little bit. Food was OK. It's bar food, nothing special. Service was OK on the Saturday night I went, and stellar on the Wednesday I was on. The bartender came up to me every five minutes to see if I needed anything, and that was appreciated. Overall, I can see the potential in something like this, and would really need to try another one of the locations.
Aug 18, 2011
Reviewed by ImusBeer from Georgia
3.68
/5
rDev
-4.7%
vibe: 3 | quality: 3.5 | service: 4 | selection: 3.5 | food: 4.5
I've been going here once in awhile for about 9 years. It used to be a more rustic and personal place, ie. it was older and small.

Now it is newly renovated (as of about 1-2 years) the place is alot bigger and even has an area in the back for private parties. The bar is at least 3 times as big as the old one. No smoking in GA so the bar area is open to the rest of the floor.

The food is typical for a Corporate T-Mac, some newer items are a bit more "gourmet" like talipia and even steamed veggies. The wings are always wonderful IMO.

This is not my typical T-Mac venue but the staff has always been attentive to me although I've only eaten there a couple of times.
Sep 03, 2009
Reviewed by projectflam86 from Ohio
4.38
/5
rDev
+13.5%
vibe: 4 | quality: 4 | service: 4.5 | selection: 5 | food: 4
I was in Georgia for a month on a business trip and thankfully made my way over to Taco Mac a few times during my stay.

There was a bar-like vibe to the place with tons of TVs and posters all around. They claim to have over 100 taps and 300+ bottles. The beer menu was the most extensive that I have ever seen (yes this place had all of the beers listed...can't tell you how much I appreciate an extensive drink menu).

Since I'm from Ohio and rarely visit Georgia, I knew I had to try some good Terrapin beers. I started off with a Terrapin India Brown Ale, then a Terrapin Rye, and finally and a Terrapin Oak Aged Big Hoppy Monster! Ya, thats right, they had that on tap! All of the beers that I had were great even though I was a bit concerned about their freshness seeing how many taps that they had. My beer was NOT served in frosted glasses as a few other reviewers have pointed out. Maybe they did away with that gimmick or maybe my waitress just knew better :)

I was with a large group of my co-workers so service was a little slow, but understandably so. The food was decent but nothing mind blowing.

I had a great time, and if I'm ever in the Duluth area again, I will be sure to visit.
Aug 30, 2009
Reviewed by SaCkErZ9 from South Carolina
3.15
/5
rDev
-18.4%
vibe: 3 | quality: 2.5 | service: 3 | selection: 4 | food: 3.5
Typical Taco Mac I suppose. Large and open inside with lots of tables and booths. Not much atmosphere. No coziness or "youre family" atmosphere, but that is expected. I chose to sit at the bar. It was the first cold night of the year, and they had the AC blasting in the bar. I was freezing.

One thing I dont understand about quality beer bars: Why do they serve their beers in frozen glasses? It doesnt make any sense. I would think that a place with 100 drafts and 268 bottles would know to serve beer in room temperature glasses. I guess that is the south for you. And, if you want a warm glass, they dont have any. They just run warm water over a frozen glass. How does a place not have one glass that isnt in the freezer??

Service was barely acceptable. I was one of about 5 people at the bar but still had to ask for more beer, water, and silverware. The bartender was talking with her boyfriend all night so that was a little frustrating.

Had the cobb salad and a cup of tortilla soup. Both were pretty tasty. A nice place overall. Not sure if I would seek it out again, but considering the options in the area, it is pretty nice.
Oct 30, 2007
Reviewed by Cyberkedi from Georgia
4.35
/5
rDev
+12.7%
vibe: 5 | quality: 4 | service: 4 | selection: 5 | food: 4
I visited this place on a Friday night when it was fairly noisy and lively. There are plenty of large-screen TVs all over, so it is a good place for people who want to watch sports. It has one private room in the back for large parties, which can accommodate probably up to 20 or so people.

Food is good, better than most bars. The beer selection is amazing - 100 on tap, and over 200 selections in bottles! I recommend joining their passport club, which is good at all locations. I am looking forward to visiting and reviewing the other Taco Macs.
Oct 20, 2007
Taco Mac in Duluth, GA
Place rating:
3.86
out of
5
with
10
ratings